Ah — North India! It's the location of the gleaming, majestic wonder that is the Taj Mahal and where you can catch a glimpse of the gorgeous Himalayan mountain ranges. It's also home to some very delicious and mouth-watering snacks and treats!
Like every region of India, North Indian food has its own distinctive culture. There are several snacks that are popular staples for locals that I highly suggest foreign travelers try during their time in the area. Below are some suggestions of the most tastiest snacks to try during your travels in India's northern states:
Indian Sweets
Although the majority of Indian sweets and desserts can be found in most parts of India, some I have only come across in the northern regions, like barfi and gulab jamun.
Barfi is my favorite South Asian sweet, and I'm known to knock back a whole box when no one's looking. It's a simple, yet divine confection. Plain barfi is made with only milk, nuts and sugar. It's marked with a thin silver layer that's edible.
If you're touring around Delhi, you're more than likely staying in or near the Paharganj area. It's worth the trek to Bikaner Sweets for a gander at their vast selection of desserts and other various snacks to munch on. There, you'll find a diverse array of sweets, as well as some very kind and humorous men working the shop.
Paneer Roll
If you're on the go and in need of a quick meal to hold you over between meals while traveling or in transit, paneer rolls are the perfect snacks to stuff in your bag. These delicious snacks are how I survived long bus rides! If you already didn't know, paneer is a type of cheese. It looks like tofu, but the taste and texture is more similar to that of Mexico's queso fresco cheese.
Don't be afraid to customize your panner roll to your liking! As the old adage goes, it's India — anything's possible! You can get your roll as spicy or as not spicy as you want, and they come with a variety of vegetables and sauces to choose from.
Chow Mein
There's just something about India's take on this Chinese dish that brings my mouth so much happiness! Supposedly first introduced to India by the Chinese in Kolkata, it's a really popular snack for locals, whether their hanging out at a hookah lounge or a movie theater catching the latest Shah Rukh Khan film. It's also a dish that's really popular in the Tibetan communities of India.
If you're a huge lover of noodles, you can't miss trying the much beloved Maggi noodles. Just ask a local where the nearest "Maggi Point" is. Most Maggi Points are open far past sunset, which is great if you get a late-night craving.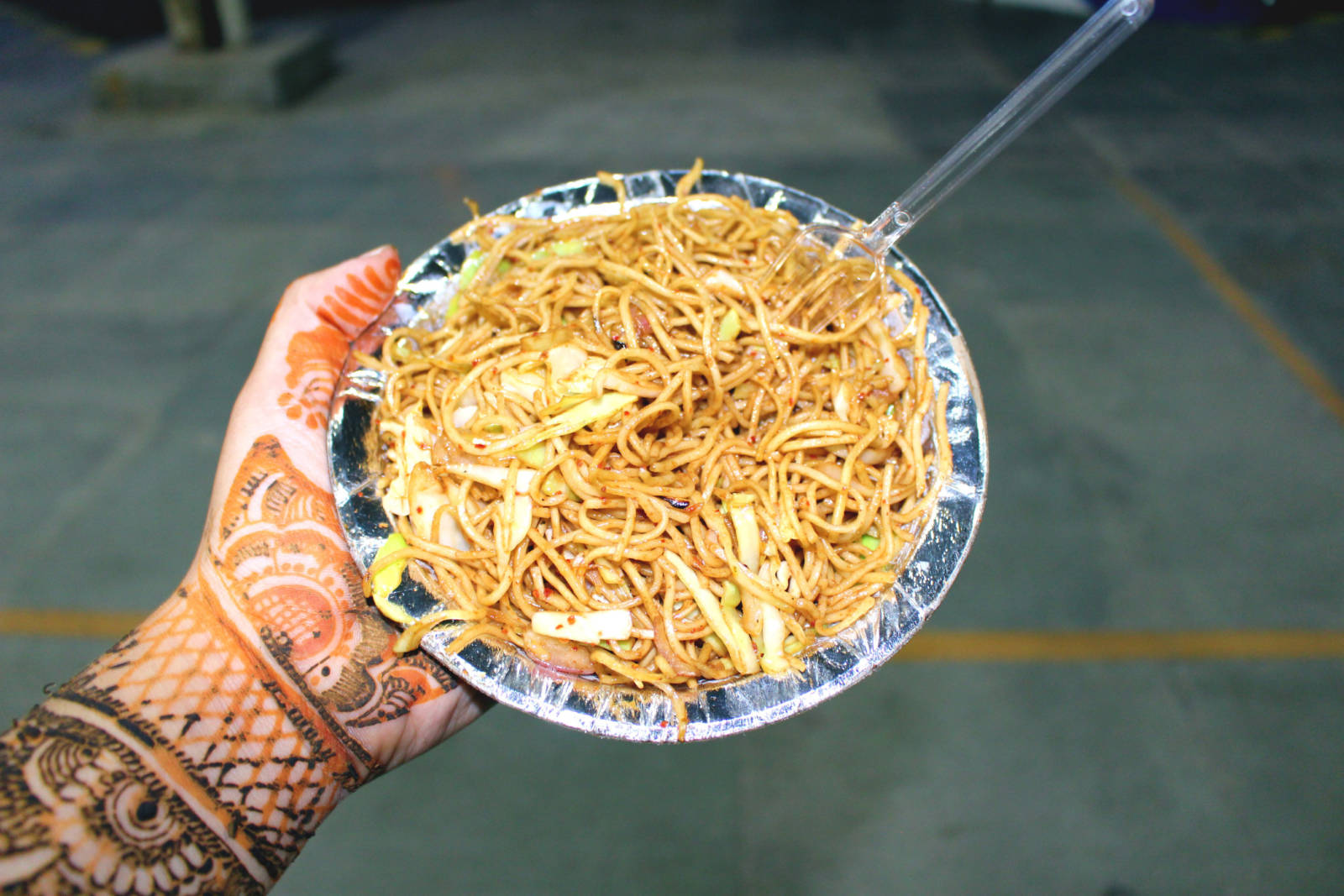 Bhagsu Cake (with chai!)
If you're traveling to Dharamsala, you're more than liking going to find yourself wandering through the tourist hub that is Bhagsu. Bhagsu cake took its namesake after the little hill station where it was first created and introduced. The bottom layer is a crumbly cookie, the center layer is a sweet, caramel-like consistency and the top is a dark or white chocolate. Although it doesn't look like much, it's decadent and delicious, and best served with a steaming hot glass of chai by its side.
Since it has garnered much popularity in recent years, Bhagsu cake has popped up in many places in North India. You can also find Bhagsu cake at most cafes, restaurants or bakeries in Bhagsu but one shop, Singh's Corner, claims they were the original creators of this delightful dessert. The little shop is located in Upper Bhagsu, tucked between several tourist clothing shops.
Milk Lassi
If you're a poor soul like me, you can't handle spice to save your life! It's pretty well known that most Indians love spice…and they like lots of it. Unfortunately for me, that can be very limiting in terms of my food options. When I'm feeling adventurous and especially in the mood to test my tongue's tolerance, I make sure to order myself a milk lassi to accompany my spice-filled meal.
Most dhabas or Indian restaurants will have milk lassis on the menu, especially if you're in the Punjab region, and they're perfect for calming the fire in your mouth with its creamy, smooth and yogurt-like consistency. I personally prefer plain sweet lassis when eating spicy foods, but they also come in a variety of flavors for you to enjoy like mango, strawberry, banana and kesar.
What do your tastebuds think of Indian snacks?