According to the science of love, adrenaline is released as a key component of attraction. When you fall for someone, your stress response is activated which increases your blood levels of adrenalin and cortisol. This is what causes your heart to race, your body to sweat and your mouth to go dry when you see your new love interest. So imagine what experiencing adrenaline together can do for your brain, and what better time to get all sweaty and dry-mouthed with your partner than right around your wedding?
Imagine a place where you can get your adrenaline-pumping in the cloud-forest, the rain-forest, under the sea, or on top of the waves, meanwhile being comforted by the howling monkeys and happy locals. Imagine Costa Rica.
Costa Rica is known for some of its adrenaline pumping-activities, but as it becomes a more and more popular tour destination, new things are continually popping up.
Everyone has different thresholds for facing fears, so lets start small.
If you are heading out to the Pacific Coast, on the way to Manuel Antonio, than I recommend a stop at Rainforest Adventures for a ride along the Teleferico.  They also have a second location near Limon, if you are headed for the Caribbean. At Rainforest Adventures, you can climb aboard a swinging aerial tram and head up a mountain, over-top of the trees, to get an up-close look at Costa Rica's exquisite wildlife.  Along the way, your guide will give you some fun facts about the wildlife and forests of Costa Rica, and once you reach the top, you get a breathtaking view of the ocean. This activity is pretty tranquil, a great option for the faint-of-heart, or anyone who appreciates wildlife and a nice view. And if you have a fear of heights, than this would be a baby-step to facing it.
Now, lets take it up a knotch. Did you know Costa Rica is home to the worlds best Zipline? If you have ever wanted to fly through the trees like a bird, or over-top of them, then this is the activity for you! Now, the best of the best for the adrenaline seekers is definitely in Monteverde – home of the highest and longest cables for those thrill seekers. If you aren't going there, you are probably going to La Fortuna, which is an acceptable second option because you can do it right on the base of Arenal Volcano. I tried a course as Ecoglide Arenal Park, and even after having done many courses in Monteverde, numerous times, I still found it enjoyable. There was actually a honeymoon couple trying it for the first time while I was there, and they were thrilled with their experience.
The guides at Ecoglide are fantastic. We all got to get a little bit comfortable with a practice cable before heading into our jungle vehicle to start our ride up the base of volcano Arenal. Ecoglide uses a second safety cable, so you feel extra safe as you glide over the tree-tops.  For those who can brave the ride with their eyes wide-open, there are beautiful panoramic views of the volcano and surrounding primary forest. While you might wait some time on the platforms upon the trees, you may get lucky enough to spot wildlife and enjoy the view of the Arenal volcano.
And if you want to impress your new wife or soon-to-be-bride, be the first one to leap of the Tarzan platform and swing through the trees after dropping 15m first. Try not to let out a girly scream through; it could definitely put a cramp in your style.
After an action packed day, what could be better than relaxing in hot springs? Sometimes bigger isn't always better, and when you want to relax in hot springs with your honey? Do you really want to move around every five minutes to the next pool? While some of the bigger hotels in La Fortuna offer multiple hot springs with luxurious dinners, I prefer the smaller less popular ones.  I was lucky enough to be invited to The Paradise Springs, and while it was low season, I was surprised to have the whole place to enjoy for just my guest and I; something that would never happen at the bigger venues. The springs were just as hot, and we had enough to choose from without feeling like we had to jump from pool-to-pool to really see the whole place.
After you have enjoyed the calm waters of the springs, why not get a little more daring? Costa Rica is a great place to get wet and have fun. It's well known for its world-class rivers for rafting and is oddly famous for windsurfing on Lake Arenal, but for something a little different, why not try gliding a-top the water on a stand up paddle board? This sport is popping up more and more all over the place and with good reason. Desafio Adventure Company in La Fortuna offers the sport on Lake Arenal, and they say that's a tour they run daily due to popularity. They invited me to go with them and after crossing Lake Arenal by boat at least 50 times, I realized the true beauty of my surroundings there.  I would recommend a private tour for honeymoon couples or bridal parties. This way you all feel comfortable together already and can hopefully loosen up enough to try some tricks or even knock each other over. Don't be afraid to get wet, it's part of the fun! Just don't forget to stop and take in the amazing views of the Arenal Volcano. At first, I thought I was just going for a nice-calm paddle, but I ended up learning tricks, getting wet, laughing hard and coming back still feeling like I was on top of the water.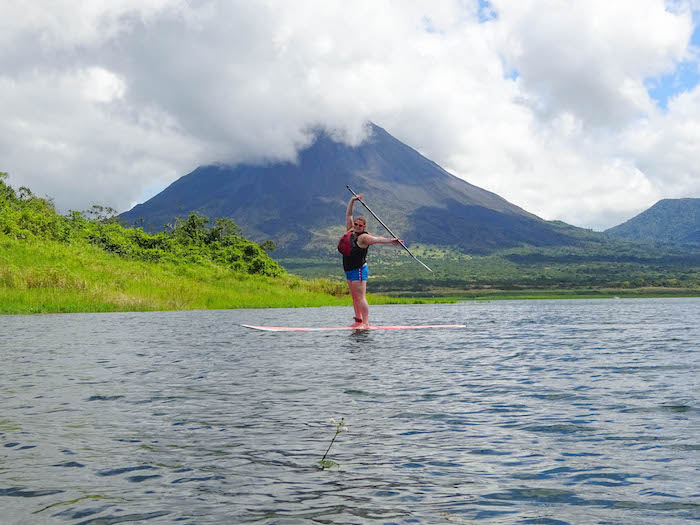 If you haven't been to Costa Rica yet, it's a great place to get your feet wet into adventures travel. If you have been, then I bet you already want to go back. I can guarantee you will continue to discover new and interesting experiences. I know I always do!
Pura Vida Maes!
This post was written by Allie G of RelaxPacker who is an adventure traveller, cultural enthusiast and sustainable tourism activist.