If you didn't know this already, Hopscotch the Globe has an official book club! Each month, avid reader and fellow traveller Trish McNeill will be announcing a travel inspired novel chosen by you to read and review. We will be posting updates on Twitter and Facebook for you to follow along and discuss the novel as we all read through it together. Also, if you have a book you'd like to be the HTG book of the month, let us know by reaching out on social media or comment below. We look forward to having you part of the book club!
***
The Art Of Travel by Alain De Botton, is a novel meant to explain what goes on deep inside our thoughts and emotions when we decide to take off on an adventure. Botton gives answers to why we want to travel and suggests how we might change our mindset to be happier along the way.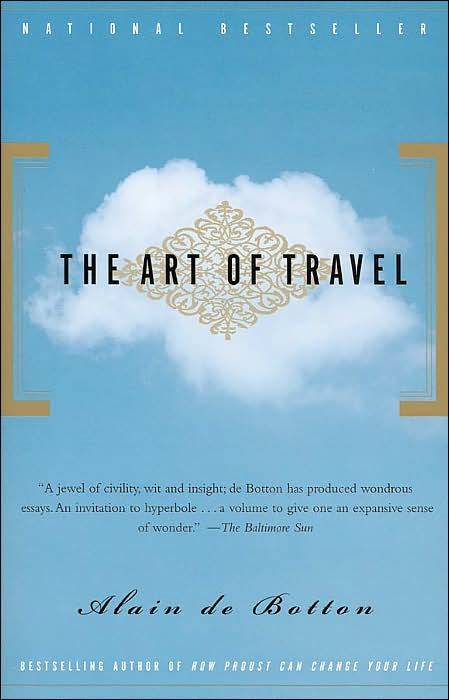 My first clue that The Art Of Travel wasn't going to be what I had expected was when I found myself in the fourth bookstore of the day searching for this book. I realized that in every other store I had been searching in the Travel section, when it is actually with the philosophy books.
Oh crap.
I'm an avid reader and can go through one to eight books in a month. I like a good story and when I realized this book was a philosophy book, I immediately went back to my days in university when I took intro to philosophy for a week before dropping the course. It's not the insightful thinking that I don't enjoy, it was the constant arguing and contradicting from "Mr. Know It All." I suppose I just have a bad taste in my mouth from that.
The book itself was filled with profound thoughts to capture attention and give the reader something to think about. These ideas were paired with grainy black and white pictures throughout the book that did absolutely nothing to spark my wanderlust.
Admittedly, The Art Of Travel put me to sleep a lot. It was a glorious month for me as far as napping was concerned but even after finishing, I don't feel like I got a lot out of the book.
The reviews on this book are fantastic. "Witty!", they proclaim. "Elegant! Profound! Entertaining! Funny!" While I agree that the style in which Botton writes is beautiful, I can't bring myself to call this book entertaining. To me, it was very dry and often boring which is not at all what I was expecting. As I said, Botton is a very talented writer and so there were a few quotes that spoke to me that I copied down in my journal.
"How flattering it would be to one's pride is at the moment of leaving, you were sure that you left a memory behind."
Each section focuses in on a different subject such as anticipation, curiosity, and habit. Botton tells some details of his own travels and adds in eyelid drooping accounts of the travels and thoughts of some other writers, artists, and thinkers.
For the traveler who is looking for a book to get them pumped up and excited about traveling, looking for travel inspiration, or hoping to read some riveting travel stories, this would not be the book that I would recommend.
***
Discussion Topics:
Do you agree that the anticipation of travel is sometimes better than the travel itself? Why or why not?

Did The Art Of Travel inspire you to travel anywhere?

What do you think Botton's overall opinion of travel is based on his book?

What is your overall opinion of this book?