When you think of adventurous activities to try in Costa Rica, one of the first things that may come to mind is zip-lining. But, have you ever considered canyoning?
Imagine off-roading through the Costa Rican forest. Imagine panoramic views. Imagine greenery. You come to a stop at a clearing in the trees. Hiking a little deeper, you start to hear the rushing water from a nearby waterfall. Rounding the trees, you are surrounded by wet rocks, and you reach the entrance to a Canyon, deep in the jungle.
I was recently invited to La Fortuna, Costa Rica by Desafio Adventure Company to try their new Canyoning Expedition, Gravity Falls. They explained after years of searching, they had finally found the perfect canyon to set-up a new canyoning experience. Suresh Krishnan, Desafio's founder, asked me for my feedback on his new experience because he wasn't sure if it was "too extreme" for the average traveler. I was admittedly nervous, but intrigued.
With my harness on, I backed up inch-by-inch off the edge of an 80-ft waterfall. I didn't dare to look down. Now, I've done this before, so I was trying to show off and bounce down like one of the guides.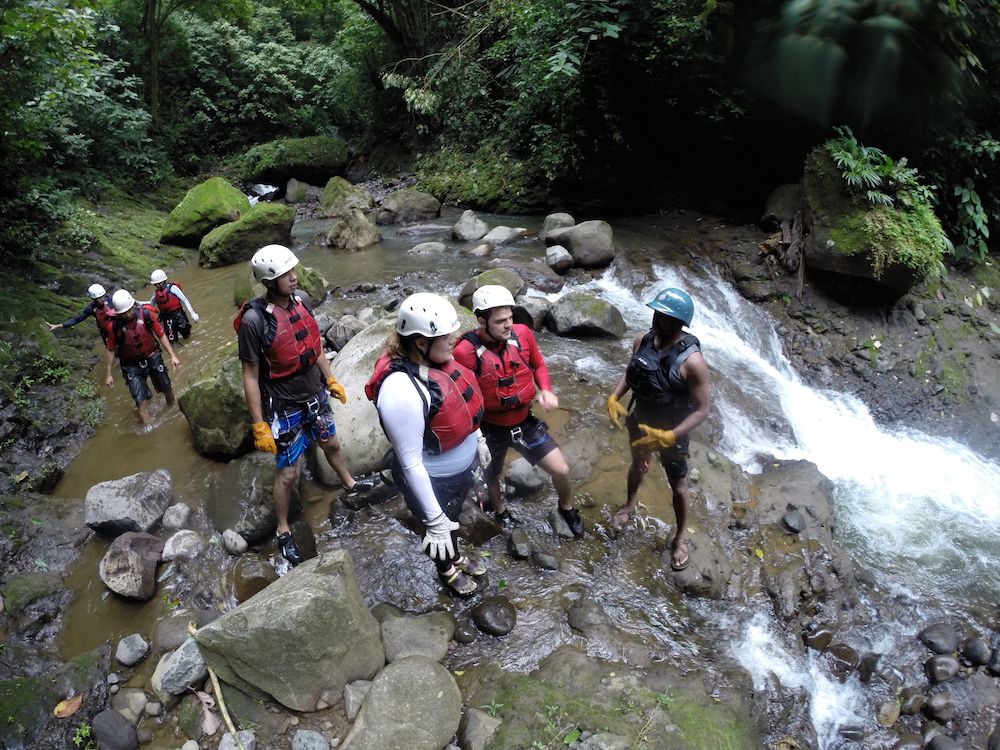 Fortunately, I am not very good at that, and it took me some time to land and get started again. I was forced to look around and check out my surroundings. I found myself on a wet rock wall, looking out to my right at one of Costa-Rica's raging waterfalls. About 65 feet above the pristine pool below me, I was bewildered. I took a deep breath to really appreciate just where I was.
I continued my descent until I reached the surface of the pool and let myself take a refreshing plunge. My adrenaline pumped and my appreciation for this beautiful life grew. Finally, at the bottom of this waterfall, I stood before my adventure.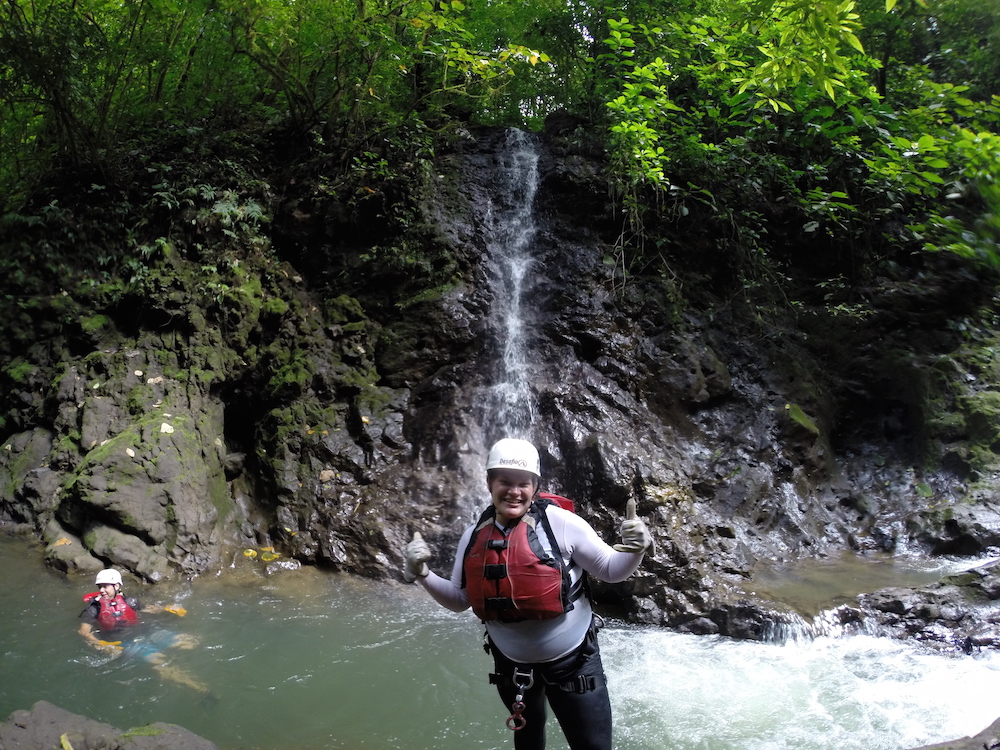 We set off on our expedition into the canyon, climbing alongside the rocks and following the rushing river-stream to our first free-jump. This one wasn't too technical, so I confidently leaped into the next cascading pool below. There was a guide waiting on the other side of the pool with his GoPro, ready to catch the action. Off I went…CANNONBALL! Then I just floated and let the water take me safely to the next platform of rocks, while I waited and watched for the others to make their jump.
We climbed along the sides of the canyon walls and reached another drop. This time, it was a bit more technical. If you don't jump in the right spot, you will hit rocks, so I decide to rappel down into the water to be safe. The guides attached me to the rope and told me where to rappel down the rock. I eventually reached the water again, and let the current push me further into the canyon.
I felt so small standing inside this canyon. Wet rock walls surrounded me, and I could hear the cascading waterfalls around us. If we stayed really quiet, we could hear natures mysterious sounds. This is truly an escape from the hussle and bussle of everyday life. Although my adrenaline was pumping, I felt at ease, yet excited.
A lot of people think rappelling and abseiling equals canyoning, but there are a lot of other aspects to be appreciated. Canyoning means working your way through a canyon. Sometimes that includes rappelling down waterfalls, which is the best part for most. For me, the best was yet to come.
We continued make our way to the exit point. We approached the last part of the tour which included one more big jump, but this time with no ropes. Now, if you decided you had had enough adrenaline for one day by this point, the skilled guides had made a path to avoid this jump, but if you had any adventure left, than this is my favourite part of the tour. Suresh took the first plunge and patiently waited for the rest of us to jump. The cascading waterfall forced you to jump outwards instead of straight down, but nothing too technical. A little running start suffices and with one last big "wahoo" I met the water once again. I suggested that they have a little cooler ready here at this point because I was ready for my cerveza, but our work here was not done.
After a little breather in this calm pool, we had to hike up and out of the canyon where our cooler awaited. This is what I always consider the hard part and never my favourite. However, there's no better feeling then reaching the top of the canyon with the view of mountains ahead and know you just went on a great expedition. I remember having a permanent smile on my face, shaky legs and soaking wet attire as I indulged in my cerveza, fresh watermelon and pineapple. After our delicious reward, we thanked all of the guides for bringing us through the canyon safely and most of all for all the fun we had.
Have you ever gone canyoning? What was your experience like?
This post was written by Allie G of RelaxPacker who is an adventure traveller, cultural enthusiast and sustainable tourism activist.