It's a bird! It's a plane! Yeah, it's a plane. Everyone knows the drill.
First, there's a line up followed by more line ups… followed by another line up or two. Then it's time to sit back and relax in a small plastic chair for what seems like forever. Next, the plane gets filled with people, suitcases and everyone squirms around in their seats trying to find the most comfortable position. Being comfortable is important when sat beside Mr. No-Respect-For-Elbow-Room or Mrs. Needs-To-Pee-Every-Five-Minutes (that's totally me by-the-way). Finally, the plane takes off, the plane (eventually) lands, and after some waiting and smog like impatience, everyone arrives at their destination.
That's the typical airport experience, right? But maybe Mr. No-Respect-For-Elbow-Room is on his way to propose to his long distance girlfriend and is so nervous about where he packed the ring that he forgets you have elbows too. Perhaps, Mrs. Needs-To-Pee-Every-Five-Minutes just had a baby and is traveling to see her sick mother, possibly for the last time.
These are the unanswered questions of the airport that will no longer go unanswered! There's a new TV show coming to Canada that will have everyone grabbing for tissue boxes within the first two minutes of the series premiere and honking loudly into wadded up toilet paper during the breaks.
That's right, Canadians, please welcome to the screen, the new TV series from CBC, Hello Goodbye!
Hosted by Dale Curd, Hello Goodbye gives an intimate glimpse into some of the most emotional moments that take place at airports on a daily basis. This series focuses on people coming and going in Canada's busiest airport; Pearson International Airport in Toronto.
Despite the hassles (and the woman sitting beside you talking loudly to her BFF on speakerphone), airports are jam packed with emotions. Whether it's reuniting love after months of waiting and longing, saying good-bye to family members, welcoming refugees to their new home, and everything in between.
It's hard to resist participating in some good old-fashioned people watching when surrounded by strangers and their amped up emotions. No more sneakily pretending to be checking the clock on the wall or the departure times! Now, thanks to CBC's new television series, Canadian's can curl up and people watch from the comfort of their own homes without shame.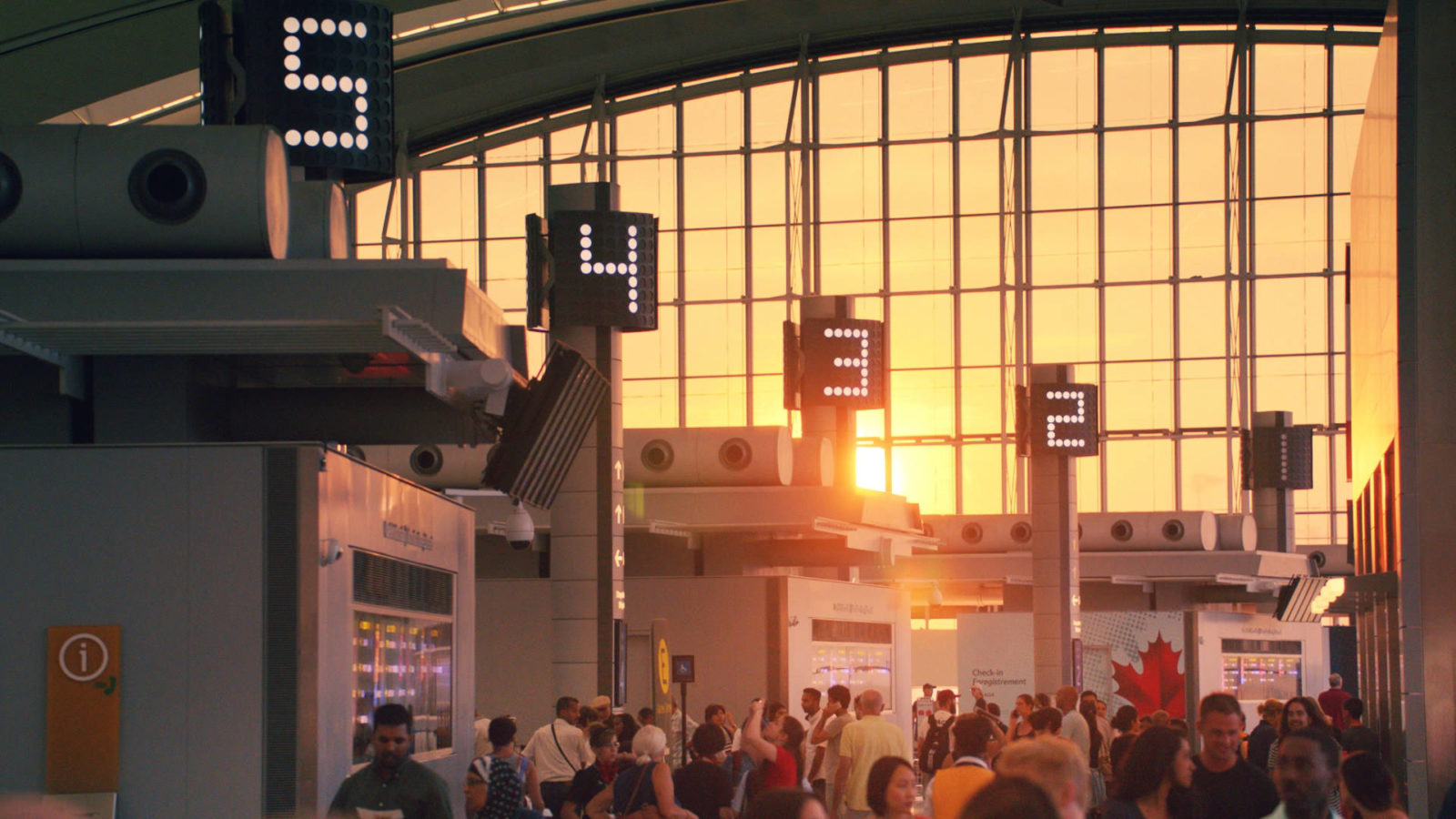 The kind faced host, Dale, meets people from all walks of life and showcases the incredible multi-cultural fabric of Canada. Thousands of people bustle through airports everyday to get from point A to point B. This series highlights a sample of these bustling people and gives them a platform to share their stories. From arrivals to departures, each traveler is unique, yet each one shares the universal emotions that are felt around the world through every culture, age, and relationship.
Hello Goodbye captures these unique stories and invites viewers to briefly step into people's lives and experience their love, joy, challenges, and suffering. Many of these stories were submitted to the show in advance but the crew and host also scope out live, on location interviews for some incredibly raw emotion.
Showcased in the format of a documentary, each half hour episode delves into the relationships and bonds that bring people to the airport each and every day to wave either hello or goodbye to the ones they love. Viewers will be introduced to a wide range of people and love, from a foreign caregiver meeting her grandson for the first time, to a son welcoming his father who is suffering from Alzheimer's, to a military couple in a long distance relationship who are expecting their first child, and many more.
Each episode will leave the viewer wanting to know more of these stories. To feed that desire, some of the aired stories will have online extension that will showcase follow-ups, so viewers can keep up with their favourite love stories from the series.
When I think back to my first airport story, it was one of the most emotional days of my life. I was about to embark on a semester abroad in Paraguay and leave my family, friends and boyfriend behind for 4-months. That boyfriend at the time was Siya, who is now (11 years later) my husband! We had only been dating for 6-months at that time, and I was a disaster at the airport. I didn't want to leave but I knew that I was about to experience something life changing. That it was! It was the beginning of what has now become not just my passion, but my career; to travel the world and experience new ways of life.
Be prepared! The emotion starts immediately in the series premiere of Hello Goodbye and there's enough of it to give all tuned in Canadians a swift kick in the feels. Whether saying Hello or saying Goodbye, each story is jam packed with relatable emotion and maybe even a lesson or thought to take away. It's a real feel good, hug your partner, call your Mom, plan a visit kind of show.
Do you have a great airport story? We'd love to hear about it.
Share your stories below!
***
When To Watch:
Hello Goodbye airs on Fridays at 8:30pm beginning January 8, 2016 on CBC-TV.
Stay Connected:
There's more to Hello Goodbye than cuddling up on the couch once a week. Stay connected with the show by following along on Facebook and Twitter.