Five years ago, Kristen and I graduated from college, moved into a Toronto apartment and started our own companies. My company, QP7 Events, specialized in audio-visuals for live events. Kristen started a company, well you already know, you're here.
We had big dreams, huge determination and unfortunately needed full time jobs to pay the bills. We weren't complaining though, finally we ended our long distance relationship and could build our lives together in the Big City. QP7 Events was gaining clients and building a reputation setting up sound, lighting, and visuals for companies such as Banana Republic, Old Navy, Home Depot, etc. Kristen and I helped one another grow both our businesses and even bought a camera to film our lives. Maybe one day someone would watch us?
Almost immediately after moving to Toronto, we started planning our first round-the-world trip. Toronto life was good and entrepreneurship was exciting but something was missing: Adventure! A year later our lease was up. Kristen left for Europe and India, and I would meet her three months later in Thailand.
My family and friends were surprised that I had built a sustainable business and put it on hold while I explored the world. It was an easy decision to make! I was more interested in making memories while traveling with Kristen. We would also be sharing our worldly experiences with anyone who was interested through HopscotchtheGlobe.com. We explored South-East Asia for a few months and hopscotched west until 6-months, 10 countries, and a lifetime worth of stories later we bumped into Toronto again. Sometimes in life you come to the realization that all your life skills and experiences have been building towards a larger dream, and you can't see it until you get there.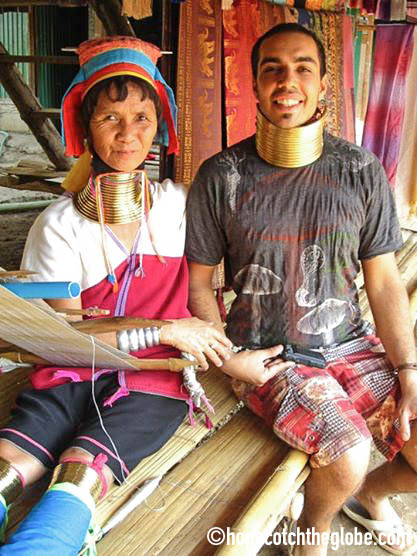 Kristen and I have common goals and different skills. Perfect partner material! We want, no……we NEED the ability to pick up our lives and wander the planet. We also need projects to work on as we are two very restless and creative individuals. The answer had been developing all these years, add an audio-visual element to Hopscotch the Globe with better graphics, better equipment, a YouTube channel and…BANGARANG (Yes, from the movie Hook)! For years now I have been in the background of the website and YouTube channel helping Kristen with graphic design, editing, set design, filming, etc. Kristen wears many hats in the business, and I have been divided between QP7 and Hopscotch.
As of recently, I have been more involved in the forefront of Hopscotch the Globe on its many platforms. Focusing both our energy into one company will give you, the viewer, better and more diverse content. For those of you who are interested in solo female travel don't think that will ever end! Kristen and I will continue to have our own solo adventures as well as couples travel, offering a male and female perspective on our adventures. Let's face it, the ladies can relate to squat peeing in India and the guys can relate to whether boxers or briefs are better for a long flight.
I really look forward to growing Hopscotch the Globe alongside Kristen. I'm lucky to be partnering in business with my partner in life. There are many adventures coming your way, starting with my solo trip to Israel next week, followed by a couples trip to Panama and Germany!
I would like to get to know you and hear any feedback or questions you may have for me. A new chapter in our lives begins!