Each month, I will be sharing my travel favourites from the previous month. The items featured will be ones I've loved bringing with me on my travels and would highly recommend to other explorers.
Since I was travelling quite a bit the past couple of months, I decided to combine both March and April into one video. Here's what I've been digging over the past two months:
Curious.com
Curious.com is like the Netflix of learning. Not that you don't learn from watching Netflix, but Curious offers over 13,000 video lessons on hundreds of different categories that you can learn at your own time and pace. All lessons are reviewed and curated, so quality is also guaranteed. You can sign up for a 7-day free trial to see if you like Curious. If you do, then pricing is $8.99 USD per month or $60 USD per year.
Curious has offered my readers and viewers (hey that's you) a 20% off discount for signing up. This link will automatically apply the 20% discount. If you do, let me know below what courses you plan on taking!
Bowhurst Classic Pack
Bowhurst crafts bags and apparel for self proclaimed adventurers. Whether it's travelling across the world, exploring the city or racing down the slopes, Bowhurst claims to "stand up to the demands of your adventures." I think they are doing a pretty good job at being both practical and stylish!
The Bowhurst Classic Pack is a great backpack for day excursions. It comes in creme and navy blue and creme and black. This has been my favorite day pack to date because of it's simple design and the fact it can take quite a beating (very important for an adventurer). It's a 20 litre bag with a couple of pockets on the outside that magnetically snap shut as well as a couple of pockets in the inside. It has a padded sleeve in the back that can fit a 15″ laptop and thick padded straps that make carrying it quite comfortable. The only thing that it is lacking is a waist strap. If you are okay without that extra support, then this bag is definitely one to consider.
Go Pro Hero 4 Silver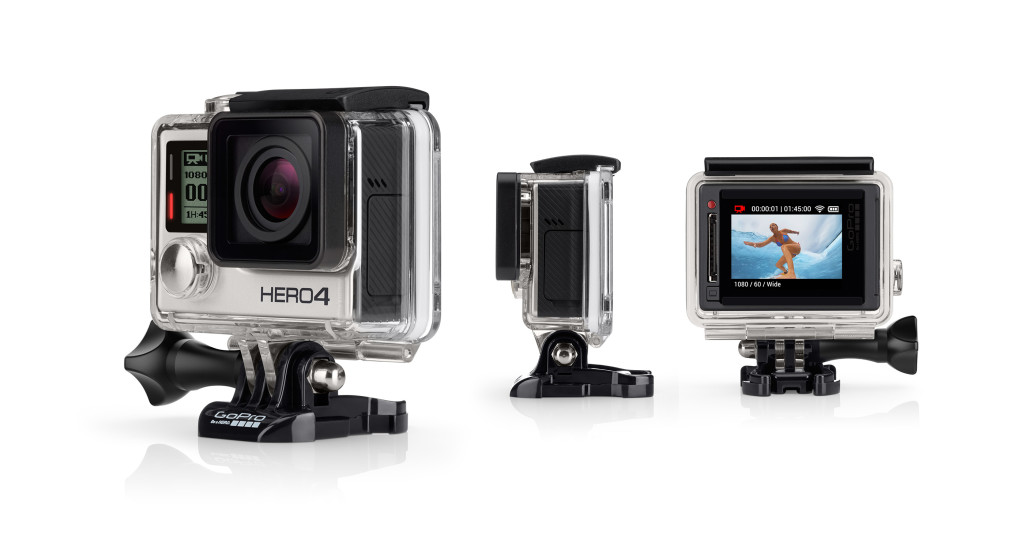 Meet my new travel buddy…the GoPro Hero 4 Silver. I am so excited to bring this baby on all of my upcoming adventures! I was previously using the GoPro Hero 2 for my underwater videos, but this new and improved GoPro is about to take that footage to a whole other level. Here are awesome features of the GoPro Hero 4 Silver:
Built-in touch display

Captures 1080p60 and 720p120 video with lifelike clarity, plus 12MP photos at a staggering 30 frames per second.

Exceptionally smooth slow-motion playback of all your highlights

12MP Burst photos at a blistering 30 frames per second. Capture single photos, or choose Time Lapse mode to shoot photos automatically at set time intervals from 0.5 to 60 seconds

HiLight Tag feature lets you mark key moments for easy playback, editing and sharing

QuikCapture feature allows you to power on the camera and start recording with the press of a single button.

Waterproof to 131' (40m)

New Night Photo and Night Lapse modes offer customizable exposure settings of up to 30 seconds for single and Time Lapse photos

Built-in Wi-Fi and Bluetooth

The SuperView GoPro-exclusive video mode captures the world's most immersive wide-angle perspective

Auto Low Light Mode enables you to move between bright and dark environments without having to adjust your camera settings.

New audio system captures clean, high fidelity sound.

Protune feature unlocks the camera's full potential, delivering minimally compressed, cinema-caliber video optimized for professional productions, and advanced manual controls for photos and video.
GoPro 3-Way
The GoPro 3-in-1 mount can be used as a camera grip, extension arm or tripod. It expands to 20" (50.8cm) and collapses to 7.5" (19cm) making it super easy to bring along in your day pack. It's also super light! If you have a GoPro, then I highly recommend purchasing one of these.
Origins Drink Up Intensive Over Night Face Mask
Origins Drink Up Intensive is a luxurious face mask that quench's the skins thirst. For those of you who have flown in an airplane, you know it can get quite dry up there. One of the worse feelings is having your beautiful sun-kissed skin peel away during your flight home. Who wants to be itching themselves non-stop for hours? Not me! This fask mask is incredible at keeping your face hydrated. You can even rub it on other parts of your body too if you wish. It is formulated without any parabens, sulfates and phthalates. It also smells incredible!
Dream Cap
This Dream Cap from CyberDog is the most fun and colourful hat that's I've ever owned. I am absolutely obsessed with it. It's always a good idea to bring a hat with you on your travels, and this has definitely become my go to hat. I mean it has cyber unicorns on it! Does it get any better than that? I think not!!
That's it for my March/April Monthly Travel Favorites! I'll be posting my monthly favorites at the beginning of every month, so be sure to subscribe to my YouTube channel and head on back to my blog so you don't miss out!
Let us know below what your monthly travel favorite is from last month!