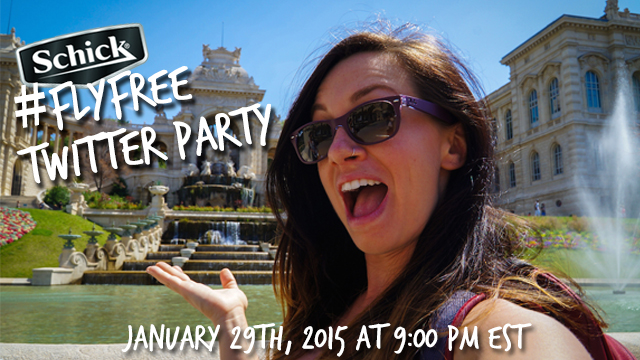 Last week, I shared the contest Schick is holding where one lucky person will win a chance to #FlyFree for 25 years. On top of that, there are many other great prizes to be won such as:
50 travel vouchers worth $1000 each

200 luggage sets with a value of $500 each

200 cameras with a value of $250 each

And other prizes with a combined value of $330,000
I also told you about the #FlyFree Twitter party being held on January 29th, 2015 at 9:00 pm EST where we will discuss travel related topics.
There will be even more prizes given away to those who participate such as:
One grand prize worth $200

Five prizes with a $100 value

A wide variety of shaving products including Skintimate, Hydro Silk, Hydro Silk Sensitive, Intuition Advanced Moisture and refills, Edge, Hydro5 and refills, and Xtreme3 Sensitive, Hawaiian Tropic Scented Women's Xtreme3 Eco.
All you have to do is RSVP to the Twitter party below, follow @freeyourskinCA on Twitter, and join us on January 29th to answer at least 1 of the 6 questions during the hour in order to be eligible. The contest is open to Canadian residents that are of legal age. I'll be there, and I hope to see you there too!
RSVP to the #FlyFree Twitter Party here.
NOTE: When RSVPing, write @yourtwitterhandle under your response and http://twitter.com/yourtwitterhandle under link.