This guest post comes from Aaron Turpin of Scarborough, Ontario.  Thank you so much for sharing your experience with us.  After reading this post, I hope that many other young adults get the chance to do what you have done.
I can remember my high school years like it was yesterday. As a young man in a diverse environment, finding my social niche while excelling on every single report card was never tough. I had befriended the finest teachers in an institution which respected my own self worth and supported each endeavour I took on. What a splendid way to spend one's youth. Those were undoubtedly the happiest years of my…..
Okay, so maybe I wasn't the perfect, mild-mannered and fashionable pupil within the 1500+ populous of my Scarborough-based 'academy', but at that point in my life I was a little…..lost (to say the least). Fortunately for me, a few specific people and events, which all took place in that same time period, changed my entire outlook on life.  The biggest one being a brochure I picked up in the guidance office during my sophomore year. Bold, green letters headlined the top of a messily folded paper reading 'Katimavik.'  Underneath the letters was a cheesy photo of two youth holding shovels occupied an otherwise blank white canvas with the quintessential orange dot accompanied by a green rectangle underneath hidden in the corner.
Fast-forward to three months after my graduating year in mid-September 2006. I'm sitting on a plane headed to Saskatoon (a place I never thought I would actually visit before this point), where I will meet ten other young people from across Canada. I have never even emailed these individuals; and this was before the advent of Facebook (am I that old??), so I certainly couldn't perform a pre-meeting profile creep. Somehow, that very night, I was to move in with this group in a small house in Prince Albert, a tiny town which borders the beginning of the true Northern Prairies. This was my life for nine months – living in close quarters with ten incredible young leaders and dividing that time between three different placements chronologically: Prince Albert, Saskatchewan, St. Hyacinthe, Quebec. and Vancouver, British Columbia.  Here's the sweet part – ALL of this (my food, board and a small allowance) was funded by the good ol' Canadian Government.
Now, before you gawk and call me a free-loader, I experienced some pretty rough times at Katimavik, too. At every placement we were to step into the role of full-time volunteer within our communities. Each of us had a 9 – 5 job in a non-profit organization, and not every occupation was glorifying. I spent more time than any human being should behind an industrial dish washer at a soup kitchen in Quebec. But it was damn worth it, because I had never actually pushed myself beyond my limits like that. If I'd have quit, I would be quitting on my team and that was never an option. Outside of our regular jobs we were to seek out other opportunities for community support. This involved helping to organize community festivals, working with a local park to manage upkeep, serving food to the homeless at Christmas, and more. Consequently, we assimilated and attached ourselves personally to each of our placements.
My point here is not to ramble through a 'look what I did' tale of adventure, but instead I wish to focus on the fact that programs which offer this kind of experience for youth, are right now, heavily underfunded and not advertised enough. Young Canadians need to know about something like Katimavik, and it's just not posed as an option by teachers and other mentors. I received a lot of flak from people after deciding to do this who had boxed themselves into thinking that life after high school consisted of three things only: college, university or work. This just isn't the case. Other initiatives such as Canada World Youth and Gap Year Abroad are important for preparing young adults to make healthy decisions for post-secondary education or other alternatives.
Looking back, I actually have no idea why I grabbed that decrepit out-of-place looking flyer, but I am sure happy as hell that I did. That action was more luck than fate; I can easily say this because I know of a few hundred kids that should have done something like Katimavik before diving into post-secondary education. Katimavik really changed my life. I've actually had to divide my 23 years on earth into two distinct eras: pre and post Katimavik. This experience single-handedly helped me decide what university program I wanted to enrol in, who I was and where my strengths were as a leader, my own boundaries, morals, beliefs and not to mention it blessed me with ten amazing friendships that I STILL have! It's a shame how many young people will miss out on this kind of journey.
Maybe you are reading this and considering the benefits of a program like Katimavik for yourself, or maybe you feel as though what I have said need not apply, but I beg to differ (respectfully, of course). I have written before about the importance of supporting young leaders in today's society. If an initiative like Katimavik were to seize to exist, we would greatly jeopardize our ability to find young folks who are capable of creating sustainable changes in government, non-profit, international development, business, education and beyond. A campaign to save something that will allow our youth to grow and make a difference is everyone's business. After all, many of us aren't actually young enough to know everything…..According to Oscar Wilde.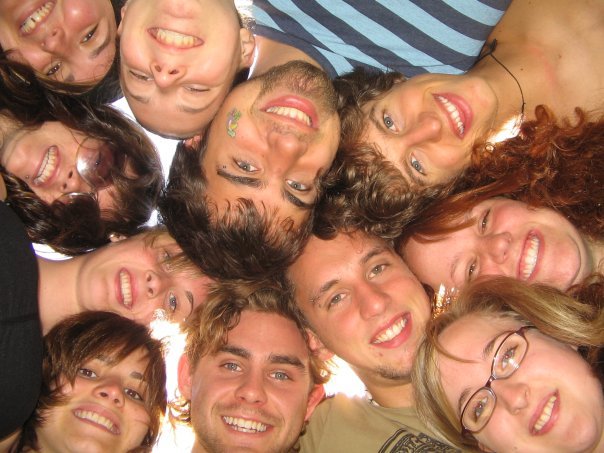 *********
To learn more about Katimavik and opportunities that are available, check out the Katimavik website.
To read more of Aaron's adventures, you can check out his blog: