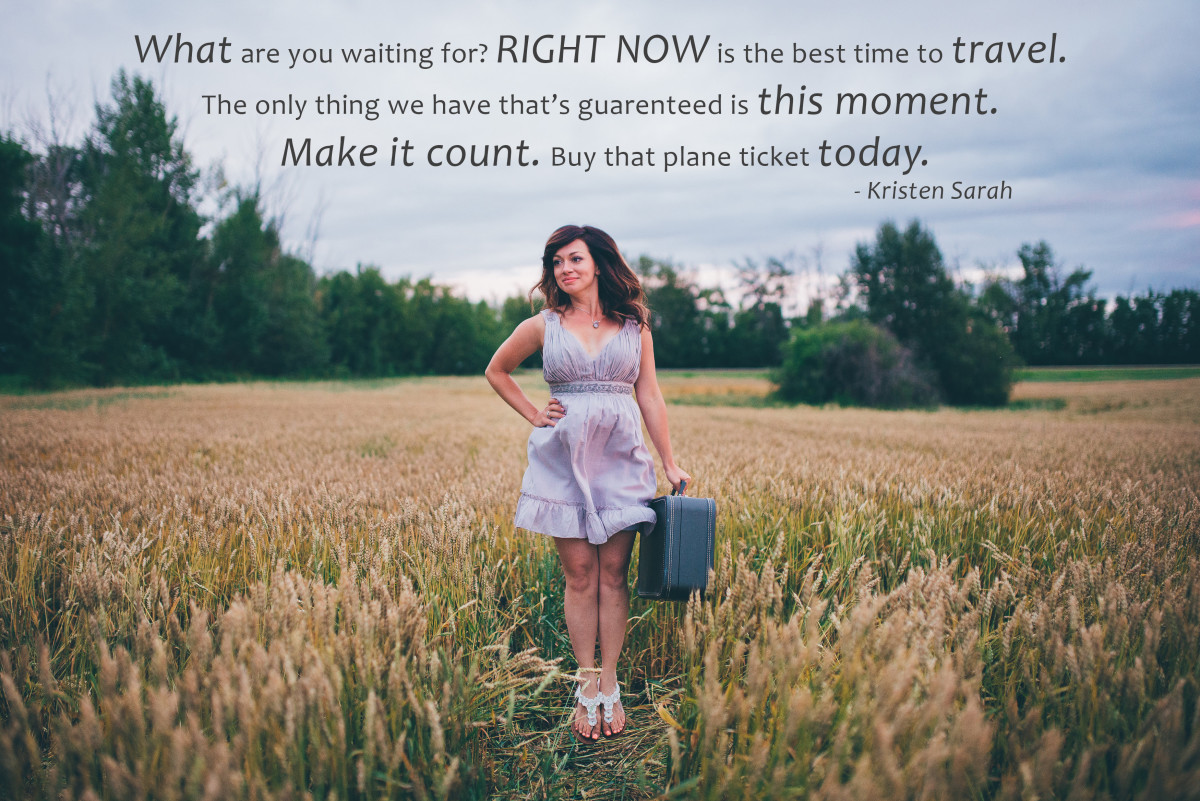 I read a study once where people on their death bed were asked about their biggest regret in life. The majority had the exact same answer: Their greatest regrets were about the things that they chose not to do, not what they had done.
Travel, enjoying new experiences and creating new adventures are things that most people want to do, but put aside for later.
"I'll travel once I retire".
"I'll buy that boat and sail around the world when once my kids leave the house."
Both of these are common responses you'll likely hear from many young adults who want say they really want to travel but haven't yet. Now, I can completely understand that travel can seem so far fetched to those who have full-time job and families. There's also the idea that only those who have a lot of money can travel. I can definitely tell you that is far from the truth. I know it can seem like it's a struggle to find time to actually take those journeys and have those adventures, but if like anything, if you really want it, you can make it happen…and happen now. Say to yourself, [Tweet "This year, I'm going to take the trip I've been dreaming about! "] If you need a little bit more inspiration, here are 10 adventures that you can enjoy this year:
10. Hiking in the Himalayas of Nepal
Nepal is a country that is recovering from the aftermath of a devastating earthquake, but the most devastating thing of all is that visitors are staying away from this amazing country. If you go hiking in the Himalayas this year, you're likely to enjoy some of the best prices for trips and get to explore with fewer visitors than you would normally see in the region. The views along will have you shaking your head in awe at how beautiful nature can be.
9. Go White Water Rafting in Fiji
While many people may think Fiji is solely a place for romantic couples looking for an exotic getaway, they are mistaken. Fiji has so much adventure to offer that you can easily spend a couple of weeks doing something thrilling each day. If you love a thrill and don't mind getting wet and wild, then rafting in Fiji is an adventure you'll love. Did I mention that there are stunning cliffs that frequently reveal breathtaking waterfalls at nearly every corner?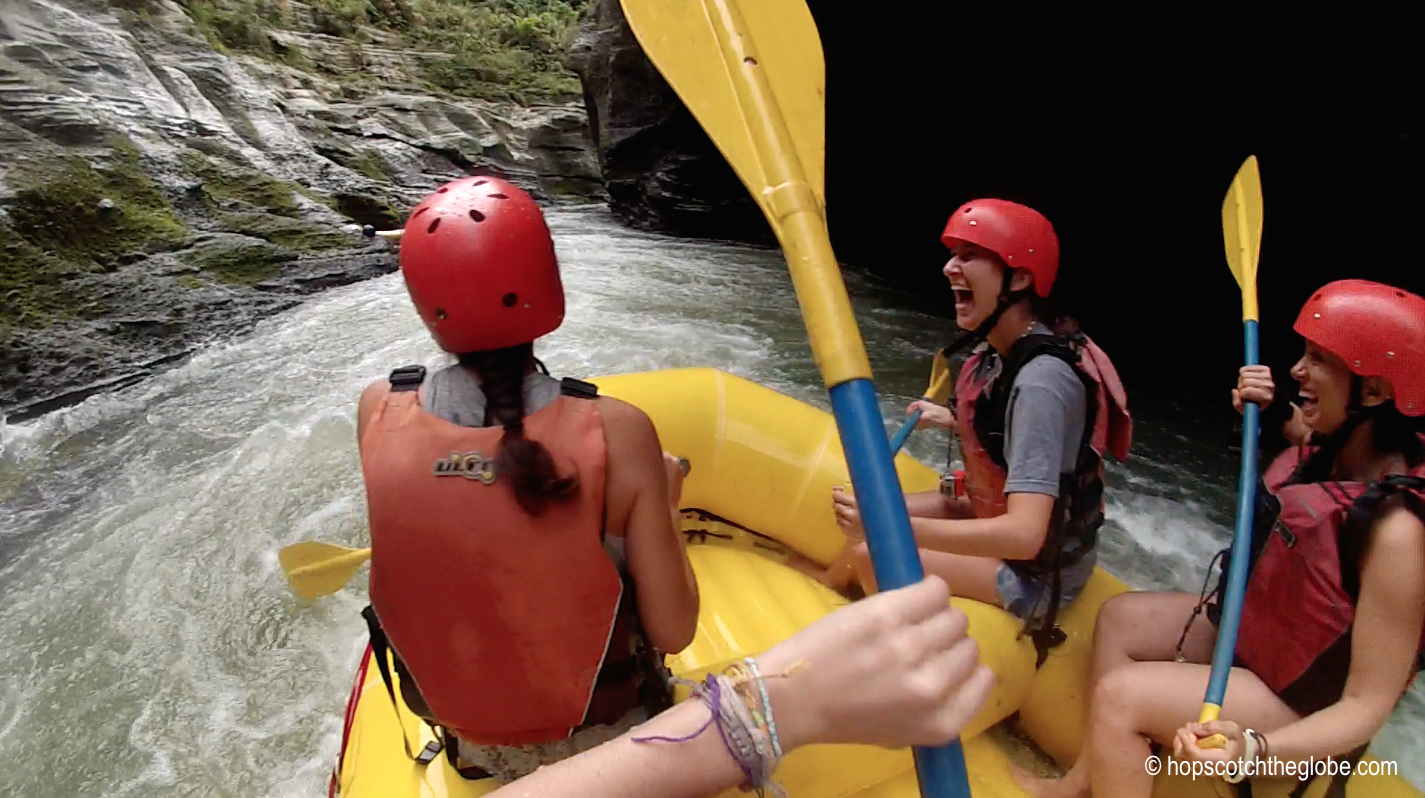 8. Coasteering Around the Cliffs Near St Davids, UK
This beautiful craggy coastline is home to one of the most exciting water activities you can enjoy in Europe. Pioneered in Wales, Coastering is a blend of rock-hopping, shore-scrambling, swell-riding, cave-exploring and cliff-jumping.Scramble over the rocks, take fear defying leaps into the deep pools around the coast, and swim around some dramatic rocky areas of coastline for the ultimate adrenaline rush. During you're adventure, you'll discover wildlife and beautiful scenery too.
7. Complete the Triple Crown Of Bungee Jumps in Queenstown, New Zealand
AJ Hackett opened the first ever commercial bungee jumping site at the Kawarau Bridge near Queenstown and now this is one of three thrilling jumps you can enjoy around the area. The highest of all is the Nevis Highwire, which involves a leap of over 130 meters.
6. Explore the Amazon by Boat
The Amazon rainforest is one of the most biodiverse places on earth. One of the best ways to explore the area is by boat. If you're lucky, you may be able to spot the playful Amazon river dolphins, while taking an excursion on foot into the forest will reveal further species that are only found in this area.
5. Travel Into The Mongolian Steppe to Meet the Nomadic Shepherds of the Region
Mongolia is where the huge empire of Ghengis Khan began. Today, it's the least populated country in terms of population density and the country at the top of my bucket list! One of the most interesting experiences to try in Mongolia is doing a homestay with a family of nomadic shepherds to truly get a first hand experience of their way of life.
4. Take A Road Trip Across The United States or Canada
There are many ways to explore a country, but if you are traveling across the United States or Canada, then a road trip is the best way to explore the country. For your U.S. road trip, try to stay off the interstate and follow routes such as the old Route 66 which will take you through the real America. This route will allow you to enjoy great food, drink and some interesting and quirky sights. For those that think British Columbia and Alberta are what make Canada beautiful, you are in for a real treat! Road tripping along the Eastern Canada is sure to blow you away with its natural beauty.
3. See The Aurora Borealis In Norway or Finland
The Northern Lights is one of the most impressive sights in the sky and when you travel into the north of Norway or Finland, you'll give yourself the best possible chance of seeing this spectacular sight. For the ultimate chance of seeing the Northern Lights, you'll want to head to an open area away from the city and light pollution on a clear night sky when activity is at its peak. There's an app called Aurora Forecast that can give you an idea of when the best time to see the lights will be.
2. Dive In The Crevasse Between Two Continents In Iceland
Silfra is a unique phenomenon on this planet. It is a water filled crevasse that divides two continental plates and the chance to go scuba diving here is one that is not to be missed. The visibility in Silfra exceeds 100m, making it some of the clearest water in the world. Both divers and snorkellers can dive and float between the American and Eurasian continental plates and there are even places where you can actually touch both continents at the same time.
1. Soar Above the Clouds in a Hot Air Balloon in Turkey or Spain
I think the best way to describe how being in a hot air balloon ride makes you feel is that 'it's a relaxing thrill.' Although you are floating in a basket held by a balloon hundreds of feet above the ground, there's something quite tranquil about the whole experience. Perhaps it could be the fact that the experience is mostly silent, and you can reach out and touch the clouds? It's also worth mentioning that the views you'll get are exceptional when flying in two of the best places to do it – Girona, Spain and Cappadocia, Turkey. While your up there, don't forget to snap a selfie. It will sure beat all of your friends!
Which of these adventures do you want to go on first?