Tis' the season! It's officially December, which means it's time for another Holiday Gift Guide for all the travel junkies in your life. I shared my gift guide last year which you all loved, so I decided to make it a yearly tradition. If you're feeling stuck or need inspiration to help you choose the perfect gift for that travelling loved one, look no further! These travel goodies have been items I've been really digging this year and believe would make excellent gift ideas.
Books

#GIRLBOSS
While I wouldn't call #GIRLBOSS a travel book, it has definitely motivated me as a business woman. In this New York Times best seller, Sophia Amoruso shares her story of how she went from dumpster diving to founding one of the fastest-growing retailers in the world. If you have someone in your life who is trying to turn travel into a career in one way or another, #GIRLBOSS will be an excellent gift.
The Kindness of Strangers
In today's world, it's great to be reminded that the world is full of good people. The Kindness of Strangers is a collections of 26 inspiring tales of the unexpected human connections that transform the experience of travel. It's a feel good book that reminds you of one of the many reasons why travel is amazing.
Price on Lonely Planet Shop: $11.24 USD
1000 Ultimate Experiences
Just when you thought your bucket list couldn't get any longer, Lonely Planet goes and shares 1000 more ideas you won't be able to say no to. 1000 Ultimate Experiences brings together 1000 ideas, places and activities to inspire and entertain travel enthusiasts.
Jade Yoga Mat
I've owned several yoga mats, and the Jade Yoga Mat has hands down been my favourite. It's got excellent grip, great comfort and is eco-friendly. Jade mats are made sustainably with natural rubber tapped from rubber trees, a renewable resource and unlike other mats contains no PVC, EVA or other synthetic rubber. And for every mat that's sold, Jade plants a tree – with over one million trees planted so far. Jade also makes travel specific yoga mats that are thinner and smaller.
Price on Amazon: $74.95 – $105.82 USD
Journal
Whether you enjoy writing, sketching or just jotting out notes here and there, a journal makes an excellent travel companion. Every time I've brought a journal with my on a trip, I've always been thankful I did so. It's so special to be able to look back on these pages years from now and be reminded of these experiences I've had. My favourite is when I forget about little things that have happened during a trip, and then I'm reminded once more after flipping through my journal.
Price of Similar Item on Amazon: $23 USD
S'well Water Bottle
This may look like an overly priced, typical water bottle, but it's more than that. The idea behind the S'well Water Bottle is that the company wants everyone to stop using plastic water bottles. I never travel without it now, and continue to fill it up with clean filtered water no matter what country I'm in to reduce waste.
Every year, over 200 billion plastic water bottles go to landfills globally, which is ridiculous and avoidable. S'well bottles are made with non-leaching and non-toxic stainless steel making it not just healthier for the environment but for you as well. The best part about this water bottle is that drinks stay cold for 24 hours and hot for 12 without exaggeration. The bottle comes in different sizes and different colours and designs. S'well is also a proud supporter of UNICEF to help provide clean and safe drinking water to the world's most vulnerable populations.
Gear
Google Pixel
I've been using the Google Pixel for the past couple of months and have been impressed. The camera quality, especially in low light, is top quality when it comes to smart phones.  The battery lasts all day long, which is a refreshing change from my last iPhone 6. Also, when you're battery does die, you can charge it for 15-20 minutes and get another 7 hours out of it. It offers unlimited storage for all your photos and videos, which is a bonus for the traveller. It's also the first phone with the Google Assistant built in, which is excellent at being my navigator, trip planner, scheduler, translator, plus more.
Make Your Own Live Case for $50
Daydream VR Headset by Google
I've tried several of those cardboard VR glasses and while it was cool, I wasn't sold on the whole VR thing. This is until I tried the Daydream View by Google. This headset takes virtual reality in your own home to a whole other level. You just pop in your phone (Pixel and Moto only for the time being) in front of the headset lens, and you're transported to a whole other world. You can travel without leaving your living room, kick back in your personal VR cinema, and play games that put you in the centre of the action. The headset is made with lightweight fabric making it very comfortable to wear and paired with a controller, both are designed to be easy and intuitive.
Price in Google Store: $99 USD
Music Flow P5 LG Portable Speakers
Music is an essential part of the travel experience. If you have someone in your life who believes the same, then a Music Flow P5 LG Portable Speaker would make an excellent gift. This portable speaker fits perfectly in a carry on bag or even purse or small backpack. It's a simple design, provides excellent sound and has a long battery life. What's extra cool about it is it has dual speaker pairing. This means you can pair two of these and create an around sound experience.
Skyroam Hotspot
I really need to rave about the Skyroam Hotspot. This small, but powerful device, has been the ultimate travel companion. The Skyroam is a global WiFi hotspot that offers fast, secure internet for your mobile, tablet and computer in over 100 countries. I've tried several competitive devices which have miserable failed to connect me to the online world during my travels, but not the Skyroam. The best part is you pay a low rate for 24-hours and get unlimited internet.
Price on Amazon: $99.99 for device only
Vasa BLÅ Sudio Headphones
The Vasa BLÅ Sudio Headphones are the first pair of wireless headphones I've owned, and I'm a fan. Not only are they fashionable but they offer studio quality sounds along some other great features including: cutting edge Bluetooth 4.1 technology, multi-pairing capabilities and up to 8 hours of unlimited beats with unique standby for up to 10 days. These headphones are especially nice when listening to music on a plane. I don't have to take my headset off every time I use the washroom or worry about a cable getting tangled in my airplane seat.
Price on Sudio Headphones Website: $110 USD
Sony RX100 IV
I've been the proud owner of the Sony RX100 IV for about a year now. This may look like your typical point and shoot camera, but you will be amazed by how powerful this little guy is. This camera would be my first choice for the traveller looking for a great camera that takes excellent photos and video and doesn't want to lug around a heavy DSLR. The Sony RX100 IV introduces a host of performance-oriented improvements and new features, including 4K video capture, 16fps continuous burst shooting and a very fun high frame rate (HFR) slow-mo video mode. It has excellent image quality, Zeiss lens, 40x super slow motion and up to 1/32000 sec. super-high-speed shutter beyond human perception, tilted screen, control ring for manual, view finder and flash. This has been the ultimate vlogging camera!
DJI Phantom & DJI Mavic
If you have a travel-loving-film-maker in your life, the DJI Phantom 4 is the ultimate gift. This is the sexiest drone out there and can take your film making to a whole other level. Even if you've never flown a drone before, the many excellent features the DJI encompasses makes your flight that much easier. Some of these features include front sensors to avoid crashes, multiple flight modes, longer fly time, tapfly and active track. It shoots sharp, clean video in 4K at 30fps and Full HD 1080p at 120fps for slow motion.
At half size and same price, the DJI Mavic makes an excellent travel companion, especially for those who travel solo. It has an all-new transmission system with a 4.3mi (7km) *range, 5 vision sensors, and a 4K camera stabilized by a 3-axis mechanical gimbal. This is especially a great option for those who are travelling solo and filming their adventures as it's less to lug around.
Price of the Phantom 4 on Amazon: $999 USD
Price of the Mavic on Amazon: $999 USD
Manfrotto Tripod
Every film maker should have a great tripod and Manfrotto is the leading contender. No one makes tripods better than Manfrotto. While I personally only use a tripod about 10% of the time, when I do my BeFreeLive tripod never lets me down. It's fluid head and easy to assemble legs make it great for getting those beautiful pans and tilts. It's fairly light weight, folds up nice and compact making it easy to strap on to my camera bag and go off for a day of shooting.
LifeProof Phone Case
I've lost my phone to the toilet bowl three times. THREE! So, when I heard of LifeProof phone cases, I knew there was no other option. I believe this is the ultimate travel phone case as it's water, snow, dirt and drop proof.
Fashion & Beauty
JORD Wood Watch
I love my JORD Wood Watch! Not only is it totally unique from any other watch I've seen before, the battery is powered by kinetic energy. This means, as long as it's on my wrist, it will keep on ticking! These watches make the perfect gift for those would love a more earthy, yet classy look around their wrist.
Prices on WoodWatches.com: $129-$395 USD
**To enter to win a JORD Wood Watch, click here and fill in your information telling us which watch you'd like! Prize: $150 store credit – Free Shipping – Free Sizing – Open Internationally.
Airplane Socks
Every traveller should own a pair of exceptionally comfortable socks.The Heat Holders are like the warmest, bestest hug for your feet. These especially come in handy during a flight when the air conditioning in the plan can sometimes be on turbo.
Origins Drink Up Intensive Overnight Mask
There's nothing worse than dry recycled air to make your face feel tight and flaky. The Origins Drink It Up Overnight Mask is one of my favourite must haves on every flight for ultimate skin hydration. I run a quarter size worth all over my face before take off, and that usually keep my face nice an moisturized for about 6 hours. If I need more, I just keep lathering it on. Not only is my skin hydrated, but I look refreshed when I land no matter how long my flight was.
Packing
Bluesmart Suitcase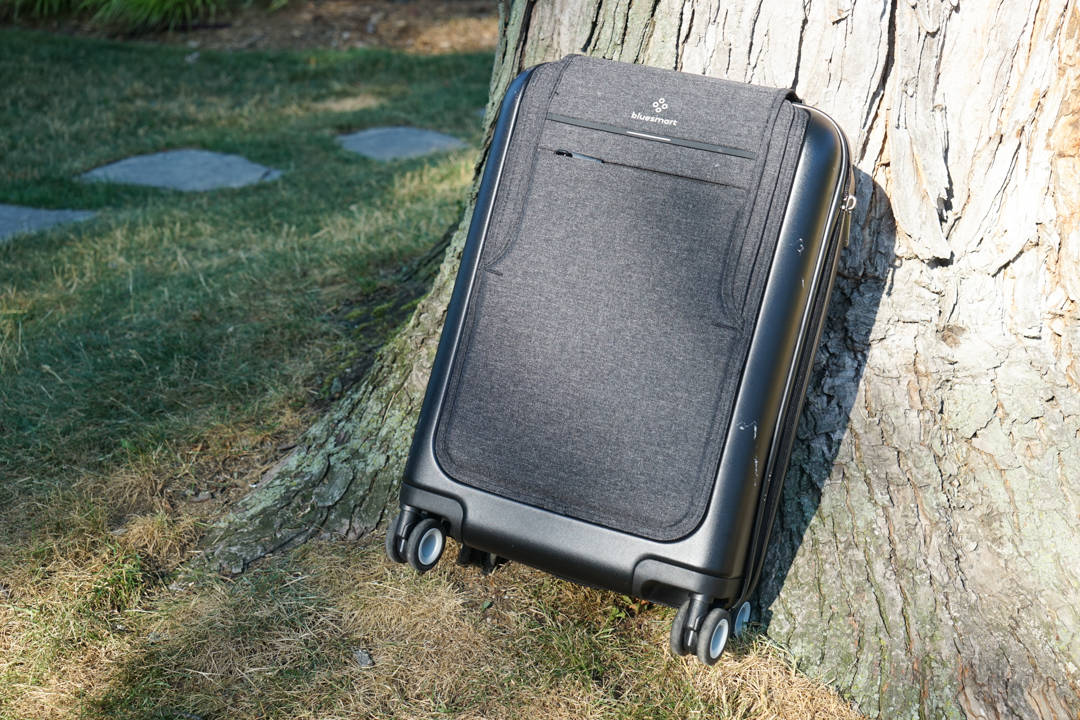 For the past 6 years, I've been travelling only with a carry-on to avoid losing my luggage, packing to much and extra airline fees. The Bluesmart Carry-on Suitcase had been an excellent travel companion of mine for the last 6 months. It's taken quite the beating and seen many places around the world already. This suitcase is a smart cookie! Not only can it store all of the things you need for your travels, but it can also do the following:
Charge your devices up to 6 times (it has a built in USB)

Remotely lock your suitcase from your phone (there's an app for that)

Locate your suitcase anywhere in the world (you'll never lose each other)

Check the weight of your suitcase anytime (make sure it's keepin' healthy)

4 smooth wheels (people in front of you won't even hear ya coming)

Ultra-resistant to water, scratches & bumps. (it's ready for an adventure)
What I really love about this suitcase, is it packs way more than it looks like it can. Which means I always have room for some extra goodies I find during my travels.
Gregory Mountain Products Cairn 58 Backpack
Every adventure traveller needs a good backpack. The Gregory Cairn 58 litre Pack has been the backpack I've been taking with my on my adventure travels for the past year. I tried on several backpacks until I found this beauty which fits perfectly with my size. I would recommend this specific backpack for females between 5 and 5'6" feet (you can always adjust it to fit your body exactly).
Some awesome features about the Gregory Cairn 58 Litre Pack are:
It's comfortable and strong

Features a breathable back panel and wire-wishbone frame for lasting trail comfort

Distributes weight evenly making it feel light to carry and is better on your body

Has a built in rain cover

Has an innovative packing system features 3 sections that separate your items (ex. dirty trail shoes from clean clothing)

Includes a laundry bag built right in
Osprey Aether 60 Litre
For the adventurous fellas out there, the Osprey Aether 60 Litre is a great backpack for multi-day adventures. Siya has been using this pack for the past year and has been really loving it. He loves it's fantastic storage, durability and most importantly, comfort.
Some additional features of the Osprey Aether 60 Litre are:
Custom-moldable hip belt balances firmness and cushioning for optimal support and comfort

Back panel is lined with flat spacer mesh for a smooth and breathable contact surface

Peripheral frame effectively transfers weight to the hip belt

Top-loading main compartment can also be accessed through a curved side zipper on the front of the pack body

Wide-mouth sleeping bag compartment is easy to load and unload

Top lid converts to lumbar pack with a built-in belt

External hydration sleeve in the back panel simplifies refilling and helps protect pack contents from spills (hydration reservoir sold separately)

Large stretch-mesh front pocket makes it easy to quickly stash and access extra gear

Zippered hip belt pockets and dual-access stretch-mesh side pockets provide secure storage and organization

Features dual side compression straps, removable sleeping pad straps, trekking pole attachment and 2 ice-axe loops and handle wraps
Packing Cubes
Packing cubes will revolutionize the way you pack for your next trip. Today more than ever, travellers are forced to be more conservative with space as well as how much luggage they can take with them, getting creative with how you pack is essential. Packing cubes help travellers keep organized, pack more and still take up less space.
Price on Amazon: Set for $24.95 USD
Stocking Stuffers
Ear Planes
If that special someone has troubles with their ear pressure during a flight, Ear Planes will become their saviour. I've tried several things to help my ears pop on a flight which have worked. However, Ear Planes have been the most effective. They relieve ear discomfort, clogging and popping with the exclusive CeramX™ filter that regulates air pressure naturally. I pop them in before the plane doors close on each flight until we are in the air and the seatbelt sign is off. I then pop them back in before we start descending. Since I've been using them, I haven't had any issues with my ears.
Price on Amazon: 3 pairs for $13.83
Essential Oils
I am obsessed with using essential oils, especially the ones from Synergy Blend set. Some of my favourite essential oils are lavender and Palo Santo. I dab a little bit of lavender oil behind my ear and on my wrists one a flight to relax me and even help me sleep. There are essential oils that help with jet lag such as chamomile, sweet marjoram, mandarin and clary sage to relax and calm and rosemary, bergamot, grapefruit, lemon, peppermint and eucalyptus to enliven.
Melatonin
Melatonin is a hormone made by the pineal gland, a small gland in the brain which helps control your sleep and wake cycles. These natural sleep aids are very helpful during long flights or flighting jet lag. You can find these natural sleep aids in health food stores, where you can talk with a specialist that will help find the right brand for you.
Coconut Oil Saches
Oh, coconut oil, how I love thee! Coconut oil is great for everything, which is why I always carry these coconut oil sachets with me on my travels. If you're feeling dry on your flight or after a day in the sun, run some of this magical oil all over you. You can eat it and even give your hair a treatment. It's really multipurpose and an excellent stocking stuffer for any kind of traveller.
Price on Amazon: 10 for $8.54 USD
***
I hope this list helps you during your holiday shopping. Now, comes the extra fun part…
For the next 7 days, starting today, I'm giving away one of these items above to one of you! That's seven giveaways in total! To enter, you must be subscribed to my YouTube channel, have clicked on the little bell beside that subscribe button (so you are notified when I release a new video), be following me on Instagram and leave a comment on each Instagram photo of the giveaway you want to win. UPDATE: THE WINNER HAVE BEEN SELECTED! See below.
Good luck to everyone and thank you so so much for your support since you found me! This giveaway is for you guys as the biggest thank you, and I truly hope you enjoy it!
GIVEAWAY WINNERS:
Day 1: Two Music Flow LG Portable Bluetooth Speakers – luminousandwild
Day 2: Jade Travel Yoga Mat – lifewithaview15
Day 3: Lonely Planet Books – lizzywanders
Day 4: JORD Wood Watch – Makaiy07
Day 5: Sudio Headphones – emmafitzvest
Day 6: 6 Pack Essential Oils – tilyahoop
Day 7: Google Pixel and Live Case – sannesam
**If you are a winner, please send me an email at hopscotchtheglobe[at]gmail[dot]com to claim your prize.
***
Thank you to everyone who entered!
Disclaimer: A special thanks to Google for sponsoring this post.