You've got an early morning flight, and you want to spend 10 minutes on your hair…tops! On the other hand, you want to look good when you get to your new destination. Well, you're in luck because the following 3 hairstyles can be done in under 10 minutes and leave you looking damn sexy for your next trip. For a complete visual step-by-step, click on the video above or you keep reading.
The Messy Bun
(takes 2-3 minutes)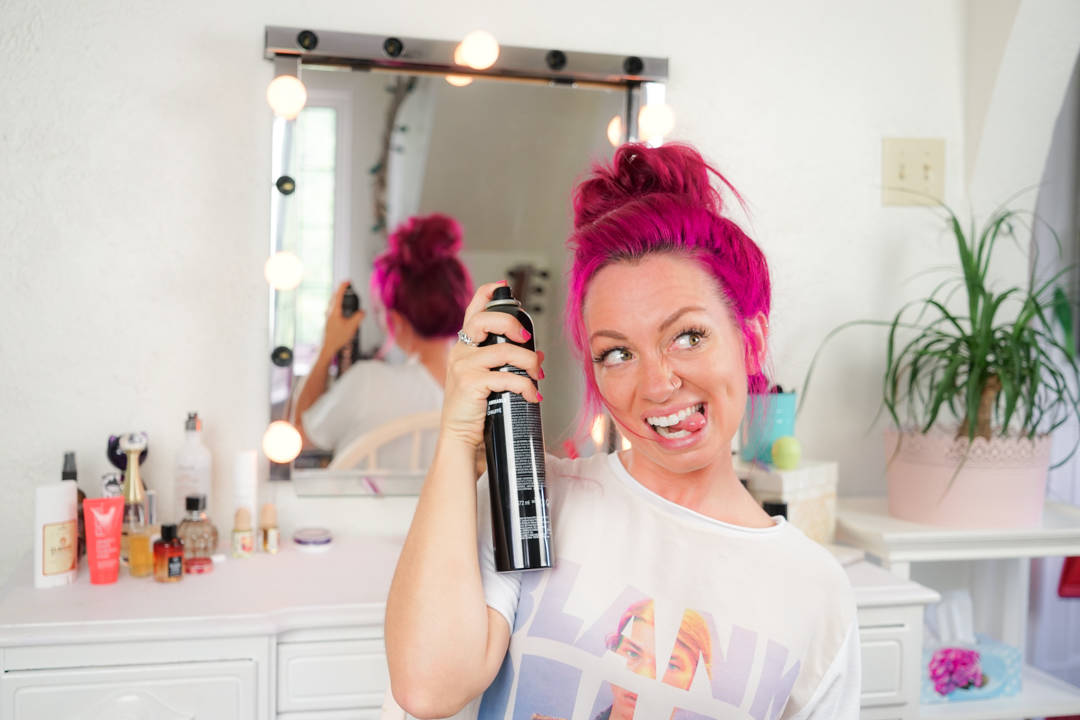 For the first hairstyle, you're going to want to work with completely dry detangled hair. I'm using a Wet Brush which is the best for detangling while being gentle on your hair. Then you're going to want to add a little texture and volume to your hair. For this, I use the Redkin Fashion Works Hairspray.
Next, grab all of your hair and pull it up into a really high pony tail. Then take an elastic band and wrap it once half way around your bunched up hair, pulling the end of the pony tail around the base creating a bun look. Wrap the elastic band once again around the base of that bun sticking in those ends.
Then you're actually going to want to start pulling hair out from the elastic (just a bit) to create more volume and give your hair that messy look. If you take out too much hair, don't worry you can just tuck some back under the elastic. The more imperfect it looks, the better.
Once that's done, you can pull out a strand of hair from both sides, right in front of your ears as well as right above your forehead. You can even tuck your fingers underneath the front of your hairline and pull up a bit to create even more volume. Perfect imperfection is what we are going for. It's as simple as that!
Heatless Waves
(takes 5-6 minutes)
The next hairstyle is one of my favourites. You can do this the night before your early morning flight.
You're going to want to wash your hair and let it air dry almost completely. If it's a little damp, that's okay. I also add a bit of Redkin Frizz Dismiss or Moroccan Oil into my hair to make it less frizzy and softer looking. Then you're going to want to split your hair into two sections right down the middle.
Working on one side at a time, you'll want to grab a layer from the top section of your hair and split that into two. Then take the back piece of hair and cross it under the front and then back over again, creating a twist. Do this twice.
When you go to do this a third time, you'll want to take more hair from the back and add it into your front hand, over and into the twist. Repeat this step until you reach the base of your neck.
Once you get to the base, keep twisting those two pieces of hair until you get to the end. Then take your hair and wrap it up into a low bun and secure it with an elastic band. Do the exact same on the other side of your head. When you're done, you should look a little something like Princess Leia.
Now comes the best and easiet part of all – you get to sleep on it. Once you wake up in the morning, you can take out your hair, run your fingers through it a bit and be left with beautiful heatless waves. Easy peasy.
Faux Waterfall Headband Braid
(takes 6-7 minutes)
This hairstyle only takes an extra minute or two and can add a whole other level of cuteness to your look.
This braid looks a lot more difficult than it actually is, so don't be intimidated. I like to throw my part to one side for this. Then taking the side with more hair, grab a thick layer from the top and divide it into three sections. Now, take these three pieces and complete a basic braid all the way down. Secure it with an elastic band.
Then start taking small sections from the front of your head and loop it through the braid. To do this, you'll want to squeeze your fingers through the stitch, so you can pull through the hair in the front. Clip this threaded piece to the side so it doesn't get in your way. Continue this step all the way down until you reach the top of your ear.
Grab all of the pieces you clipped aside along with some hair from the back of your head and attached it all together with an elastic band. Voila! Plane perfect hair.
Which of these hairstyles is your favourite?