A special thanks to The Hershey Company for sponsoring our trip to Austin, Texas.
If anyone knows how to do BBQ right, it's Austin, Texas. Whether you eat meat or not, this American city has BBQ dishes for every type of diet. A few weeks ago, The Hershey Company and PayDay Brand sent Siya and I to Austin, Texas to celebrate the limited edition Texas BBQ PayDay bar. It was our first time in the state, and we WENT BIG and indulged in all types of delicious BBQ. Things got pretty saucy! We must warn you that watching the following video on an empty stomach may cause tummy growling and intense hunger.
TYPES OF BBQ YOU NEED TO TRY
When you're exploring Austin, Texas for yourself, here are some BBQ dishes you NEED to dig into. For the meat eaters out there, I dare you to try some of these vegan dishes. They may surprise you!
This burger joint made our taste buds do the happy dance. This place has one of the best veggie burgers I've ever consumed. I had the La Bandita burger which is made up of a black bean-corn patty, avocado, arugula, cilantro pesto, onion and beefsteak tomato. I told them to hold the goat cheese and chipotle mayo and add the truffle and BBQ sauce. It was heavenly.
Siya indulged in the Goodnight burger which consisted of Angus beef, Tillamook cheddar, caramelized onions, sliced jalapeño, hickory BBQ sauce, sassy sauce, lettuce and a beefsteak tomato.
Although we didn't feature this place in the video, it's absolutely worth the visit, especially for the pulled jackfruit. The first time I tried jackfruit was while I was travelling through South East Asia 6-years ago. Since then, I've been hooked.
Jackfruit has several magical qualities. One of those qualities is its ability to mimic meat. It's texture lends itself to mocking meat and absorbing just about any flavour you throw its way. I let Siya take a bite of my Pulled Jackfruit Sandwich and had him fooled. Don't believe me? You'll have to go and try it for yourself!
Upon arriving in Austin, our Uber driver told us we had to go to Frankin Barbecue for the best brisket in town. So, we did.
We went on a Friday afternoon and were welcomed by a 45-minute lineup. This is not out of the ordinary for this hot spot. The food joint was packed with brisket loving Americans and tourists. There was even a bachelorette party celebrating by...eating brisket. Siya ordered one pound of this very adored meat and got to work. Did the experience live up to the hype around it? Siya said while it was the most tender meat he's ever had, it wasn't the most flavourful. However, he absolutely recommends giving it a try.
Food trucks have become quite the craze in North America, and I've got to say, I kind of love it! There's something extra fun about eating great food from a truck.
BBQ Revolution is a food truck much different than many of the others in Austin. This truck serves 100% vegan BBQ. One of their famous dishes is the BBQ Tempeh Brisket. This speciality has even meat lovers lining up for it.
As you can probably tell by now, Texas is known for its BBQ. So, of course there would be festivals celebrating all things BBQ.
We were lucky to be in Austin during the BBQ Austin Festival. Entrance cost $8USD per person, but then it's basically an all-you-can-eat bonanza accompanied by live music. There were 100 teams competing for the title of Texas State Champion. How do they win the publics vote? Free samples! Meat lovers, I'd recommend coming on an empty stomach. For my vegetarians and vegans out there, eat ahead of time as it's not very veggie friendly.
I kind of went all out at this food truck. Not only did I feast on the vegan brisket, but I also couldn't resist trying the BBQ Tofu. While the tofu didn't have the meaty texture that the tempeh did, it did hold a lot of flavour. The BBQ sauce used gave it more of a tangy sweet and sour taste. I would recommend getting this tofu in a sandwich for the best experience.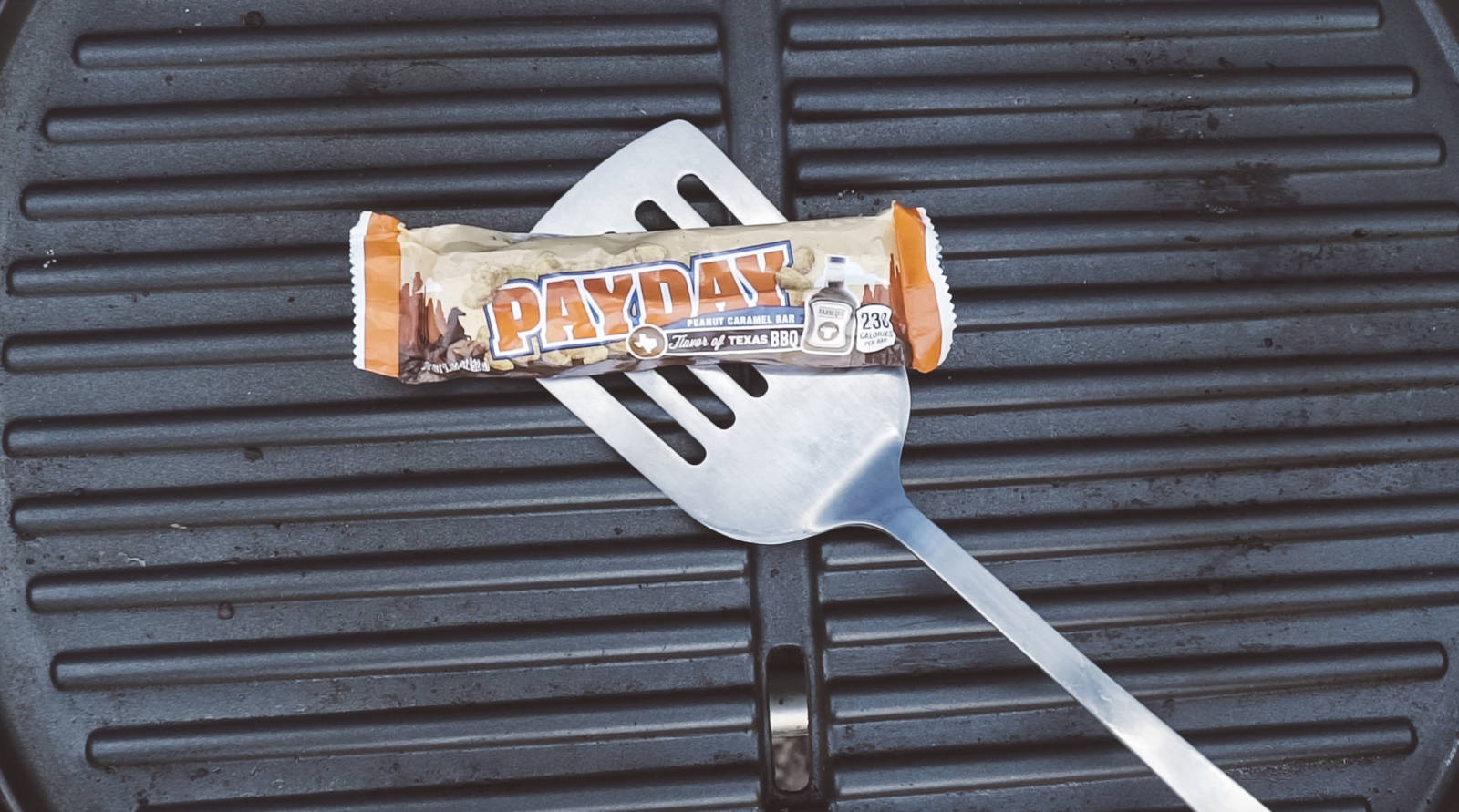 Now on to dessert...
As I mentioned above, The Hershey Company and PayDay Brand has released a limited edition Texas BBQ PayDay bar. I admit I was a bit skeptical at first of the flavour combination but was seriously won over after the first bite.
What's extra cool about the bar?
If you use the Shazam app to scan the bar code on the wrapper, you'll be taken to our video above!
Now it's your turn. We'd love to hear from you...
What is your FAVOURITE BBQ dish you'd recommend to all of us? We'd love to hear from you. Share your recommendations below.
Want access to travel deals, giveaways and more? Sign up for our newsletter!