I love learning new ways to pack my suitcase more efficiently. It's been a lot of trial and error over the past 15+ years, but I'm more than happy to be your guinea pig so you don't have to make the same mistakes I have. I've already shared my 27 packing hacks for traveling along with my top winter packing hacks with you. In this blog post and video, I'm sharing 6 ways to pack like a pro using these easy organizational tips.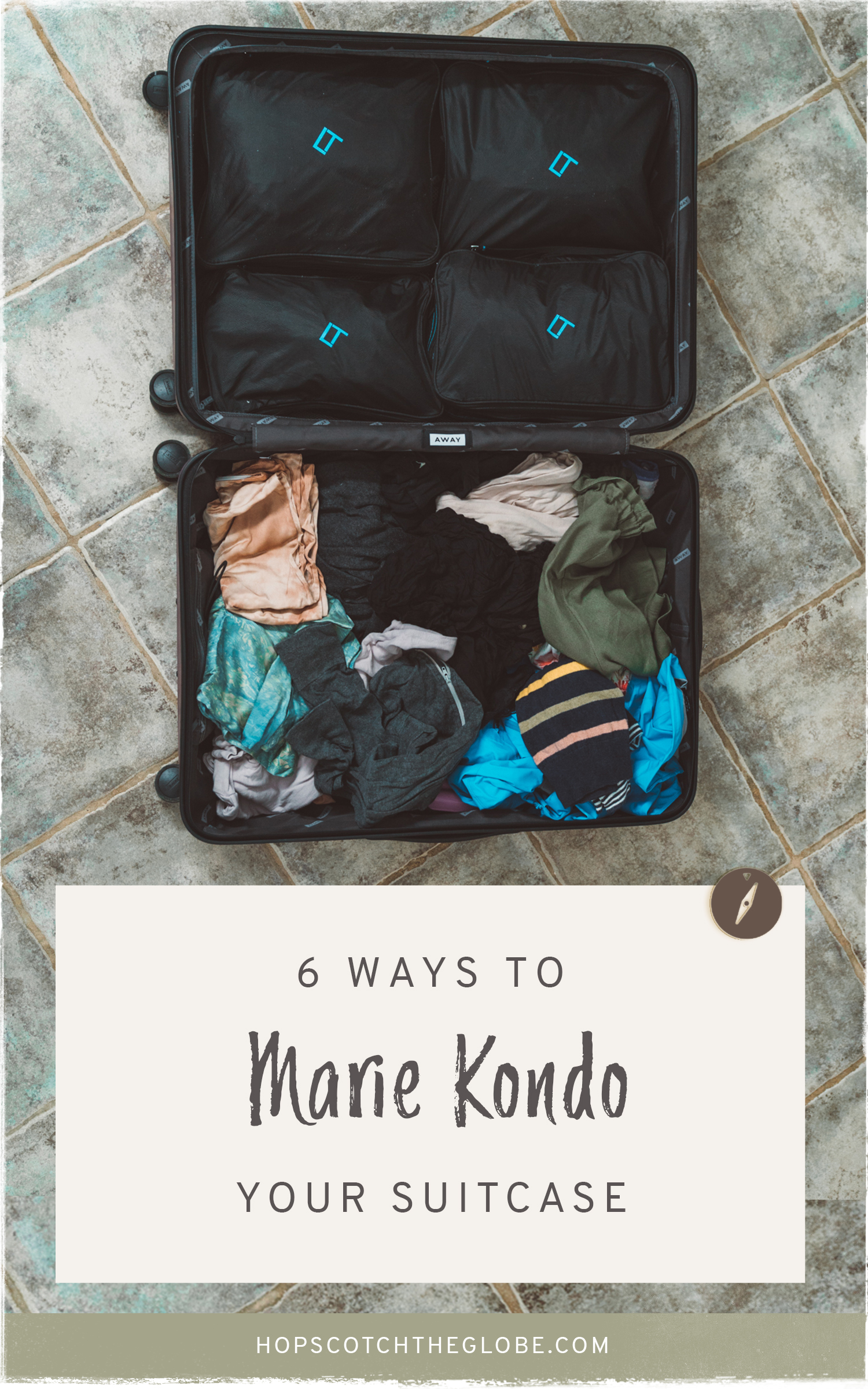 I've always been someone who LOVES a clean space. I'm just not great at keeping it that way…and yes, my family has always been sure to remind me of this over and over again. But, over the last few years, I've really tuned in to how keeping a tidy space makes me feel. A clean and organized space not only looks great but FEELS great. When my physical space is in order, so is my mental headspace. I feel less anxious and more relaxed. The physical clutter clears up my mental clutter and leaves more room for creativity and productivity. When it comes specifically to travel, efficiency starts with how you organize your suitcase. Here are 6 ways to pack like a pro so you can stay organized throughout your entire trip…
Pack like a Pro Tip #1: Double Compression Packing Cubes That Hang
You can't pack like a pro without using packing cubes. I've had several sets of packing cubes, but what I like about LiteTravel Double Compression Packing Cubes is the centre compression zipper wraps twice around each cube, giving you the added flexibility of a 2 level compression. In other words, I can fit a shit ton of clothing in those cubes (more clothes = less laundry days), and it doesn't look like an explosion each time I open my suitcase. I've seriously been able to pack double the amount I do in other cubes. You can also hang the packing cubes from bed frames, closets or pretty much anywhere there's a hook. You simple arrive at your destination, unzip your suitcase and hang each cube wherever you'd like. When you unzip each cubes, all clothing items stay in place.
The material of the packing cubes is also made of RipStop parachute fabric. This makes each cube very lightweight and rip proof. I went with LiteTravel's Deluxe Packing Cube Set which comes with several sizes packing cubes, toiletry bag, show bag, cable bag and folding boards.
Save 10% off LiteTravel Packing Cubes & Accessories using KRISTEN10.
BONUS PACKING TIP: Pack only items you love. That way, whichever item of clothing you pull out is one you'll be excited to wear. When you put on an item of clothing you're excited about, it helps set your mood for the way.
Pack like a Pro Tip #2: Reusable Rubber Cable Ties
If you travel with a bunch of cables like me, and you've never used reusable rubber cable ties, get ready to have your life changed. No more spending wasted time detangling hundreds of cables each time you arrive at a new destination. I have a few 6-pack multi length twist ties that I use to keep my computer, hard drive, phone, earphones, hair straightener and hair dryer cables organized. These also come in handy for sealing snack bags like nuts, crackers, chip and coffee (yes, I often travel with coffee).
BONUS PACKING TIP: To really pack like a pro, bring a power bar. If you're going international, and you're packing quite a few electronics, bring an adapter of course, but also bring a power bar. That way, you can plug six different items into your power bar and only have to bring the one international adapter.
Pack like a Pro Tip #3: Shoe Bag
I only recently started traveling with a shoe bag, but I won't ever not travel with one now. It keeps all your shoes in one place and everything else in your suitcase clean from what may end up on the bottom of your shoes. The Lite Travel Deluxe Packing Cube Set comes with a shoe bag that can fit around 4 or 5 pairs of shoes, depending on your size and style.
BONUS PACKING TIP: Pack like a pro by putting heavier items like shoes and books at the base of your suitcase. This placement helps your bag stay stable when upright, and stops other items from getting squished.
Pack like a Pro Tip #4: Toiletry Bag
While a travel toiletry bag might be an afterthought, those who have travelled several times know the key to packing is organization and functionality. If you really want to pack like a pro, only bring the essentials. A toiletry bag encourages you to do this. I encourage finding one that comes with a hanger attached so you can hook it up somewhere in the washroom to save counter space. The one I use is also part of the Lite Travel Deluxe Packing Cube Set.
BONUS PACKING TIP: Forget about the travel size toiletry items. They are unnecessary and bad for the environment. If you're planning to only pack a carry on, using GooToobs and smaller refillable containers is the way to go for packing you're favourite toiletry items. This way, you stay under the 100ml per container limit and still get to bring the products you use at home on a daily basis.
Pack like a Pro Tip #5: Jewellery Organizer
I've tried several ways to keep my jewellery organized during my travels. Almost all still ended with my spending hours detangling 40 necklaces and bracelets that found a way to all stick together. Time is precious (especially when you have a toddler), and I never want to spend another minute detangling another item of jewellery. That's why I will always travel with this awesome and affordable jewellery organizer I found on Amazon. It's literally perfect for keeping earrings, bracelets and necklaces super organized. It also looks beautiful and takes up very little room in my suitcase. I definitely recommend it.
BONUS PACKING TIP: Leave a spot for extra jewellery in your organizer. A piece of jewellery is a great souvenir to spoil yourself and remind you of your trip.
Pack like a Pro Tip #6: Dry Sac
We used cloth diapers on my daughter, which required a wet bag so the pee and poop smell could be contained. Now that she's potty trained, we use both the large wet bag and smaller wet bag we own for our laundry when traveling. The smaller one is great to use on travel days or if we're going to the beach. It can hold a few bathing suites or couple of outfits and won't get out other items wet or stinky.
BONUS PACKING TIP: Bring a pack of Earth Breeze detergent eco-sheets with you to do laundry. They are super compact laundry sheets (so you don't have to worry about liquids) that take up very little room in your luggage. The eco strips contain no plastic and are in sustainable packaging. You can buy your first order KRISTEN20.
---
A special thanks to LiteTravel for sponsoring this blog post and video. As always, all thoughts and opinions are my own.