We've spent the past year traveling across the United States with our Airstream and staying in the most incredible places in the country. Each state offers something unique and special, but there have definitely been places that stand out from the rest. So, if you're starting to plan your next epic road trip, we're sharing the most unforgettable RV destinations in the USA you can't miss.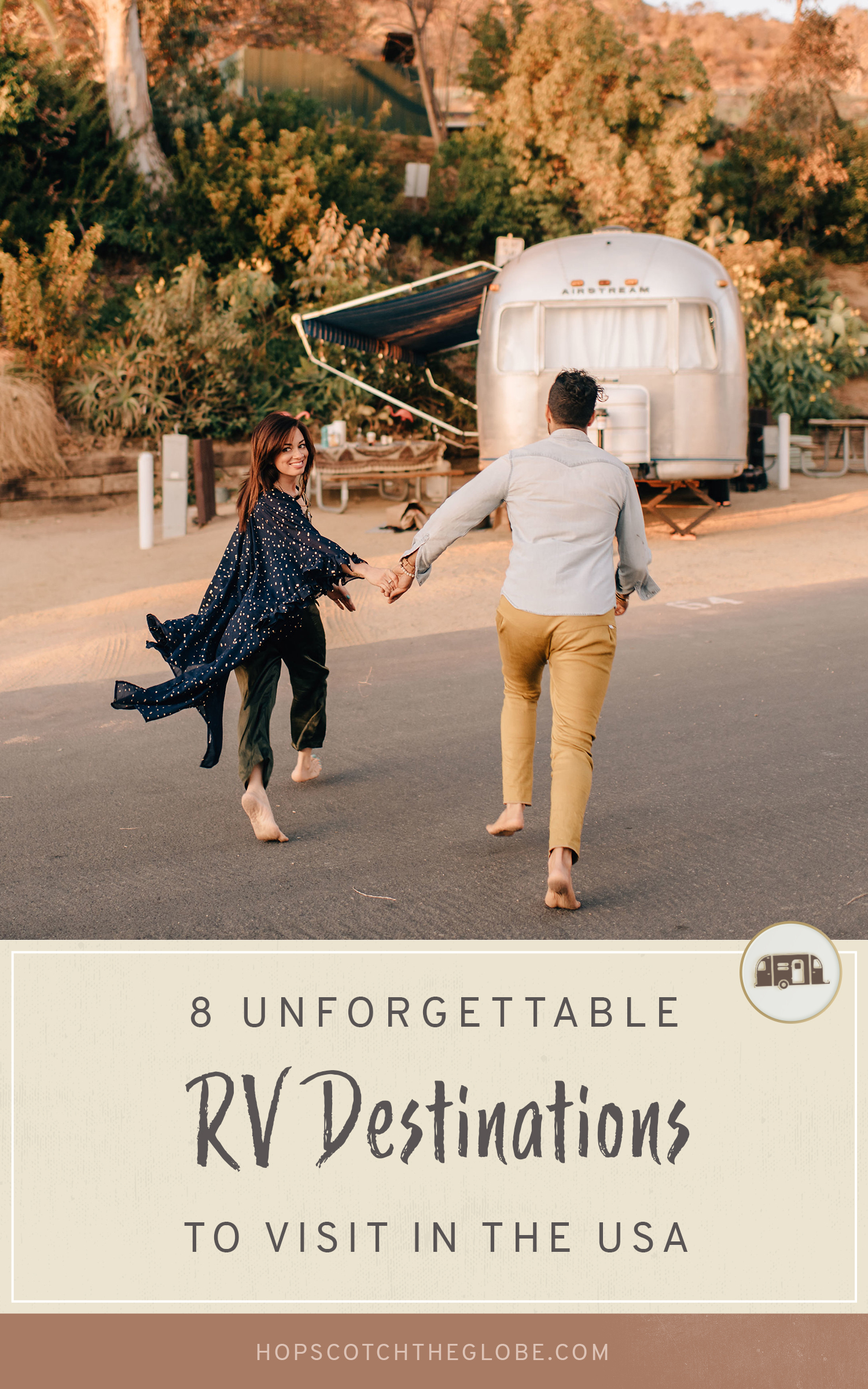 ---
Our Top 8 RV Destinations to Visit in the USA
The Redwoods
I think it's safe to say that every outdoor enthusiast dreams of seeing the redwoods. California's famed gentle giants grow along the coast from Big Sur to the Oregon border. During our family California RV trip, we drove from Los Angeles, along the Pacific Coast Highway, through San Francisco to spend a couple of nights in the redwoods with our rented RV. The drive to get there was absolutely phenomenal! 
Close to 50 California state parks preserve these towering trees, some of which are the tallest and oldest in the world! These incredible forces of nature can easily reach 300 feet high and live an average of 800-1500 years. We stayed in Burlington Campground, located on the Avenue of the Giants in Humboldt Redwoods State Park, where we parked next to a 2000-year-old redwood that took our breath away. This campground is its own vibe. Your energy naturally shifts once you arrive. It's full of life, yet so peaceful and quiet. It's probably the best playground my daughter has ever played in…and for us too.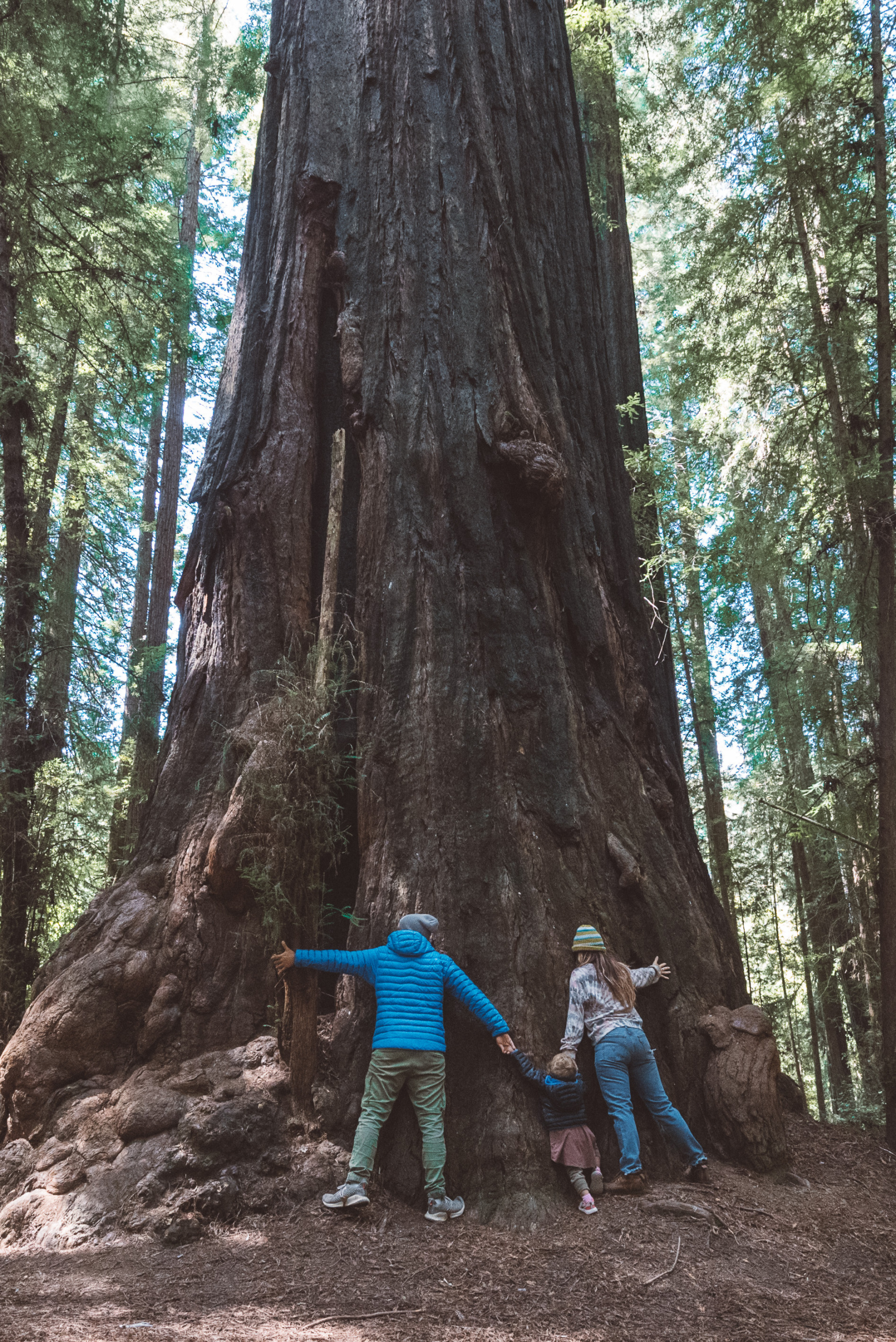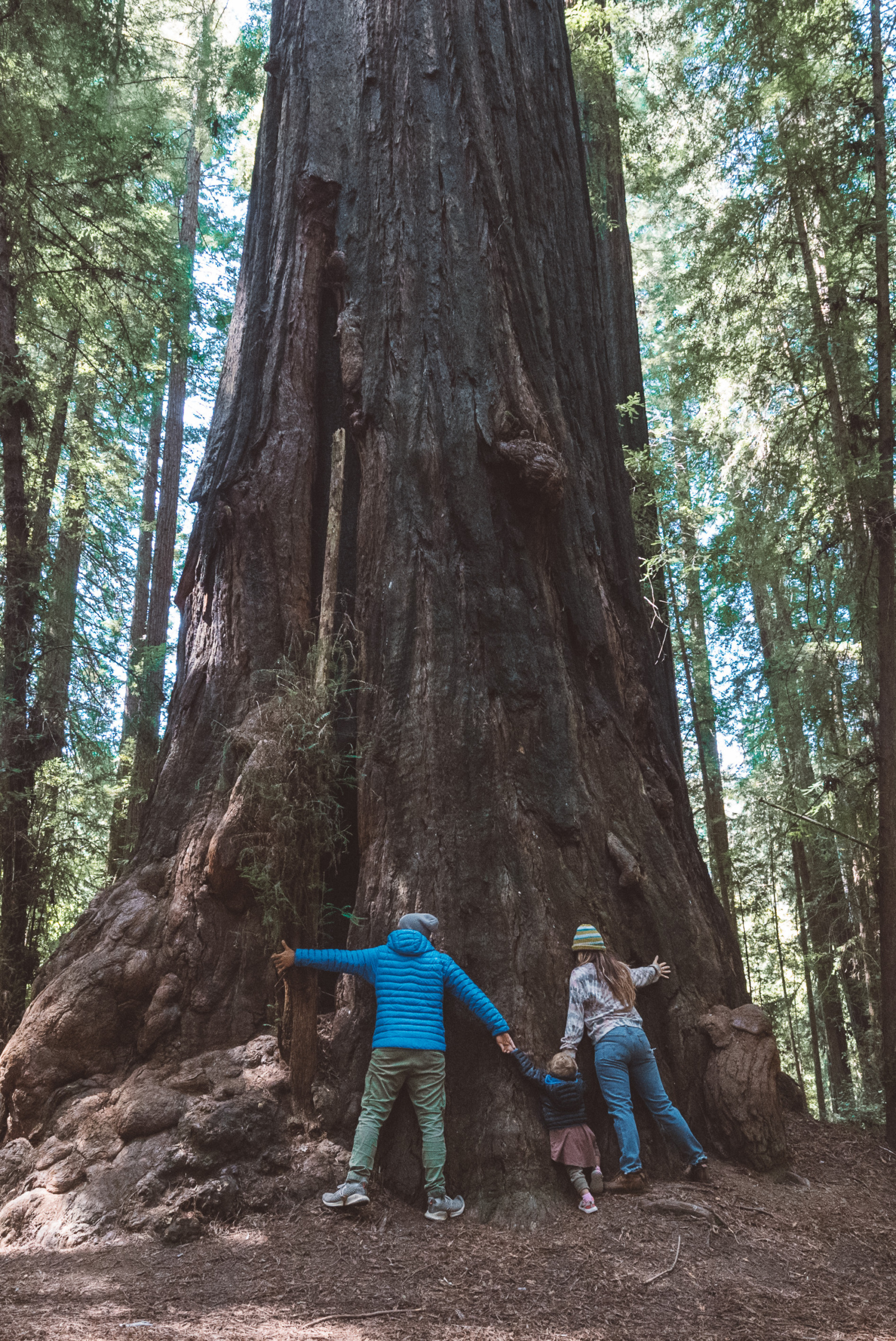 Here, you spend your days away from the hustle and bustle and completely immerse yourself in nature's finest. Make sure you bring your hiking gear because there are many incredible paths to explore around here. Be sure to get out and walk every day. However, if you'd prefer a shorter hike, there's a nature walk right across the street from the campground that leads to the river, where you can swim. The campground is open year-round, has 57 sites within old and second-growth redwoods, and costs only $35 USD per night. Something to consider is there's no electrical or water hookups on any site, and only RV or travel trailers 24-feet or smaller are allowed.
Whether you're a tree hugger or not, spend time just being with the trees. That's what you do here. Sit with the trees. Feel their power. Absorb their healing energy. Understand their wisdom. What an experience it is to spend time with something that has been on the planet for 2000 years!
I had a very special moment with our 2000-year-old neighbor. I went in with no expectations, but I was feeling overwhelmed, stressed, and anxious. We hugged. I sat. I spoke. It healed me. After two days with these magical creatures, I left feeling more like myself than I had in a long time. I felt calm, happy, recharged, and full of love and life.
These trees are magic. Nature is medicine. Enjoy!
---
Granby Colorado
If you're going through Colorado, you need to stay at Sun Outdoors Rocky Mountains (formerly known as River Run) in Granby. This place makes our top 3 for the best RV parks we've ever stayed at (and we've stayed at many). No matter which site you pick, you'll get 360-degree mountain views and incredible sunsets. This resort has everything to make your stay cozy, delicious, fun, and enjoyable. The facilities are top-notch!
You'll be super impressed with the fitness center if you enjoy working out when you travel. You can easily spend several days at the resort without leaving. There's so much to do for the entire family. Swim at the pool and river, play at the arcade and bowling alley, eat at the bar or restaurant, bounce and slide at the park, enjoy evening music in the commons area, and so much more.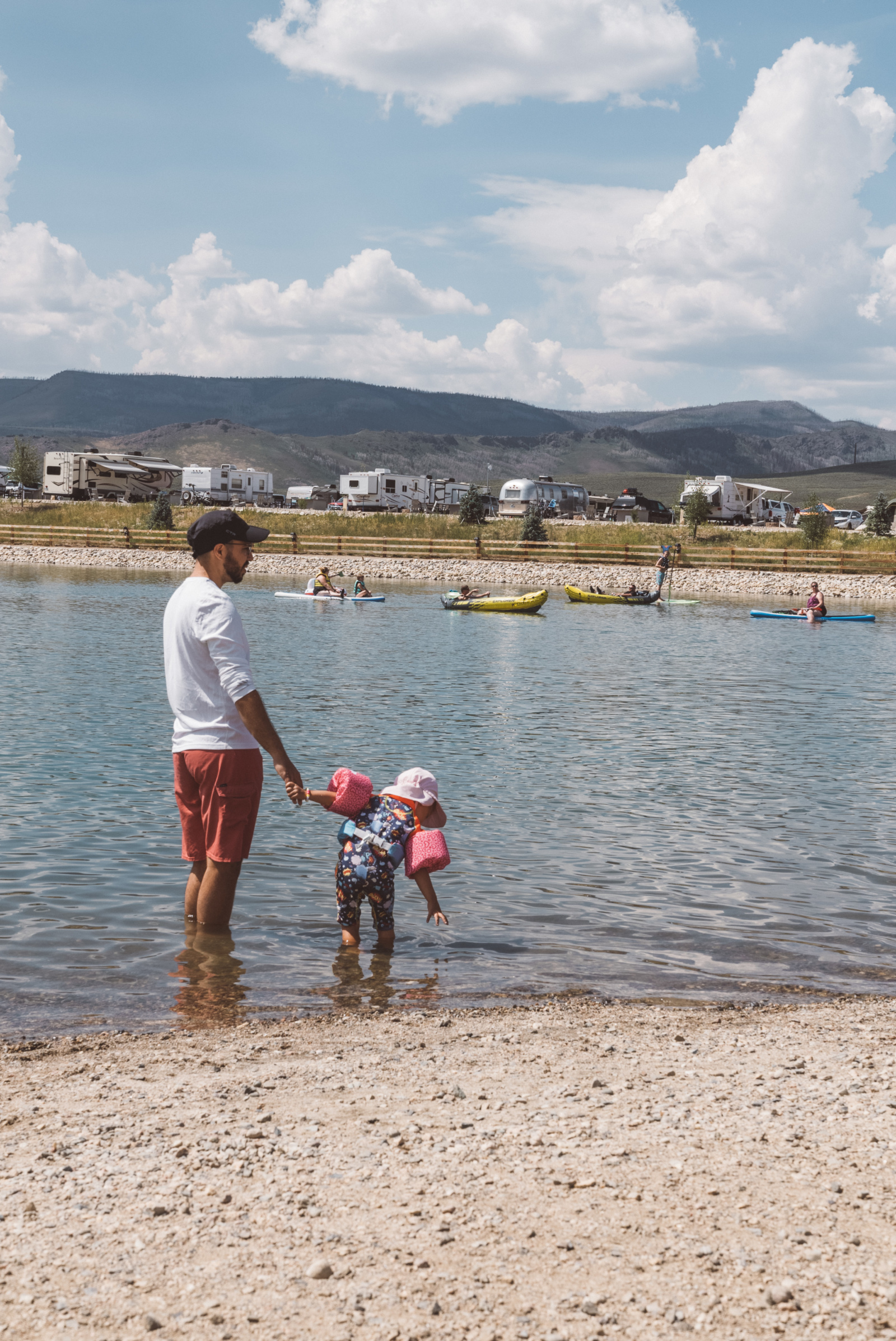 Since you're in Colorado, you better believe you've got endless hiking trails to choose from! We used the AllTrails app to find some hiking close to us. An easier trail for children is in Rocky Mountain National Park to Allens Falls. Our whole family enjoyed this one including our 3-year old and pup.
I can't forget to mention our favorite coffee joint in town – Simple Coffee Co. I highly recommend the lavender oak milk latte. Oh! And bring your own cup if you're ordering to-go, as they don't have single-use cups. 
---
Moab Utah
Our next pick is Mars…I mean Moan, Utah…which is pretty much the same thing. We spent a week with our Airstream in Moab, and it was like being on a different planet. If you love incredible landscapes, outdoor adventures, great food, dinosaurs, and sky diving, you're going to LOVE it here.
We stayed at Moab Valley RV Park during our stay, which is located only 10 mins or so from the downtown area. The RV park has all of the typical amenities to make your stay comfortable and enjoyable. But, it's really the location of this place that makes it the spot to stay. The RV park is only minutes away from Arches National Park, which is one of the most beautiful National Parks in the United States. I mean, just look at it! We recommend getting a park pass, which will give you access to other parks in the area too.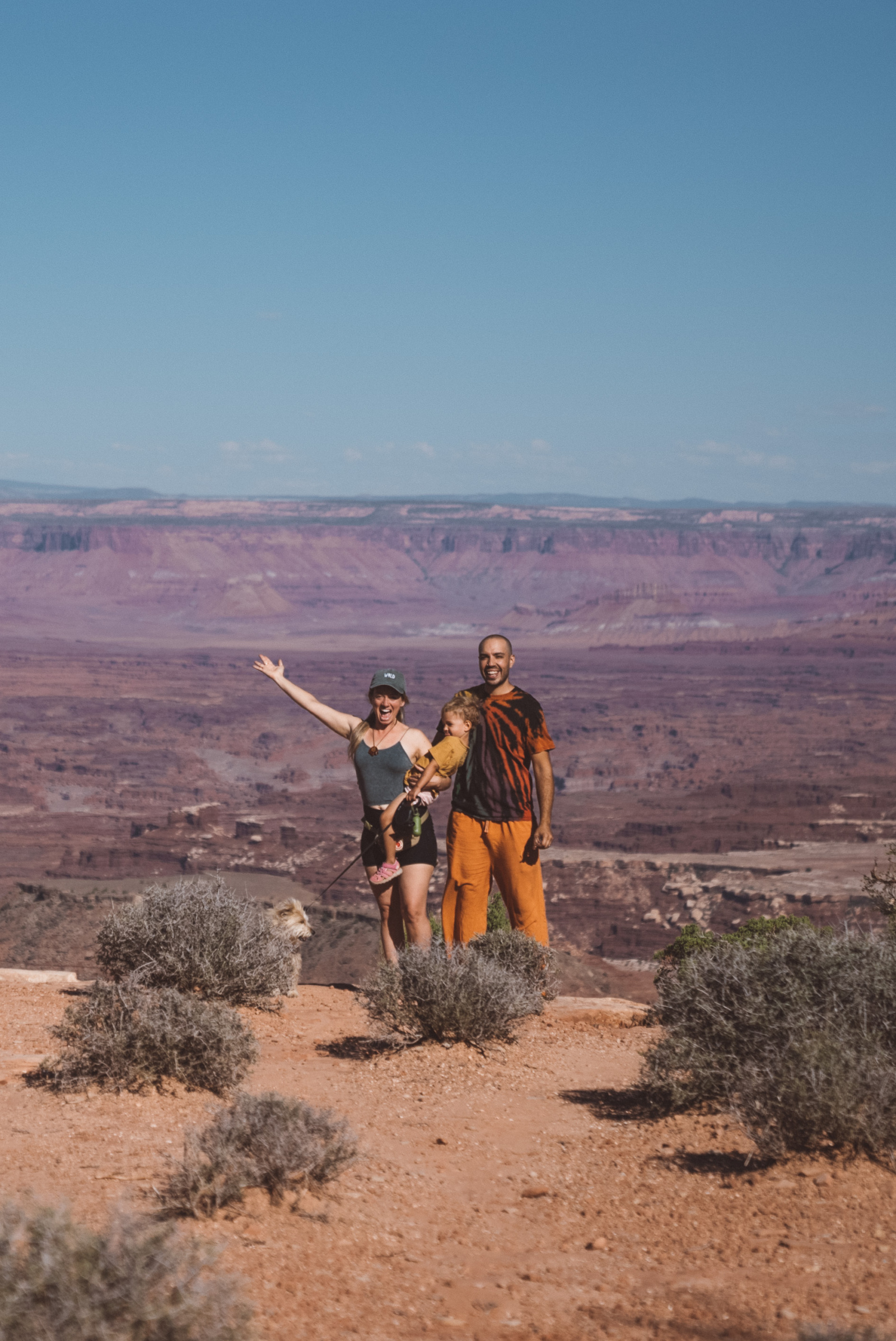 Just driving around the area is enough to make you go WOAH! Get ready to be surrounded by beauty just about everywhere you go. The town is also super adorable. It's got plenty of restaurants and shops to satisfy both the foodie and the shopper. Definitely hit up the old bookstore, and you must try our favorite restaurant in town – 98 Center. I think we ate there 5 times out of the 7 days we stayed. Myself, Siya and Kai all recommend the vegan pho. Even if you're not vegan, your tastebuds will be happy you chose this super delicious dish.
---
Santa Barbara, California
One of our stops while driving in California was Santa Barbara. We spent a week at El Capitan Canyon, a beautiful luxury campground on the Santa Barbara coast, where the Pacific Ocean and Santa Ynez Mountains are. The setting made us feel like we were at summer camp again…but much more lux.
We actually changed it up and stayed in a beautiful cabin for the week, but right next to El Capitan is its sister resort Sun Outdoors Santa Barbara (formerly known as Ocean Mesa RV), where we spent quite some time walking around and chatting with very interesting characters. We happened to be there at the time of a vintage camper rally. If you don't know what a rally is, it's basically a bunch of RVers and van lifers that travel and stay together at a set location. There are themed events, games, and potlucks planned for everyone. Although we didn't have our Airstream with us, we felt very much a part of the rally. And it happens here every year! You can look up the vintage rally in Santa Barbara and find out when the next rally will be.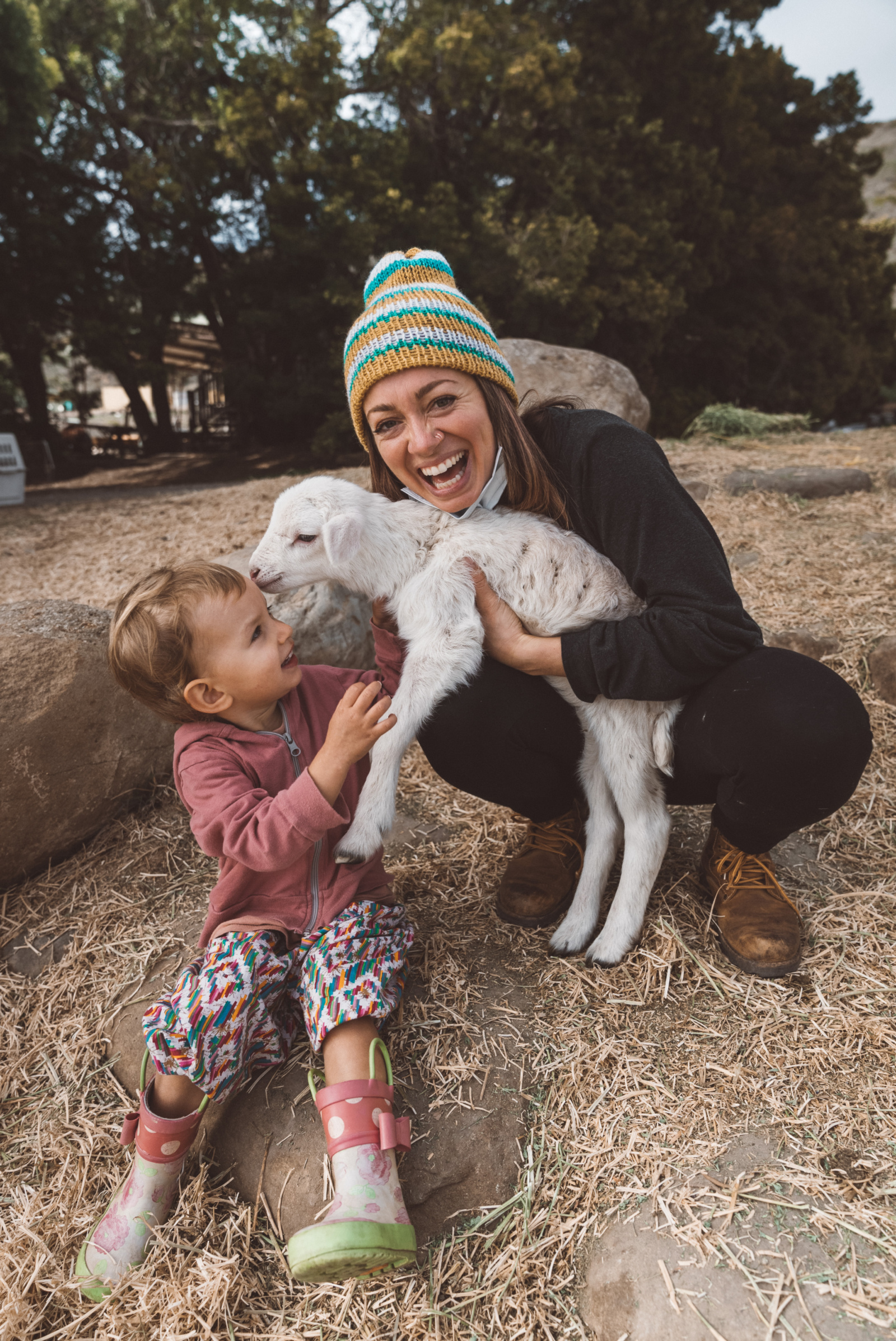 Across the street from both El Cap and Sun Outdoors Santa Barbara is a great beach to spend the day at. We personally enjoyed picnics here. One very special feature of El Cap and Sun Outdoors Santa Barabra is the farm! Alpacas, goats, and a donkey live there, and you can hang out with them. While we were there, we got to cuddle some baby goats. That alone made our trip. I think our daughter Kai would agree. This was her first time holding baby goats and she's beeb a big fan ever since.
Another first for our daughter here was whale watching! Siya too! We did a whale-watching tour, which was around 2-hours long with Condor Express, and we saw whales swimming in the ocean.
---
Conway, South Carolina
Another RV Resort that makes our top 8 RV destinations to visit in the USA is Carolina Pines in Conway. I could easily spend an entire season here. Some of the many features of this resort are the fitness and yoga center, swimming pools, arcade, miniature golf, pickleball, playground, restaurant, nightly entertainment, and wait for it…a full-on water park!!!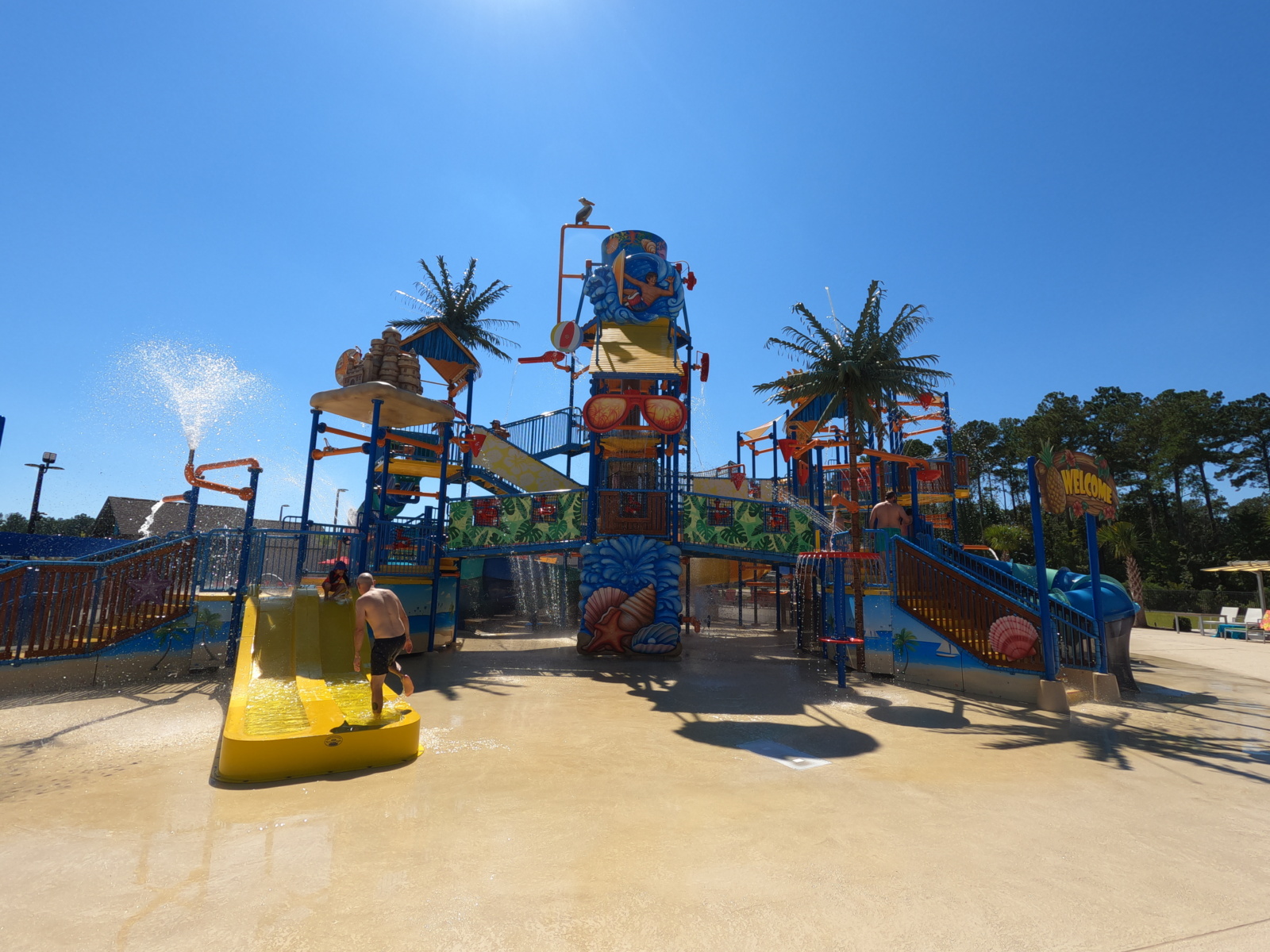 You don't even need to leave this RV resort during your stay…unless you want to go to the beach, that is. In that case, you can take the free shuttle to the Carolina Pines beach club for the day.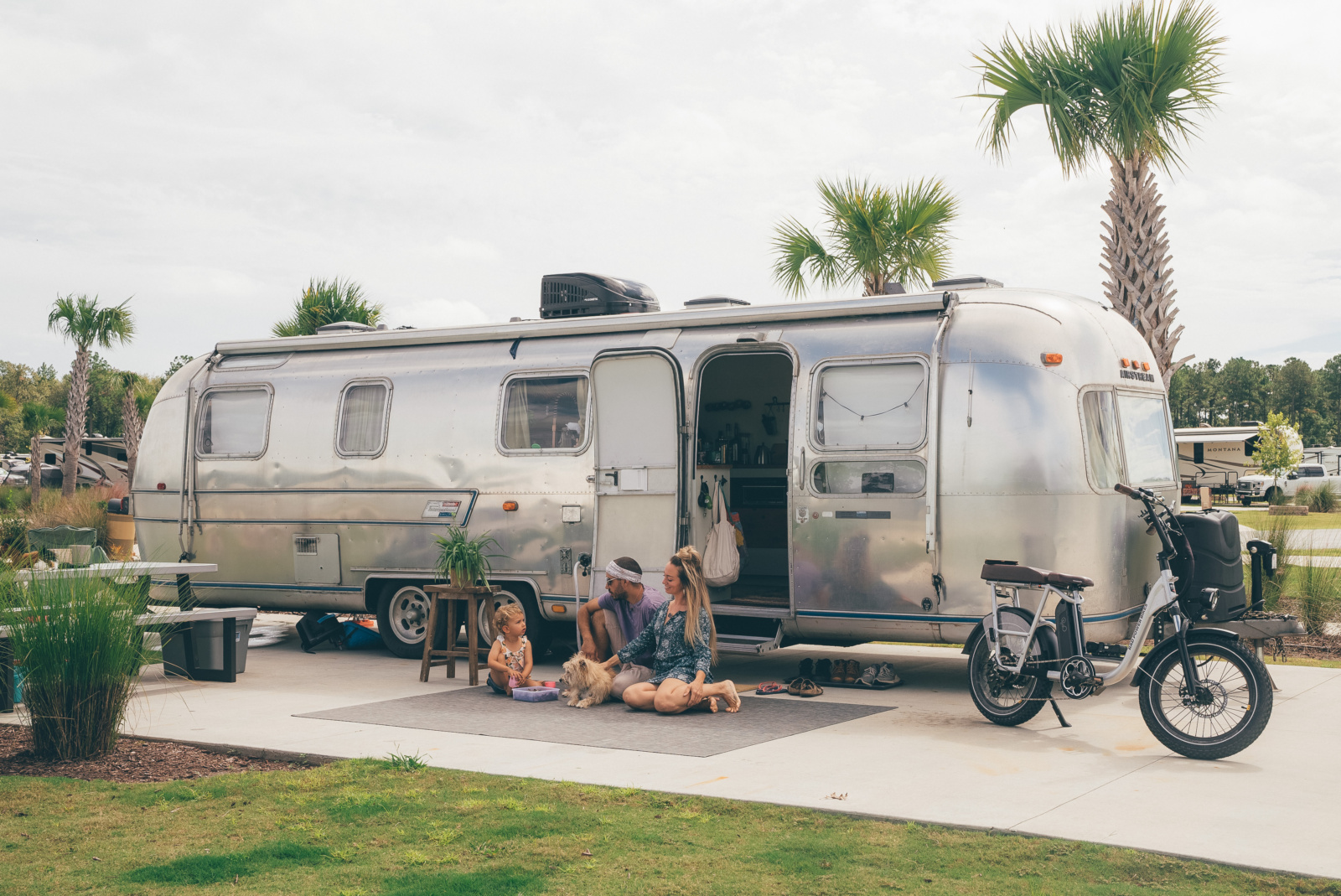 Another reason to leave the RV resort is to spend the day at Myrtle Beach. Yes, there are the cheesy shops and heavily tourist restaurants and attractions, but those can be fun, too…or avoided. The choice is yours. We enjoyed walking around The Market Commons, which has plenty of shopping and yummy restaurants. 
We also did some of the cheesy tourist stuff, like riding a Ferris wheel. Who doesn't love a Ferris wheel? I mean, our dog definitely did not. The bottom line, this area is fun! Especially if you like going out to restaurants, bars, and of course, the beach.
---
Naples and Fort Myers Florida
When we Canadians think of Florida, we immediately think of Orlando, Disney World, and Daytona Beach. Miami, too, of course! After spending 3 months in different parts of Florida, we both chose Fort Myers and Naples as our favorite places to visit and even live. In fact, after spending a couple of weeks in Fort Myers and Naples, we left, went to the Florida Keys for a month, and were immediately called back to the Naples/Fort Myers area.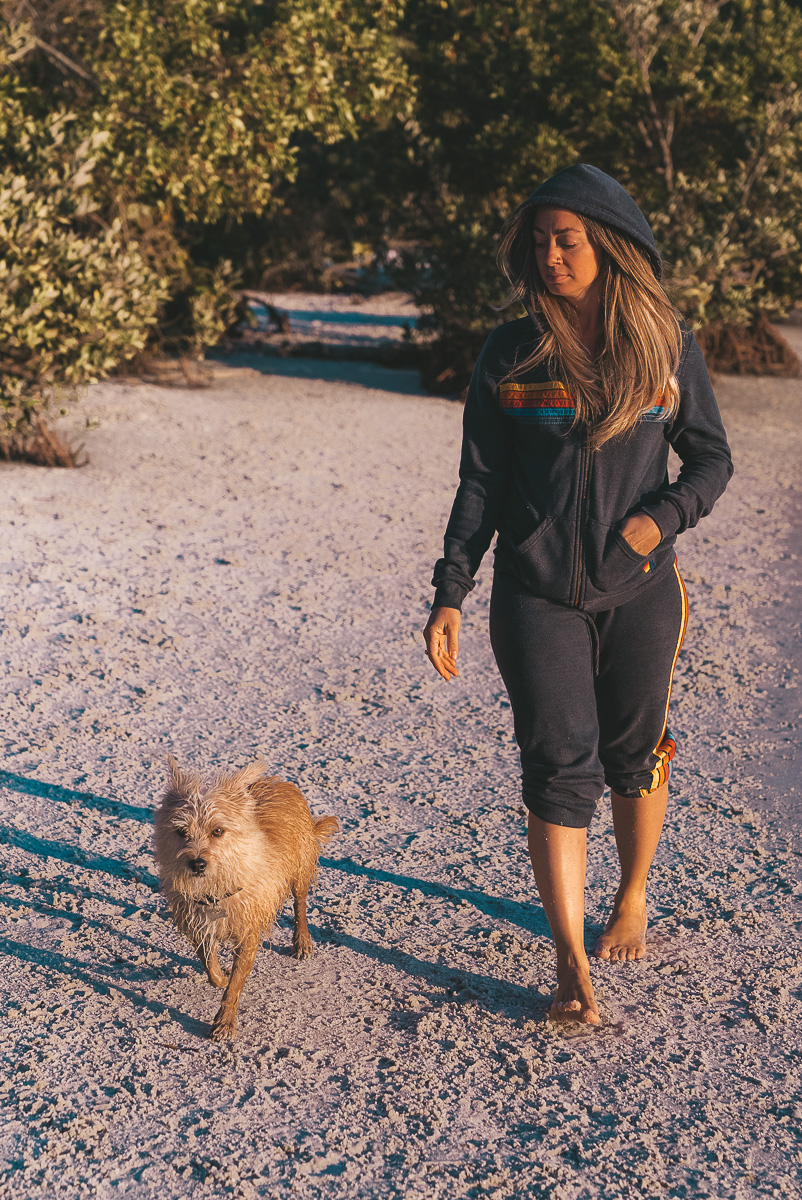 We call Naples the Malibu of Florida. It's fancy y'all. And we trailer folks dig it! Our favorite spot in all of Naples? Bonita Beach Dog Park! It's in Bonita Springs, between Naples and Fort Myers. We've spent quite a bit of time here with our pup Atlas. Downtown Naples is a vibe…a fancy one with delicious Italian food. After all, this place is called Naples for a reason. Downtown Fort Myers is also a lot of fun. There's plenty to do, events that happen year-round, and great food to indulge in. Naples and Fort Myers are also close to Sanibel Island, which you should 100% check out
In Naples, we stayed at Sun Outdoors Naples and in Fort Myers at Woodsmoke Camping Resort.
---
Florida Keys
The Florida Keys are where the people of Florida go for vacation. If you're looking for laid-back, beachy vibes and turquoise waters with a tad hotter climate than other parts of Florida, then this is your place.
While a trip to Key West is a must, we preferred the more chillax vibe of the other parts of the keys. You can spend the days lying on the beach or splashing in the water. One of our favorite daily things to do was ride our electric bikes along the bike paths. There are plenty of them that stretch along the keys, so you have any type of bike, bring it. Since Florida Keys is a hot destination (in more ways than one), you'll want to book your RV spot at one of the many parks and resorts in advance, especially during the high season (Christmas through mid-April).
In Key Largo, we recommend going for breakfast or lunch at Coco Plum Place. They've got everything from smoothie bowls to yummy salads and great coffee. There's also a food truck parked on the property, which sells the BEST plant-based sandwiches I think I've ever had. I'm drooling thinking about it.
A trip to Robbies os Islamorada is also an interesting experience. Here, you can feed MASSIVE tarpon, and try not to get your hands bitten off my pelicans while you're at it. We recommend visiting Pintos Farm for baby goat kisses and pony rides if you have kids. We were there during Christmas, which was a beautiful experience. They have other events throughout the year you can also enjoy. There's also the Fairchild Botanical Tropical Gardens. You can easily spend the day here solo, as a couple, or with family. It's highly enjoyable getting to learn about different plants and walk through the gardens. The butterfly garden is a favorite.
In Marathon, you're a bit closer to Key West. There's more to do in this area. If you're looking for a more lively, stimulating experience, spending the day in Key West to experience the crazier side of the Keys. 
Finally, you also can't leave the Keys without trying some Key Lime Pie. Yes, this is where it comes from, and the only place key limes grow. We tried a few slices of pie during our stay, and our favorite slice is found at Sal Ballyhoo's.
---
Click play on the video below to watch our pick of unforgettable RV destinations to visit in the USA
---
What are your favorite RV destinations to visit in the USA? Leave your comments below.