We're very excited to be partnering with Airbnb on a new video and blog series called Meet Your Host! Throughout the series, we'll be sharing the stories of Airbnb hosts and how they turned their unique stays into thriving businesses. From an Artist who runs a Magical Dome Airbnb in the Jungles of Costa Rica to an ex-pilot from the UK who turned two Airstream into thriving Airbnb's in Nosara, Costa Rica. We even share how we personally made $10,000 in our first month of being Airbnb hosts. In this episode, we're sharing Denise's story of how she turned the Original 1960's Rock hill Park, legendary for its music festivals and seasonal camping, into a 122-acre Airbnb Glamping Getaway.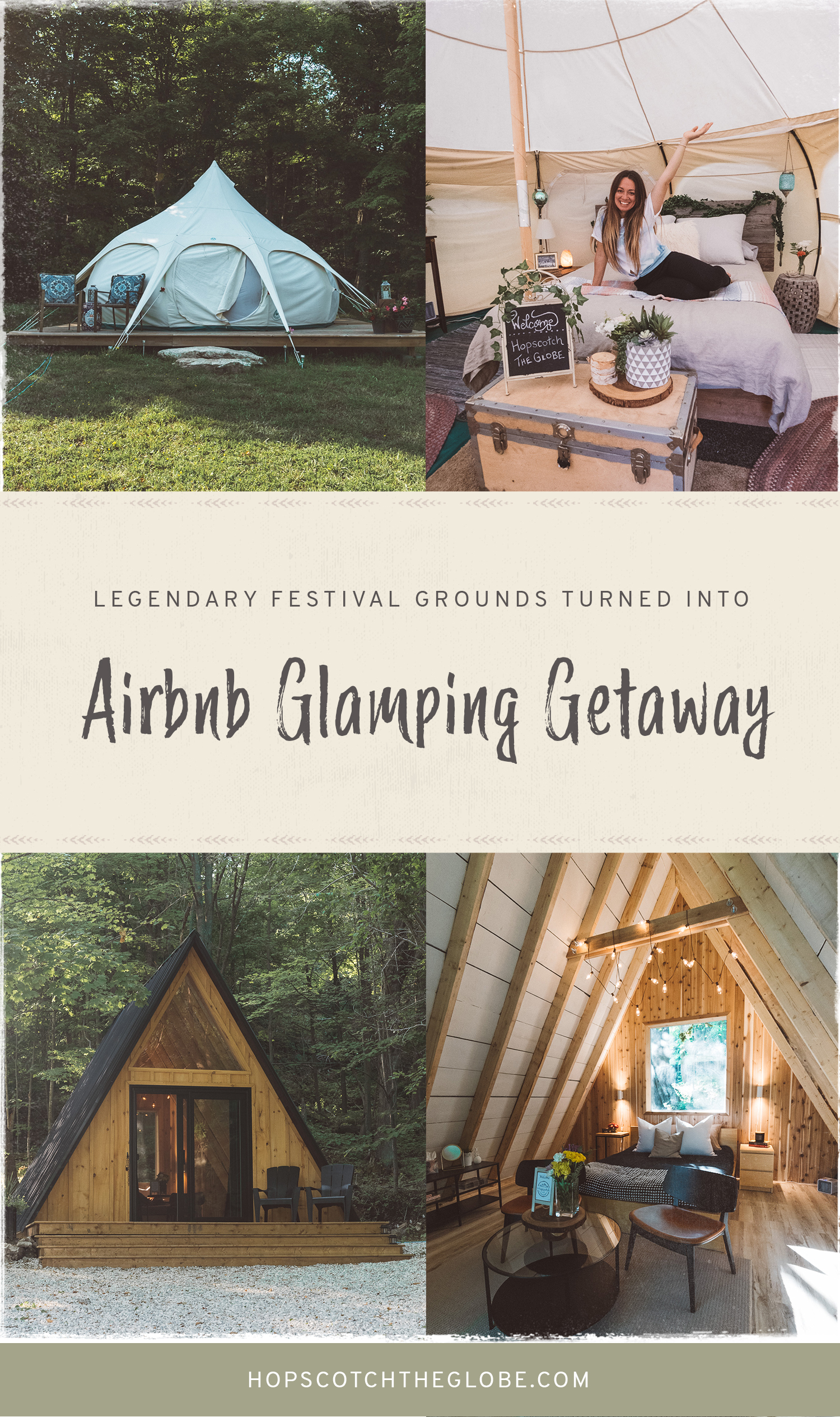 ---
Want a Tour of This Airbnb Glamping Getaway? Click Play on the Video Below!
---
Welcome to Rockhill Park – The Property
Located on the top of the Niagara Escarpment in Mulmur, Ontario is a 122-acre oasis that has quite the reputation in this part of town. In the 1960's, Rockhill Park was used for music festivals and seasonal camping. Willie Nelson, Freddie Fender, Charlie Pride, Guess Who, Barbera Mandrel, just to name a few, entertained thousands of people for 30 years on this land. Today, it's a thriving Airbnb business and organic farm, with the good time vibes still lingering in the air.
One of the main reasons people are attracted to Rockhill Park is because it's conveniently located across from the Bruce Trail – a hiking trail in southern Ontario, Canada, from the Niagara River to the tip of Tobermory, Ontario. The main trail is more than 890 km long and there are over 400 km of associated side trails. You can spend your day hiking the trails and climbing limestone, then come back to your home-away-from-home in the elegant Belle Tent, cozy A-Frame cabin or large cottage. Trailers and tents are also welcome with limited power and water hook up sites.
It's easy to spend your entire time on the property. There's a 65-acre Organic Farm to explore along with an Artesian freshwater swimming pond with beach, Olympic size beach volleyball court and wood burning sauna. On a rainy day, you can cozy up in the sauna. There's even a limestone diving rock etched into the landscape you can jump from. The swimming pond water is also purified by the artesian well that freshwater comes in from the limestone river system.

While the Belle Tent and A-Frame don't have toilets or showers, there's a fully-equipped washroom and showers for both women and men on the property. For those staying in the A-Frame and pee in the middle of the night like myself, you must be comfortable peeing among the trees. The washrooms facilities are a bit far for a midnight stroll when you're half asleep.
---
Tour the Boho-Chic Styled Lotus Belle Tent at This Airbnb Glamping Getaway
If you're looking for an Airbnb glamping getaway experience, this is it. The Belle Tent at Rockhill Park is equipped with a comfortable queen size bed, a mini fridge, coffee maker, AC, heater, heated blanket and table and chairs. The tent is basically a big Hershey's kiss with a cozy Bohemian interior. Whether you're planning a romantic vacation for two or craving a solo getaway, the Belle Tent is the perfect choice!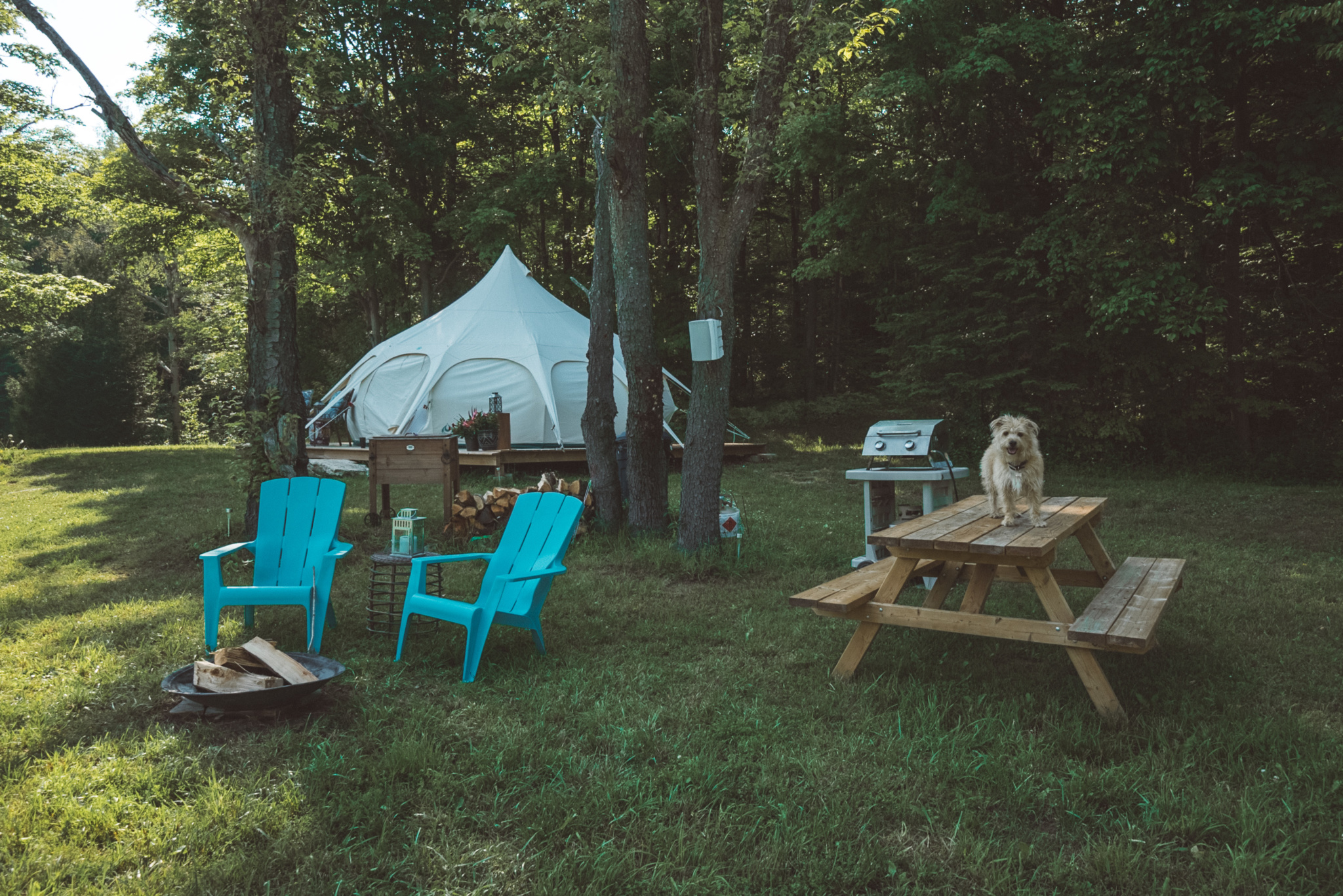 ---
Take a Peak Inside the Cozy A-Frame Cabin
This cozy A-Frame cabin has a lot of history at Rockhill. In fact, it's referred to as the "Manager's Cabin" since this was where the Manager of Rockhill stayed from the late 50s until the early 80s. Within the past year, it's been beautifully restored and decorated by a local designer to give it its modern minimal vibe. The Manager's Cabin is another great choice if you're looking for a great Airbnb glamping getaway. It has hydro, beautiful modern lighting, comfortable chairs, king size bed, Kuerig coffee machine, heater, and a small fridge. It also has thoughtful additions throughout the place to make your stay memorable such as a customized welcome sign, fire wood and books. The cabin is tucked away from the rest of the property, so you have a lot of privacy. There's also a natural grotto right beside the cabin to take a dip in.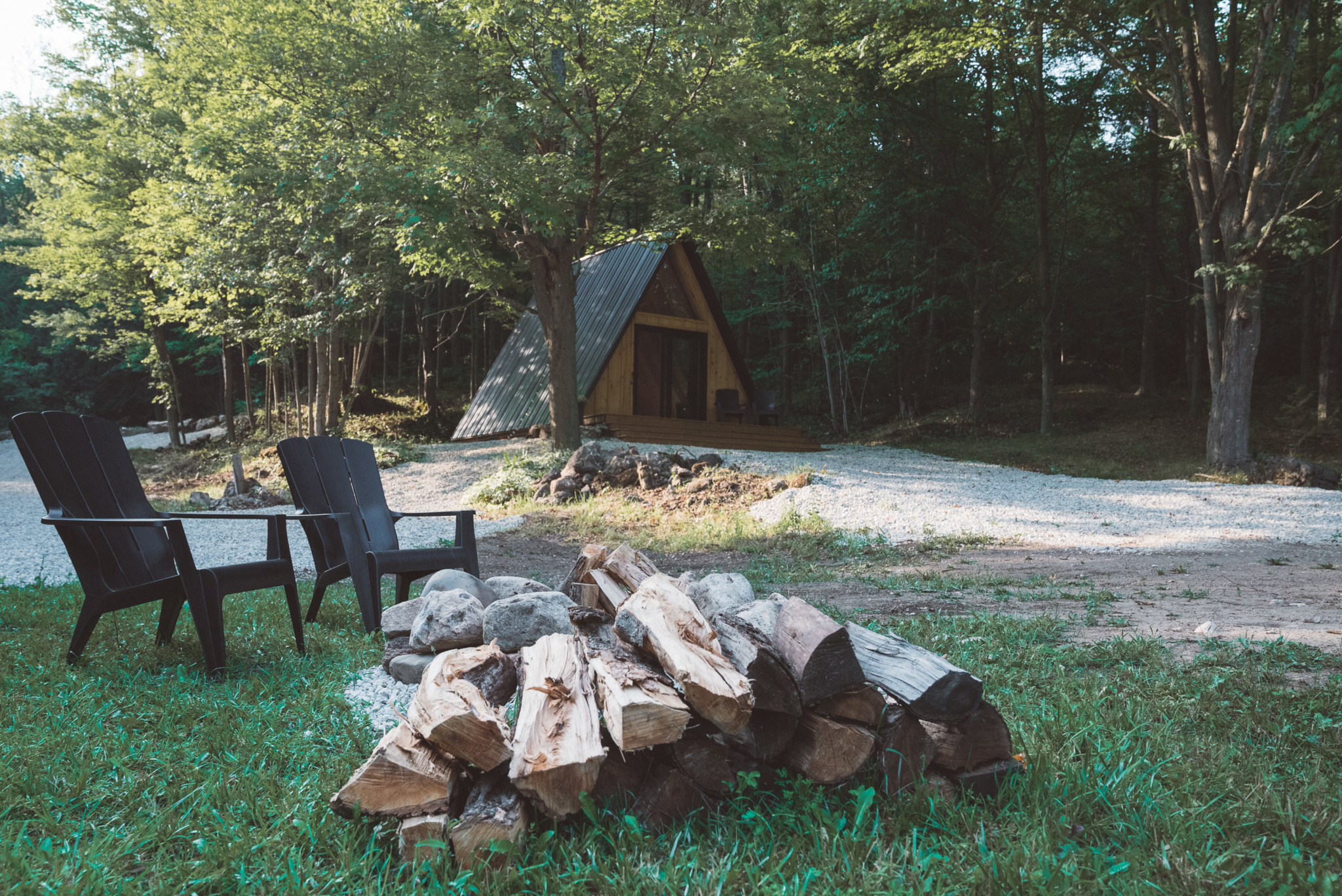 ---
The Food
One of the unique features at Rockhill Park is the option of having healthy delicious meals prepared for your stay. Brenda of Healthy Cravings Holistic Kitchen prepared breakfast, lunch and dinner for our stay as per our request. Each meal prepared was vegan and gluten free using mostly local ingredients. Our breakfast, lunch and dinner were delivered to us upon checkin by the restaurant owner and chef herself in the coolest car. We kept our food stored in the A-Frame tiny fridge along with the cooler we brought. For breakfast, we had blueberry oatmeal bake with fresh berries. Lunch was a sweet potato salad and black bean burritos followed by a potato pizza and a leafy salad with mustard vinaigrette for dinner. It was so nice to have delicious and healthy meals prepared for us, so we didn't have to do any of our own cooking and could just enjoy the property.
---
The Host
The Airbnb host is just as important as the accommodation itself. A great host truly makes the guests stay memorable. When you're a good host, you'll have happy guests wanting to book a stay with you again and again and again…
Denise is one of the kindest hosts we've ever met (and we've met A LOT). She really went above and beyond to make sure our Airbnb glamping getaway was perfect. From providing us with a deliciously catered dinner upon our arrival to the small (but memorable things) like leaving a customized welcome message by the entrance of both the Belle Tent and A-Frame. Communication with Denise was easy, fast and enjoyable. She got us really excited about our stay previously to arriving and really, it felt like I was going to visit an old friend. She's just one of those people that you feel like you've known for ages. You're guaranteed to have the best stay at Rockhill because Denise will make sure of it.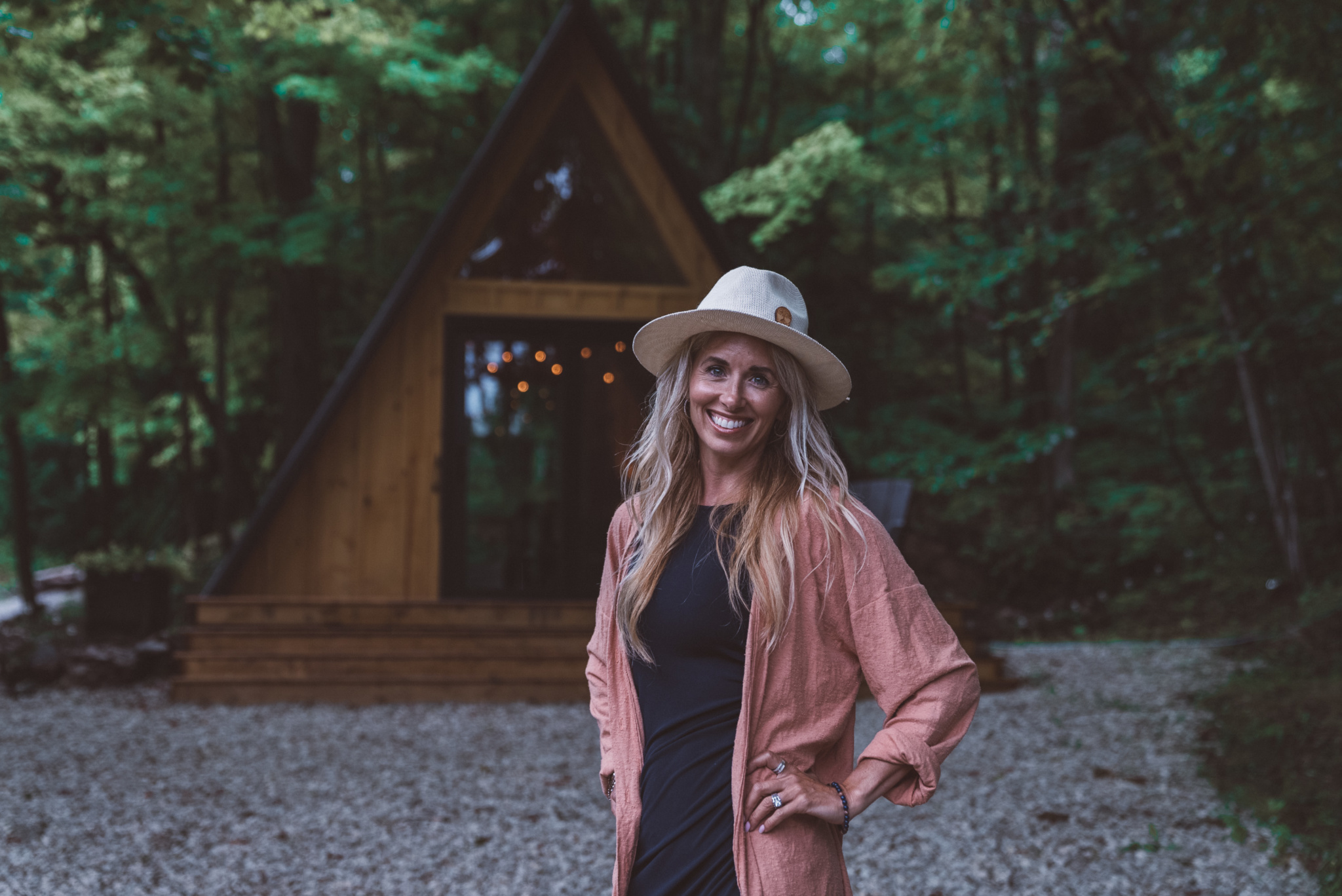 ---
Interested in Becoming an Airbnb Host?
For those who already have a unique space:
Do you have a unique space to rent out? It can be a tiny house, yurt, renovated airstream, container house or other interesting accommodation. If your answer is yes, then you're sitting on an awesome business opportunity! Airbnb has been seeing a huge spike in bookings under its "unique stays" category. If you're interested in becoming an Airbnb host, you can sign up and start hosting your own unique space right away.
For those who don't YET have a unique space:
If becoming an Airbnb host is something you've been thinking about, but you don't yet have a unique space, you can still make it happen. Do you have an extra room in your home you can rent out? Perhaps, you have some land you can build an additional structure on? The possibilities of what your unique Airbnb can look like expand as far as your imagination
To learn more about becoming a unique Airbnb host, be sure to subscribe to our YouTube channel for more videos in this series. You can also connect with an Airbnb Ambassador and learn how to create a successful listing by signing up for an Airbnb webinar.