Siya and I have been Airbnb guests for years, but more recently we've become Airbnb hosts. If you're looking for a new way to make an income, this is a wonderful opportunity to make good money. The best part? Anyone can become an Airbnb host and start immediately. Keep reading to get inspired and learn more about our Airbnb hosting story.
We are often asked how we can afford to travel the world full-time. The simple answer to this question is we run two businesses that allow us to work from anywhere with a WiFi connection. When we break it down a bit further, our income comes from several streams. First, there's this blog Hopscotch the Globe, that also encompasses a YouTube channel, three Instagram accounts (@hopscotchtheglobe, @siyazarrabi, and @livinginluna), Facebook, Twitter and Pinterest. We work with brands and destinations on sponsored content creator and monetize our YouTube videos. We also produce and create video's for other brands social channels. More recently, we started another thriving business that made us $10,000 in our first month. It has nothing to do with being a content creator and ANYONE can do it too, starting…today! Our new thriving business is being Airbnb hosts.
Why We've Become Airbnb Hosts
When the pandemic started back in March 2020, travel as we knew it came to a halt. Never in my wildest dreams did I imagine travel essentially stopping for every person on the planet. Suddenly I was trying to scratch the travel itch from home instead of half way across the world.
As the owner of a travel business, you can imagine how we were effected. Six figures of projects were cancelled. For the first time in years, I felt a bit worried about how we would pay our bills. It was especially stressful because four months previous, we had purchased our first house. This meant we had a mortgage and all the other expenses that come with owning your own place.
We started to brainstorm other ways we could make money that would support our free-spirited lifestyle and create a more passive income for us. Passive income is income that requires little to no effort to earn and maintain. Another name for it is "the dream." We quickly realized we were literally sitting on a kick-ass opportunity. The house that was costing us money could actually make us money by becoming a unique rental on Airbnb.
Siya and I immediately got to work to become Airbnb hosts. We spent one day cleaning our house, taking photos and signing up to be a host. Not too long after our listing went up, we received 13 enquiries in one day (and this is during a pandemic). It turns out, Airbnb's unique stays have seen an increase in bookings since the pandemic. People may not be able to travel far, but they are still interested in having a memorable experience.
---
Tour Our Mountain Top House
Our house is pretty special. It's a Swiss style, mountain top home, located in one of the hottest tourist spots in Ontario. It's located in a small neighbourhood on top of Blue Mountain, which is the largest ski and snowboard hill in the province. Our place is a 10 minute walk to the slopes and 2 minute drive to the village where there's on-going events happening year round. We are a 1 minute walk to the Bruce Trail, which is a Canada's oldest and longest marked footpath – 900 km from Niagara to Tobermory.
The house is on half an acre of land and backs onto 33 acres of protected forest. It's a bird watchers paradise and woodland creatures playground. In the colder months, it becomes a winter wonderland and the hotter months brings to live the beautiful garden I've ever seen.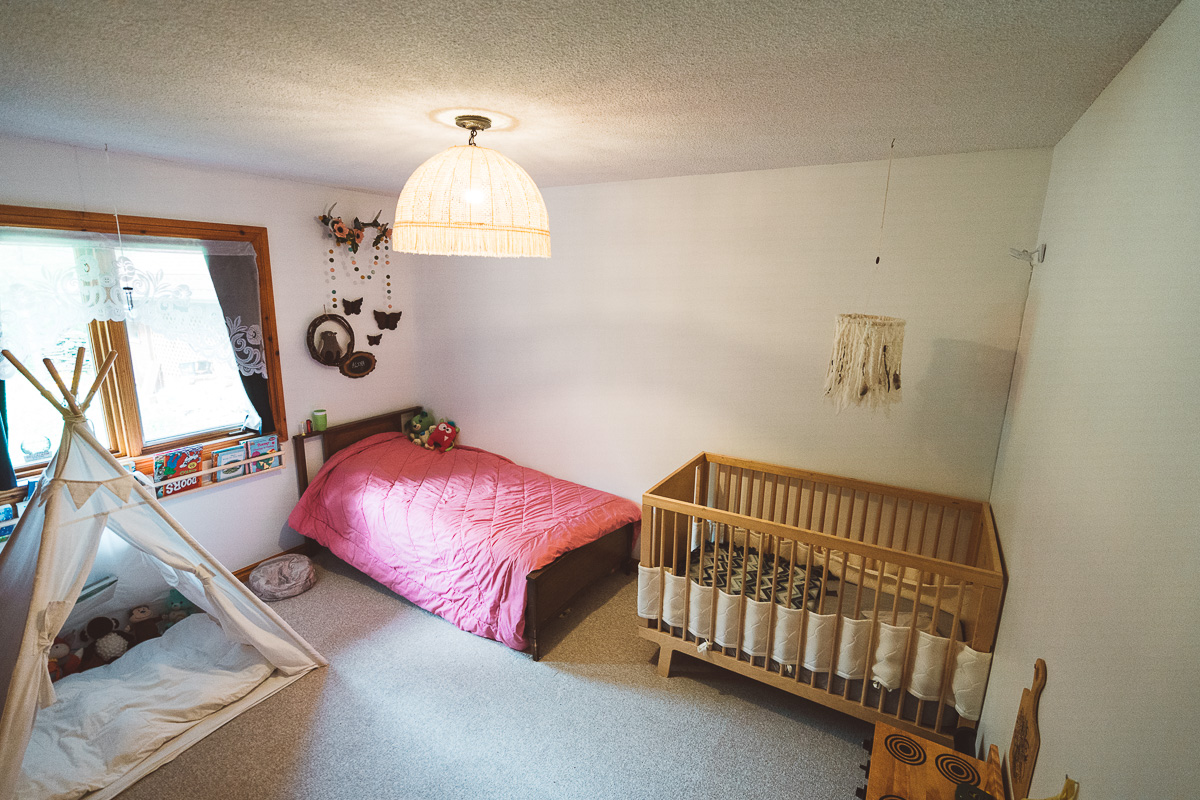 Inside, you'll find two levels. The first one has 2 bedrooms, a full bath, laundry room and linen closet. It also has a massive mud room, perfect for un-bundling after a day on the slopes.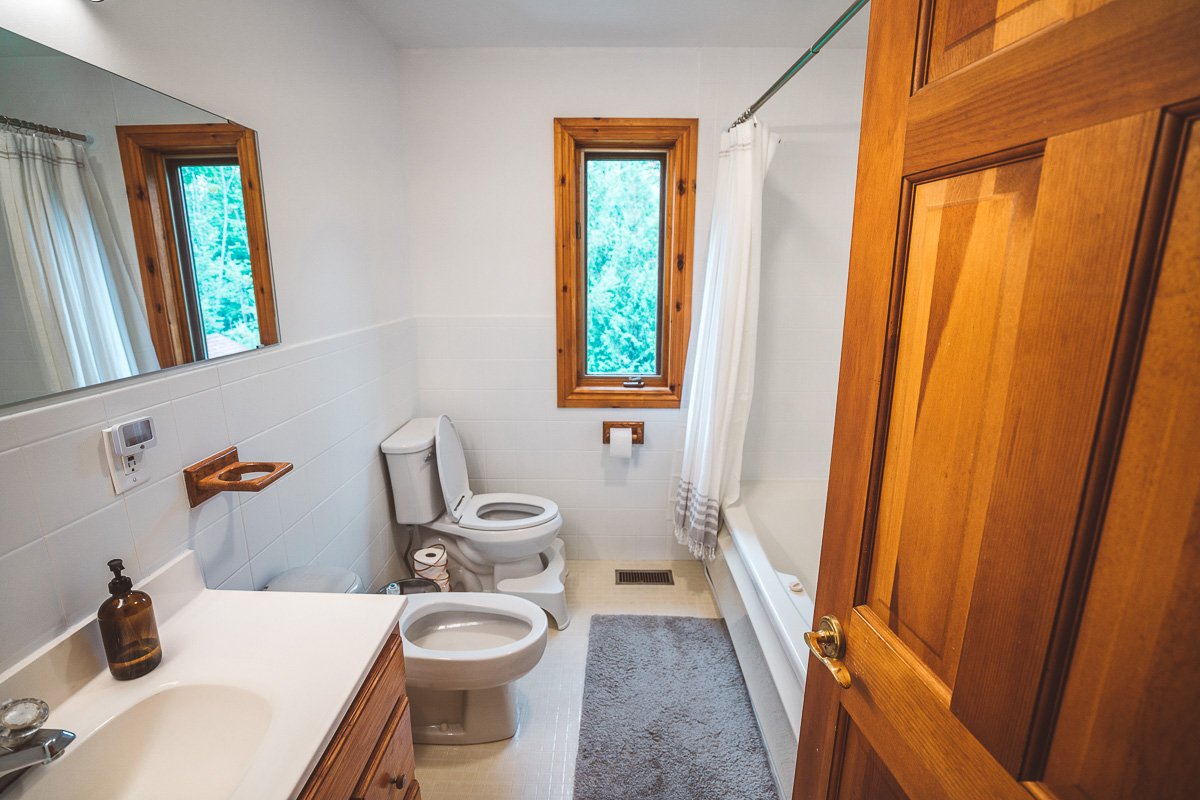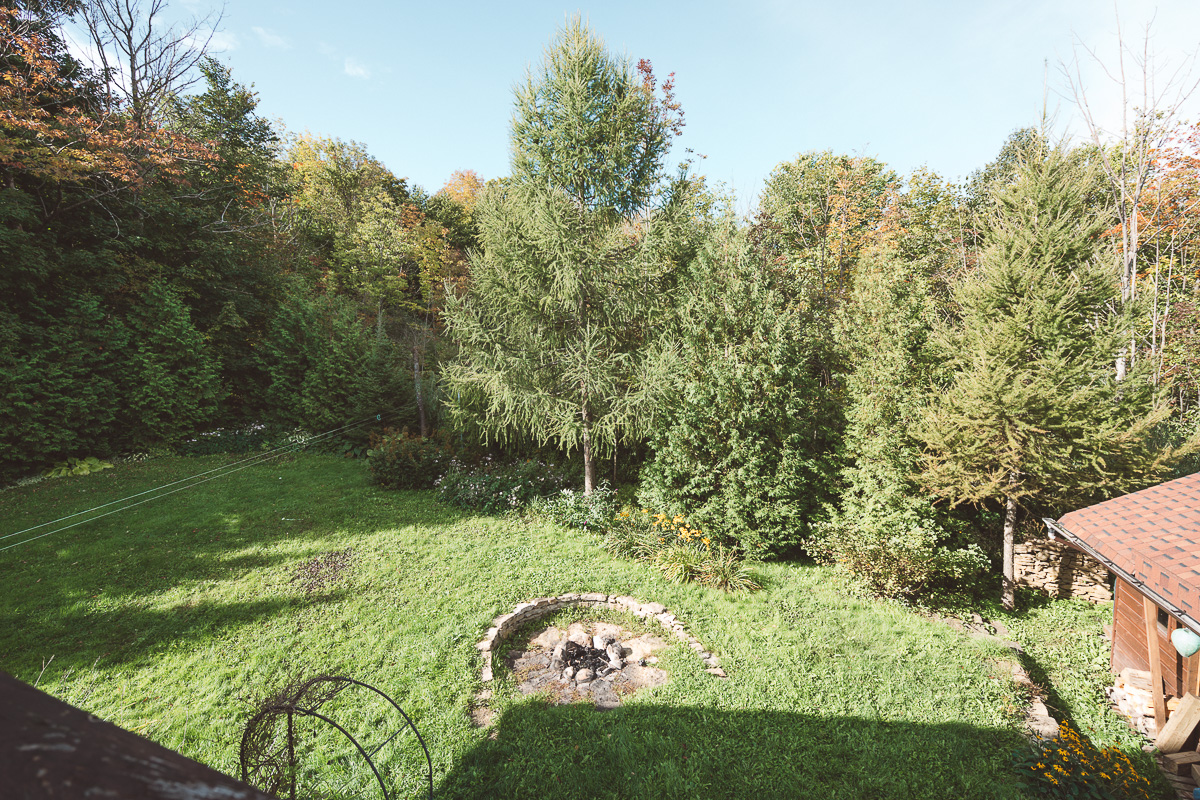 The second floor has a full bath and another two bedrooms. One bedroom has a loft and office area. The other has a beautiful deck that overlooks the backyard fire pit, large dining area, BBQ and forested area.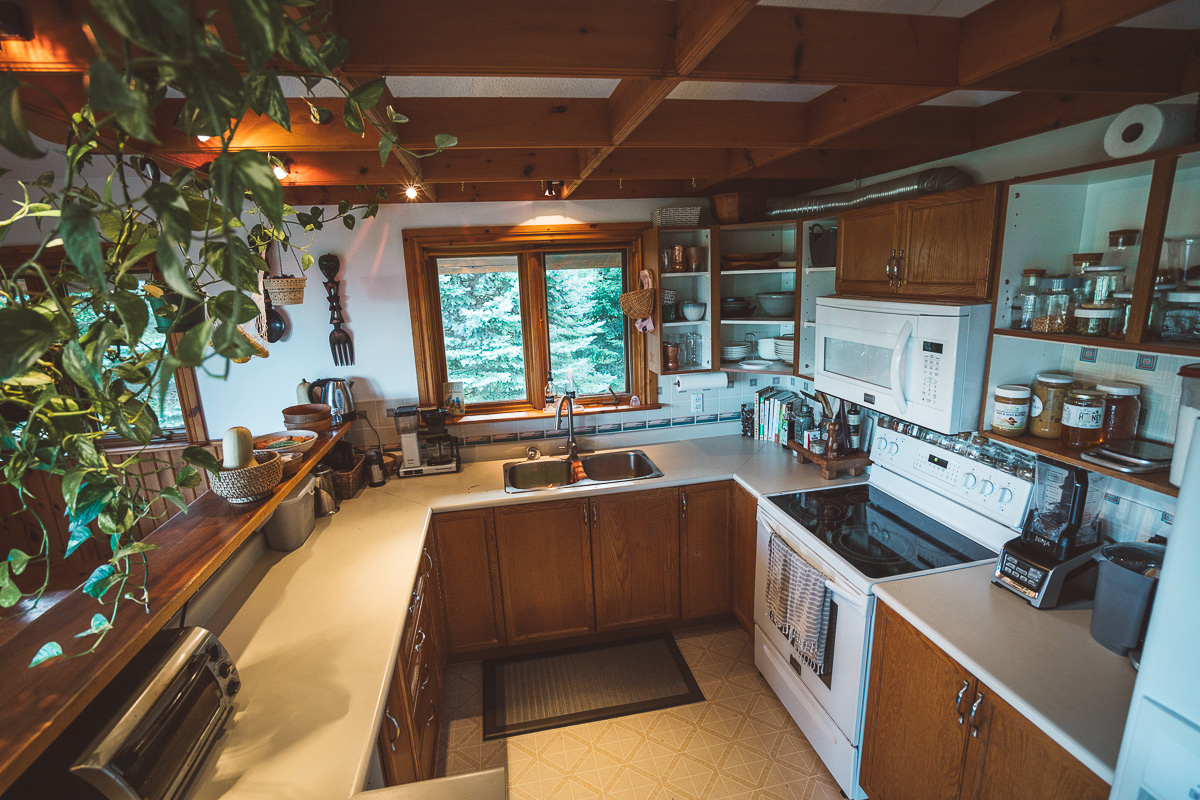 The second floor also has a very large open concept kitchen, dining and living area. There's also a large deck that spread across the entire front of the home. Overall, it's an incredible spot for a family or group of friends who enjoy an active outdoor lifestyle and want to be immersed in nature.
---
How Much We Made in Our First 2 Months

Our place rents on Airbnb for $8000-$12,000 per month, depending on the time of year. Not only does this income pay for our mortgage, but for our bills, renovations and then some. The great thing about it, is anyone can do it.
---
Anyone Can Become Airbnb Hosts
You don't need to have a specific education or background to become an Airbnb host. You just need a unique space. Even if you're renting your place, if you're able to sub-lease or have an agreement with your landlord, you can become an Airbnb host.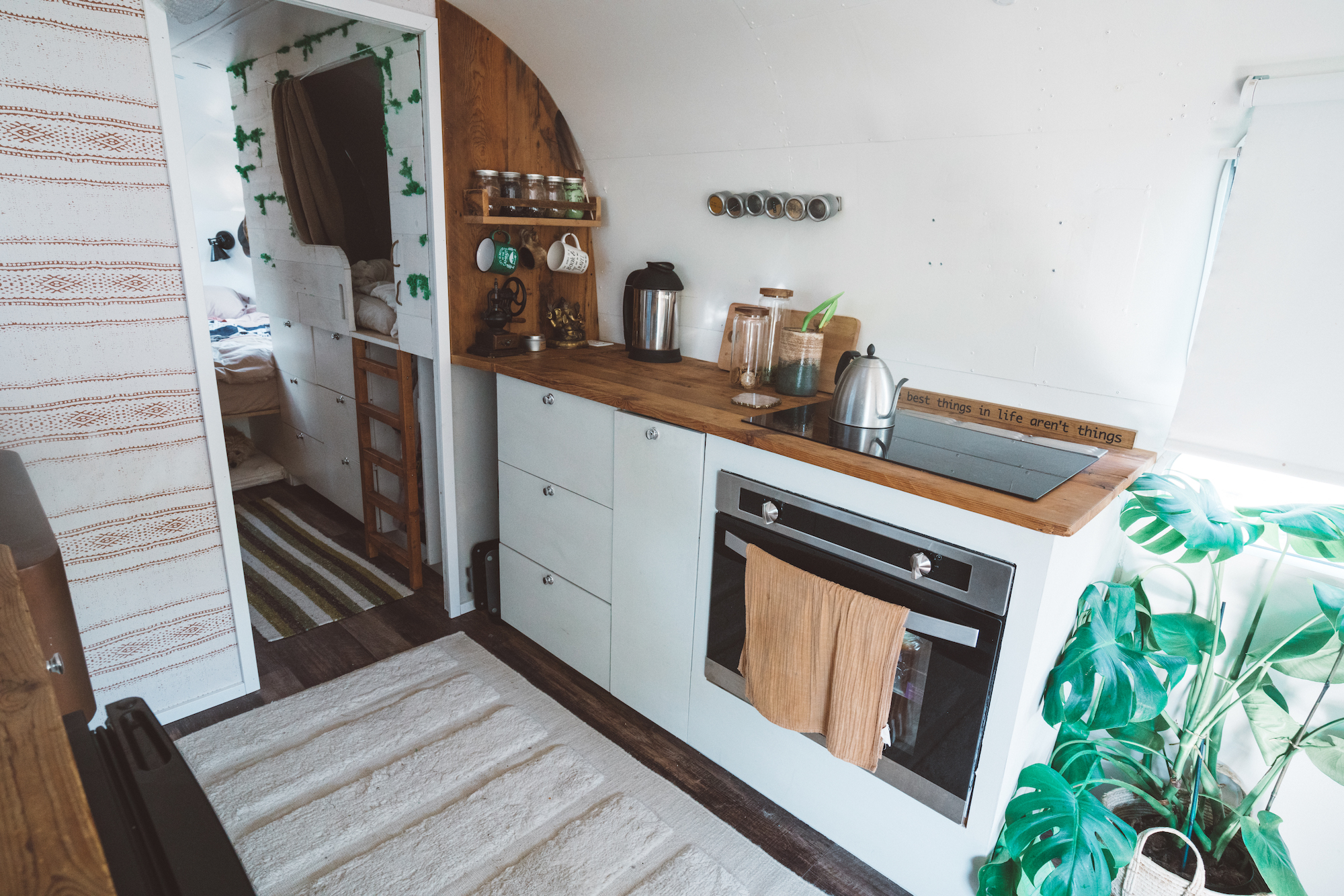 If you're not interested in listing your own home, but have land, you can invest in a unique additional space to rent out. That can look like a tiny house, renovated RV, container house or Mongolian yurt. The possibilities can go as far as your imagination. Now that we are Airbnb hosts, we are constantly thinking up ways to expand this new business. We are planning on turning our Airstream into an additional rental when we aren't using it. The plan is also to build an additional guest house on our land in Costa Rica.
The great thing about becoming Airbnb hosts is it has given us more financal freedom to do the things we love. Maybe you're an artists who wants more freedom to experiment and not have to worry about putting food on the table. Perhaps, you're a stay at home parents, who's not interested in leaving their kids to go to work half an hour away. If you're like us, maybe you want to travel the world and have someone else pay your bills while you do it. There are many wonderful reasons to become a host on Airbnb.
---
Introducing: Meet Your Host!
If you need some more inspiration, we got you coevered! We've partnered with Airbnb on a new video series called Meet Your Host. Throughout the series, we will be sharing stories of the hosts of Airbnb's and how they turned their unique stays into thriving businesses.
To learn more about becoming an Airbnb host to sign up to become a host right now, click here.
---

Disclosure: A special thank you to Airbnb for sponsoring this post. We earn a small fee when you sign up to host using our links throughout this post. So, we thank you in advance for your support. As always, all thoughts and opinions are our own.