If you're like me, you love routine videos.
Morning routine.
Evening routine.
Afternoon routine.
Travel day routine.
All of them.
I think it's fascinating to get a glimpse into people's daily lives. It reminds us how much we have in common with other humans OR we get inspired to live our lives a bit differently.
Me, my husband, 2.5 year-old daughter and medium size pup live full-time in a vintage Airstream we renovated…twice! That's 200 square feet of space for all of us. Since this isn't the average home, we thought it might be interesting to share what our Airstream morning routine look like with you all.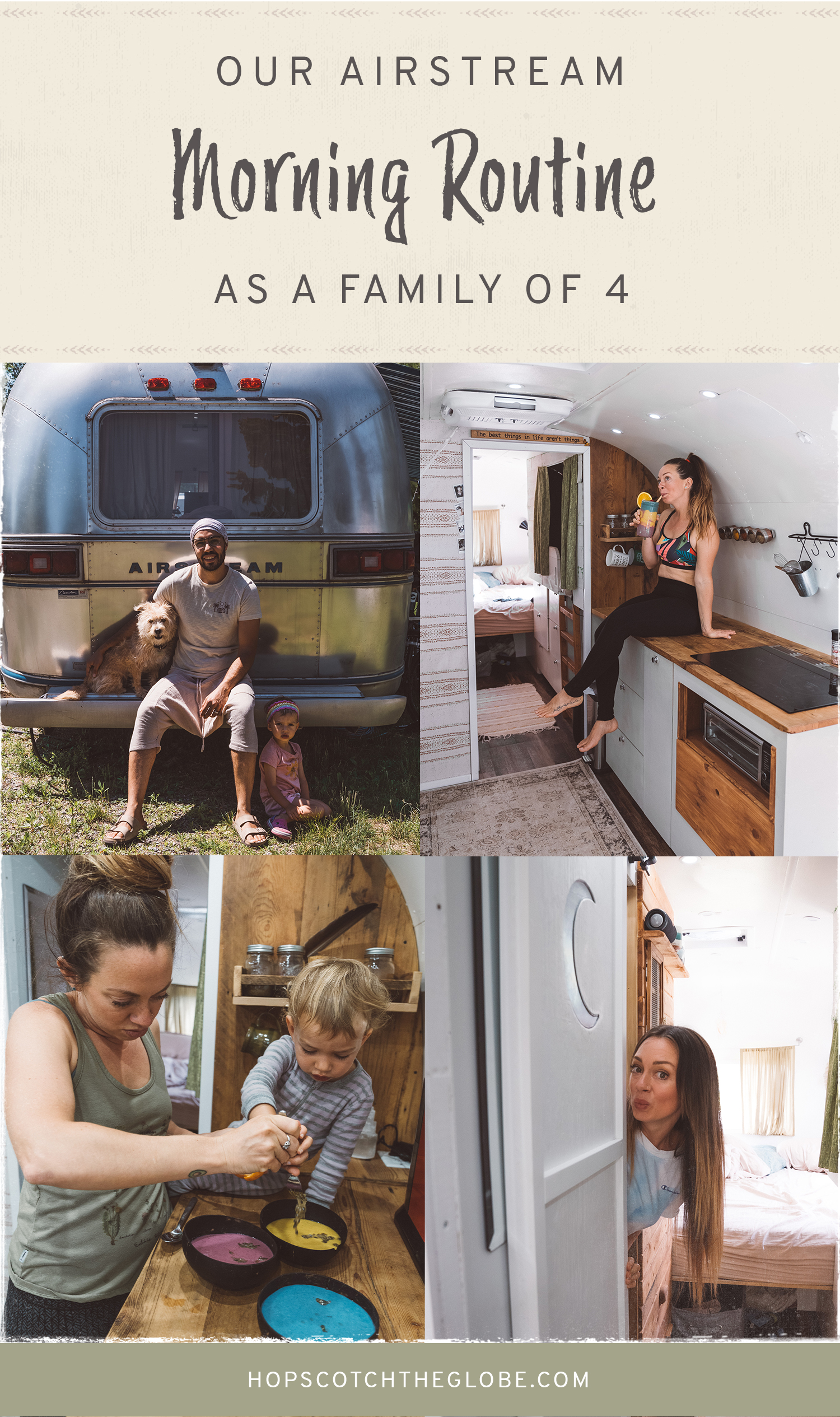 Our Airstream Morning Routine: Rise and Shine
8:00AM – The sun is shining, and we all wake up together. Just kidding, that's not what really happens. The sun may be a-shinning, but Siya is a-sleeping. That's 100% okay because we both give each other the time we need to recharge in whatever way we need. For Siya, that's sleeping in longer and for me it's working out.
Our Airstream morning routine really begins with my daughter Kai jumping on my face to wake me up. There's some elbowing, kissing, playing with my hair, hugging…whatever she can do to get me up. Our pup Atlas eventually jumps up on the bed to join in on the cuddle fights.
Kai, Atlas and I eventually roll out of bed and step a whole 5-feet into our Airstream kitchen. We like to start the day off by hydrating our bodies with some clean filtered water. Sometimes we add a splash of lemon and will also take our vitamins. After we have some water, we open up the blinds and let the sun shine in. We'll also open up the windows and turn on the 3 ceiling fans to get the air flowing. We let Atlas out to pee. We go pee. Then we feed Atlas and go straight into coffee and breakfast making. It's one of my favourite parts of the day.
But First, Smoothies and Coffee
Something to know about me is I've been committed to smoothies for AT LEAST the past six years. Every single morning, I have a smoothie without fail. No matter where I am in the world, I'll find a way to have my morning smoothie. One of the first things I do when I get to a new place is type "smoothie bar" into my Google Maps. I'm committed.
While strolling through the grocery store one day, I went to the frozen fruit section and discovered Evive for the first time. I'm so glad I did because it totally fits into my family's lifestyle. Evive smoothies are packed with healthy goodness, tastes delicious and look beautiful. Most importantly, I know every single ingredient listed in each smoothie wheel. There aren't ingredients where I'm like, what, what am I consuming? That's very important for me and my family.
You don't even need a blender to make an Evive smoothie, making it great for travel. You just pop the cubes into a glass, add a bit of liquid (I like to add coconut milk or coconut water), put on a lid and give it a shake!
Evive smoothies are plant-based, easy and quick to make. Each wheel is packed with high quality ingredients including organic fruits and vegetables, super foods, and proteins. There are no added sugars (they use stevia instead). Each wheel is gluten free, non-GMO and certified organic. Some ways I like to use Evive smoothies are to make…smoothies of course, but also smoothie bowls, nice-cream and popsicles. You can even eat the cubes as they are (which are great for teething children by the way).
Once smoothie bowls are ready and the smell of coffee is lingering in the air, Siya emerges from his slumber, and we head outdoors for breakfast. It's really nice to be living in an Airstream where the outdoors feels just as much as our home as the indoors. We spend as much time outside as possible. That's part of this lifestyle that we love dearly.
---
Watch Our Airstream Morning Routine:
---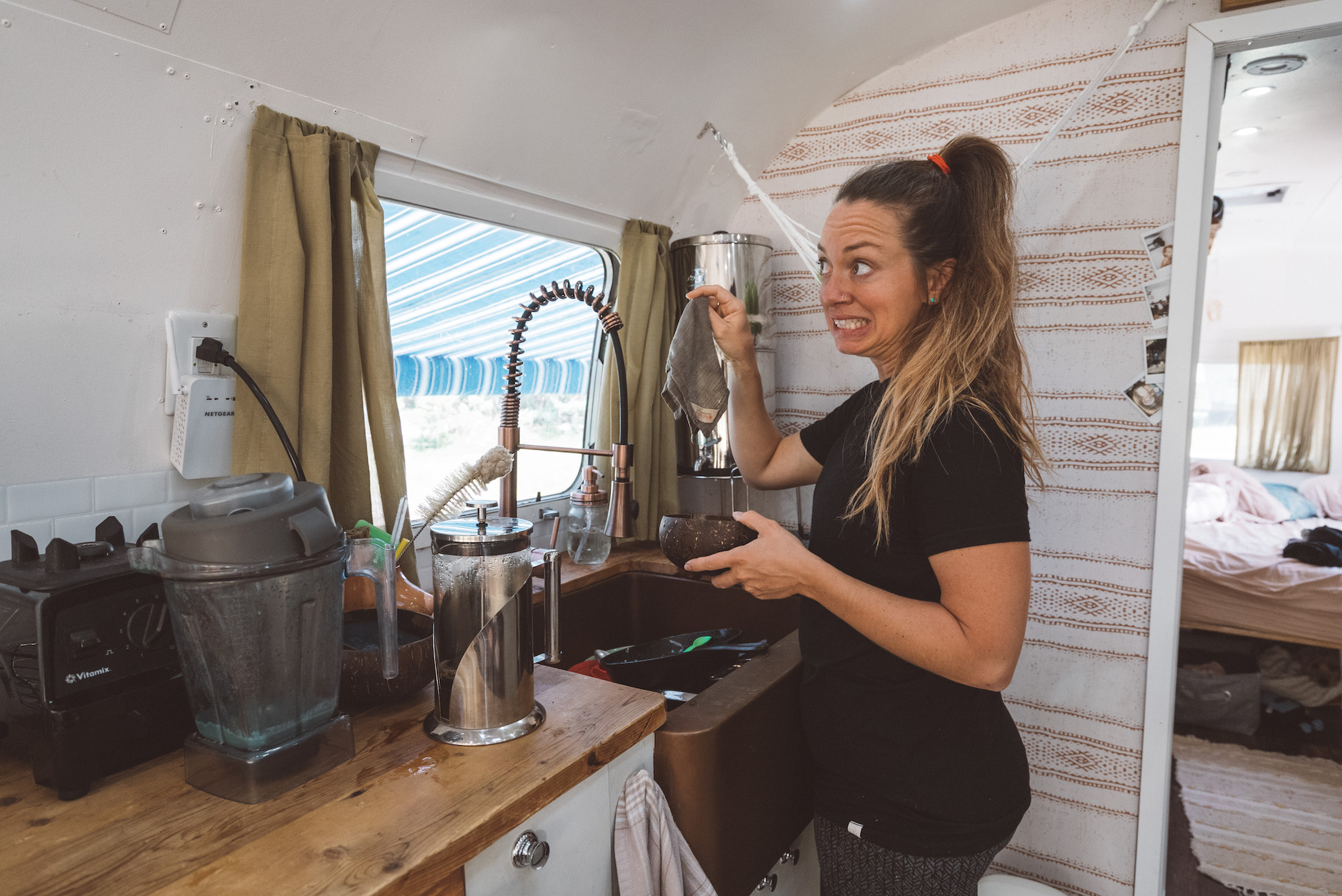 Airstream Morning Routine Workout
9:00 AM – After breakfast, I do the dishes. Just kidding. I actually pile them up in the sink and leave them for Siya. Hey! You gotta give a little and take a little. He slept in after all. By now, we've all brushed our teeth and I'm getting ready to workout. While I get ready, Siya and Kai take Atlas for a poop walk – a great way to start the day moving their bodies. When they get back, Atlas joins me for a run.
Atlas has been running with me often. This has made running way more enjoyable. Starting the day off moving my body has become really important. It's become a regular and non-negotiable part of my Airstream morning routine. Even if I'm traveling, I'll find a way to work out.
Work and Play
10:00 AM – After we've all moved our bodies, I'll get some work done or Siya will get some work done. We like to take turns each day, alternating each day. For us, this has been the most effective way to work from home with kids. We've also found the best tools to help us work from home that make our lives much easier. Whoever's working is usually at the computer and the other is playing with Kai. There's really nothing better than spending time in Kai's world full of imagination and complete presence. It's a wonderful place to be. Everything's getting done and everyone's enjoying life. Alternating days is our way of finding that life-work balance.
Spending Time in Nature
12:00 PM – Once I've done a little bit of work, I close the laptop and then we're all ready to go out and spend time together. We love to be outside in nature. This can look like a bike ride, hike, canoe ride or beach day. Whatever gets us outside in nature.
I hope you enjoyed a glimpse into our slow, beautiful, peaceful, delicious and often chaotic mornings in our Airstream home.
Thanks again to Evive for sponsoring this video, you are delicious. Click here to order your own Evive Smoothies and save 20% off your first order using our discount code: HopscotchTheGlobe20. Enjoy!
What do your mornings look like? Share with us below!
---
Disclaimer: A special thanks to Evive for sponsoring this blog post and video. As always, all thoughts and opinions are my own.