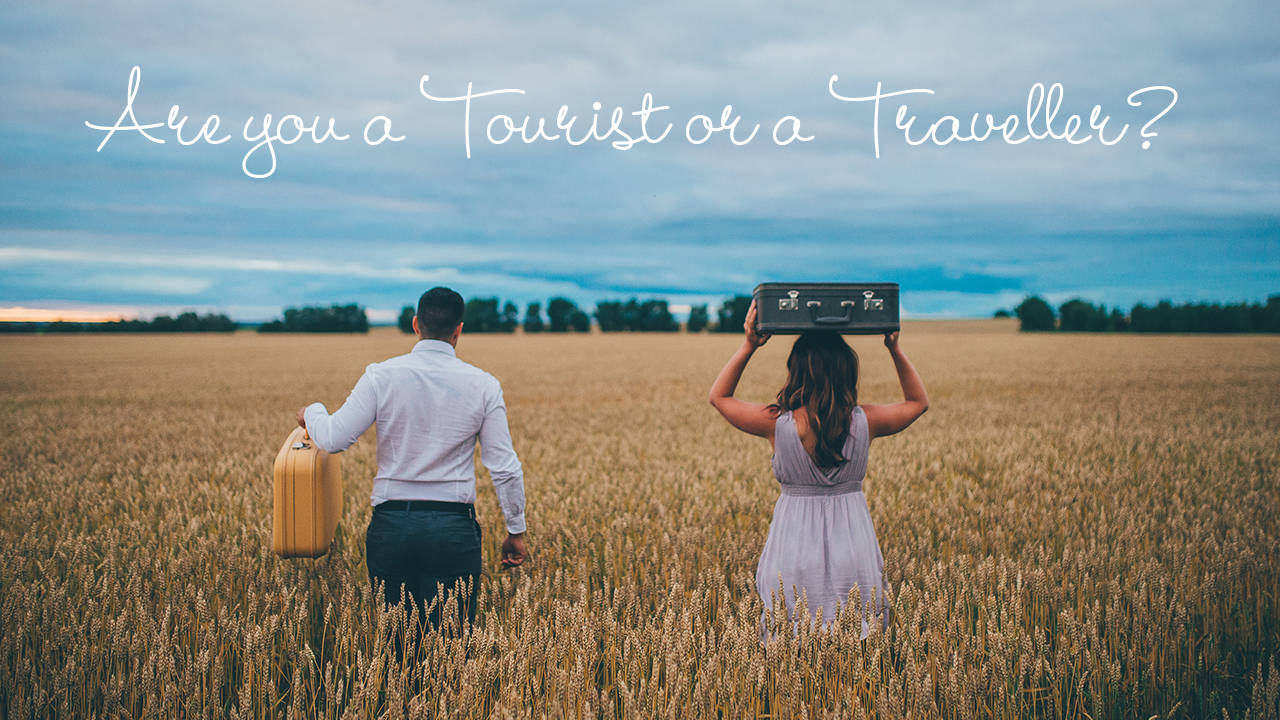 Whether you're a seasoned traveller or planning your first trip, I respect all those who desire to travel the world. There is no "best" way to travel, only the best way that suits your needs. Most of those who explore the planet are within the spectrum of "tourists" to "travellers." How far you venture in either direction is up to you.
Imagine you're planning a trip somewhere. The idea involves sunshine, tranquility and a refreshing beverage. What do you imagine? Some of us envision sandy beaches, hammocks and mojitos in Tahiti. Others see sand dunes, camels and iced karkadeh (hibiscus) drink in Egypt. Both options involve the same elements, but attract different globetrotters. Let's break it down further.
The "tourist" desires to explore the world while having the comforts of home. They dip into local culture through cuisine and customs just as long as it isn't too bizarre (not many bug eaters here). Their itinerary includes a visit to the hotspots and a tour to observe local living.
The "traveller" expects to forego their home comforts while they immerse themselves in a new culture. They'll visit the hotspots and ask a local where the best place to grab lunch is. They are up for trying local cuisine, even if it's something they aren't accustomed to. The more bizarre an experience, the better.
One hotspot for Canadian tourists is Dominican Republic, and a perfect example for this tourist vs traveller experiment. It's full of picturesque all-inclusive resorts, sunny beaches, friendly locals and rich cultural experiences in the cities. Kristen and I explored this destination on a road trip across the country; from Santo Domingo to Punta Cana and finished off in Puerto Plata. On this voyage we did both "tourist" and "traveller" activities. I turned our week itinerary into a test to find out which style of explorer are you.
1 – You just landed in Dominican Republic. How do you get to your hotel?
A) A hotel transfer is waiting for you at arrivals.
B) The low-priced local metro system.
2 – It's lunch time. Where do you eat?
A) The highly recommended restaurant you found online.
B) The local you met invited you to his house for lunch.
3 – You're in a new city. How do you explore?
A) You find a guided bike tour.
B) You rent a bike and explore by yourself.
4 – Time for a drink! Where do you go?
A) Take a tour of the famous rum factory and sample their rum.
B) A Dominican Republic drive-thru bar.
5 – You have a free day. What do you do?
A) Explore the top 5 places in your guidebook.
B) Get lost in the city and see where you end up.
6- You climb down into a cave and it's full of water. What do you do?
A) Take a picture to show your friends.
B) Strip down and jump in.
7 – You pass by a fruit stand. Which fruit do you buy?
A) Your favourite fruit.
B) A fruit you've never tried before.
8 – You spend a few days at an all-inclusive resort, how long do you spend at the beach?
A) As long as possible.
B) Never felt the sand, too busy exploring the city.
9 – You have the option to stay at two places for the night. Where do you stay?
A) A luxury cabin on the beach for $200/night.
B) A cool hostel in the city for $20/night.
10 – It's your last day in Dominican Republic, what do you have to bring home with you?
A) Souvenirs to remind me of my time.
B) Stories to remind me of my time.
If you didn't guess already, A's were for Tourists, B's were for Travellers. Kristen and I did a combo of both, here are our answers:
A

B

A

B

B

B

B

B

A

B
Post your answers below!