Reading Time:
3
minutes
Autumn. Fall. Whatever you want to call it, it's my favourite time of year! There's something quite delicious about this season, and it's not just the Pumpkin Spiced Lattes or the fact that it's my birthday month. There are several reasons to fall in love with fall, especially when you experience it in Canada. From the crisp air to the changing of the leaves. Throw in the fact that Halloween happens at this time of year, and there's really no competition! Sorry spring, summer and winter.
Last year, I created an Autumn inspired smoothie. This year, I created the Autumn Vegan Glow Bowl one afternoon after being inspired by a walk I took in the woods through the multi-coloured leaves. I hope you enjoy it as much as I do!
Ingredients (for 2 servings)
1 cup of wild rice (I use 365 Everyday Value Organic Wild Rice)

2 carrots

4 teaspoons of golden raisons

1 red pepper

1 sweet potato

1 cup of uncooked spinach

8 honey dates

8 dried apricots

2 tablespoons of dried black currents

2 teaspoons of pumpkin spice

2 tablespoons of real maple syrup (optional)

1/4 cup of coconut oil

Olive oil

Salt and pepper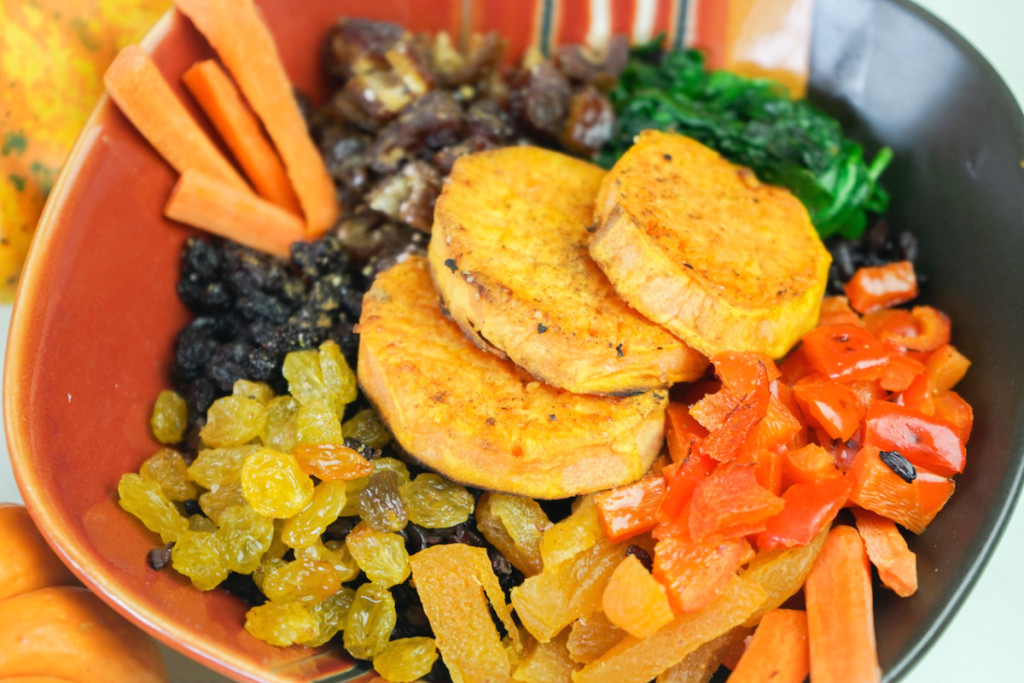 Step-by-Step
Heat your over to 400°F.
Place a sheet of parchment paper onto a pan. Peel your sweet potato and cut into 1 inch thick pieces. Place your slices into a bowl and add your coconut oil, 1 teaspoon of pumpkin spice, maple syrup and salt and pepper to taste. Toss all of these ingredients together and then place your sweet potato onto the pan. Cook for 8-12 minutes on one side before flipping to the other. Cook for another 5-8 minutes.
Rinse your rice under cool water and then cook your rice in a rice cooker or over a stove top. For 1 cup of rice, you will want to add 2 cups of water. If you are cooking over the stove, place the rice in a saucepan with the water, a little salt and stir once. Bring to a boil, then turn the heat all the way down and cover the pan tightly with a lid. Cook on the low heat for 10-15 mins without uncovering the pan.
In the meantime, fry up your spinach and red pepper in a frying pan. Peel and cut your carrot baton style and cut up your dates and dried apricots into fairly small pieces.
Add your rice to a bowl and drizzle a teaspoon of olive oil on top of each serving. Add in all of your other ingredients as you wish. I like to have all my ingredients separated for visual appeal. Add 1/2 teaspoon of pumpkin spice and a dash of salt and pepper into your bowl. Now, all that's left to do is…eat it!
For more healthy and quick meals, be sure to check out some of my other internationally inspired recipes.
What cultural glow bowl do you want me to create next?
Make sure you leave your comments below to let me know how you enjoyed this bowl as well.