So, you want to plan a California RV trip. In this post and video, I'm sharing a 15-day road trip itinerary my family and I took along the famous Pacific Coast Highway. I've included where we stayed, what we did, and where we ate while offering tips and advice to ensure you and your family have an unforgettable experience. I'm also sharing what things cost, our top RV resources, such as how to find FREE overnight parking, plus our favorite RV apps to help guide you along your trip.
NOTE: I recommend booking most of these RV Parks and campgrounds in advance. This will help guarantee you a spot. If you wait until the last minute, there's a good chance most of the places listed below will be full.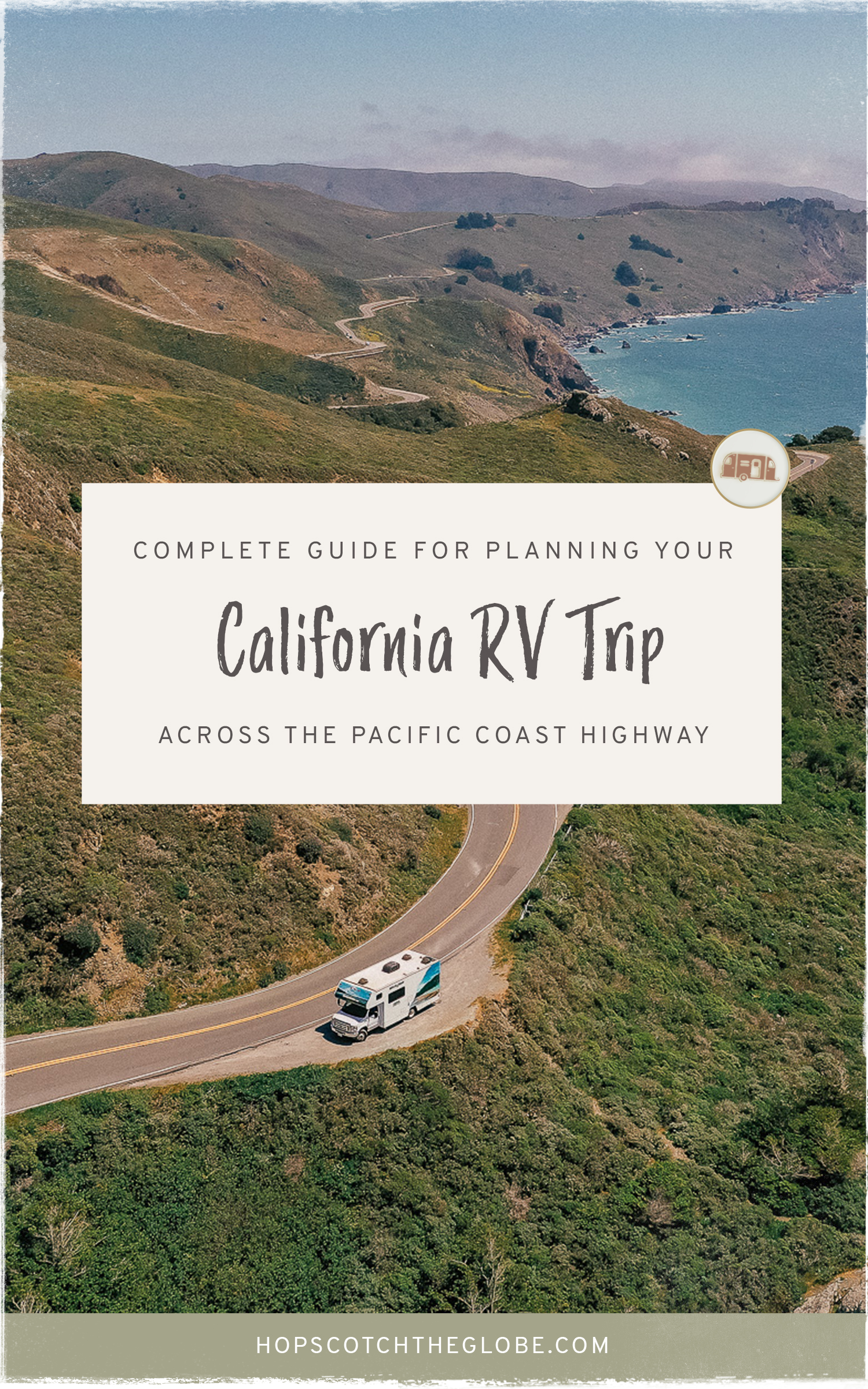 If you're new here, my husband Siya, our 4-year-old daughter, our pup, and I have spent the last 5 years traveling throughout North America in our Airstream home. But, for this trip, we rented an RV from Cruise America. The cost for 15 days was $3160 USD for a standard 5-person motorhome, which allowed us to pick up the RV in San Diego, California and drop it off in Portland, Oregon. The price also included kitchen kits, bedding (which, unless you're bringing your own, you will need), along with liability insurance.
---
If you'd prefer to watch a video of my Complete Guide for Planning Your 2023 California RV Trip Across the Pacific Coast Highway, click the video below. If you're a reader…keep reading!
---
The Pacific Coast Highway Route
First, let's go over the route. It looks a little something like this…
San Diego –> Los Angeles –> Santa Barbara –> Paso Robles –> San Francisco –> Redwoods –> Coos Bay, Oregon
Total driving time = 18 hours and 18 minutes.
Depending on which direction you're coming from, you can start your California RV trip from either San Diego or Portland, Oregon. The trip works either way. We did this route in February, which was a beautiful time of year for a California RV trip.
Not only are these destinations breathtaking, but the road to get to them will be one of, if not the most, beautiful drives you'll take in your life. You can see photos and watch videos of people driving along the Pacific Coast Highway. But, it's not until you experience it for yourself that you realize how incredible the views really are.
So, as I mentioned, we started in San Diego…
---
California RV Trip: San Diego / Day 1-3
Where to stay: Sun Outdoors San Diego Bay (2 nights)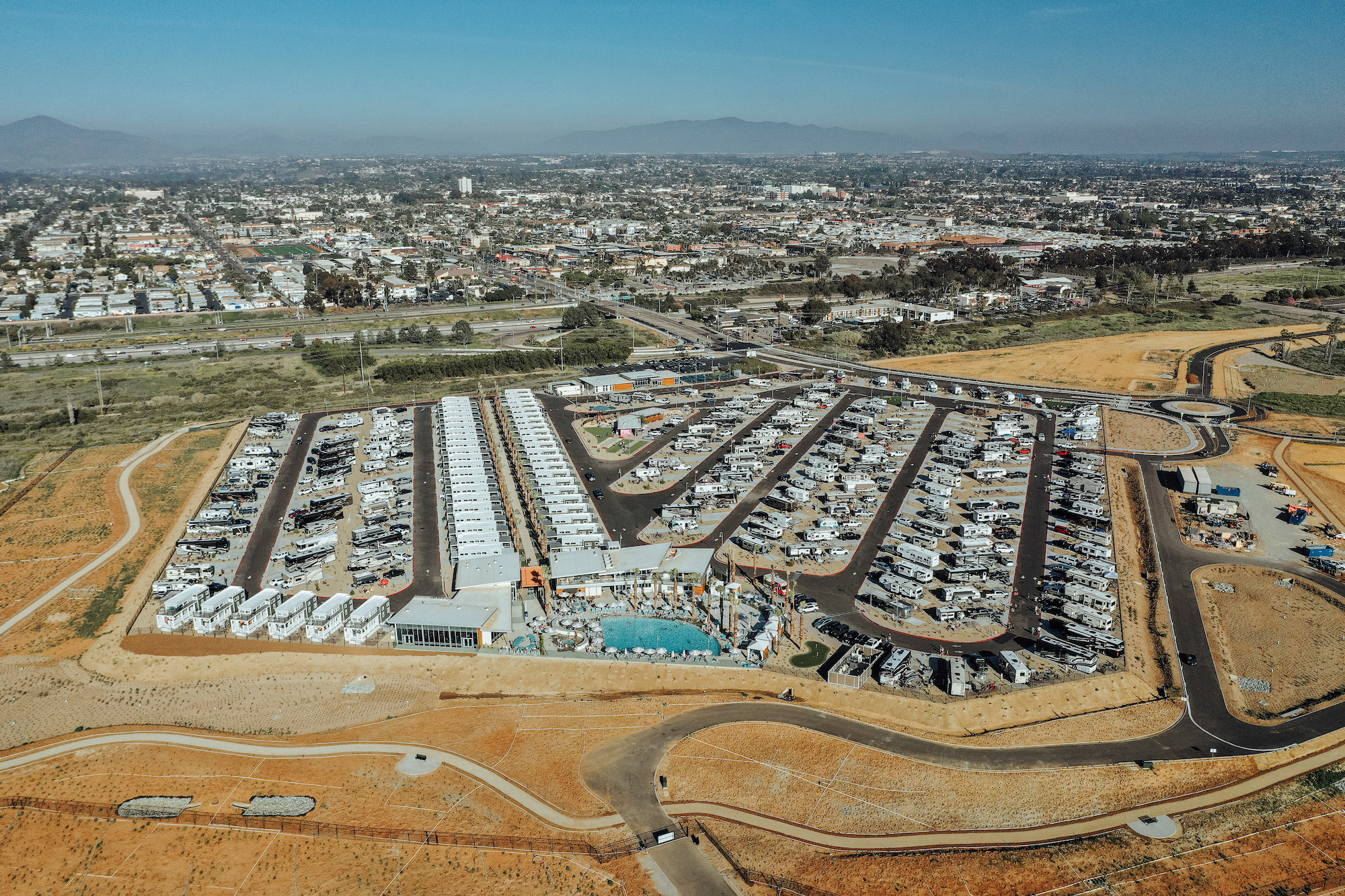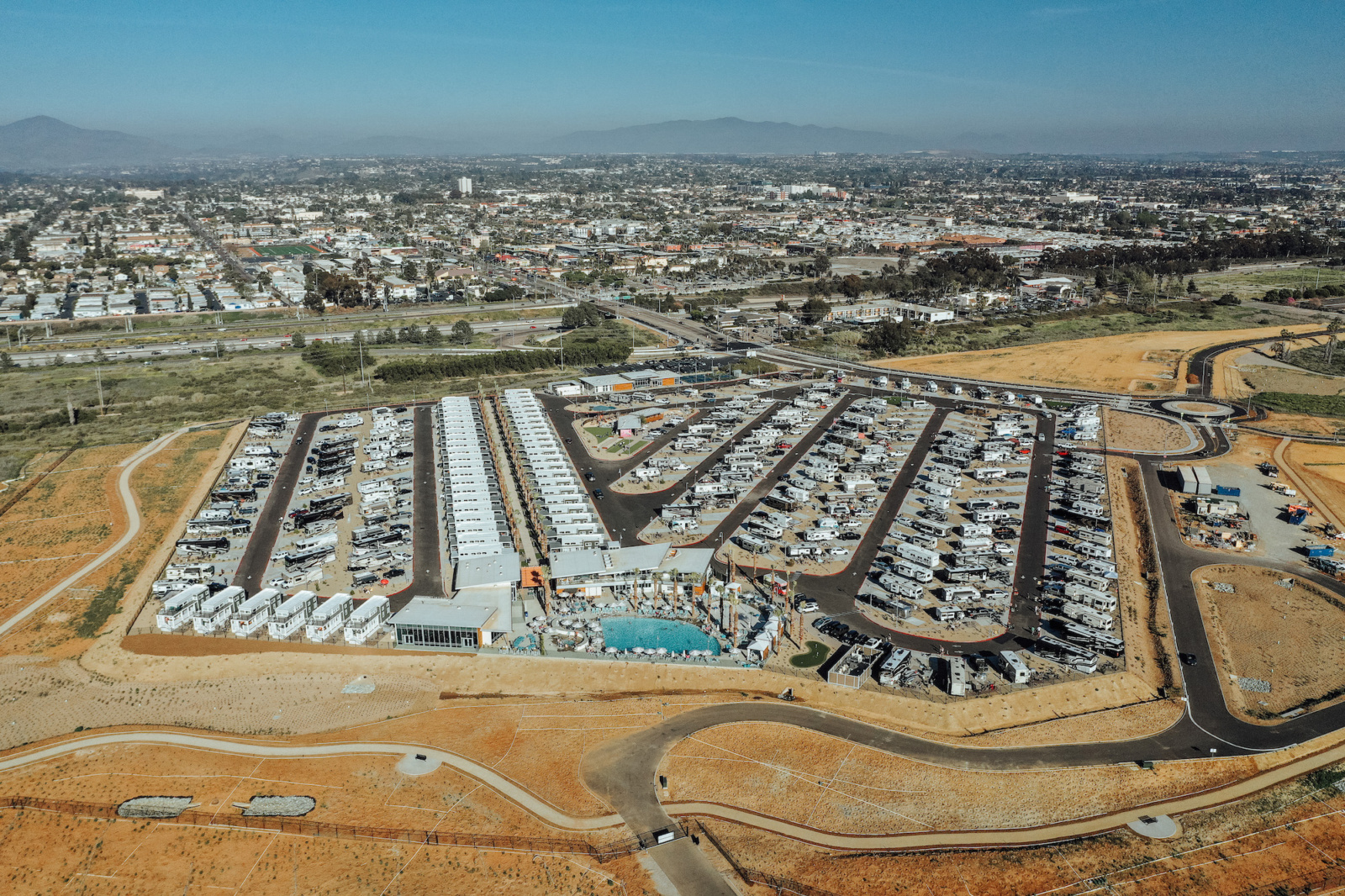 I recommend spending the first two nights at Sun Outdoors San Diego Bay. This is an RV resort with all the works. Full RV hookups with propane fire pits and picnic tables, WiFi, cable, swimming pool, hot tub, fitness center, dog park, playground (for both kids and adults), and scheduled activities for kids like arts and crafts. Standard full 30-50 amp hookup spots start at $100 USD per night. For this price, you'd get a back-in site. Prices vary slightly during high and low seasons. You can upgrade your site to deluxe, pull-through, premium, or elite for an additional cost.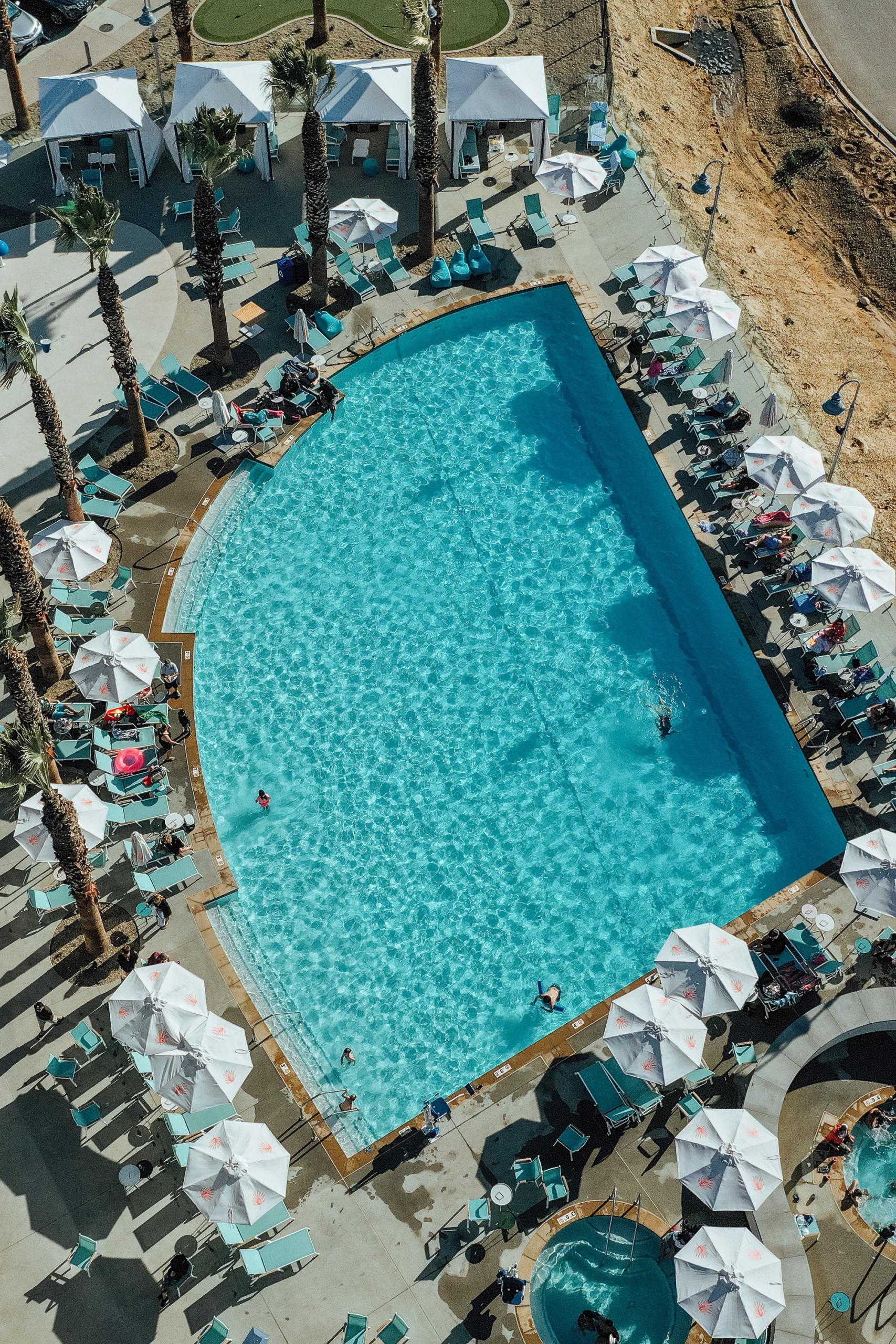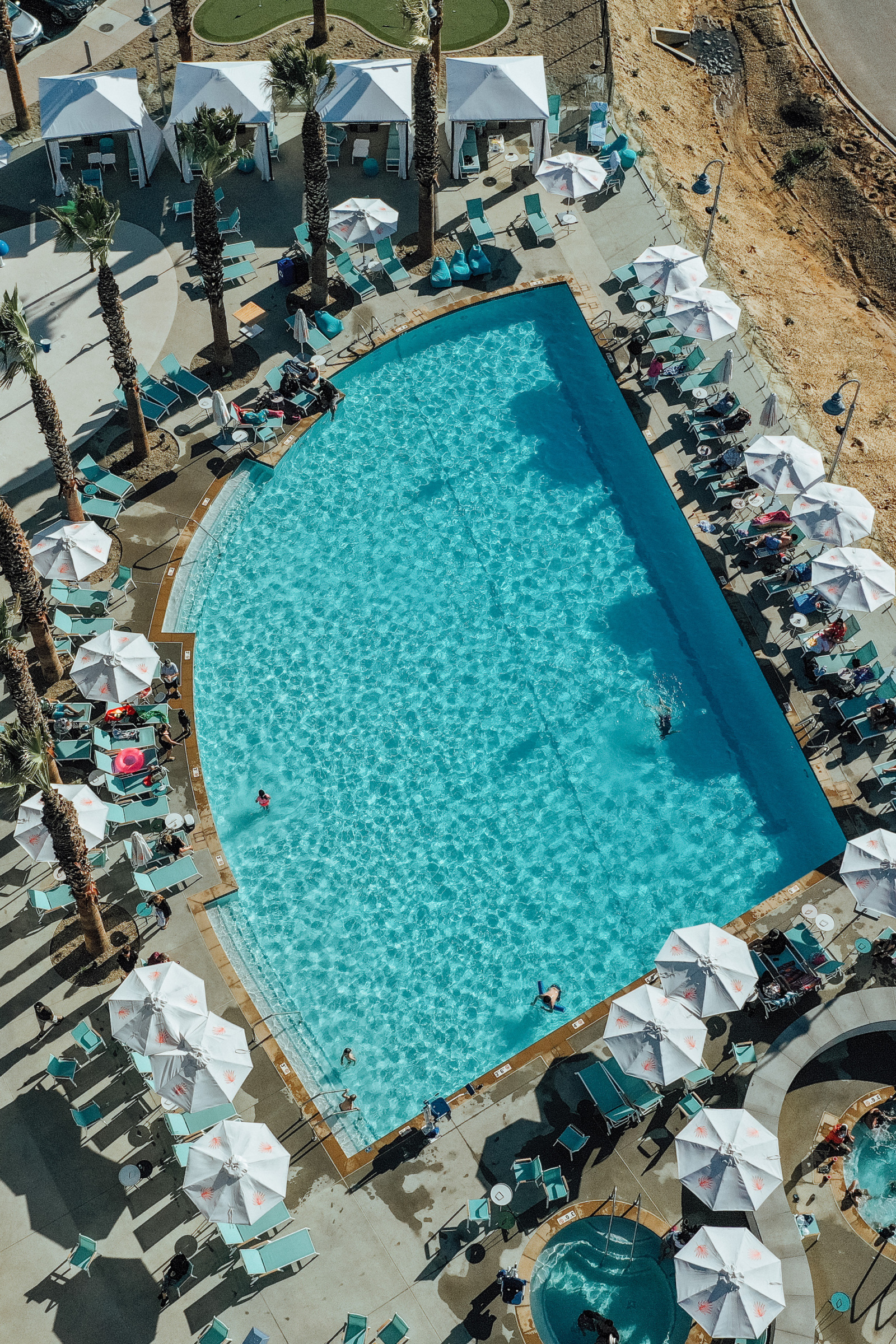 NOTE: For Sun Outdoors RV parks (which I'll be featuring a lot in this post), I've given you the baseline pricing for a standard site. The pricing does fluctuate depending on availability. For example, if you're planning a California RV trip in February like we did, you'll pay less if you make all your bookings in October vs. in January. As spots fill up in the RV parks, rates increase.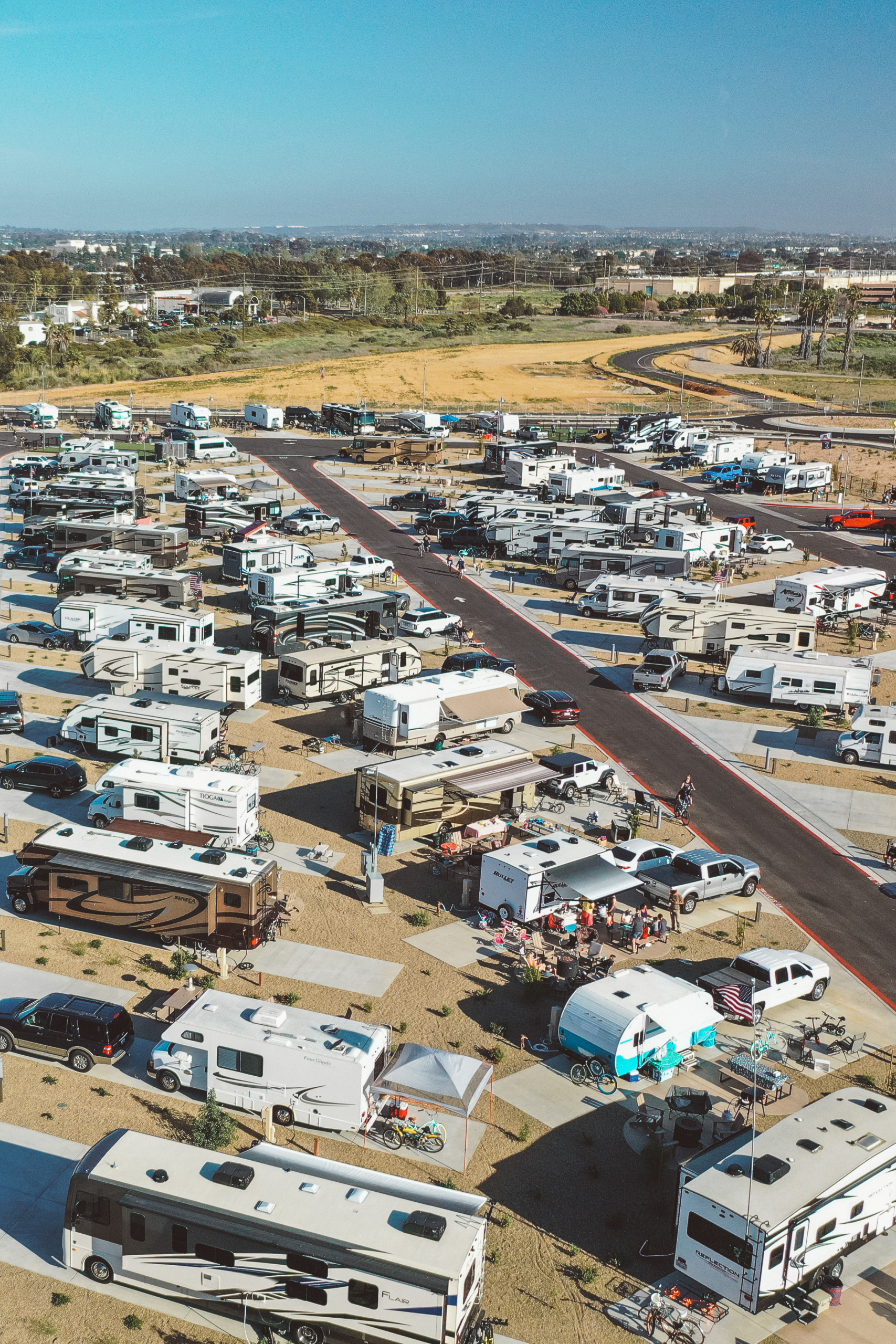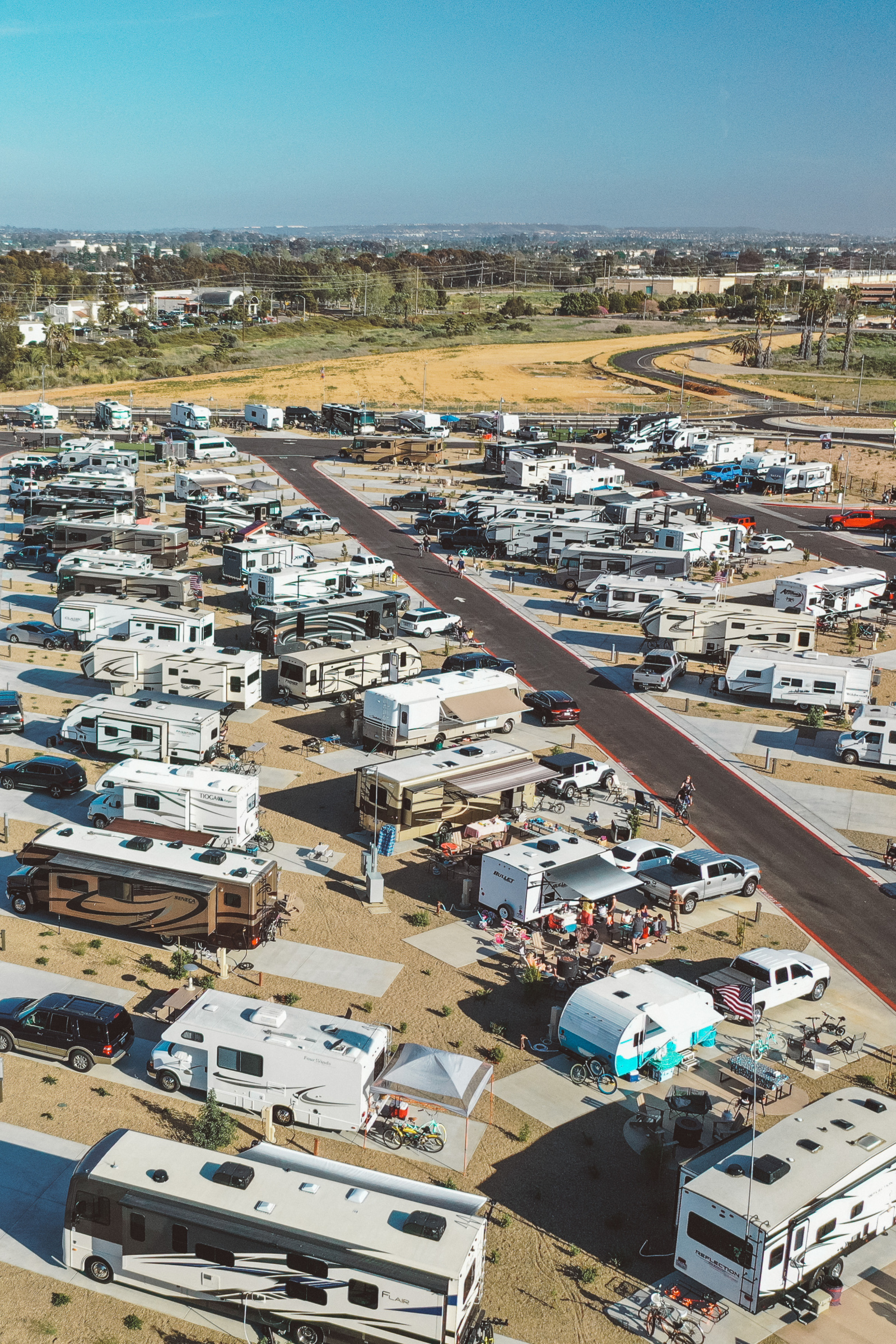 What to do:
There's plenty to do nearby as a family. You can visit the Aquatica San Diego for water fun, a waterfront park for a picnic or play in the park, the San Diego Zoo (we don't personally do zoos), Third Avenue Village for shopping, and sunset at Imperial Beach. I recommend getting some takeout at one of the restaurants along the strip and heading to the beach for a sunset picnic.
---
Watch our YouTube video from San Diego:
---
California RV Trip: Los Angeles / Day 3-5
Where to stay: Dockweiler RV Park in Playa Del Rey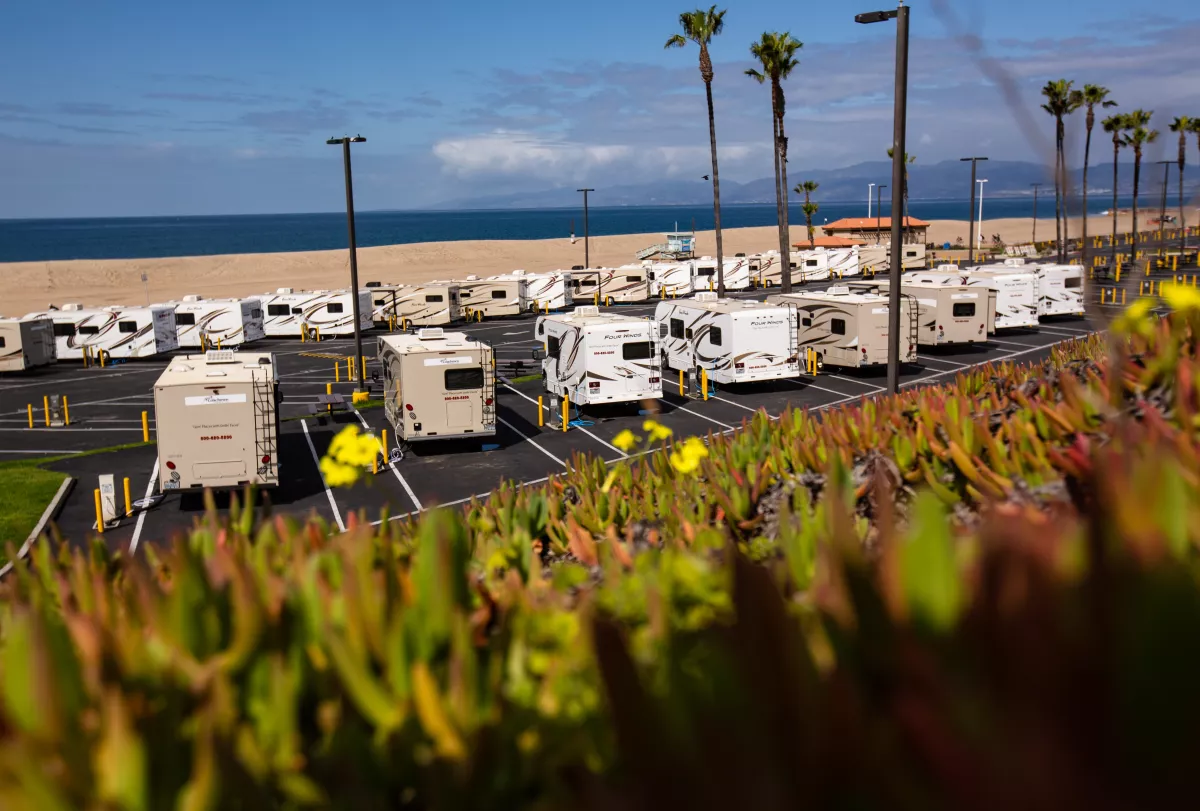 Dockweiler RV Park is located on the beach and has basic amenities such as showers, washrooms, and laundry. A back-row basic hookup site costs $65 USD per night.
Since you're in Los Angeles, there are endless things to do here. You could spend months and months and never run out of things to do. But, for the sake of time, some highlights (and free things to do) in the area include: hiking to the Hollywood sign (well, a view where you can get a photo), walking down Venice Beach or West Hollywood, and spending the day at the beach. There are SO many incredible restaurants nearby. Some of my favorite plant-based ones are Cafe Gratitude, The Butcher's Daughter, and Wallflower.
NOTE: All reservations for Dockweiler must be made in advance, with an arrival date that is a maximum of 90 days in advance of the booking date.
---
California RV Trip: Malibu / Optional Trip Add On (1-2 days)
Where to stay: Malibu RV Park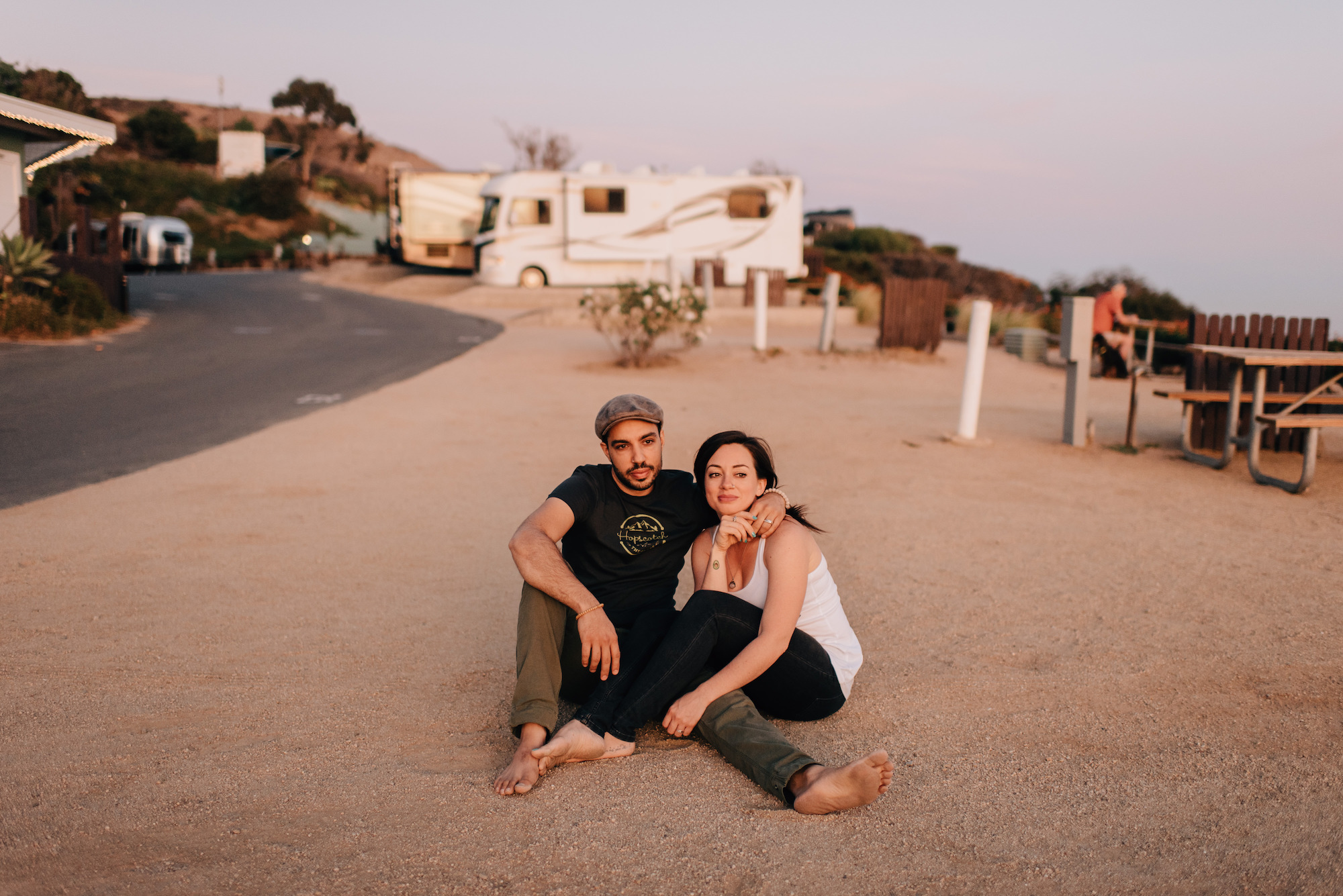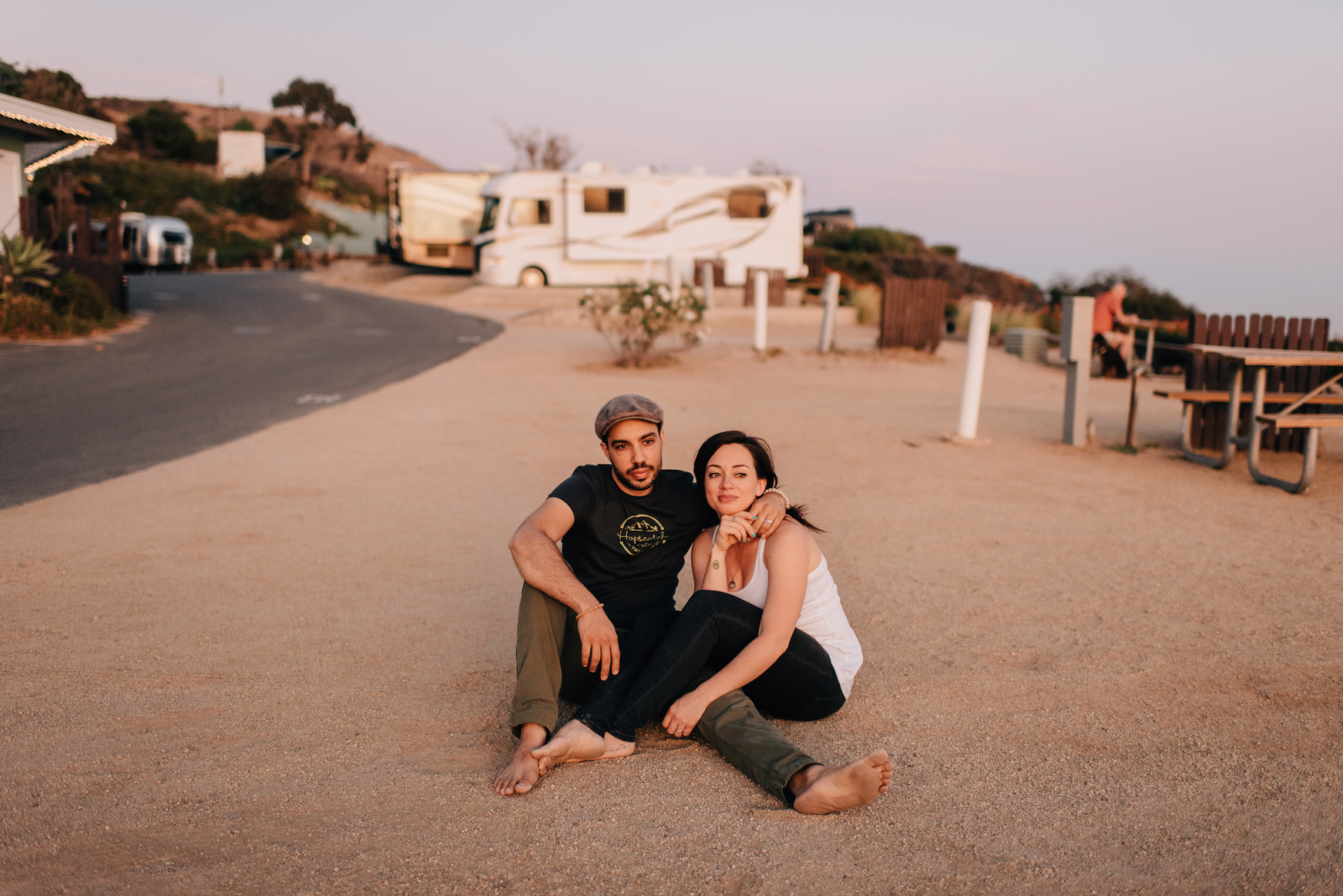 Siya and I spent a lot of time at Malibu RV Park (4 months, to be exact), before we had out daughter. This RV park is beautiful but fills up fast and is on the higher end of the price scale. If you have a couple of extra days for this trip, this is a fantastic spot to stay. You'll get a multi-million dollar ocean view from your site and will pretty much be neighbors with Cher (no seriously…you can see her house from the RV park).
Rates vary here throughout the season. However, from January through February, you can get a mountain view site for as little as $73.37 USD per night. This can go up to $132.20 USD per night for an ocean-view site. During the high season (late May through mid-September), these prices more than double per night.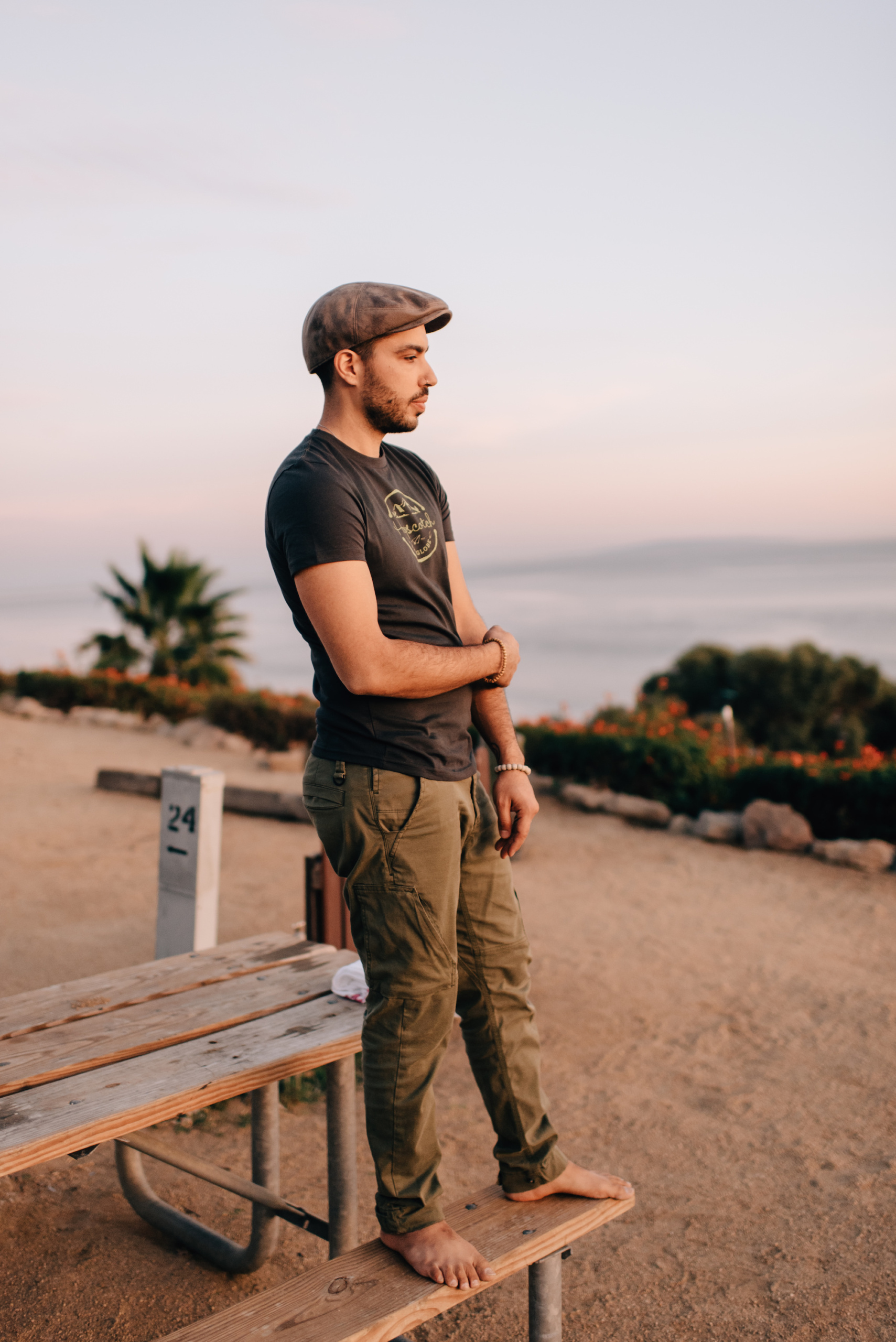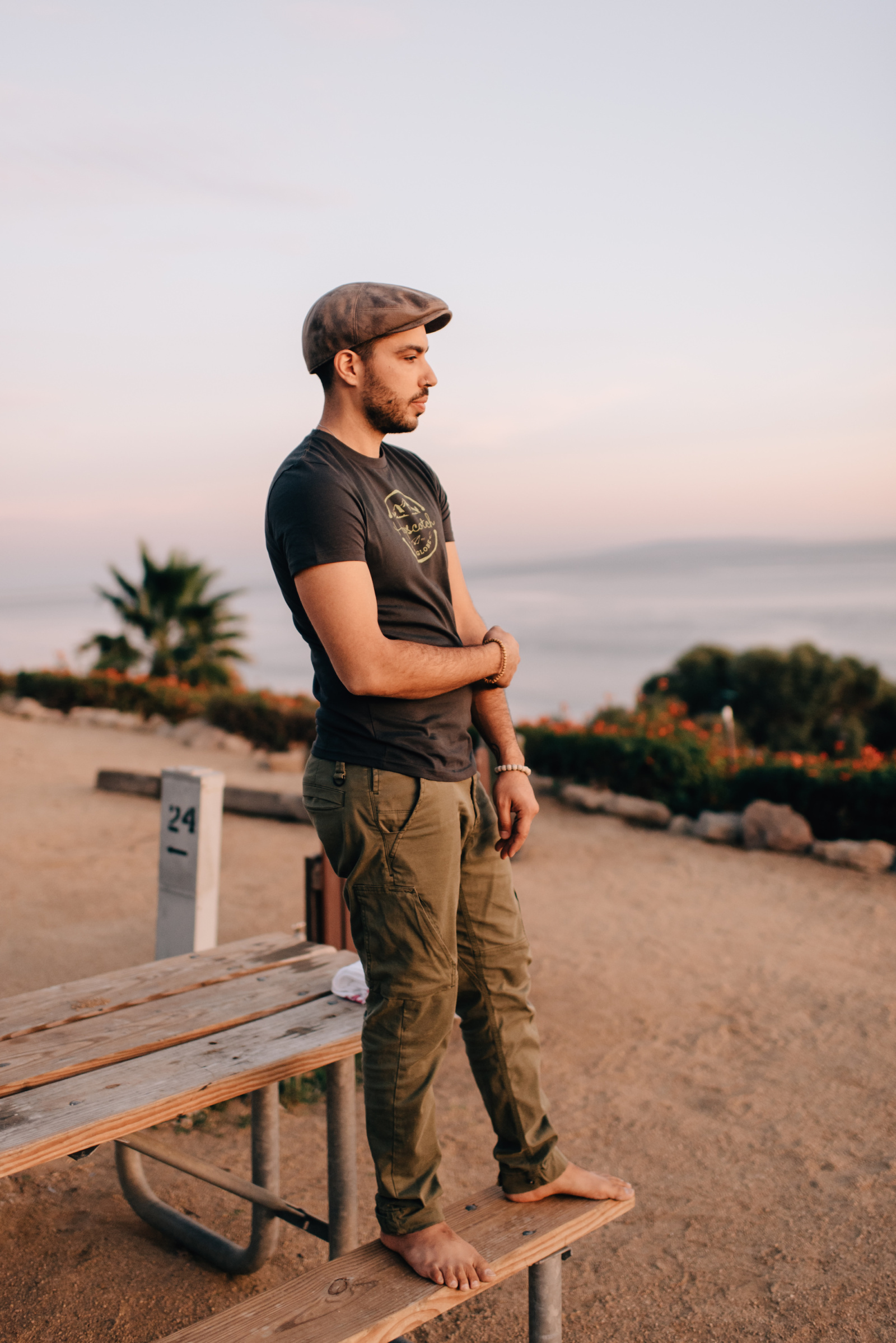 ---
California RV Trip: Santa Barbara / 5-7 days
Where to stay: Sun Outdoors Santa Barbara (2 nights)
Sun Outdoors Santa Barbara is situated in Santa Barbara, where the Pacific Ocean and Ynez Mountains create a stunning backdrop for activities and adventure. Full 30-50 amp hookups start at $80 USD per night. Each site also includes a picnic table, a fire pit, a half-moon grill for outdoor cooking, and cable and WiFi. The resort has a pool, hot tub, playground, dog park, and movie nights under the stars.
What to do:
Across the street from the RV park is a lovely beach to spend the day at. You can walk right over; no car required. But if you want to drive, it will cost you $10 USD to park for the day. I also recommend taking the short drive into town, which is definitely worth exploring. There are hip cafes, great restaurants, airy wine bars that line tree-shaded streets, small vendors selling food and gelato at the Santa Barbara Public Market, and much more.
Another fun thing to do for the whole family is a whale-watching tour. The one my family took departs from Santa Barbara Harbor, is 2.5 hours long with Condor Express, which costs $70 per adult, and children under 5 are free. Children 5-12 are $50. And yes, we saw a whale 🙂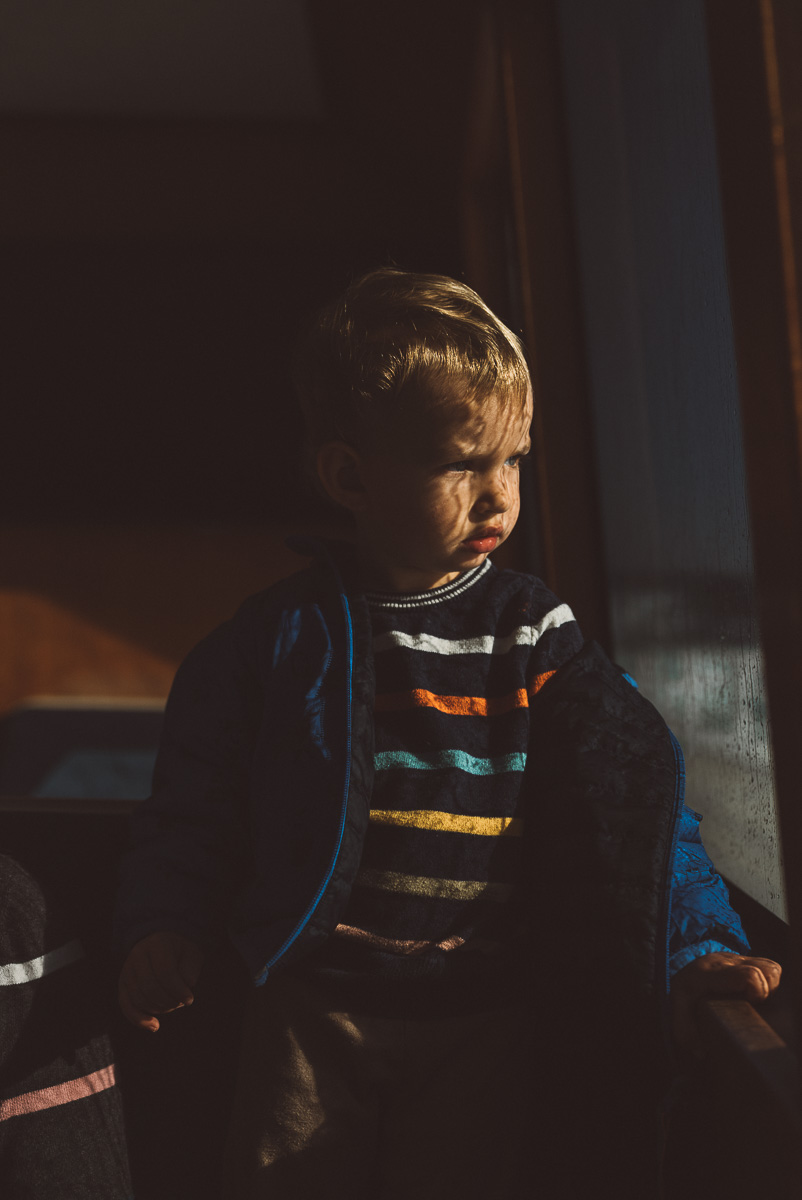 Next up on this California RV trip is Paso Robles. If you love wine and olives, you'll love this stop. Driving from Sun Outdoors Santa Barbara to Sun Outdoors Paso Robles (where we stayed) will take just under 2 hours along the Pacific Coast Highway.
---
Watch our YouTube video from Santa Barbara:
---
California RV Trip: Paso Robles / Day 7-9
Where to stay: Sun Outdoors Paso Robles (2 nights)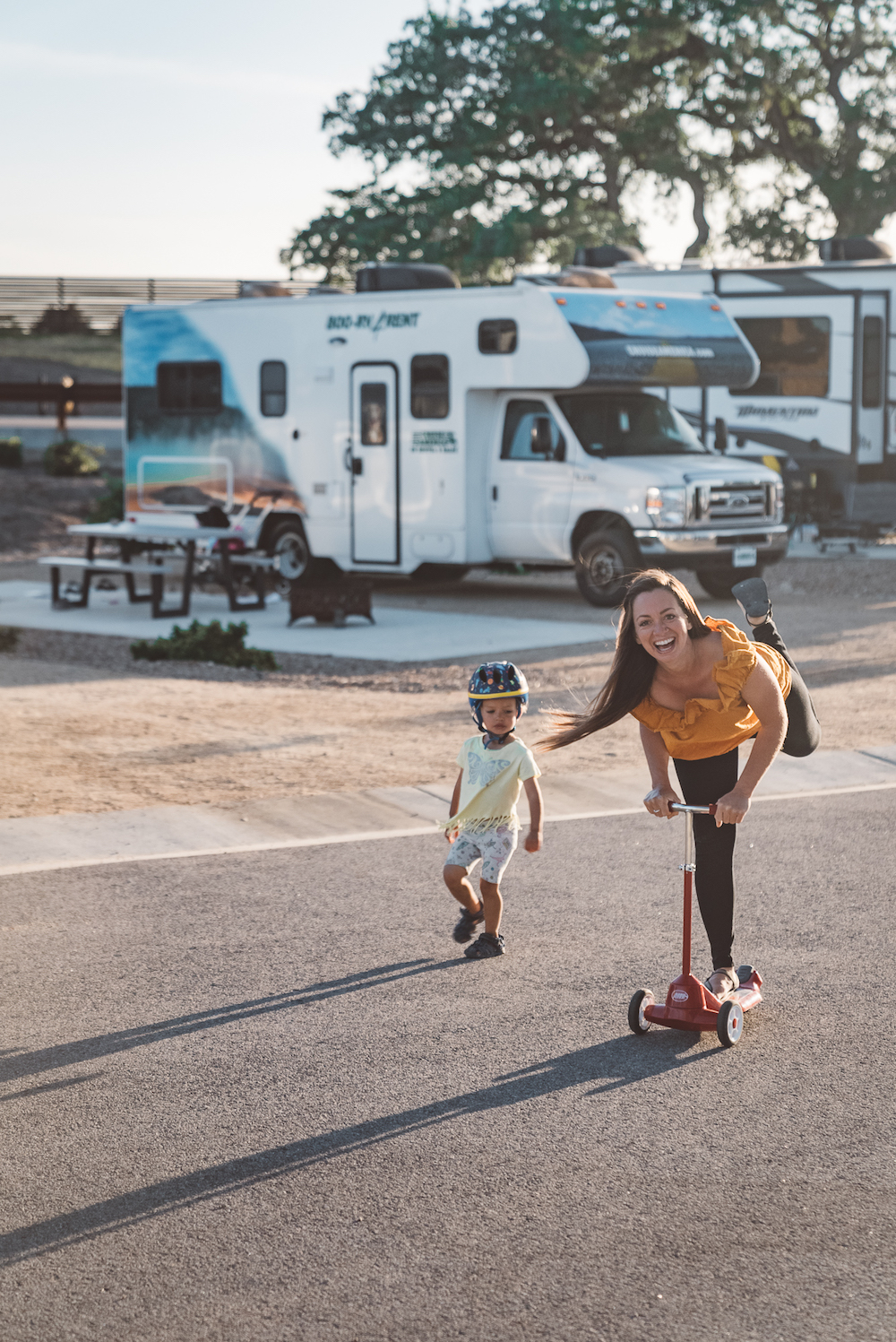 This is a beautiful RV resort located in wine country, amongst nature. A full 30-50 amp hookup site starts at $99 per night. It includes cable, WiFi, a picnic table, a free-standing fire pit for your outdoor enjoyment, and total access to all the amazing resort amenities.
The resort has a yummy farmhouse bistro, splash pad, swimming pools, wellness center, dog parks, and weekend entertainment like live comedy, music, and dance performances every weekend. They also hold their own wine-tasting events. But if you prefer to explore the variety of wines outside of the resort, there are plenty of opportunities to do that as well.
We spent the afternoon at Sculpterra – a winery and outdoor sculpture museum. While there, we did a wine tasting which cost $20 per person (and we could choose 6 wines from their menu), and also walked around and had a picnic in the sculpture garden, which our daughter loved.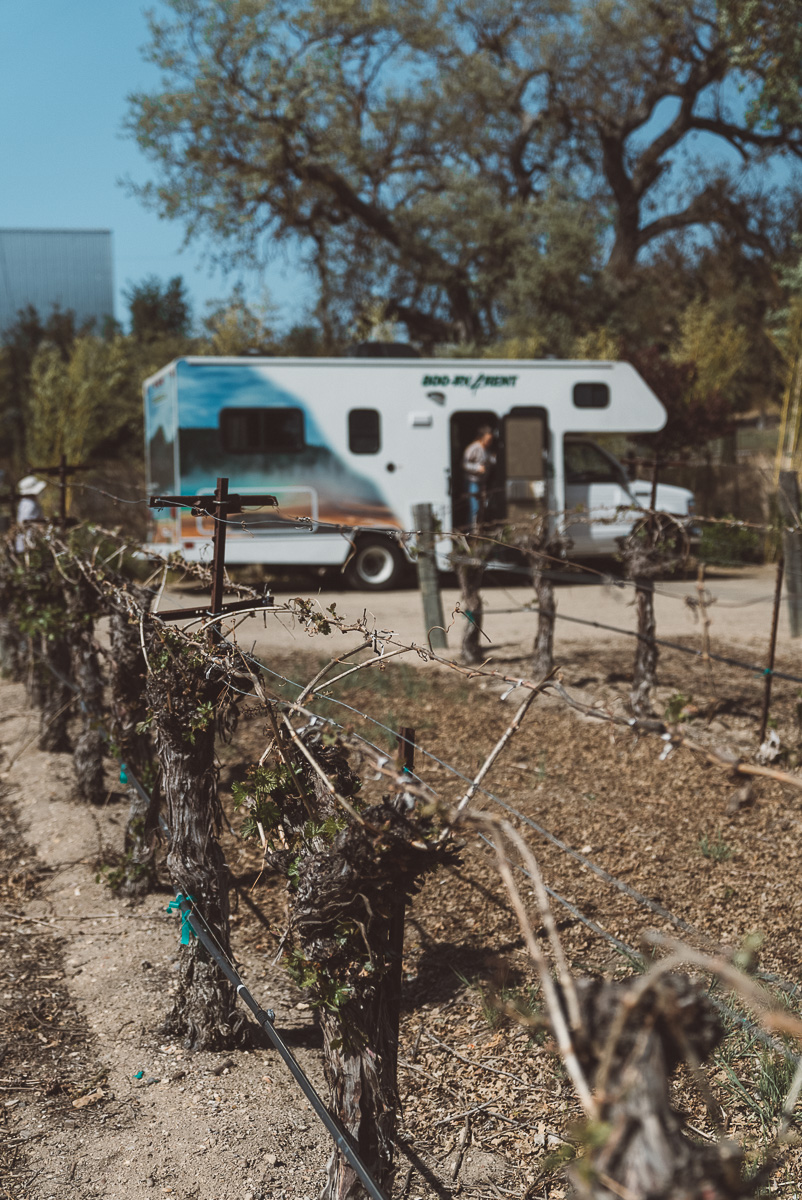 Besides all the wine-tasting opportunities, there's the ravine waterpark, Hearst castle (although this is a bit of a drive), and olive tasting.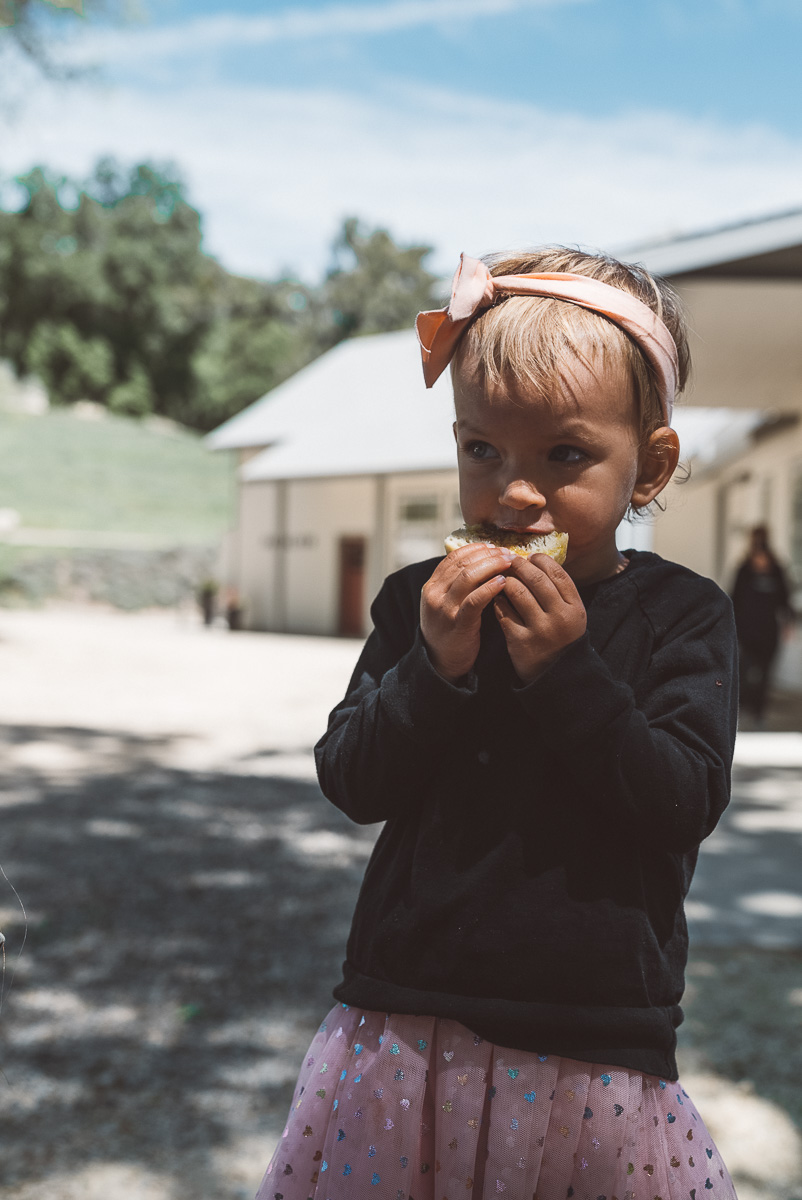 For the olive tasting, we went to Pasolivo. All the olives and olive oil are organic and locally sourced. It costs $5 per person for a tasting. BUT if you buy a bottle of olive oil or olives, it's free!
---
Watch our YouTube video from Paso Robles:
---
California RV Trip: San Francisco / Day 9-10
Where to stay: San Francisco Golden Gate Bridge (1 night)
*You'll be off-grid for the next two nights. So fill up your water tanks, charge your batteries, fill your propane and gas tanks, and prepare for epic views!
Your next stop on your California RV trip will be the famous Golden Gate Bridge in San Francisco, where you can spend the night…for FREE and will take 3.5 hours on the Pacific Coast Highway. We found this spot on an app called iOverlander – a tool created by and for Rvers. The app allows you to submit and find information and reviews on parks, campgrounds, wild camping, and free RV parking spots.
There's a parking lot on the bridge's north end where many vans and smaller RV's can park for one night. There are washroom facilities you can use as well. The pros: Sunset is spot on, you get the best view of Golden Gate Bridge (and you can take a photo with no one there and beat the crowd early in the morning), and it's free. Cons: It can be loud at night because you're right beside Highway 101, and you have to make sure you lock your doors and keep valuables on you or hidden because break-ins do occur.
---
Watch our YouTube video from San Francisco:
---
California RV Trip: Best Stretch of the Pacific Coast Highway / Day 10-11
Where to stay: Side of the road on Pacific Coast Highway (1 night)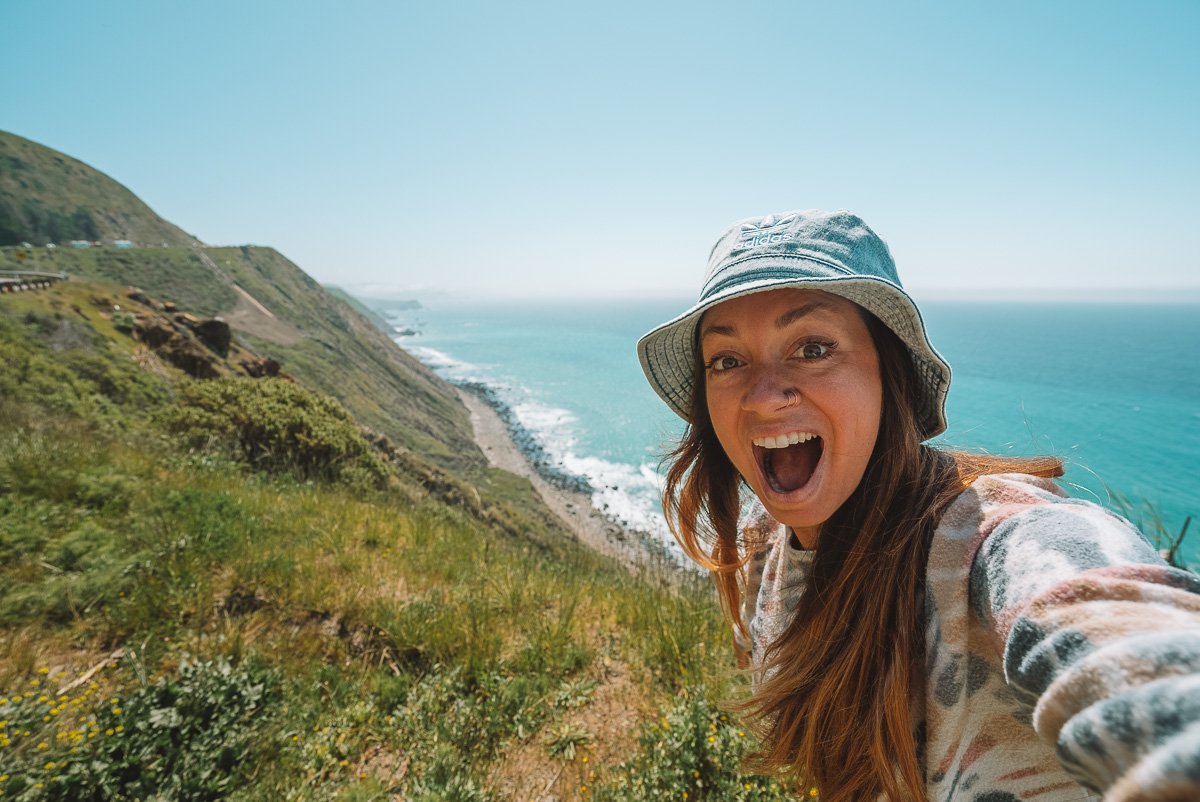 Next up are the Redwoods. BUT FIRST, you're about to drive along the BEST part of the Pacific Coast Highway. People travel from around the world to come and experience this area because of THE VIEWS! Oh, and you can spend the night on the side of the road if you want…for FREE. We highly recommend you do it since 1) the drive is just under 4 hours to your next stop and 2) it will be one of the most epic places you will ever sleep in your life! We found our spot on iOverlander as well.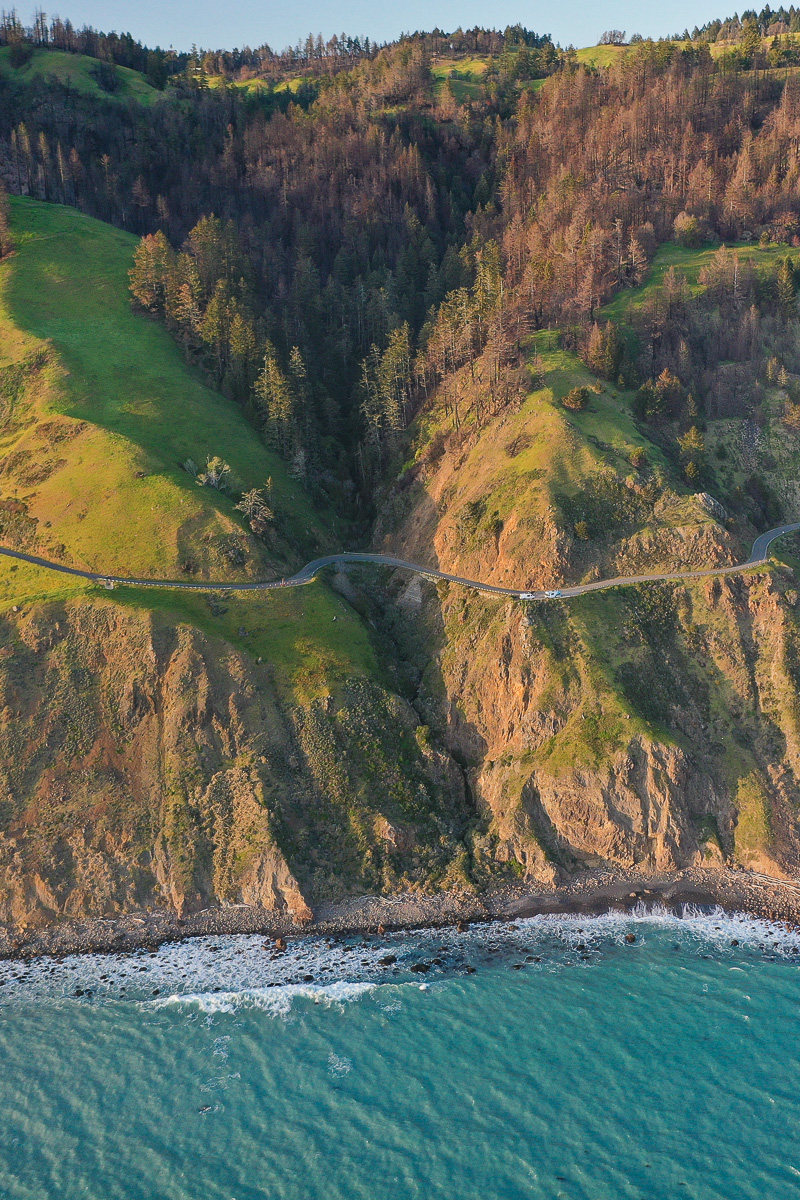 After you spend a night on the side of the road, get ready to wake up to the most STUNNING view like EVER before heading out on the road again. Feel free to stop anywhere for some stretching and to relieve yourself. We made a nice stop at Sonoma State Park to enjoy a hike and a break from driving. Along this drive, we even saw a mama cow give birth on the side of the road!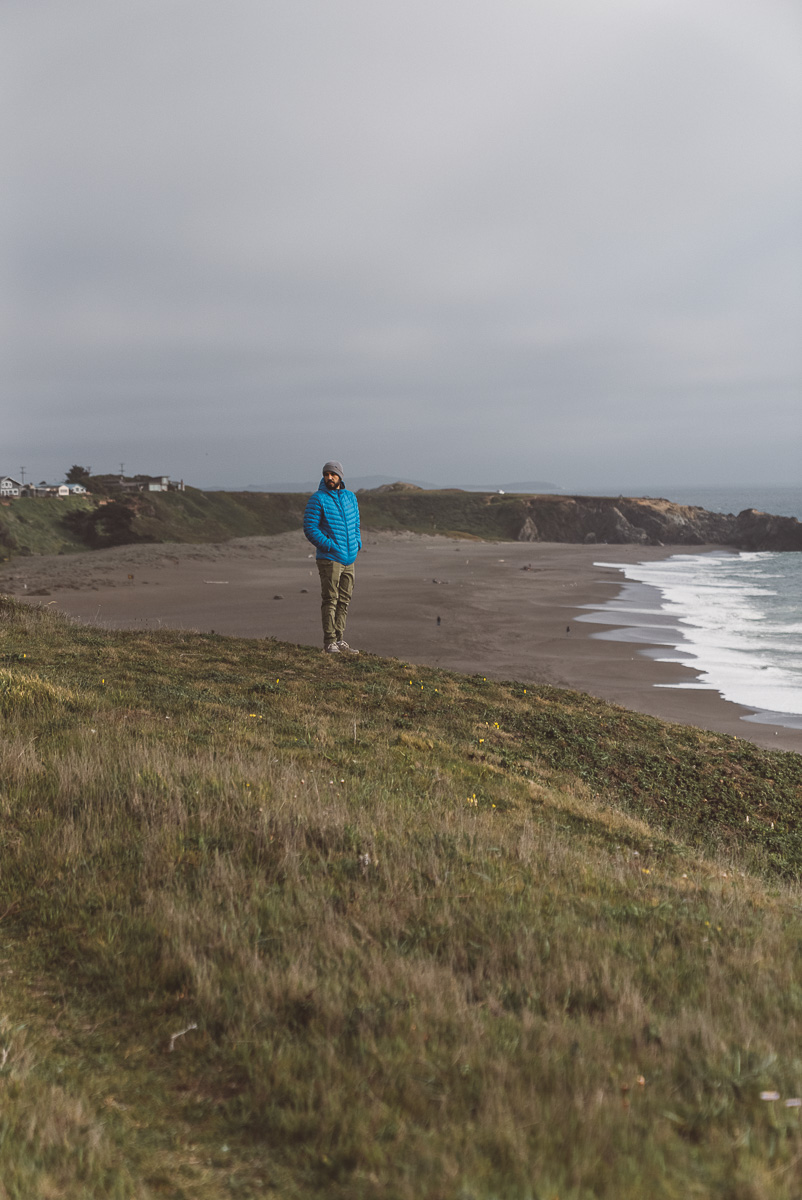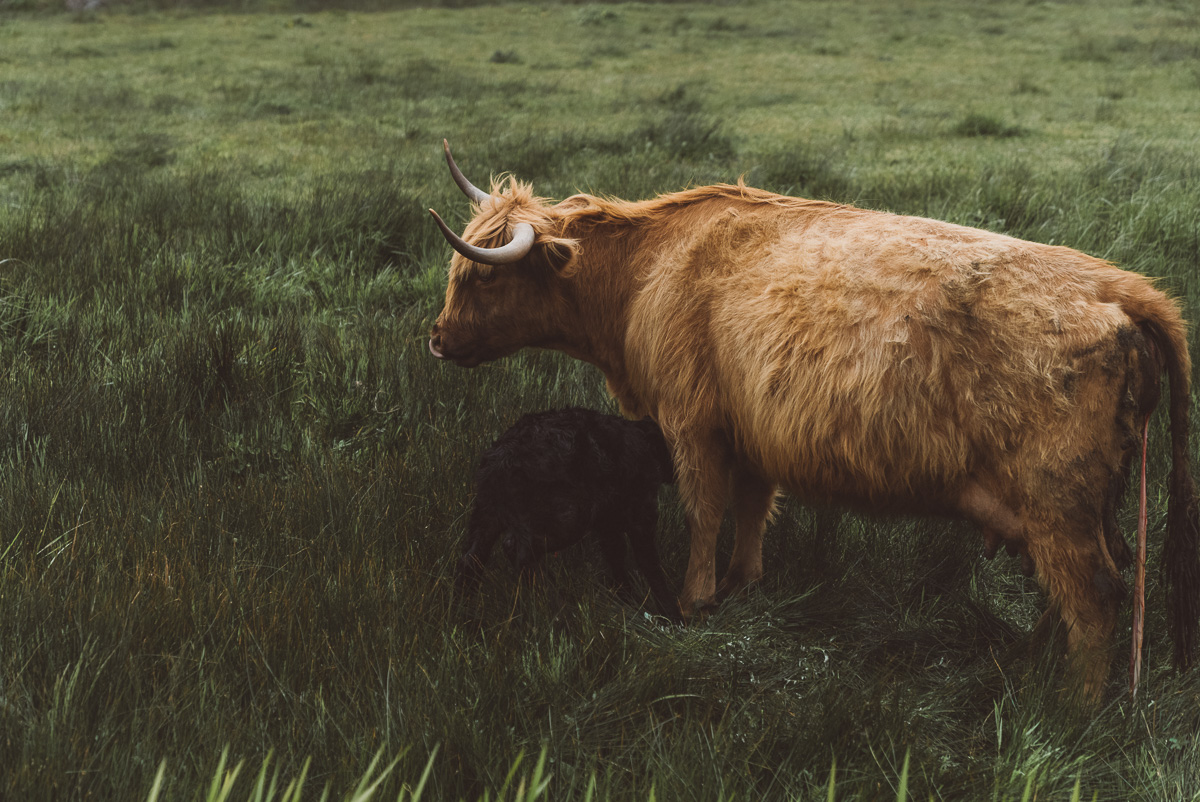 ---
California RV Trip: Redwoods / Day 11-13
Where to stay: Burlington Campground (2 nights)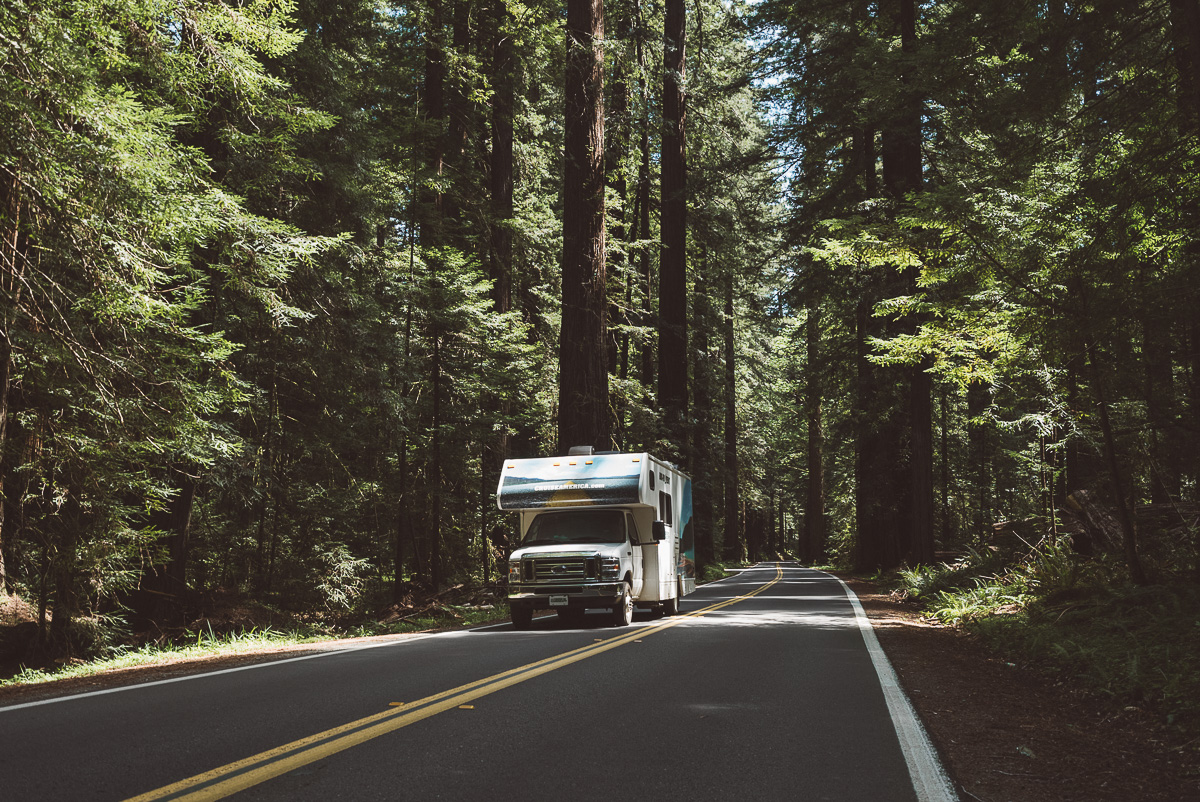 Next up are the Redwoods. If you're an outdoor enthusiast like us, visiting the Redwoods is most likely at the top of your bucket list. Let us tell you this… it's even more magnificent than you imagined! That's why we recommend spending 3 nights here to soak up the tranquillity and magic these wise gentle giants provide.
Burlington Campground is located next to the Visitor Center on the Avenue of the Giants, approximately 2 miles south of Weott. The campground has 57 sites in old and second-growth redwoods and 3 hike & bike sites for visitors arriving on foot or bicycle. Across the street is a short nature trail leading to the river, where swimming, fishing, and other hiking trails are available.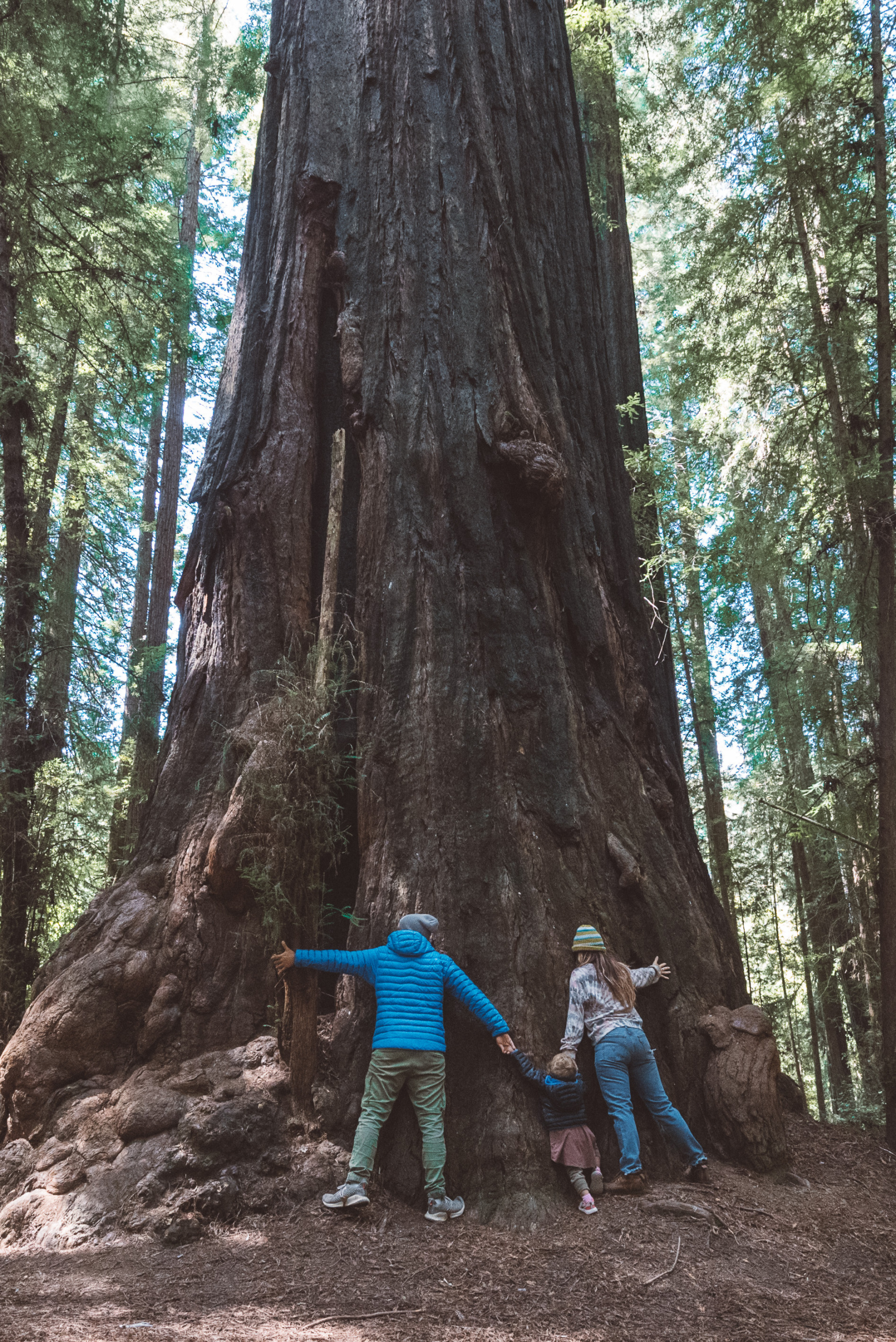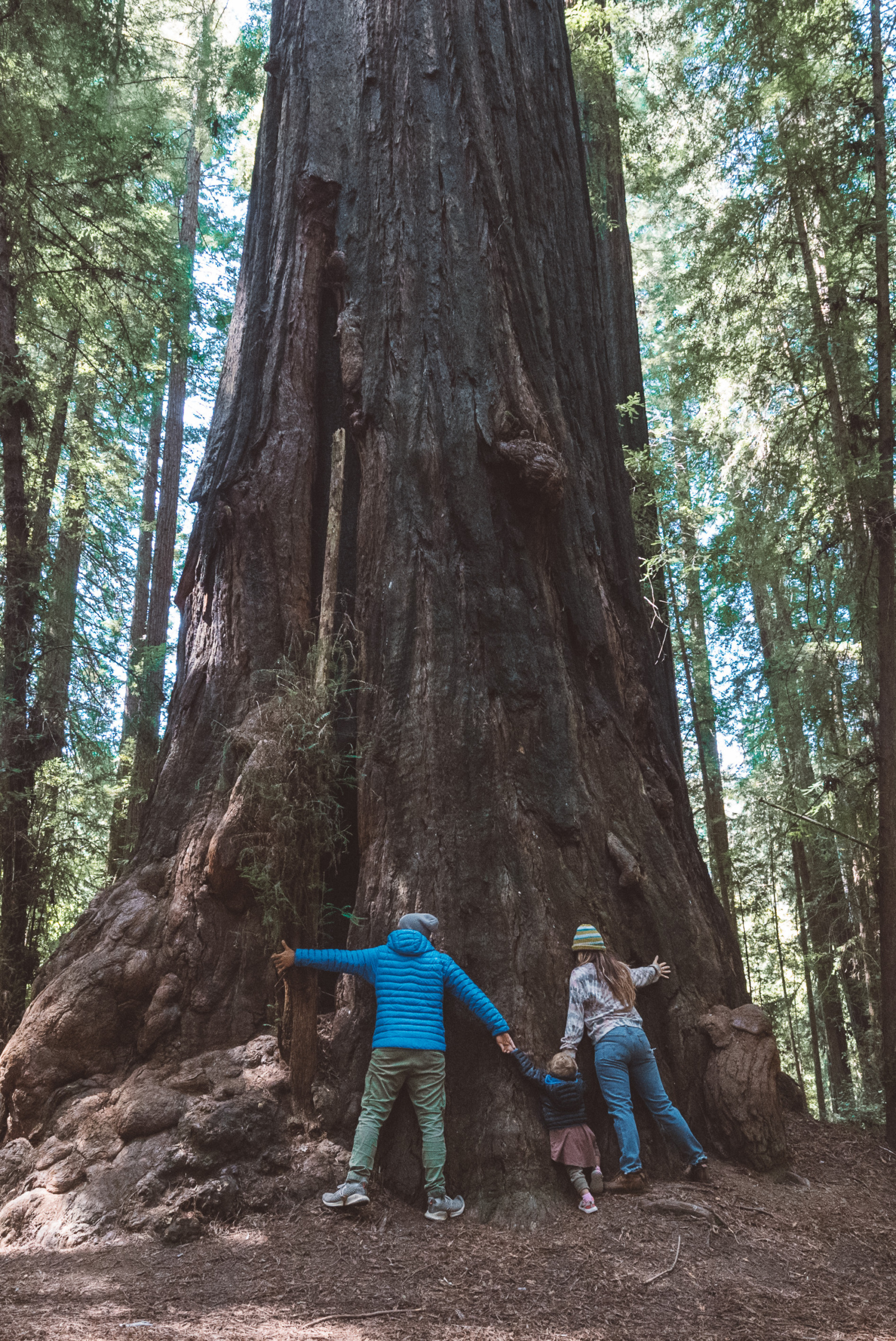 This is a campground and does not include any hookups, so you'll be dry camping. Therefore, you'll want to plan accordingly by filling up your tanks and charging your devices ahead of time. Also, they only allow vans and RVs up to 24 feet, so this isn't a spot we could have come to with our Airstream. It's $35 USD per night and includes one vehicle. Each additional car costs $8 USD per night.
What to do:
You can easily spend a few days just sticking around the campground without having to leave. This is what my family did. We literally spent 3 days forest bathing and left feeling like new people. So calm, recharged, and humbled.
Your next and last stop on your California RV trip is Coos Bay, Oregon. We stayed at Sun Outdoors Coos Bay, and it took us just over 5 hours to get there. This was the longest stretch yet, but we got up early and did it all in one day.
---
Watch our YouTube video from the Pacific Coast Highway and Redwoods:
---
California RV Trip: Oregon / Day 13-15
Where to stay: Sun Outdoors Coos Bay (2 nights)
Sun Outdoors Coos Bay is located on the Oregon coast. Each RV site is located just steps away from the Pacific Ocean. Some highlights from this park include tide pools on their pet-friendly beach and fishing and crabbing adventures. Full 30-50 amp hookups start at $52 USD per night and have cable, WiFi, plus a picnic table and fire pit.
Close by, you can go hiking in the state parks, visit the wineries and museums, go whale watching, or enjoy hot air balloon rides above the coast. I also recommend riding in a dune buggy through Oregon Dunes National Recreation Center. Siya did this and had a blast. The tour was 2 hours long and cost $299 USD for a single-rider buggy.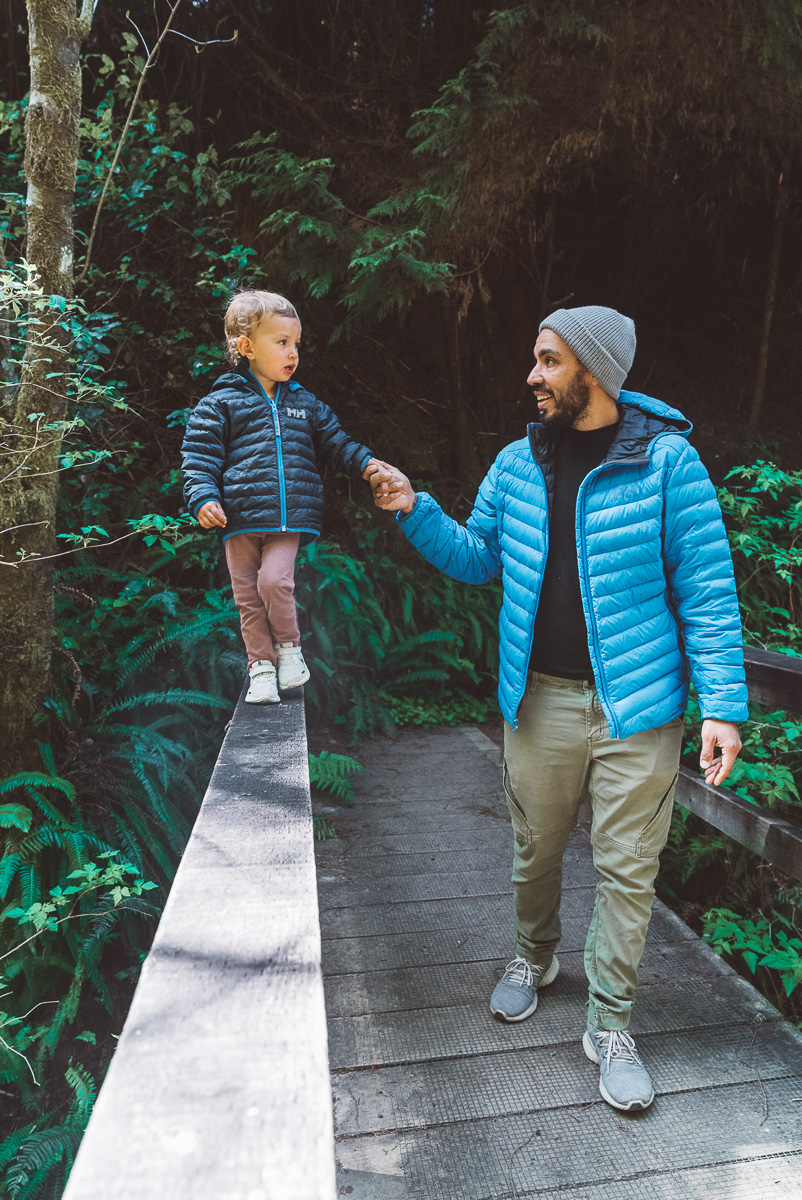 ---
Watch our YouTube video from Coos Bay:
And that's the Pacific Coast Highway route! This California RV trip was absolutely incredible in so many ways…but don't just take my word for it…go find out for yourself.
Now if you want to learn more about how to find FREE overnight RV Parking, we have a separate video that will teach you about 8 different ways, including our favourite apps, to do just this.