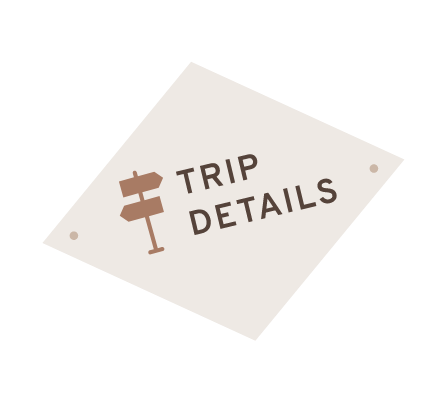 Dive deep into the rich culture and traditions of some of the world's happiest and longest living citizens.
February 12-21, 2021
10 Days
8-16 People
$2,875 USD

Travel style
Eco Adventure & Conservation


Physical rating
i
Moderate
Travelers should be comfortable walking for long periods of time. There may be physical labour involved during our service project such as tree planting. Daily activities will include walking tours and easy hikes (not too extreme or steep, but could be hot).

Comfort level
Standard/Comfort

i

Our trips are based on three different comfort level ratings: Basic, Standard, Comfort.
Standard
Comfortable accommodations with character and private transportation.
Alongside me (Kristen), you'll explore the rich culture and geological wonders of Costa Rica. Discover the biodiversity of the Monteverde Cloud-forest and immerse yourself into the local community. You'll sleep on an active volcano and wake up on a beautiful hacienda where you'll experience the organic farm-to-table lifestyle between nature hikes, zip-lining and hot spring soaks. Our journey will end with beach hopping, wildlife safaris and sailing into the sunset with your new travel tribe.
This epic journey will give you the chance to volunteer in the Children's Eternal Rainforest and make a lasting connection to the community through our homestay in Monteverde. Surround yourself with Pura Vida vibes, morpho butterflies and howler monkeys! Discover the secrets of Mother Nature in all her glory and marvel at the traditions and rich cultures of Costa Rica's diverse communities.
While our Hopscotch the Globe trip ends on February 21st, those wanting to continue the journey, can head to Envision Festival in Uvita. This festival drastically changed both of our lives and we can't recommend it enough. Envision is an invitation to dream, connect, learn and inspire. To disconnect from modern civilization and awaken the sense of belonging with the natural world around us. We'll learn to prioritize our health, passions, art and love. For those wanting to experience Envision, we can provide a shuttle to and from the event at an additional cost. Tickets and accommodations for Envision Festival will be sold separately. Please send us an email letting us know you're interested in this add on, and we will send you all the information you'll need.

This Hopscotch the Globe group trip is packed with thrilling adventure, wildlife and relaxation.
On this trip, you'll give back in more than one way:
You will volunteer within Costa Rica's largest private nature reserve which protects 23,000 hectares of important forest and whose reforestation program has planted over 1 million trees in the past 30 years. The Children's Eternal Rainforest was founded by donations from children in 44 countries, and is run by a nonprofit conservation organization, the Monteverde Conservation League. A portion of the trip fee goes to this project.
You will spend two nights with a local family in a homestay which helps to distribute wealth throughout the local community.
A portion of the trip fee will also support the following organizations:
San Jose
Monteverde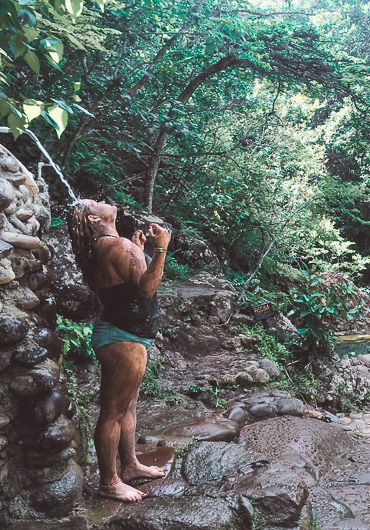 Rincon de la Vieja
Tamarindo
Nicoya Peninsula
Day 1
Day 2-4
Day 5-6
Day 7-8
Day 9
Day 10
Day 1
Arrive in San Jose
Welcome to Costa Rica! Meet your travel buddies, HTG hosts and tour guides for happy hour before a welcome meeting and our first group dinner. Get your dancing shoes ready too!
Day 2-4
Monteverde Cloud Forest
We head into the clouds to Monteverde, a world-renowned biological reserve, home to an abundance of flora and fauna. Have fun while volunteering with the Children's Eternal Rainforest knowing you are contributing to the conservation of this special area. Enjoy exciting expeditions through the cloud-forest and indulge in the areas finest coffee, sugar cane and chocolate.
Day 5-6
Rincon de la Vieja Volcano & National Park
Here we find ourselves surrounded by pristine tropical forests and an impressive collection of volcanic geological wonders. Enjoy a relaxing stay at your eco-hotel located on Costa Rica's largest active volcano. Opt for a light stroll to nearby waterfalls or a more challenging hike around the national park or take an adrenaline filled ride down the Rio Negro in a white-water tubing adventure before relaxing in secluded mud baths and hot springs.
Day 7-8
Tamarindo
Welcome to the sunshine coast of Costa Rica, boasting the country's most beautiful coastlines and exotic tropical dry forest. Snap some great wildlife shots on an eco-safari boat ride, discover idyllic beaches and sail the seas during an afternoon on a catamaran with your new friends.
Day 9
Nicoya Peninsula
Dive into Guanacasteco culture, learning the ways of the oldest indigenous tribe in the region and the secrets of the centenarians living in one of the world's seven blue zones.
Day 10
Depart from San Jose
Reminisce about your most memorable moments from your trip with your new friends before heading home or onwards.
For those heading to Envision Festival, we will be departing around 9AM from our hotel.
Additional Information
Tour type
HTG Group Trip (Eco Adventure and Conservation)
8-16 Travellers + Kristen and Local Tour Guides
Shared Accommodation in Double or Triple Occupancy (Single Occupancy Available Upon Request for an Additional Fee)
Large Comfortable Air-Conditioned Passenger Vans Throughout
DEPARTURE/RETURN LOCATION
San Jose – San Jose
February 12-21, 2021
Arrive Anytime Before 5 PM on February 12th, 2021
DEPOSIT AMOUNT
A $400 non-refundable deposit is required to reserve your spot. If the trip must be postponed or cancelled due to events beyond our control, you will be offered the choice between a full refund and applying your payment to a future trip.
Activity level
Travelers should be comfortable walking for long periods of time. There may be physical labour involved during our service project such as tree planting. Daily activities will include walking tours and easy hikes (not too extreme or steep, but could be hot).
Travel insurance
Not included in the trip fee. All travelers are required to purchase travel insurance for this trip. We recommend World Nomad Travel Insurance.
INCLUDED ACTIVITIES
Arrival and Departure Transfers
7 Nights in Comfortable, Well Located Hotels
2 Nights Homestay with Local Family
9 Breakfasts, 8 Lunches, 7 Dinners
Private Air-Conditioned Passenger Van
Professional Tour Leader and Host Along with Kristen from Hopscotch the Globe!
Volunteer, Zipline, Coffee Tour, Night Walk, National Park Entrance Fees, Waterfalls, Hot Springs, Salsa Lessons, Catamaran Sailing, Turtle Nesting, Beach Hopping and More!
NOT INCLUDED
International Airfare
Travel & Medical Insurance (Required)
Tips for Drivers and Guides (At Your Discretion)
Additional Snacks and Meals Not Mentioned (Allow for $50-$100 for Additional Meals)
Optional Activities
Pre and Post Accommodations
Souvenirs
Envision Festival + Shuttle To and From the Event
Kristen
Hey friend and future travel buddy! I'm the adventure seeking, world travelling, tiny home-living gal behind the Hopscotch the Globe brand. If you're going to travel with me, you must know that I enjoy random dance parties, Disney sing-a-longs, big hugs and star-gazing. You can often me be-friending as many dogs as possible in every country I visit. I can't wait to create awesome memories with you in Costa Rica (one of my favourite countries in the world)!
Allie
Allie has been leading tours in Latin America since 2011. The first time she stepped foot in Costa Rica, she became head over heels, and she hadn't even met her future husband Leo yet. There was no lack of variety of beaches, forests, and mountains, but what she really loved most was the people. Costa Ricans are known to be some of the happiest in the world. The carefree, relaxed attitude of the locals captured Allie, and she knew she wanted to settle down in this beautiful land someday. Fast forward to a couple of years later, Allie married a Costa Rican man named Leo, and together they started a tour leading company called Outstanding Costa Rica. Allie can't wait to meet you and show you all the reasons why she's fallen deeply for Costa Rica.
Leo
Leo is the other half Outstanding Costa Rica and Allie's hubby. He grew up in Monteverde, Costa Rica when tourism was just slowly growing in the country. One of his first jobs was in a fancy hotel as a receptionist. He started to meet people from around the world every day. His second, third, and fourth jobs were all directly in the tourism and hospitality sector. He was a bartender, waiter, receptionist, manager, and finally a tour guide, which he's loved the most. Leo's jobs have taken him to all parts of Costa Rica, and he's constantly amazed by the beauty of his own country. He's the guy who will answer all your questions about his homeland. He's excited to show you why Costa Rica is so special from a locals perspective.
Traveler Testimonials
We had never done a group trip before and did not know what the dynamic would be like, and it truly exceeded our expectations. We made lifelong friendships with people from all over the world. We also got to take part in making a positive impact in several impoverished communities. Interacting with the children and their families and seeing how much our efforts meant to them was the best feeling in the world.
GUATEMALA AND ECUADOR 2018 & 2019
Kristen and Siya are the most down to earth, compassionate, inspirational and fun people we know! We've gone on two HTG trips so far and would love to go on more in the future. My husband proposed to me during our second trip at the Pailon del diablo waterfall. We couldn't be happier to have been surrounded by such wonderful people to share in our joy.
GUATEMALA AND ECUADOR 2018 & 2019
We've been on two of Kristen & Siya's group trips and we're scheduled to go on another one this year! These are hands down some of our favorite travel experiences. What better way to explore a country than with fun, like-minded people who continuously encourage you to follow your dreams? And what's even better, you get to make a positive impact along the way.
GUATEMALA AND ECUADOR 2018 & 2019
Kristen and Siya have inspired me to go out of my comfort zone and travel more. When I heard they were going to travel with their subscribers for the first time, I knew I had to sign up! Little did I know my world was going to change – for the better. I made life-long friends, conquered fears, helped a community in Guatemala, and made incredible memories.
Our trip was a life changing experience. Kristen and Siya are amazing and genuine people full of positivity. I loved getting to know them. Also, HTG trips are focused on impact. Knowing u are making a difference in the world is priceless. Getting to do that next to such incredible people is a major plus.
GUATEMALA AND ECUADOR 2018 & 2019
We have limited spots available, don't miss out on this life-changing opportunity!