Reading Time:
4
minutes
It's time for our first trip of the year, and it's a big one!
Siya and I are spending 3 weeks travelling around Austria, Spain and Finland and will be filming DAILY VLOGS throughout the entire trip! Our first vlog will be released on January 8th on my YouTube channel and will continue all the way through February 2nd.
I went to Twitter the other day and asked you which 2 of the 3 countries you'd like to see daily videos of. It was a tight race, but in the end we decided why not just film daily videos for all three trips?!
On top of the daily videos, we will be posting our favourite moments on both mine and Siya's Instagram accounts, Facebook and Twitter. We will also be shooting some videos for our Travel Guide series to be released later on in February which you won't want to miss!
So, what will we be getting up to on our 3-week Eurotrip?
Austria
This is our first time in Austria, and we couldn't be more excited. We will be spending our entire time in Vienna really getting to know the city and all of it's magic. Some of the things we will get up to include:
Visit Vienna's most famous market – Naschmarkt

Take a music journey at the House of Music

Ride the famous Giant Ferris Wheel in Prater Park

Get our dance on at the Dancing School Kraml

Attend a REAL BALL (Cinderella style)

Drink pints of coffee at the Vienna Coffee Festival

Indulge in truffles and chocolate at Xocolat Manufaktur

PLUS MORE!
Spain
From Vienna, we will take a train to Barcelona where we have no set plans. We have a friend from Paraguay living in Barcelona at the moment who we will be visiting, but that's all we've got for now! Who doesn't love spontaneous travel right?
If any of you have suggestions for what we should see and do in Barcelona or anywhere in Spain, please let us know.
Finland
We're returning to Finland and are pumped! Our last visit to Finland was in the summer during the Midnight Sun (when the sun stays above the horizon for over 70 consecutive days). This time around, we will get to experience the intense contrast in light conditions that happens during the winter months. This also means we will get to experience the Northern Lights if we are lucky!
We got such incredible feedback and support for our Finland videos last time, that we asked you what you wanted to see us get up to for our return to the country. After receiving hundreds of suggestions, we narrowed it down to the following:
Sleep in a glass igloo

Visit the Amethyst mine

Go ice fishing

Go snowshoeing

Go on a husky and reindeer sleigh ride

Attempt ice climbing

Chase the Northern Lights

Hold a Helsinki meet-up

PLUS MORE!
We are still adding more to our itinerary for Finland, so this is just a sneak peak as to what you can expect to see. We will be holding our meet-up in Helsinki on either the 30th or 31st. The date and time is still pending but will be shared very very soon on Facebook, Twitter and YouTube.
Packing
Since we are visiting fairly cool climates for this trip, we have to pack very wisely. Colder weather = larger and thicker clothing. We will both be bringing our 60 litre backpacks. This is the first time I'll actually be checking in a bag in 5 years. We've both been travelling with just a carry-on for a while now, but we figure that we're going to need to bring some extra layers since Finland will be reach temperatures of -30°C on average.
We'll also be bringing along our newest member of the Hopscotch the Globe family – the Sony RX100 IV. This is our new vlogging camera that we are absolutely in love with. We'll be using it to shoot all of our daily vlogs and using the Sony A7 to shoot our other videos and photos.
Since one of my goals for 2016 is to be more conscious to what I put into my body, I'll be bringing along some healthier snacks for the plane ride. In the past, I've almost always brought Reese's Peanut Butter Cups with me on nearly every flight. It's my little guilty pleasure. Since I plan to fly quite a bit more this year than ever before, this can get a little dangerous. So, now Sahale Snacks are the healthier alternative that I look forward to indulging in during my flights.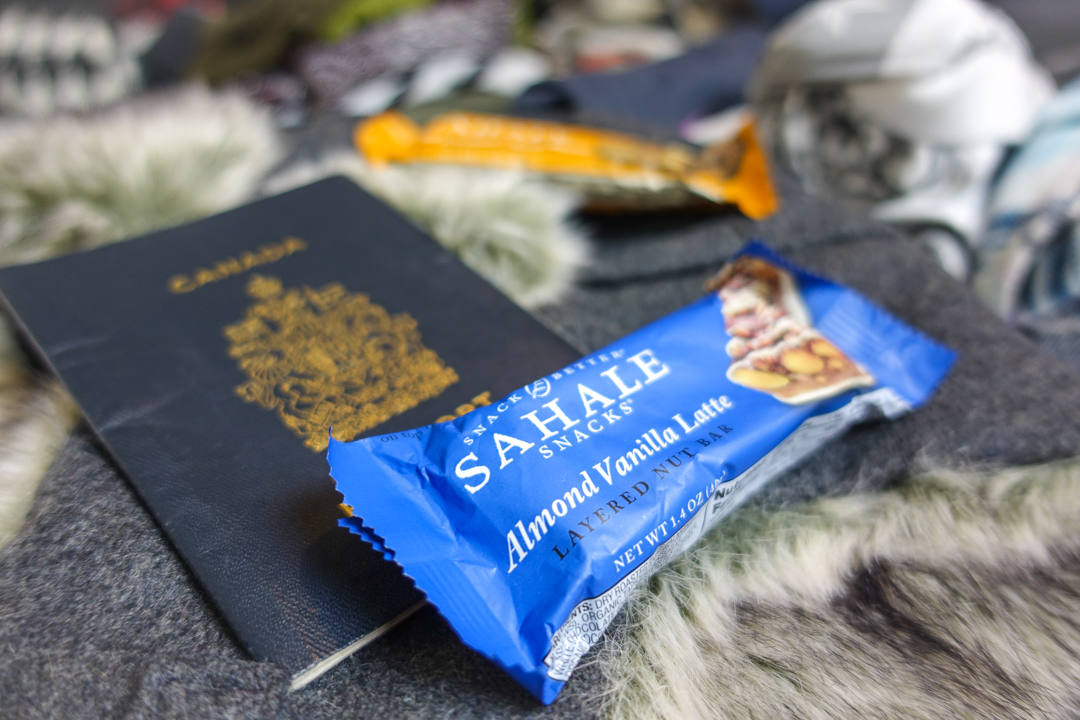 Not only are the delicious and filling but they are made using the highest quality ingredients with a commitment to sustainability. I've made sure to pack a few of the new Almond Vanilla Latte Layered Nut Bars which are my favourite for the journey. If Siya is lucky, I may share….maybe.
If you haven't subscribed to Hopscotch the Globe on YouTube yet, be sure to do so, so you don't miss out on the daily adventures.
We can't wait to share this Eurotrip with you!
***
Discloser: I'm sharing #beyondordinary in my life as part of a Sahale Snacks® sponsored series for Socialstars™ As always, all content and opinions are my own.