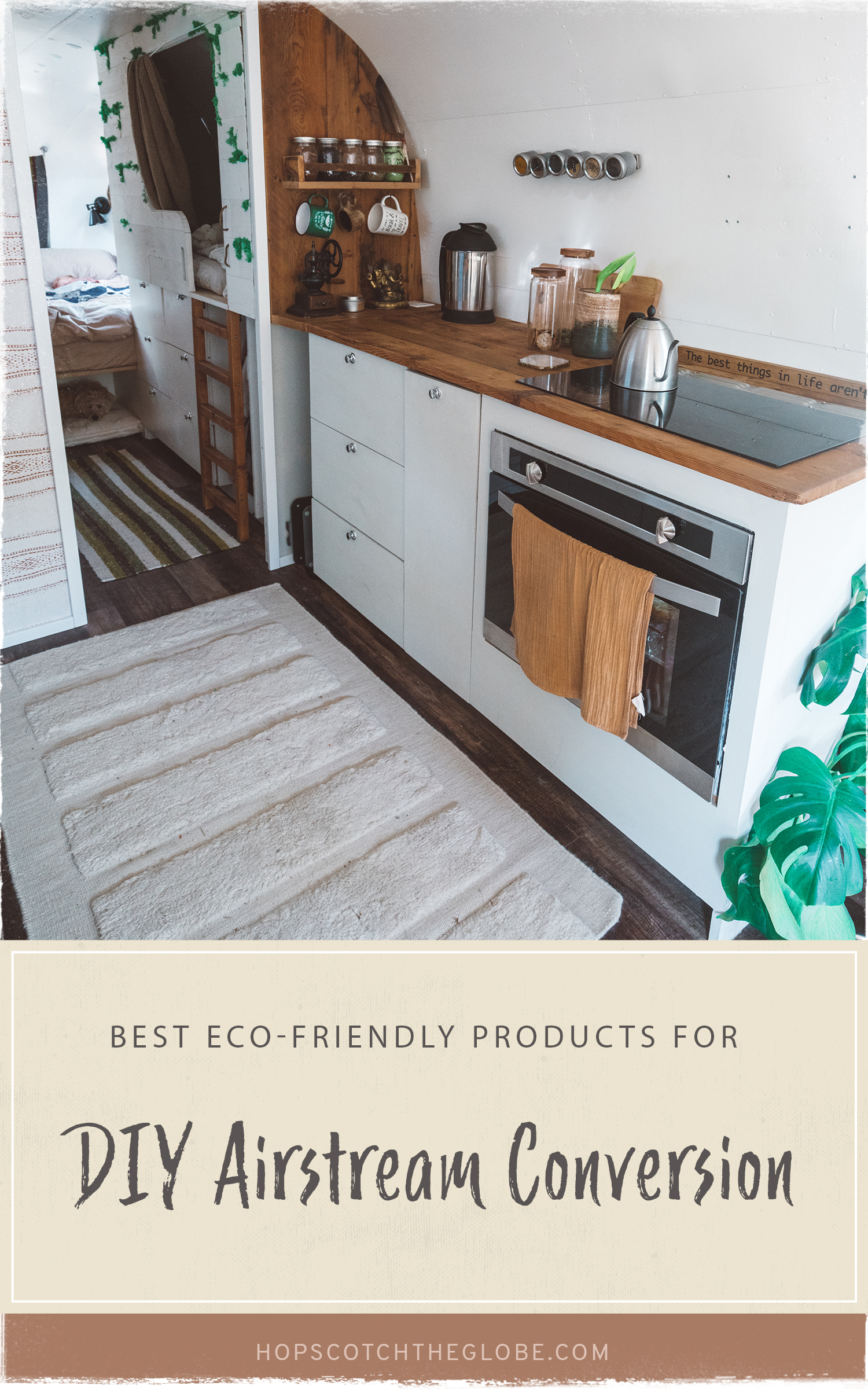 We've just about completed our second Airstream renovation. No, we didn't purchase another vintage Airstream, but we did give our beloved Luna a facelift. When Siya and I started discussing renovation designs, I knew that I wanted to create a non-toxic and sustainable environment in our tiny home on wheels. This meant finding and choosing organic and sustainable products for our DIY Eco-friendly Airstream renovation.
It wasn't always an easy task, but I managed to make every purchase one I'm proud of. I supported local, chose organic whenever possible and made sure working conditions were fair and safe for those involved in the production of every item. I chose to purchase from brands that are environmentally conscious which means using materials that are sustainable and healthy for the environment and our little family. Some items may come with a higher price tag, but I'm happy with these conscious choices I've made and know these products will last us for years to come. I'm so happy to be sharing these brands and products we used in our eco-friendly Airstream renovation with you. Enjoy!
---
Eco-Friendly Airstream Renovation: Bedding
Home of Wool
I found Home of Wool while searching for custom organic mattresses. The space we build into Kai's treehouse bunk has very specific dimensions that no ordinary mattress would fit into. We needed something custom made for our eco-friendly Airstream renovation. Home of Wool makes one of a kind all-natural wool mattresses, bedding, and décor based on the materials, natural colours and dimensions you choose. The materials are free of chemicals and synthetics, while combining centuries old artisanal traditions with unparalleled craftsmanship. Kai absolutely loves her bed, as do I. Yes, I can fit into that tiny bed with her, and I gotta say, it's very comfortable while providing a healthy sleeping environment.
---
The Futon Shop
You can call me The Princess and the Pea. I'm seriously SUPER picky when it comes to mattresses. I must have slept in 1000's of beds at this point…no, not like that…get your mind out of the gutter! I'm a traveler after all. I know a GREAT mattress from a good one, and I can spot a horrible mattress before even laying on it. The Futon Shop makes a damn great mattress.
The Futon Shop makes non-toxic mattresses, bedding, furniture and decor. We went with the Eastern King Moonlight Organic Mattress in medium firmness. It's the best mattress I've ever slept on. Period.
The Futon Shop also made us cushions for our front seating area. We chose to go with an organic cotton material in a sweet potato colour for the covers and 2-inch coconut with 1-inch latex ( all organic) for the cushions. Since the front area is used for both dinning and sleeping, we wanted something that was comfortable with an easy conversion setup. We were able to customize the thickness and dimensions of the cushions exactly how we envisioned.
---
SOL Organics
A good sleep isn't complete without great sheets and a cozy duvet. SOL Organics makes beautiful organic bedding that makes it feel like you're dreaming on a cloud. More importantly, the materials used to make the bedding you're sleeping on every night are clean of any chemicals and make responsibly and ethically. It's these little (but big) details that make this a luxury airstream renovation.
After searching a database for organic textile suppliers, the founders of SOL Organics contacted hundreds of factories and ran them through an extensive list of non-negotiable requirements. These included second-party certification by FLO, GOTS, Oeka Tex and Fair Trade. They eventually found who they were looking for in India. So, they hopped on a plane and visited them.
One factory had everything they were looking for: a transparent supply chain from farm to factory to fabric, using only non-GMO, certified raw 100% organic cotton, manufactured in a FLO-certified factory. The factory partners make a living wage, and do not employ children for labor. Which says a lot more than many other companies (it would shock you).
CORRECTION: Of course, no sleep is complete without a great pillow. We got ours from White Lotus Home, although I said they were from SOL Organics in the video above. Whoops! But, I needed to share this company with you because I LOVE MY PILLOW. They also make toddler and travel size pillow which we got for Kai. We all have both Kapok and Organic Cotton pillows.
Kapok is a fiber extracted from the seed pod of the kapok tree. It has the same feel and comfort as down, without harming our winged friends. The pillows are made from 100% organic casing and the kapok stuffing is harvested in the rainforest, protecting the life ways and ecosystems of indigenous people, and hand-stuffed in the USA to make the most eco-friendly pillows on the market.
---
Eco-Friendly Airstream Renovation: Paint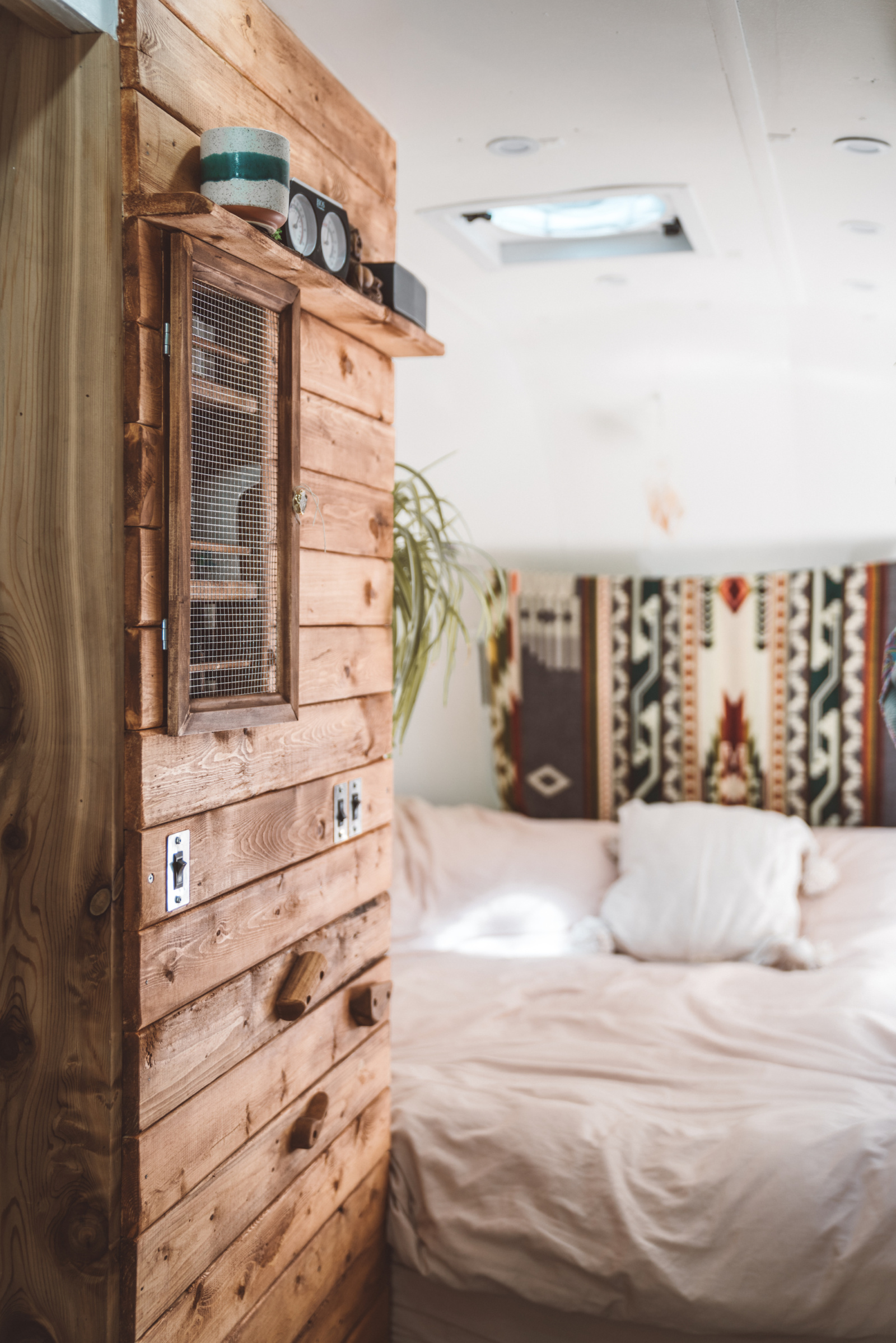 Homestead House
When choosing paint for our eco-friendly Airstream renovation, I wanted to try and make my own. Why? Because most paints are filled with chemicals I don't want in my home. Did you know you can make your own paint using flour, water and natural pigment?! I made a few batches of flour paint, but the consistency just didn't seem right. I also read more into it, and since the Airstream can get quite humid at times, there was a good chance that the paint could mold. After researching for hours, I came across a company called Homestead House. They make milk paints and stains which are organic, biodegradable and Zero VOC!
What is milk paint? Milk Paint is the oldest natural paint known to man and can still be found in some cave paintings. This paint contains milk protein (casein), limestone, clay, chalk and natural non-toxic pigments made from iron oxides and those synthesized from natural resources. The results are very impressive. I have no idea why everyone isn't using it. Seriously, I will never go back to using any other type of paint or stain.
---
Earth Pigments
While experimenting with flour paint, I had purchased these natural earth and ocher pigments from Earth Pigments to create the perfect colour. I went with Amber Ocher Dunkel, which I ended up mixing into the milk paint to create a beautiful stain for one of our walls (which you can see above) along with Kai's bunkbed ladder. I also purchased the Ancient Green Earth and which I used to create the colour you'll see on our kitchen cabinets.
---
Eco-Friendly Airstream Renovation: Kitchen & Bathroom
Almond Cow
This may be one of favourite eco-friendly products yet! Make your own own plant-based milk at home with the Almond Cow. Seriously, this has just become my new favourite kitchen appliance. Not only are you reducing your waste, skipping the plastic and choosing a healthier alternative, but you're doing all that WHILE saving money!
The Almond Cow Starter Set includes: Almond Cow Plant-Based Milk Maker, Glass Jug, Cleaning Brush, plus large bulk bags of Organic Whole Grain Oats, Organic Coconut Shreds and bee-friendly Almonds. I've been making my own nut and oat milk for years now, but Almond Cow makes it 10x easier. Also, to give you an idea of how you'll be saving:
1 bag of coconut shreds = 12 full 1 litre jugs = $1.33 per jug
You're typically paying between $5 and $10 for coconut milk at the grocery store which means you're saving…a lot. Oh and, you're also skipping all the nasty preservatives when you make your own milk too. I honestly could go on…I friggen love this kitchen appliance!
Get 15% off your purchase of Almond Cow by clicking this link and using discount code: Hopscotch
---
The Breakfast Pantry
While scrolling on Instagram one day, I came across a photo of the most beautiful pantry I ever did see. It was filled with different sized glass jars with acacia wood lids and teak scoops. Each jar was filled with nuts, oats and dried fruits. I immediately fell in love and needed those jars from The Breakfast Pantry in my Airstream pantry.
Another awesome thing I love about The Breakfast Pantry is $1 from every canister sold is donated to the Toronto Vegetarian Food Bank.
---
Berkey
We often think about the types of food we put into our body, but what about water? The truth is there are horrible chemicals, heavy metals, pharmaceuticals, fluoride, rust, silt, sediment and even rust in our tap water. Don't even get me started on bottled water… But I will mention that most bottled water "may" be free of the list I mentioned above but also lacks the minerals are bodies need as well. That's also the issue with some filteration systems, they remove the nasty chemicals but also the good-for-you minerals along with it.
Our eco-friendly Airstream renovation couldn't be complete without a Berkey water system. The Berkey system is equipped with filters that remove up to 99.999% of all the unwanted crap mentioned above WHILE retaining the healthy minerals your body needs. We also added in Santevia Mineral Stones to the bottom of our Berkey which add additional calcium, iron, magnesium, potassium, zinc and other trace minerals. We have the Big Berkey in our Airstream, but for even smaller spaces, there's the Travel Berkey.
---
Grund
Your skin is your biggest organ. What you put on it goes directly into your blood stream. Over the past couple of years, I've been diligent to check everything I put onto my skin. From my make-up to my skin care. But, what about towels? When you come out from a hot shower, your pores are open. If you're using a towel that's been made with non-organic cotton, you're potentially exposing it to chemicals and pesticides that live in the material. Grund makes 100% organic cotton towels that are SO soft and luxurious, I feel like I'm at the spa every time I wrap myself up after a shower.
To create these luxurious towels, they begin with organic cotton, spin it into five yarns, and loom it into long, two-ply, double loops that make the most of the fibre's extraordinary length. All towels are spared pesticides and chemicals during production, harvesting, and processing and are eco-friendly and sustainable.
---
Eco-Friendly Airstream Renovation: Decor
Valley Living Designs – Mountain Shelf
I found this beautiful shelf while browsing Etsy one late night last year, and have had it on my mind ever since. As soon as we began the re-renovation of our Airstream, I knew that this would be the spot this special gem would live. I love Etsy because it's a home base for so many talented artists from around the world. The artists of this mountain shelf are a lovely Canadian father-daughter team that work out of their home in Kamloops, British Columbia. Each shelf is made to order and is the perfect alter for important gems and other magical finds.
---
Mae Woven
I came across Mae Woven also while scrolling through Instagram. I love that they are a small team that work together directly including global Artisans who hand-make each pillow using natural materials.
---
Stikwood
Stikwood is the company we used to design the exterior of Kai's Treehouse Bunk Bed. Stikwood is wood planking made from both responsibly sourced reclaimed and sustainably harvested wood found throughout the United States. They have different colours and turn a simple wall into a rustic barn-like looking masterpiece. It's simple to do. You just need Stikwood, leveler and table saw.
---
Hook & Loom Rug Co
The hunt was on when it came to looking for a natural rug for our kitchen. After weeks of searching, I found Hook & Loom Rug Co. They make affordable, hand-woven, eco-friendly rugs. The rug we went with probably wasn't the BEST option when you have a dog and toddler, since it does get dirty on the daily basis BUT it is very easy to clean. I love this rug it gives the kitchen area a cozy/homey feeling.
---
Finding all of these companies and researching them top to bottom truly was a process. However, I've learned a lot the importance of choosing organic and non-toxic items that will live in my home. I feel that it's so important to be aware of the brands we invest in, and I hope that this post both inspires, helps and educates you. We couldn't be happier with our eco-friendly Airstream renovation.
If you have any amazing eco-friendly products or brands you've discovered, I'd love to hear about them. Feel free to share below!
---
You can also watch my video to learn more about the eco-friendly products mentioned in this post.