Take a moment to say out loud what comes to mind when you think of Fiji.
…
Did you say honeymoon hot spot? What about beautiful white sand beaches? Huts on the beach? Crystal clear water? A place to venture to if time permits while travelling in Australia or New Zealand?
Now, what about the ultimate destination for a group of friends to have an epic adventure-packed journey?
I always thought of Fiji as being a romantic getaway for couple. I never would have expected it to be a place for adrenaline pumping adventure, interesting cultural experiences and deliciously spiked beverages. Myself and three of my girlfriends, Nadine Sykora aka Hey Nadine, Alli Speed and Datev Gallagher aka Ladiedottie spent one fabulous week being blown away by this piece of paradise called Fiji. Read on to find out what we got up to and why you should be spending your next "friends getaway" in Fiji.
Cloud 9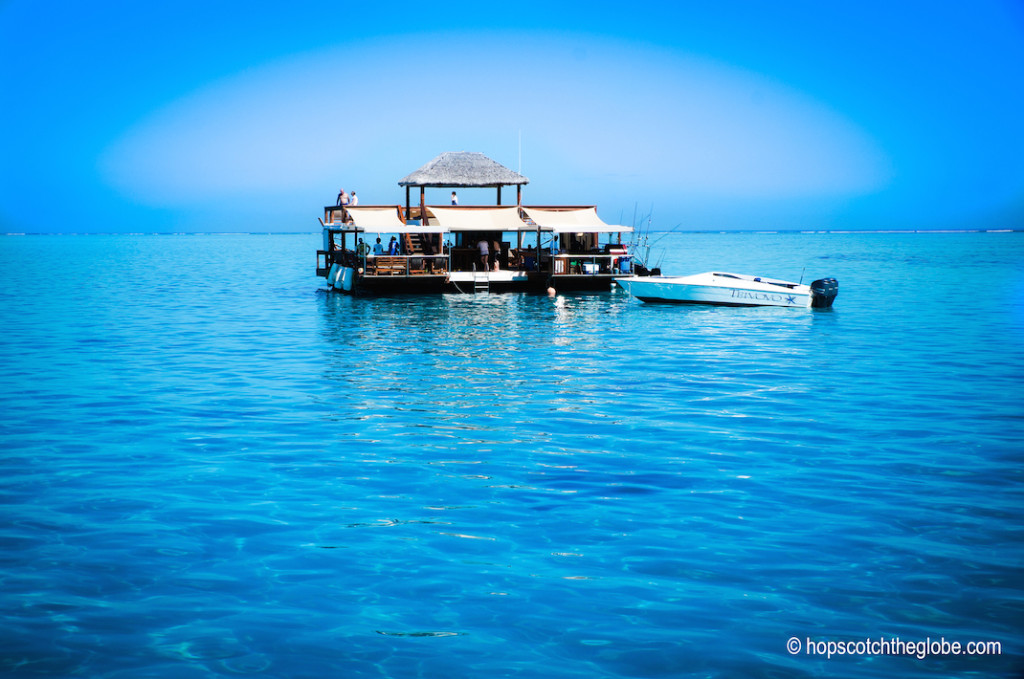 The name of this bar, located in the middle of the ocean, pretty much sums up this place. You will definitely feel like you are floating on Cloud 9 as you sip on refreshing cocktails and float effortlessly in the most beautiful turquoise waters you will ever see. The vibe is completely laid back and the staff will make sure you spend your stay with a smile on your face. Hungry? No problem! Just because you're in the middle of the ocean doesn't mean you can't enjoy a delicious meal. There is a chef on board who makes delicious wood oven pizzas that cater to vegetarian, non-vegetarian and gluten free guests. Talk about service! Be prepared to move your body as there is a sound system throughout this two level unique bar. There are also sun decks, hanging chairs and day beds to relax on.
Flavours of Fiji Cooking School
A great and delicious way to experience Fijian culture is by learning to cook a few traditional dishes. Flavours of Fiji Cooking School is located on Denarau Island and offers half day cooking classes for both adults and kids.  Each "student" will have their own fully equipped cooking station in an air conditioned room with river views. The two ladies conducting the course won't just teach you how to cook but will also offer interesting facts, entertaining stories and highlight the medicinal & nutritional values of ingredients used in the dishes.  An additional plus to taking a cooking course with Flavours of Fiji Cooking School, is being able to impress your family and friends with your new cooking skills upon returning to your home country.
Vinaka Fiji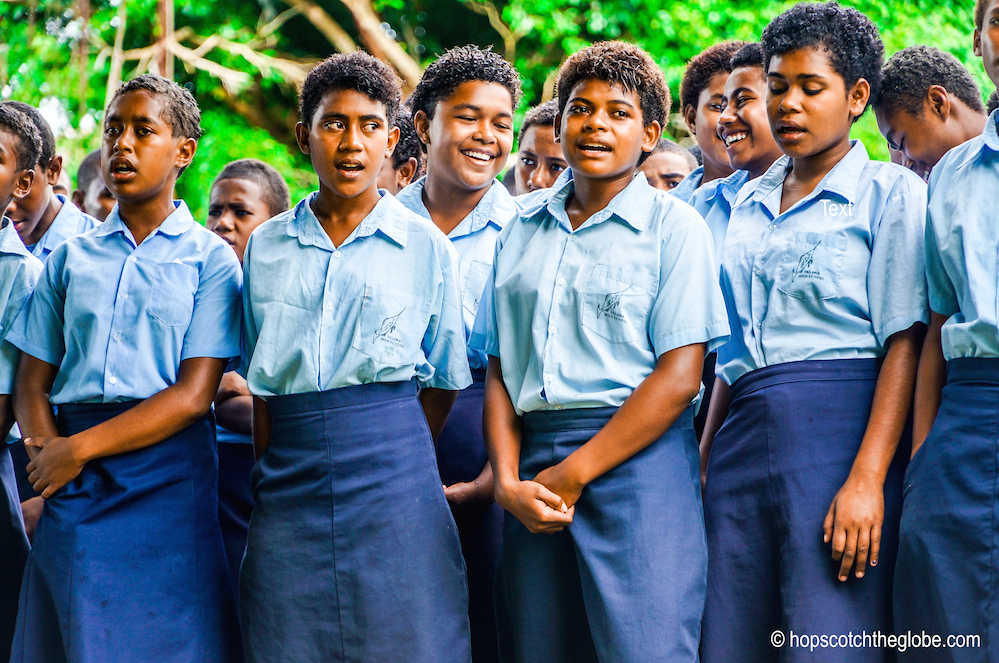 Giving back to the places we visit is a beneficial experience for both us travellers and the locals. It is important to do your research before deciding on an organization to reach out to. There are many volunteer organizations out there that don't do what they claim and the money they take from the volunteers doesn't necessarily go towards helping the cause. Vinaka Fiji Volunteer Program, in collaboration with the Yasawa Trust Foundation, aims to improve the provision of basic needs and amenities missing from village life in the Yasawa Islands. While I only had the chance to spend a day volunteering with Vinaka Fiji, I could see the work that was being done and why having volunteers come to the island is necessary.
Although the life that the Yasawa locals are trying to create for themselves on the islands is inspirational, resources are limited, and that's where the work of volunteers plays a vital role. For example, volunteers will be brought to the island to help teach English in the schools. Since have the ability to speak English opens up endless job opportunities around the world, learning to speak English at a young age is vital. Since there isn't enough income on the island to hire several English teachers, English speaking volunteers are brought to the island to assist in helping teach the language to the children through educational games and literacy activities.
There are several other volunteer opportunities available through Vinaka Fiji which you can learn more about here.
Snorkelling with Manta Rays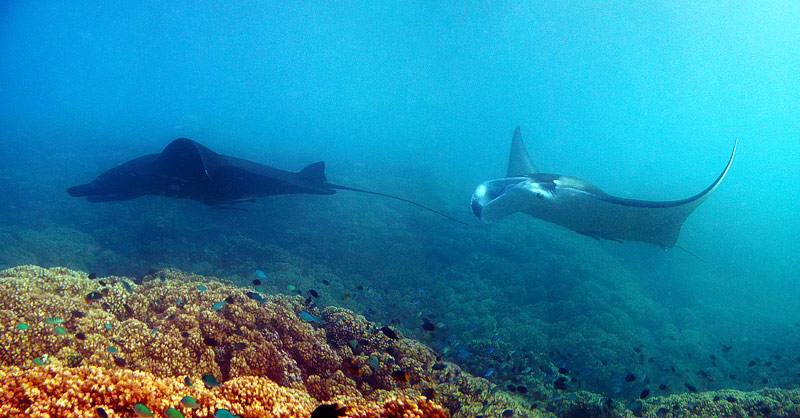 When in Fiji, it's very important to go snorkelling at least once. The water is too perfect to not experience life under the sea that surrounds the islands. There are several opportunities to snorkel with either a tour company or independently, but if you are spending some time on Barefoot Island, snorkelling with the Manta Rays is a must! The trained staff on the island will take you out to the Manta Ray swimming channel where you will get the unique opportunity to swim along side these gentle giants that can have a wing span reaching over 20 feet wide.
Kava Ceremonies
Participating in a Kava ceremony while in Fiji is another must. If you're invited to a Kava ceremony and offered a bowl of this muddy looking water, it is an insult to turn it down, so try a little.
What is Kava?
Kava is a crop from the Western Pacific that plays a big part in the Fiji culture. In Fiji, the roots are ground up into a powder and mixed with water before being consumed by many of the islanders on a day-to-day basis.
Why do Fijians drink Kava?
In Fiji, kava is used for medicinal, political, religious, social and cultural purposes.
What are the effects?
Just one cup will make your mouth feel numb for a couple of minutes while consuming larger amounts will make you feel relaxed and sleepy for several hours. This is because kava has sedative and anesthetic properties.
What are my thought on kava?
As I always say, do as the locals do! Although kava isn't the most pleasant beverage I've tried, being invited to participate in a ceremony was a pleasure. While I did participate in a couple of ceremonies that were included in a tour, I was also invited to the home of a local to drink kava with other members of the community. I felt like I was being officially welcomed into a community each time I participated in a ceremony. When you get opportunities to spend time doing something the locals typically do, you truly feel immersed in the culture. It's during experiences like these when the magic of travel really hits you. Now, when I think back to Fiji, participating in a kava ceremony is one of my first thoughts. It was one of those special moments that can't be arranged or anticipated ahead of time.
Off Road Cave Exploration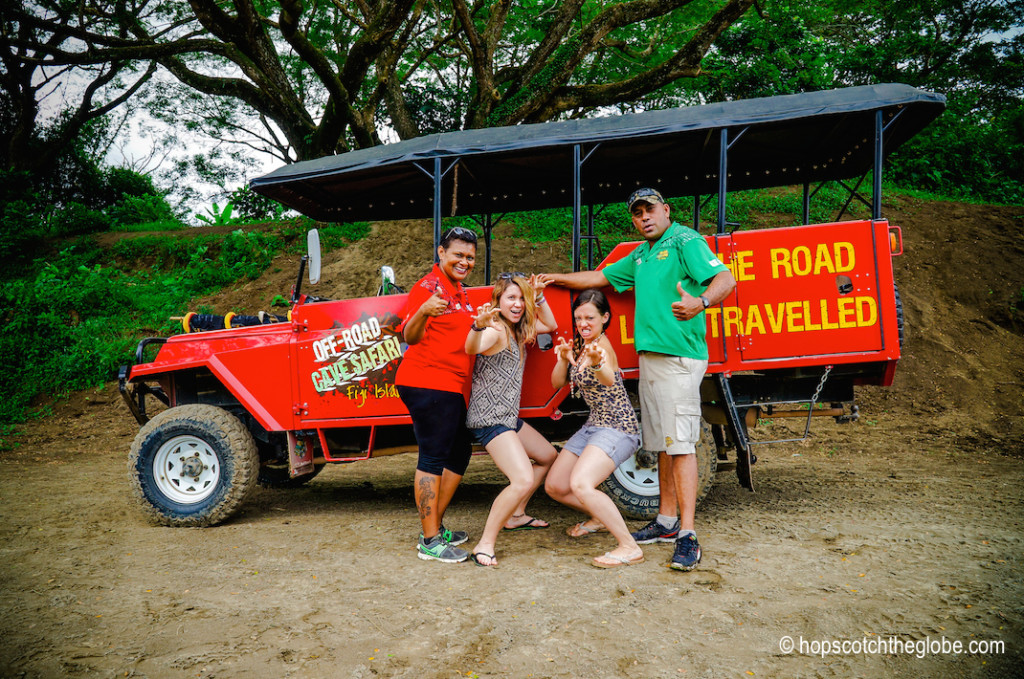 While I typically encourage you to get off the beaten path, for this experience, I'm encouraging you to get on it! The Off-Road Cave Safari tour on Viti Levu Island is highly recommended if you're looking for an adventurous and cultural way to spend a day on the islands.
You will start your off-road journey ATV as you ride through lush tropical plants, rolling hills and nearby villages. After a 30-minute butt massage, you'll arrive at Sautabu village to partake in a Kava ceremony followed by a tour of Neihehe Cave. Inside the cave, you'll learn about its significance as well as the history of cannibalism which played a major role in Fijian history.
White Water Rafting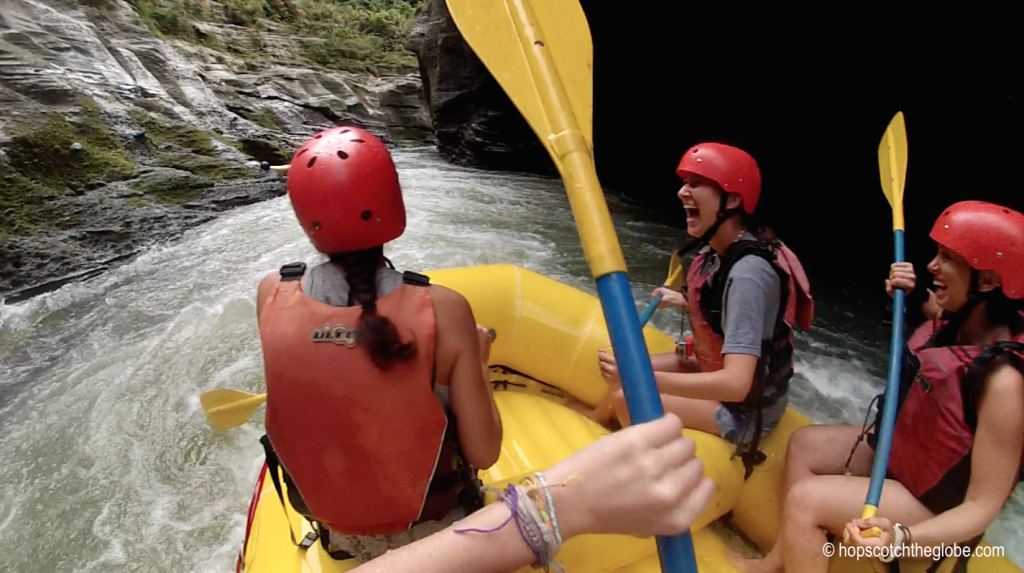 If you're someone who enjoys adrenaline pumping adventure, you'll want to go white water rafting in Fiji. River's Fiji is considered Fiji's number one adventure tour and the only company to offer whitewater rafting high in the lush interior of Viti Levu.
I had been rafting four times previous to this experience, but had never fallen overboard until I went rafting in Fiji! Although I walked away with a couple scrapes and bruises, I was thrilled to have been thrown from the raft as that is what got my adrenaline pumping. If you're an adventure junkie like myself, then you know that is a feeling we strive for.
Not only will rafting get your blood pumping, but it will have you in awe from the breathtaking scenery surrounding you throughout the entire ride.
***
Fiji is truly is one of those places that has something to offer every kind of traveller. It is also a place that will capture your heart and have you saying see you later rather than goodbye.
I hope by this point, you've added Fiji to the top of your must-travel-to destinations.
If so, which one of these activities do you plan on experiencing?
Let me know by leaving a comment below!
Wait, before you go anywhere, be sure to check out my Fiji video series on YouTube. Enjoy!
***
A special thanks to Tourism Fiji for sponsoring this trip. As always, all thoughts and opinions expressed are my own.