Tunisia is a piece of the Middle East found in Northern Africa. It is a place of diverse natural beauty from the Mediterranean Sea to the Sahara Desert. It is a place where the smell of spices lingers in the air, attacking your senses each step of your journey. A few years ago, I found myself unexpectedly in Tunisia. This is how my adventure unfolds…
Upon arriving in Palermo, while taking a road trip across Sicily, Siya, my mother and I made a last minute decision to travel to Northern Africa. We found out that we could get to Africa by boat in 10 hours for only $100 return, each. Of course we couldn't say no to that.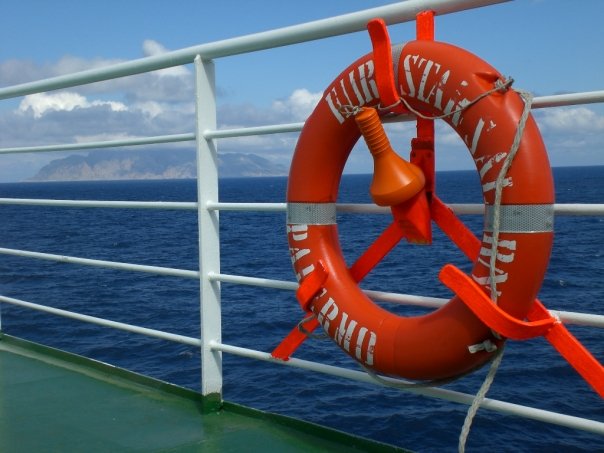 After a 10-hour fairy ride from Palermo, we finally arrived in Tunis, the capital of Tunisia. During the boat ride, we met a wonderful couple named Jane and Fred, as well as a single female traveler named Celeste. We all got along really well and decided that we would share our adventure in Tunisia together. We arrived late in Tunis, so we decided to find a place to sleep for the night right away and then go for a late night stroll around the city. An Australian lady we met on the boat, who had spent the past 2 months studying Arabic in Tunisia, brought us to a hostel that she recommended.  The hostel only cost 2 dollars but trust me, this place was no deal. Now, I've slept in some pretty unsanitary, strange and uncomfortable conditions. I've slept soaking wet on a piece of bumpy wood in a rat-infested cabin in the middle of the Malaysian jungle.  I've also slept soaking wet in -8 degrees in a tent in the Andes mountains after my water thermos leaked all over my sleeping bag.  Nonetheless, this Tunisian hostel was still at the top of the list for one of the worse sleeps.
The hostel was beyond dirty that I was actually scared to sleep in my bed. The sheets looked like they hadn't been cleaned in over 20 years and the pillows were untouchable. The hotel had a squat toilet, which was the first I had ever seen during my travels. I can still remember my first attempt to use the squatter and urinating all over my pants. However, practice makes perfect right? So, every time I went to the washroom, I tried positioning my body differently until I found the best position that worked for me. After traveling throughout India and South Eat Asia, I can now say that I am quite the pro. I would now say that I 100% prefer squat toilet to Western toilets.
After a very long "sleep", morning finally came, and we made it through the night in the hotel of hell. Celeste even slept sitting up because she was afraid to rest her face on her infested pillow. As for my mother, I think this makes number one on her list for the worst sleep ever. However, we made it through the night and although it wasn't the greatest sleep I've ever had, I like think of it as being all part of the experience.
We paid our $2, quickly left the hotel and took a taxi ride to the bus station. The drive took a lot longer than it should have, and I quickly learned that Tunisians like to take you on a joy ride to a destination that you never asked to go to. When they take you to the random location that you never asked to go to, they then expect you to pay! I don't fall for those games. Eventually, we made it the bus terminal and took a louage (a small van) to the city of Douz. It was an 8-hour ride, but I was able to see a lot of Tunisia.
We traveled through the Chot El Jerid, a dry salt lake covering 5000 sq km (1930 sq mi) in the middle of the Tunisian desert. It is a barren land devoid of any plant life and covered in salt mounds and sculptures.  The salt here is exported to other counties for use on winter roads.
Upon arriving at the correct destination, we stepped out of the van and were immediately approached by men trying to convince us to book a camel trek through them. We decided to ignore their sale tactics and make our way to find a hotel that we would stay at for a few nights.
After walking around for a bit, we decided on a hotel called Hotel 20 Mars. If you are ever in Douz, I would highly suggest this hotel. Besides being clean and nice looking, the people who own the place are very friendly and helpful. What's also great about this hotel is they run a tour company where you can book a camel trek through the Sahara Desert for a reasonable price. After settling into our rooms we booked an overnight tour and camel trek through the desert for the following day. Until then, we spent the day exploring lovely Douz.
The markets in Douz are really interesting and busy. It is definitely an attack of your 5 senses. There are people walking around in long gowns and turbans. You hear Arabic music playing that makes you want to stop what you're doing and just dance. Everywhere you walk you smell spices in the air. There are many fruit and nut stands as well as many stores to buy traditional clothes and other items.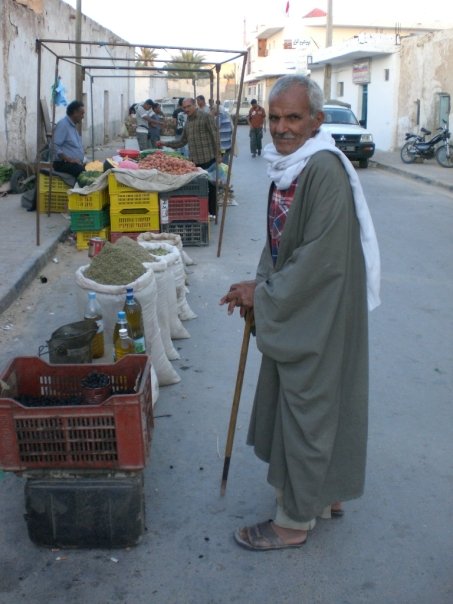 While shopping for souvenirs, we met a really nice group of Tunisian men. We ended up partying with them in their shop in the evening. They brought us mint tea (which is very tasty), we smoked the hookah (a pipe with a long flexible tube that draws smoke through water and is traditionally used for smoking flavoured tobacco), played drums, danced and drew with henna. Mingling with the natives is my favorite part of travelling. By participating in their activities and traditions, you really get an appreciation for a culture.
Be sure to check out part two of my Tunisian Adventure as I sleep under a blanket of stars in the middle of the Sahara Desert.