For those who have travelled to the same place twice, you know the nostalgic feeling that happens. It's like visiting the old neighbourhood you grew up on as a kid. You walk down a familiar street and childhood adventures flash into your thoughts.  Following in your own footsteps is the best way to see how much you've changed and also how much the world changes. This was the feeling I had returning to the island of Gili Trawangan (Gili T) in Indonesia.
Kristen and I went to Gili T in 2012 to swim, explore, eat and party as much as possible. When we returned in 2016, we swam, explored, ate and relaxed as much as possible.
The tourism has increased over the past 4 years. Generally, I avoid populated tourist zones, although at times I find these areas comforting. Tourists tend to congregate around:
A) Good Food
B) Cheap Accommodations
C) Fun Activities
The downside is there's less real culture in these spots.
Gili T is one of three Gili islands. These are the "magic islands" of Indonesia, whether you eat the mushrooms or not. I remember in 2011 spending hours snorkelling with one sea turtle who had a dark green spot in the middle of his shell. There are colourfully decorated horse and carriages that gallop along the dirt streets. Everywhere you go around the island, you're followed by the sound of the waves.
It was nice to be back.
I wanted to go to all the spots we visited before and hopefully run into familiar faces. It's amazing how much of this place I started to remember once I got there. Memories popped into my brain like a mental slide projector.
Upon our return, Kristen and I were sitting in a random restaurant, and I noticed a painting behind the bar of a fisherman. All of a sudden the whole restaurant looked familiar to me, and I was sitting at the same table from a visit many years ago. A rush of memories waterfalled into my vision followed by a lot of "and remember that time…!"
The food scene here has significantly improved; tons of cafés, BBQ's, fresh seafood, even vegetarian and vegan cuisine too.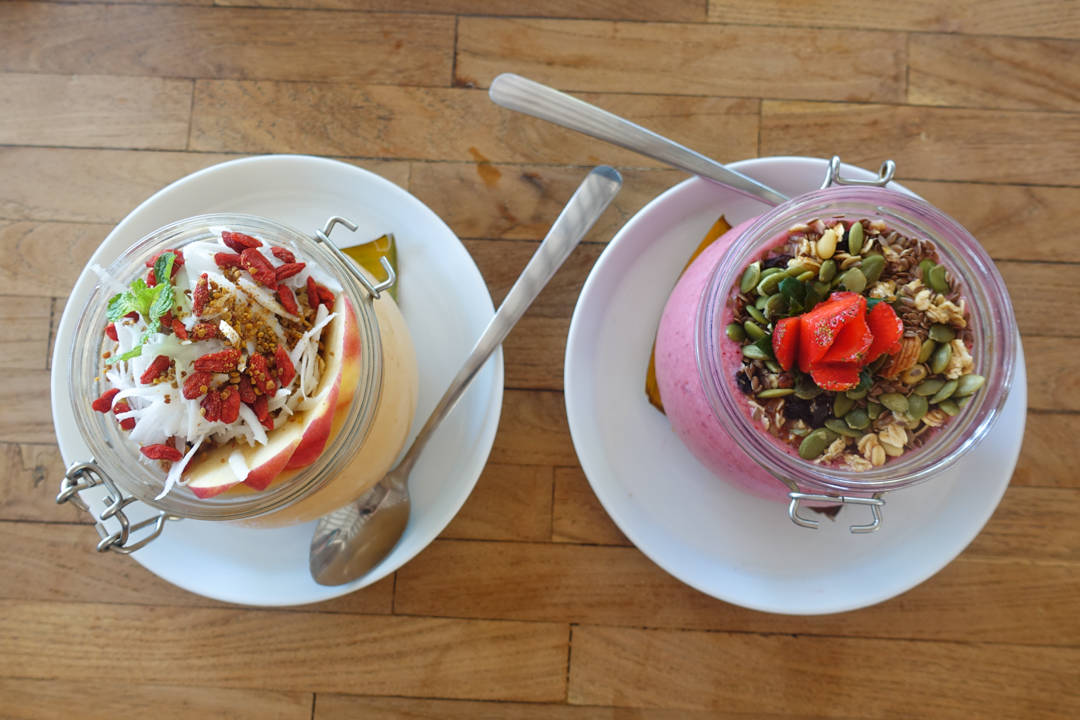 The night market is a must visit for dinner, but only if you like delicious food for a bargain…who doesn't!?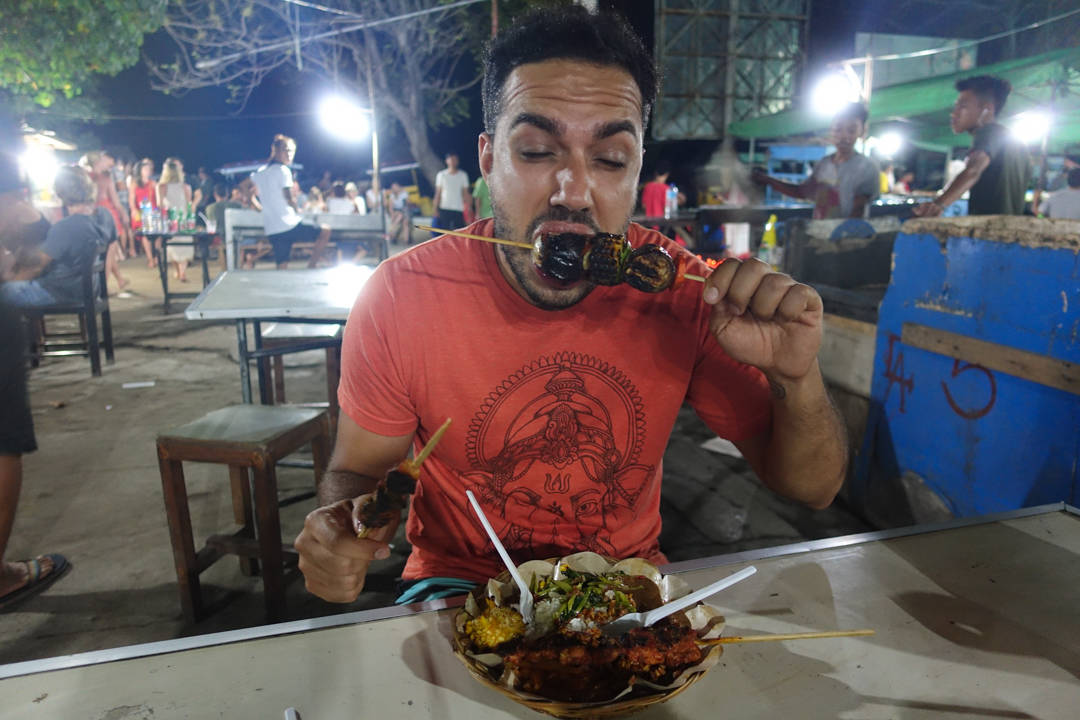 Sadly, the budget guest house we spent a week at in 2012 had been demolished and converted into luxury bungalows priced above our budget. When we first visited Gili T, we were penny-pinching 20-year olds who could only afford $5/night. Our budget got us an old mattress, ceiling fan with two broken blades, toilet with a missing seat and salt water shower. Rinsing off with ocean water AFTER swimming in the ocean leaves you just as sticky as before you got in the shower. This time around, we found a cozy private room on TripAdvisor called Why Not Bungalows, located only a one minute walk from the beach for $35/night. Our $35 got us a comfortable bed, air conditioning, private bathroom and fresh shower. Now, at 30-years olds we can afford to spend a little extra for amenities like toilet seats and a fresh water showers.
As we've become more seasoned travellers, our interests have changed from who we used to be. Returning to the same place as an older version of myself unwrapped a different side of the island I hadn't experienced before. Don't think because you have been there once that your second experience will be the same. After all, you're not the same person.
Have you traveled to the same place twice?
How was your experience?
Be sure to check out our video from Gili T to help inspire your trip to this magical island: