The kitchen is where the heart and soul of the household resides. At least it is for our family. Hippocrates once said, "Let food be thy medicine and medicine be thy food," and that's exactly how we treat what goes into our bodies. During our Airstream kitchen remodel, Siya and I made sure it was large enough to have us both flowing through it without getting in each other's way. But, after living in Luna for two straight years and adding in a pup and child to the fam, we decided to make some changes to the kitchen.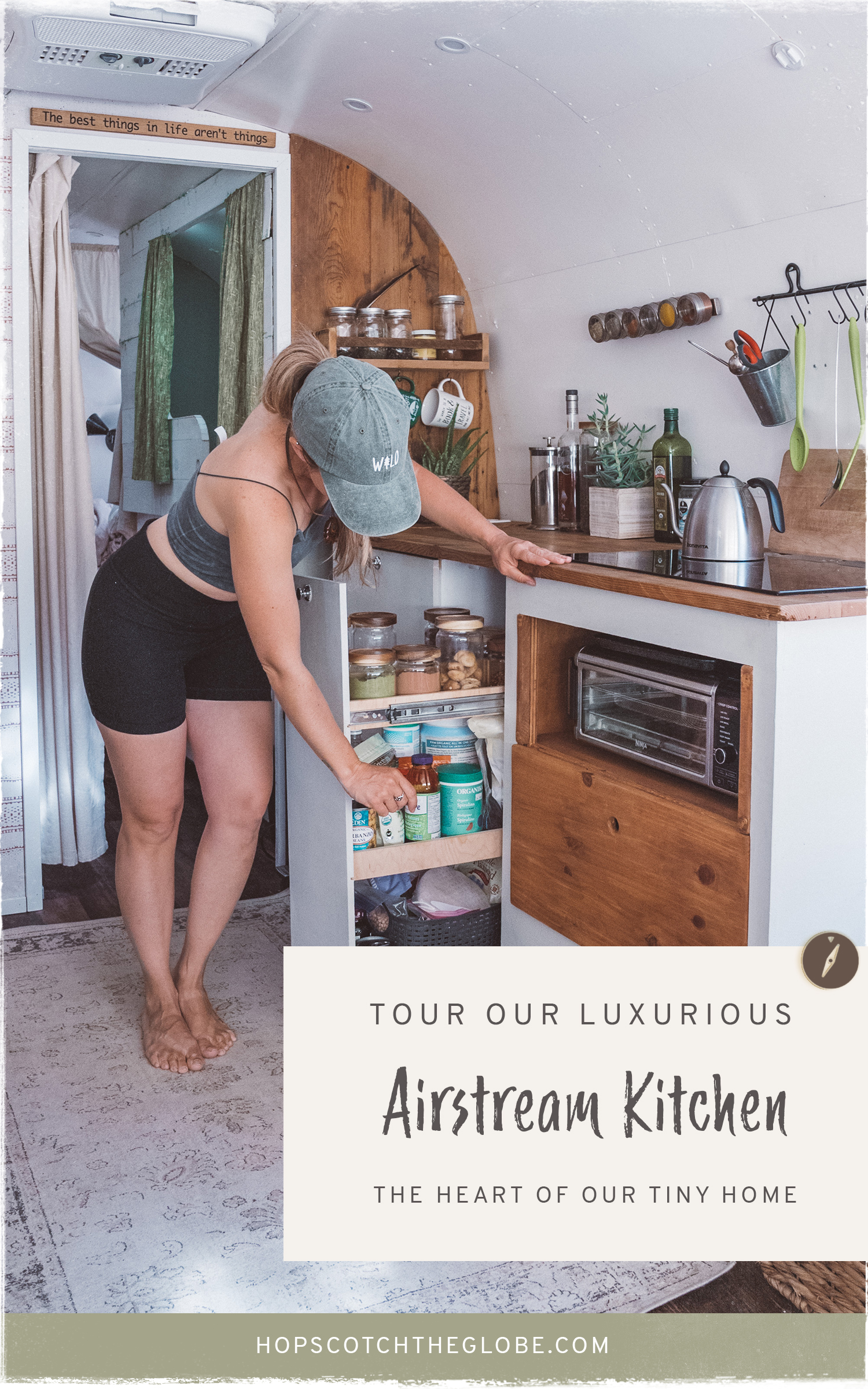 Swapping Out Our Airstream Fridge
The first change we made in our Airstream Kitchen Remodel was swapping out our fridge for a new fridge/freezer combo. Our Airstream morning routine always includes smoothies. They are our go-to every single morning, so having a place to store frozen fruits, vegetables and Evive smoothie wheels is essential. We make all of our dogs food from scratch and freeze half of it. Yet, another reason to have a freezer. Oh, and coconut ice-cream. Can't forget the coconut ice-cream.
Want to give Evive smoothie wheels a go? Click here and use promo code: hopscotchtheglobe30 for 30% off + 2 Evive's best sellers on the first order.
Since our new fridge is wider, we had to cut one of our cabinets in half. What used to be for our garbage and recycling area has now become a broom closet with a hanging recycling bag. We moved our garbage to the other side of the kitchen.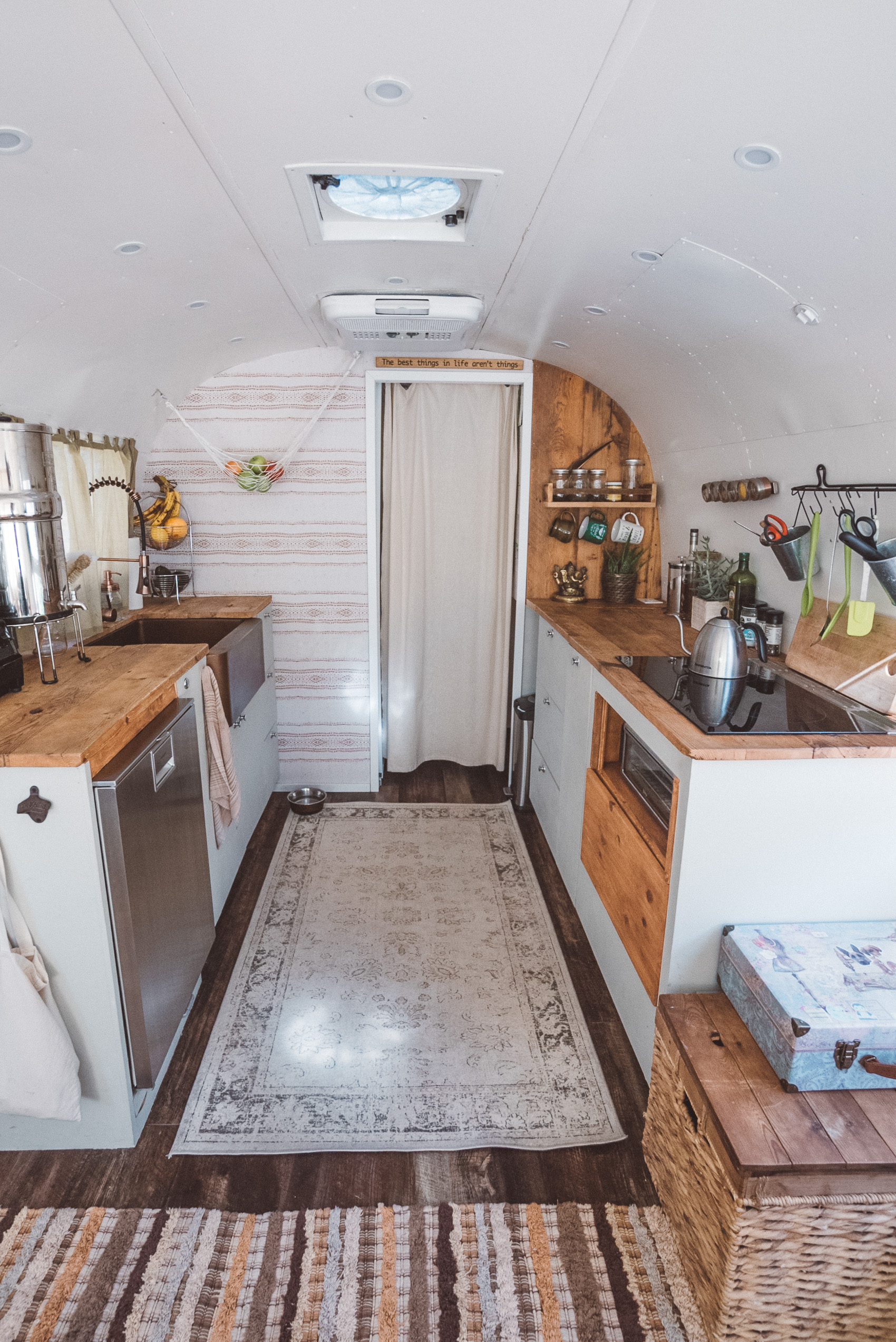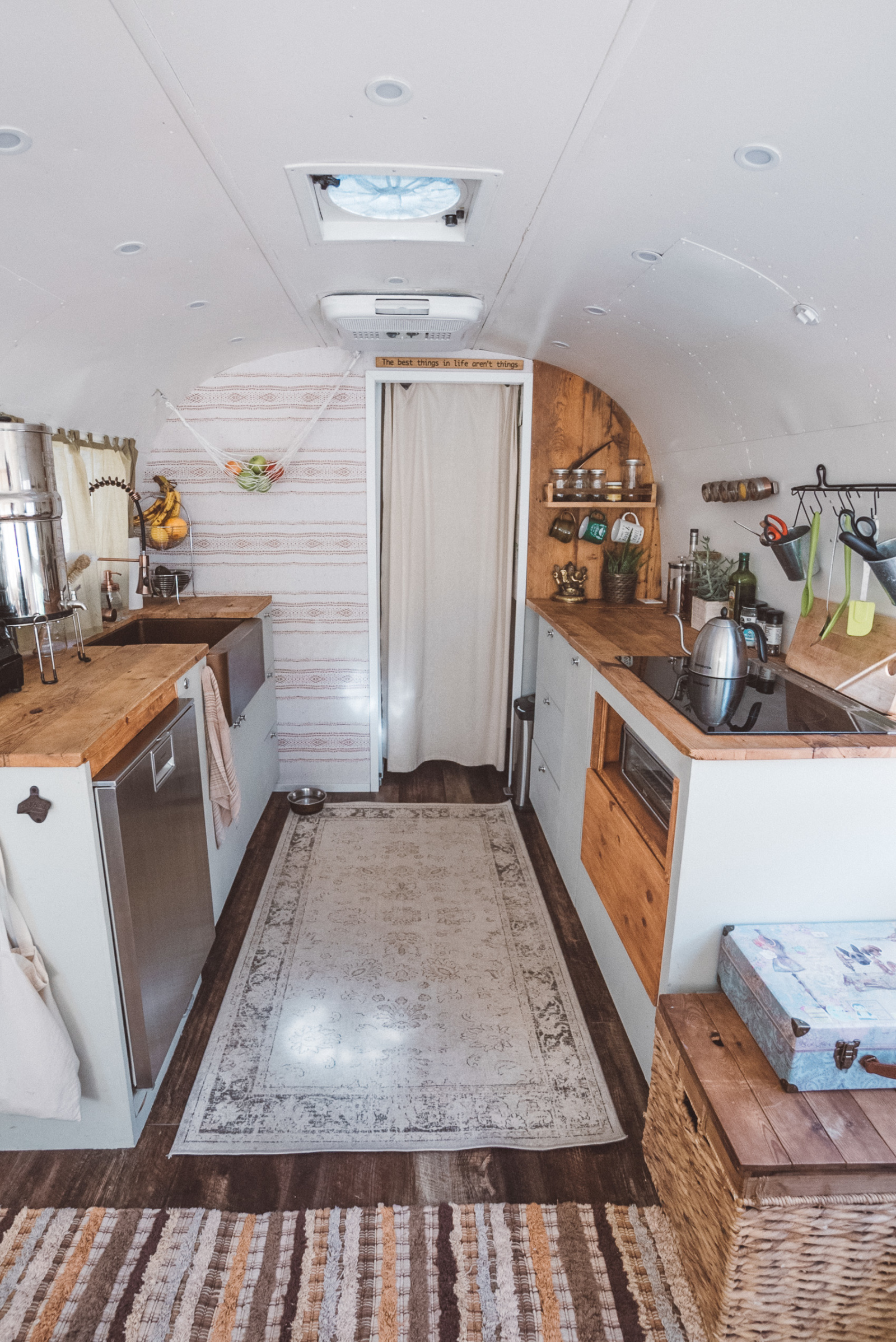 Swapping Out Our Oven for a Smaller, More Powerful One
In the first two-years of living in Luna full-time, we only used our oven twice. Since it wasn't being used and taking up a large space in our tiny home on wheels, we replaced it with an 8-in-1 Ninja Convection Oven and added a cabinet below for extra storage. This was such a great decision because more storage space is always a plus, and the Ninja is a HUGE hit. We use it every single day, and it's perfect for everything we need. From toasting bread to baking cookies to dehydrating fruit and air frying potatoes. You can do it all with this amazing appliance. The extra storage space has been a game changer too. This is where we keep all of our snacks (and we always have plenty because what's a road trip without snacks) along with our Almond Cow, food processor, pots and pans.
When Siya and I started discussing Airstream renovation designs, I knew that I wanted to create a non-toxic and sustainable environment in our tiny home on wheels. This meant finding and choosing organic and sustainable products. For the additional cabinet under the Ninja, I used a natural stain that I created using Earth Pigments and milk paint.
Making More Space in Our Airstream Kitchen Remodel
Another big change in our Airstream Kitchen Remodel was expanding the counter space and adding a coffee and tea wall. What used to be our tiny office and Airstream bedroom counter space has now turned into our daughter's tree house bunk. We also wanted to divide the bedrooms and bathroom area from the kitchen and living space. We ended up taking the 100-year old barn wood we used as our counter space in the bedroom area and turning it into a feature wall for coffee mugs, teas and other elixirs. It's turned into one of our favourite spots in the Airstream. It's been great to have that extra counter space for preparing meals. But, where do we work? At our dining room table or in coffee shops! We alternate work days so that the other parent can be with our daughter. It's nice to leave the Airstream on work days, so we can get some uninterrupted time to really focus.
The Small Touches Add Personality to the Space
Some other small (but awesome) additions to the Airstream Kitchen Remodel include our fruit hammock, utensil holder over the stove top and "The best things in life aren't things" sign above our doorway (yeah, we added one of those too). We added some much needed curtains above our sink along with a less white area rug.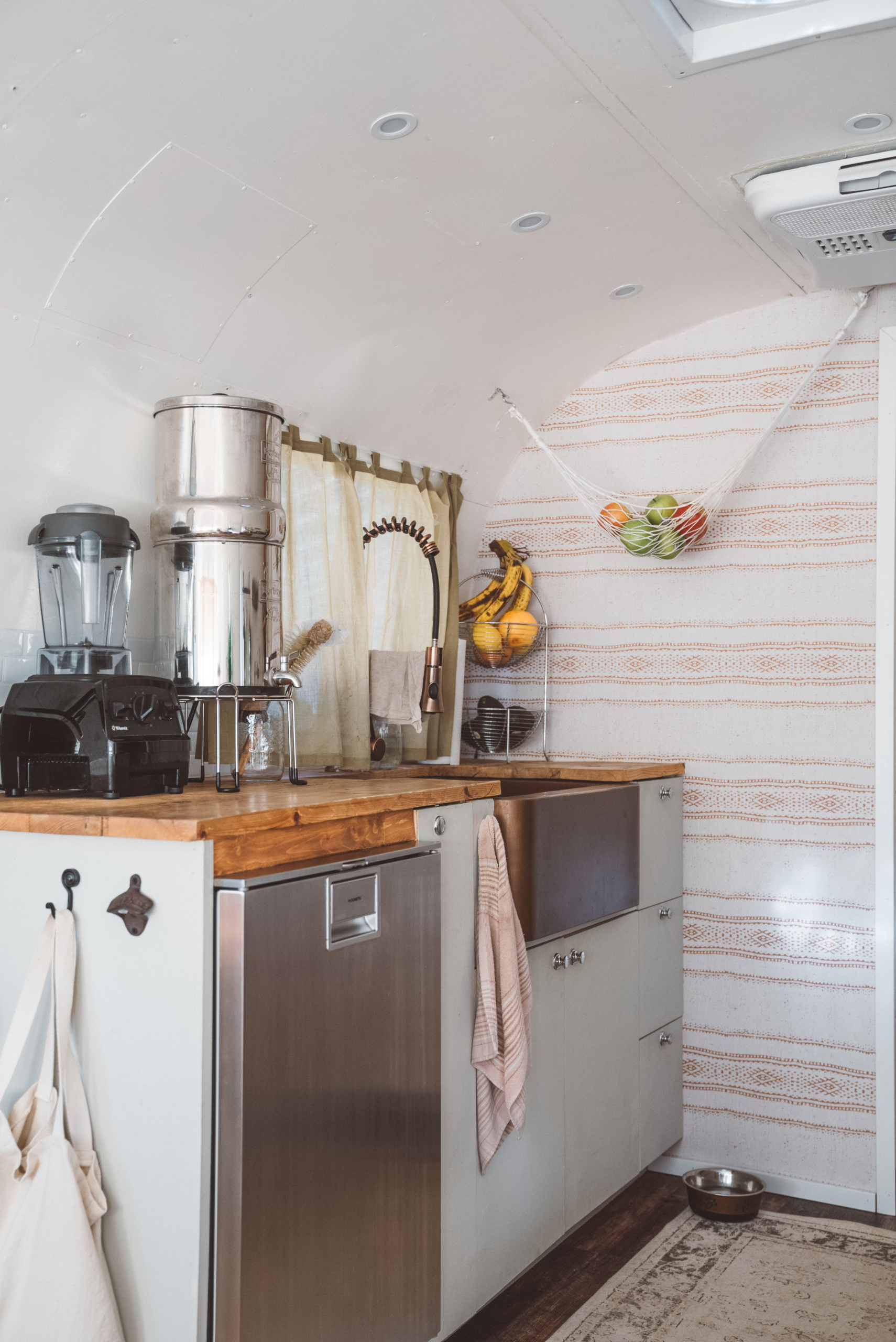 ---
Now Let's Talk About Our Favourite Kitchen Appliances in Our Airstream
I (Kristen) am not the same person in the kitchen without my appliances. I can whip you up the best vegan meal you've ever had, just as long as I have my Vitamix, food processor and Berkey. Add in our Almond Cow, 7 in 1 Ninja and juicer, and you've got one complete tiny kitchen with everything you need to make kick-ass-food. Below are links to the exact appliances we use every single day in our tiny Airstream kitchen:
Vitamix
I don't know how I lived life before my Vitamix. It's one of my favourite possessions and I will forever own one for as long as I live. As you can tell, I am very passionate about my Vitamix. It really is the superstar of all blenders. No other compares. Want to make the creamiest smoothie of your life? Vitamix. Want to make a delicious salad dressing? Vitamix. Want to make a HOT soup? Vitamix. No, seriously, you can put a bunch of cold ingredients, spices and water in the Vitamix and it won't just blend your soup but will COOK IT! Told you it was a superhero.
Almond Cow
Coconut milk. Almond milk. Oat milk. Cashew milk. Hemp milk. We are all about the plant based milks. We're also all about making our own plant based milk. Not only are you reducing your waste, skipping the plastic and choosing a healthier alternative, but you're doing all that WHILE saving money!
The Almond Cow Starter Set includes: Almond Cow Plant-Based Milk Maker, Glass Jug, Cleaning Brush, plus large bulk bags of Organic Whole Grain Oats, Organic Coconut Shreds and bee-friendly Almonds. I've been making my own nut and oat milk for years now, but Almond Cow makes it 10x easier. Also, to give you an idea of how you'll be saving:
1 bag of coconut shreds = 12 full 1 litre jugs = $1.33 per jug
You're typically paying between $5 and $10 for coconut milk at the grocery store which means you're saving…a lot. Oh and, you're also skipping all the nasty preservatives when you make your own milk too. I honestly could go on…I friggen love this kitchen appliance!
Get 15% off your purchase of Almond Cow by clicking this link and using discount code: Hopscotch
Big Berkey
We often think about the types of food we put into our body, but what about water? The truth is there are horrible chemicals, heavy metals, pharmaceuticals, fluoride, rust, silt, sediment and even rust in our tap water. Don't even get me started on bottled water… But I will mention that most bottled water "may" be free of the list I mentioned above but also lacks the minerals are bodies need as well. That's also the issue with some filteration systems, they remove the nasty chemicals but also the good-for-you minerals along with it.
Our eco-friendly Airstream renovation couldn't be complete without a Berkey water system. The Berkey system is equipped with filters that remove up to 99.999% of all the unwanted crap mentioned above WHILE retaining the healthy minerals your body needs. We also added in Santevia Mineral Stones to the bottom of our Berkey which add additional calcium, iron, magnesium, potassium, zinc and other trace minerals. We have the Big Berkey in our Airstream, but for even smaller spaces, there's the Travel Berkey.
Food Processor
Another appliance I use regularly. Mostly to make my own flour. Yup, I grind up my own oats to make oat flour for pancakes. Siya, Kai and I also love using the food processor for making dips, laddoo balls and Atlas's food. Basically, it's a versatile kitchen appliance that can quickly and easily chop, slice, shred, grind, and puree almost any food. So, we use it for all of these things and it's a staple appliance especially for plant based eater like ourselves.
Ninja 8-in-1 Convection Oven
Like I mentioned above, we are obsessed with this new kitchen toy we included in our Airstream kitchen remodel. There isn't a day that goes by that we don't use it. The Ninja 8-in-1 is the ultimate meal-making machine. It's an air fryer, air roaster, air broiler, convection over, toaster and dehydrator all in one. It takes up WAY less space than an over and is very easy to clean. It's your new best friend, especially if you're living in a small space.
Breville Juicer
Second to smoothies are juices! I love making a good green juice for the whole fam. One of the best ways to use up any fruits and veggies starting to go bad is to juice them. This is a great thing to do on grocery shopping days to make extra space in our tiny fridge for incoming food.
---
If you want a more visual tour of our remodelled kitchen, hit play on the video below!
I hope you enjoyed our Airstream kitchen remodel tour. Be sure to check out our other Airstream living content including tours, stories from the road, ups and down of Airstream living, tips and trick plus more!