I want to travel back in time to the experience that gave birth to my travel bug.  It all happened during the year of 2005.   It was my last semester of high school, and spending four months in Paraguay, South America was an opportunity offered by my school as an co-op program in exchange for six credits.  I was 17 years old, and boarding my first plane without my parents to a foreign land called Paraguay.  This was the first time that I would be away from my parents and home for an extended period of time; four months to be exact.  I was scared, sad, nervous, and excited.
I remember arriving at the airport early in the morning on February 14th, 2005.  It was the first Valentine's Day that I would have spent with my boyfriend of six months at the time.  I was sad to leave him and worried what four months away would do to our relationship.  I arrived quite early at the airport in order to have time to say farewell to my loved ones and also meet up with the group of fourteen other students that would be going through this experience with me.  Some of the other students hadn't even left Canada before.  This was not the case for me.  I had traveled throughout the United States and Cuba, but I had never experiences living and breathing a new culture before. Being bias, I don't count a one-week all-inclusive trip at a resort in Cuba a cultural experience; but that's just me.  This experience in Paraguay would be the first time I would be living in a country, working in a country and exploring every crick and cranny I could get myself into.  Talk about an experience!
After a lot of hugging and kissing, myself and the fourteen other students (with whom some would become my bestest friends up to this very day), went on our way to board the plane that would take us away from the one place we knew so well.  After a lot of initial crying from the majority of the group, the tears and sadness turned into smiles and excitement.  We were fifteen teenagers, parent-free and about to leave for a crazy adventure in a far away land.  We quickly realized how fortunate we were and how awesome this was going to be.
The plane ride was an experience of its own.  We had a layover in Brazil and had to make sure all fifteen of us made it on the flight from San Paulo, Brazil to Asuncion, Paraguay.  Due to the fact that some of us hadn't experienced a layover before and none of us could speak Portuguese, it was more difficult than you think.  However, we all made it on the flight and arrived safety in Asuncion.
Although the group arrived together, it wasn't long before we all said more goodbyes to each other and set off to various cities throughout the country.  I was sent to Capiata, Paraguay, which is a city about an hour drive from the capital, Asuncion.  I enjoyed my city.  It was a lot different than anything I was every used to, and I stuck out like a sore thumb, but that's why I loved it.  Many of the Paraguayans had never seen a white person "in real life" before.  This created a lot of innocent stares and giggles.  It made me smile and intrigued.  Living with a host family was an interesting experience.  Unfortunately, I didn't have the greatest experiences with mine, but that happens sometimes.  Fortunately, I did have an amazing experience with a Paraguayan friend of mine and her family.  They quickly became my Paraguayan family, and I spent a lot of time with them.  It was really nice living with a family native to the country because I become Paraguayan myself.  I not only learned about the customs and traditions of the culture, but I experienced them first hand.
During my four months of living in Paraguay, I taught English five days a week in three different schools.  On my first day of teaching, I was thrown into a class of seven to ten year-olds who spoke no word of English, and me, only a few words of Spanish.  Spanishless and with no experience teaching before, the principle left me alone with the children and expected me to teach them for an hour.  This is as scary and as difficult as it sounds.  The kids thought it was hilarious that there was a white girl who spoke an alien language  standing in front of them singing the "head and shoulders, knees and toes" song.  Some of the kids took advantage that I was the new foreign teacher that didn't speak Spanish.  They would poke fun at me while the rest of the class laughed and jumped on their desk.  I was mortified to say the least.  However, it wasn't long before the students were completely shocked when one day I came into class and responded to their comments in Spanish.  I gained a lot of respect from the children from that day on.
Learning Spanish was fun and addicting.  I always found the language beautiful and today I can say that I am functionally fluent in the language.  During the first couple of weeks in Paraguay, I had constant headaches and went to bed fairly early because I was trying so hard to learn the language (and even some Guarani which is the second native language of the country).  Every day I would practice Spanish by taking daily lessons, engage in conversation with Paraguayans, watch Spanish soap operas, and read whatever reading material I could find in Spanish.  I was determined to learn as fast as I could.  The process of learning the language was as so:
Beginning of Month One – I knew how to say "My name is…." and "I am hungry."
End of Month One – I could understand about 30-40% of a conversation and say and ask for very basic things.
End of Month Two – I could understand over 50% of conversations and say almost anything I needed to in a very simple way.
End of Month Three – I could understand over 80% of conversation and say whatever I needed to in detail.
End of Month Four – My vocabulary and understanding was very good.  I was thinking and even dreaming in Spanish.  Pretty cool!
During my time in Paraguay, I traveled almost every weekend.  I went from the north to the south of the country and visited Brazil and the cross-border between Paraguay and Argentina.  It was an amazing experience to say the least.  I made life-long friends, learned a new language and culture, tested my patience, tried new foods and definitely became more independent.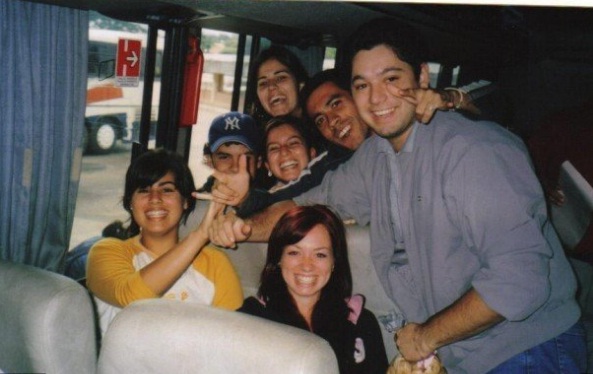 When I arrived back to Canada after four months of living in Paraguay, my whole world changed.  What I mean by that is I had become a different person who looked at the world differently.  I had really grown and experienced what many people don't experience their entire lives, and I was only seventeen years-old.  When I came home, everything and everyone was the same which came as a shock to me because I was so different.  It took a lot of time and readjusting to feel comfortable with my family and friends in Canada.  Thankfully, they all understood that I had just had a life altering experience and respected that I needed space.  I eventually got back into the swing of the Canadian lifestyle but my love for travel only got stronger in time.  Before I knew it, I was on another plane, headed to another country, and that routine has continued for the past eight years with no plans on changing.  I am so grateful for the experience I had in Paraguay because without it, I don't know what I would be doing and who I would be today.  My travels have greatly shaped the person I am, and I am so happy for that.
**Just as a side note, my relationship with my boyfriend at the time kept going strong and seven years later, we are engaged.  So, if you are worried about leaving loved ones behind, it's tough, but very doable.  You owe it to yourself to take the chance, book a plane ticket, and go.  Don't let anything or anyone get in the way of your dream.**