This post was sponsored by our friends at New Orleans & Company, though our experiences are our own. Start planning your family-friendly trip to the Crescent City at neworleans.com.
---
Before I came to New Orleans with my husband and 3-year old daughter, I thought of it as a party destination. The ideal destination for bachelor and bachelorette parties, girls weekend and couples getaways. But, New Orleans is also a GREAT choice for a family vacation when you have small kids. You may be surprised with all of the fun things you can do. So, if you've been wondering where to go on your next family trip, this post will make it easy for you to choose New Orleans. Here's the complete guide for planning the perfect New Orleans vacation with kids!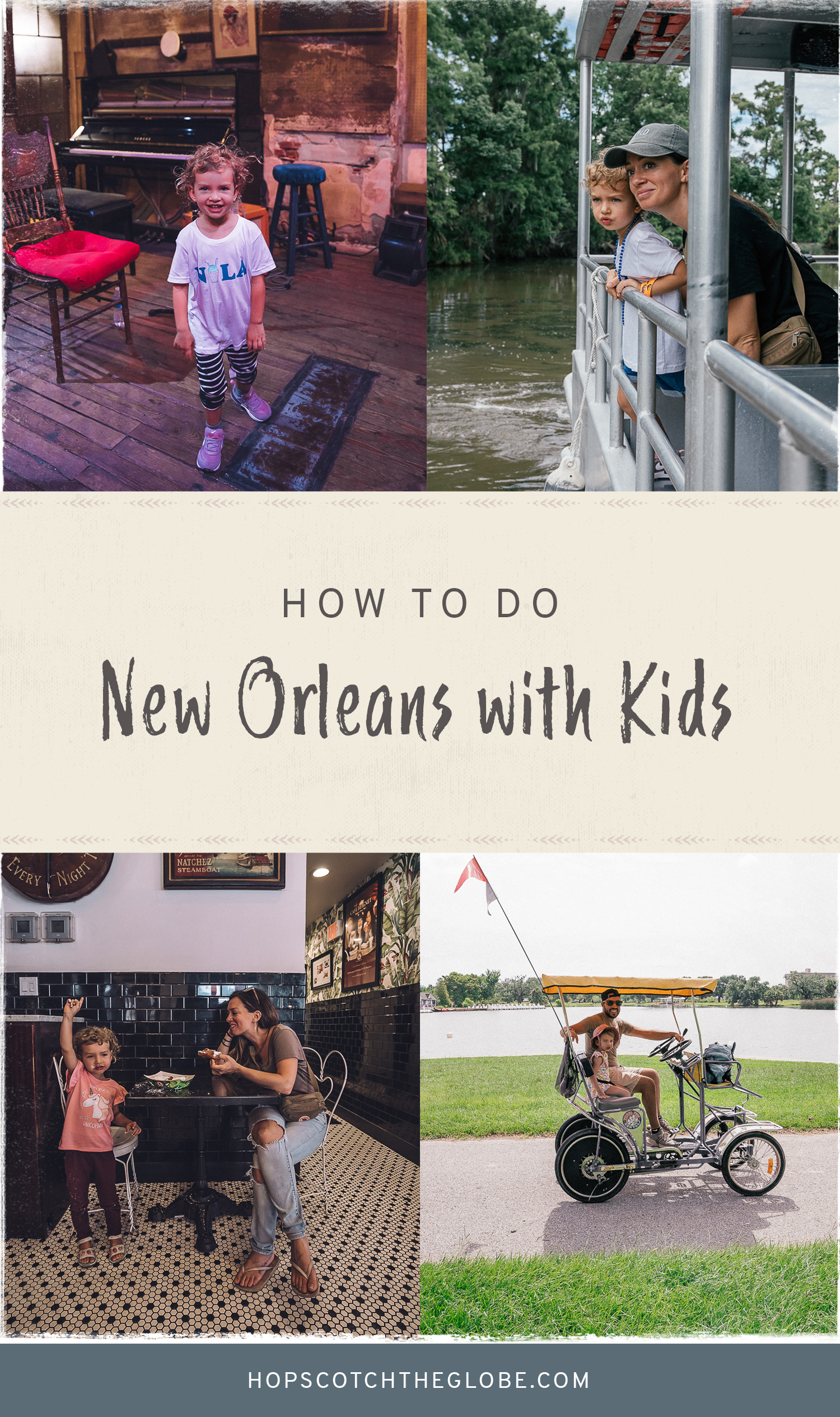 Getting to New Orleans
When it comes to flying, I suggest choosing a direct flight when traveling with small children. It makes the entire journey much more quick and enjoyable. Of course, if direct is not available, choose the next best option and be sure to read my tips for flying with toddler to get the best experience.
We flew direct from Toronto Pearson to Louis Armstrong New Orleans International Airport with Air Canada. The in-air journey took just under 3 hours. We left Toronto around breakfast and arrived in New Orleans by lunch.
---
Where to Stay in New Orleans
We stayed at the Roosevelt Hotel which is adjacent to the world famous French Quarter (one block from Bourbon St.). It's directly across the street from the Canal Streetcar Line which is a great way to get around the city. Rooms and suites with two or more beds start at $274 USD per night. The Roosevelt Hotel first opened its doors 125 years ago and offers a combination of luxury and history. The beds are very comfortable – and this is coming from Mrs. Princess and the Pea over here. We really enjoyed our stay here.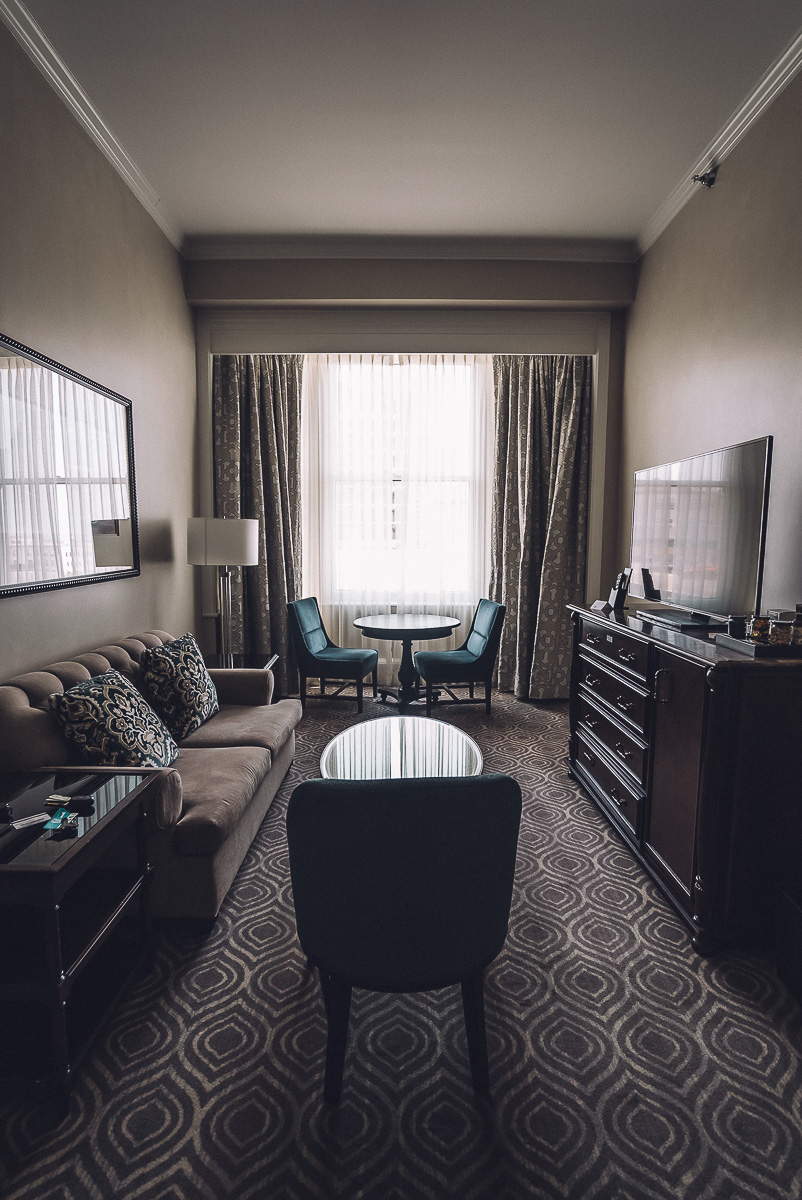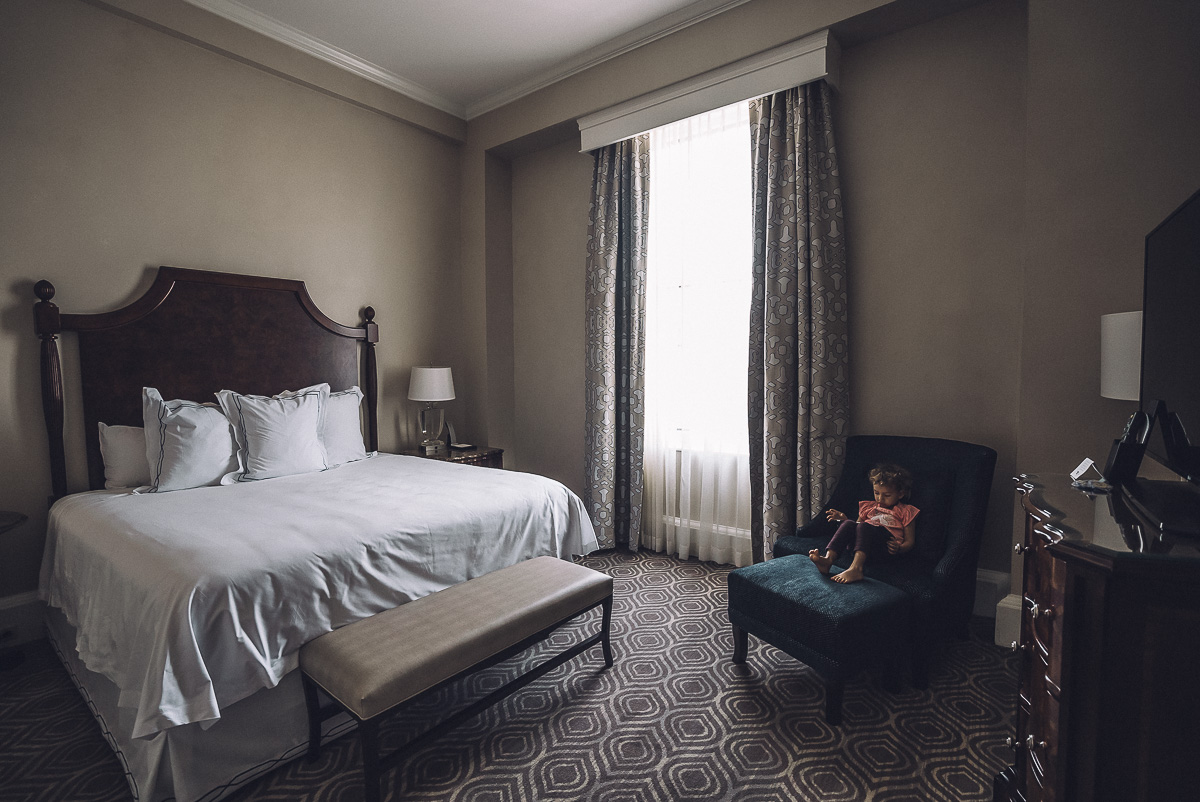 ---
What to Do on a New Orleans Vacation with Kids
When it comes to planning the perfect New Orleans Vacation with Kids, this list is sure to keep you busy for days. The variety of activities listed below combine fun with learning and rich culture for the whole family to enjoy.
Ride the St. Charles Avenue Streetcar
One of the best and affordable ways to get around any city is by public transportation. I definitely recommend taking a ride on the New Orleans streetcar. The experience is both convenient and charming. Our daughter enjoyed putting her ticket through the payment machine and watching the city pass by as we went along on our journey.
Rumbling down St. Charles and Carrollton avenues for more than 150 years, the St. Charles Streetcar has become a symbol of New Orleans. Riding this line will take you along plenty of restaurants, bars and shops you'll read about in this post.
Cool Fact: The St. Charles Streetcar is the oldest continuously operating streetcar line in the world!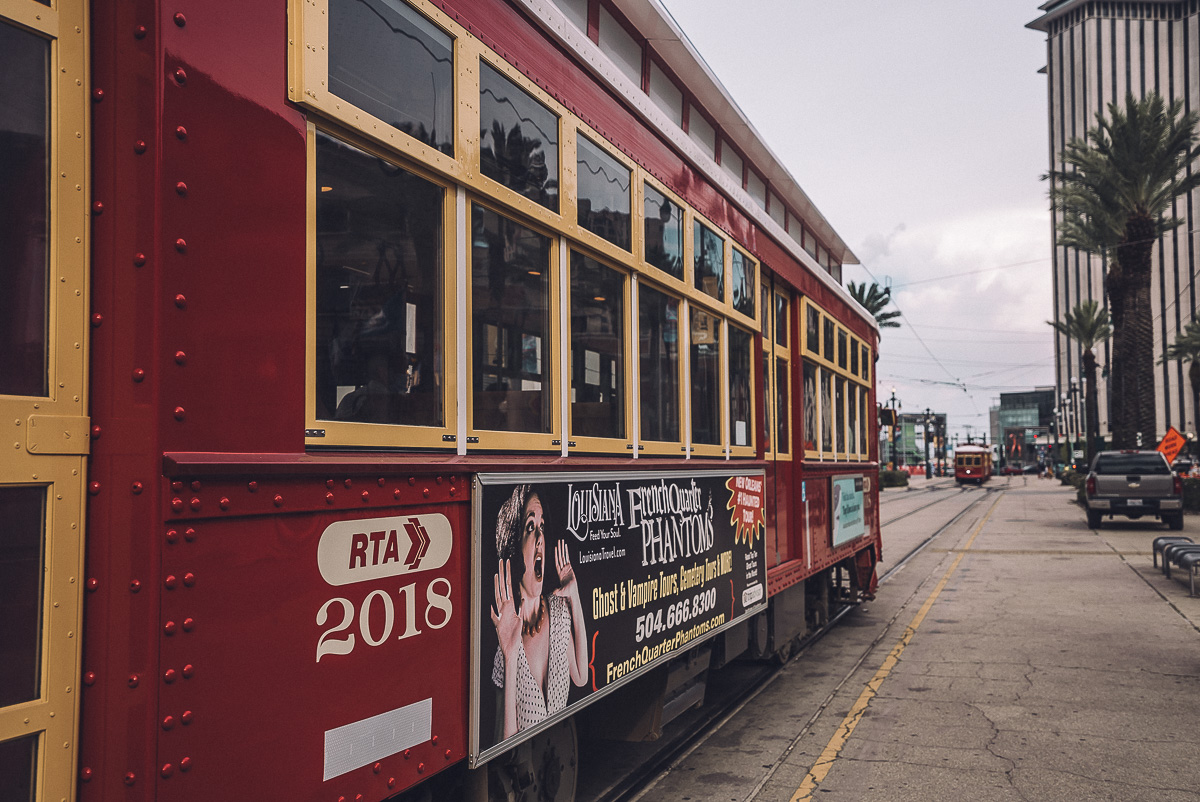 ---
French Quartour Spooky Ghost Tour
There are plenty of walking tours in New Orleans, but French Quartour Kids Tours are geared specifically to kids. There are a few walking tour options to choose from including a Ghost Hunt or Pirate Treasure Hunt for kids 4-7 years of age. We chose the 1.5 hour ghost tour.
Kai has so much fun exploring the French Quarter looking for signs of ghost activity and learning the history of New Orleans' past. She even got to peak into the most haunted building in all of New Orleans.
What makes this ghost hunt specific to kids is how interactive and playful the experience is. The tours are also during the day vs at night like the adult ghost tours. Each child is given a ghost metre that can detect changes in temperature. They are taught how to use their senses to feel if a ghost is close and even get to touch some "ectoplasm." There's a treasure hunt that leads the children to Pirate Ally where a "yummy" treasure awaits them.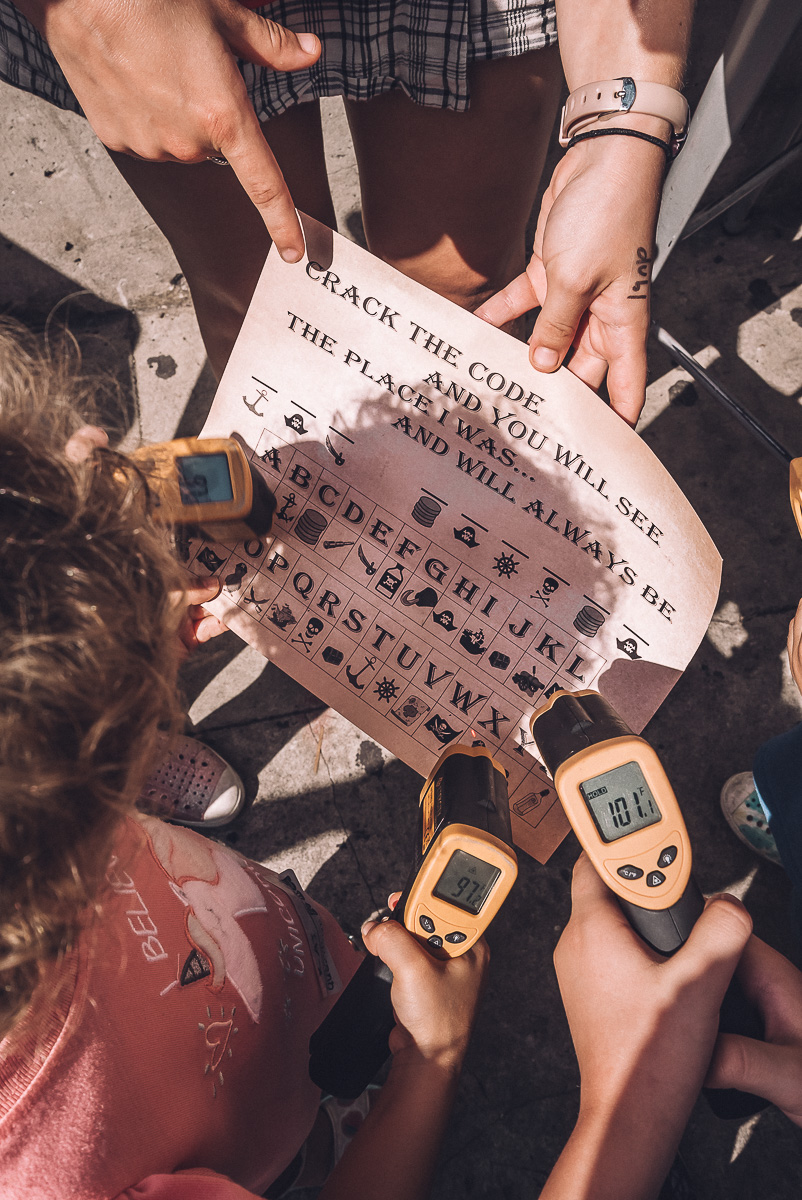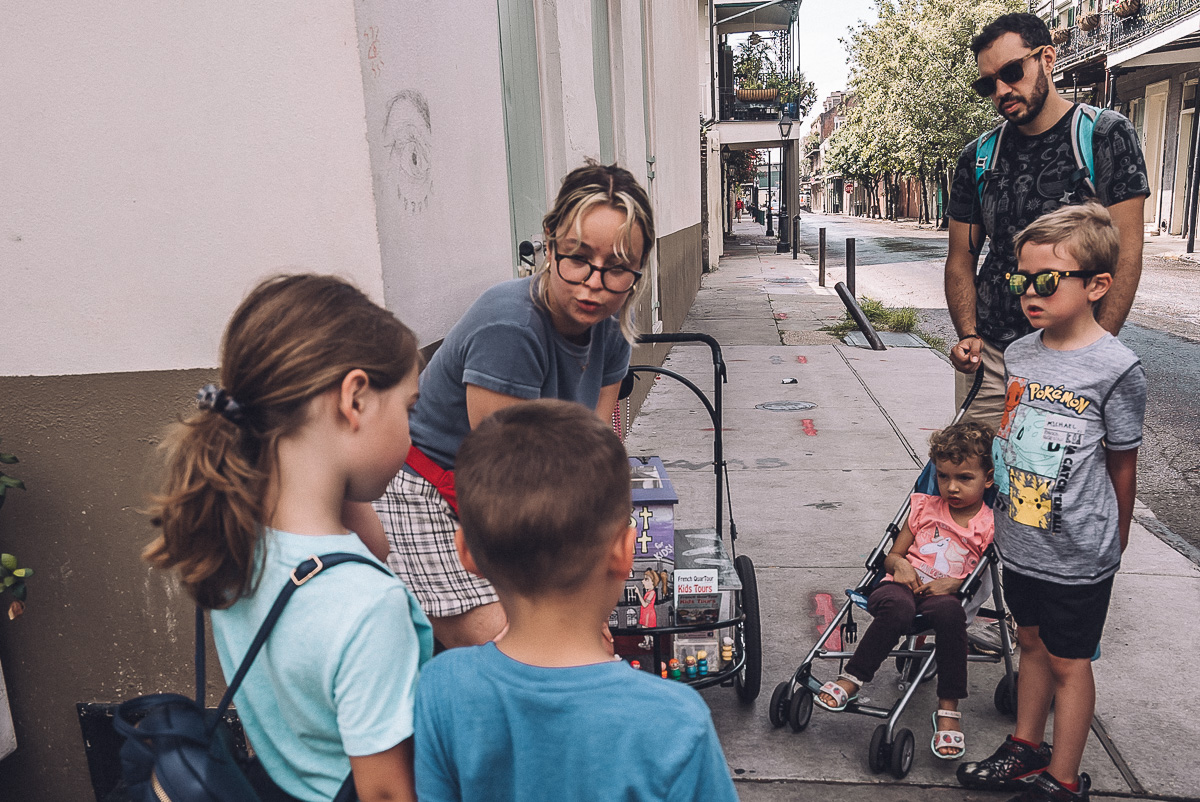 ---
Walk Around the French Quarter
My favourite way to explore any new place is by foot. When you're packing for your New Orleans vacation with kids, make sure to include good walking shoes and a stroller. Here are the places I recommend checking out as a family:
Jackson Square – This is where the St. Louis Cathedral is located. It's also a cool place to find the city's many fortune tellers, palm readers and artists who display their work here.
French Market – This is an open-air area that has shops, restaurants and live music. It's also home to the famous Café du Monde where you NEED to try a beignet – a deep-fried, powdery pastry that is very New Orleans. Then there's the bazaar and community flea market where you can find locally-made jewelry, clothing, cuisine and art.
New Orleans Pharmacy Museum – This historical building was once an apothecary but is now a museum that exhibits early medicines, superstitious cures & more.
Marie Laveau's House of Voodoo – Voodoo is a big part of New Orleans culture and Marie Laveau was a renowned Louisiana Creole practitioner of Voodoo, herbalist and midwife in the 1800s. Locals, tourists and the strangely curious have enjoyed this store since Marie Laveau first opened its doors in 1988. The shop offers a wide variety of items for those wanting to learn or practise spiritual and religious ceremonies.
Royal Street – This area has antique shops and boutiques, jewelry stores and yummy restaurants. This is where many tourists flock to when they want a real New Orleans experience.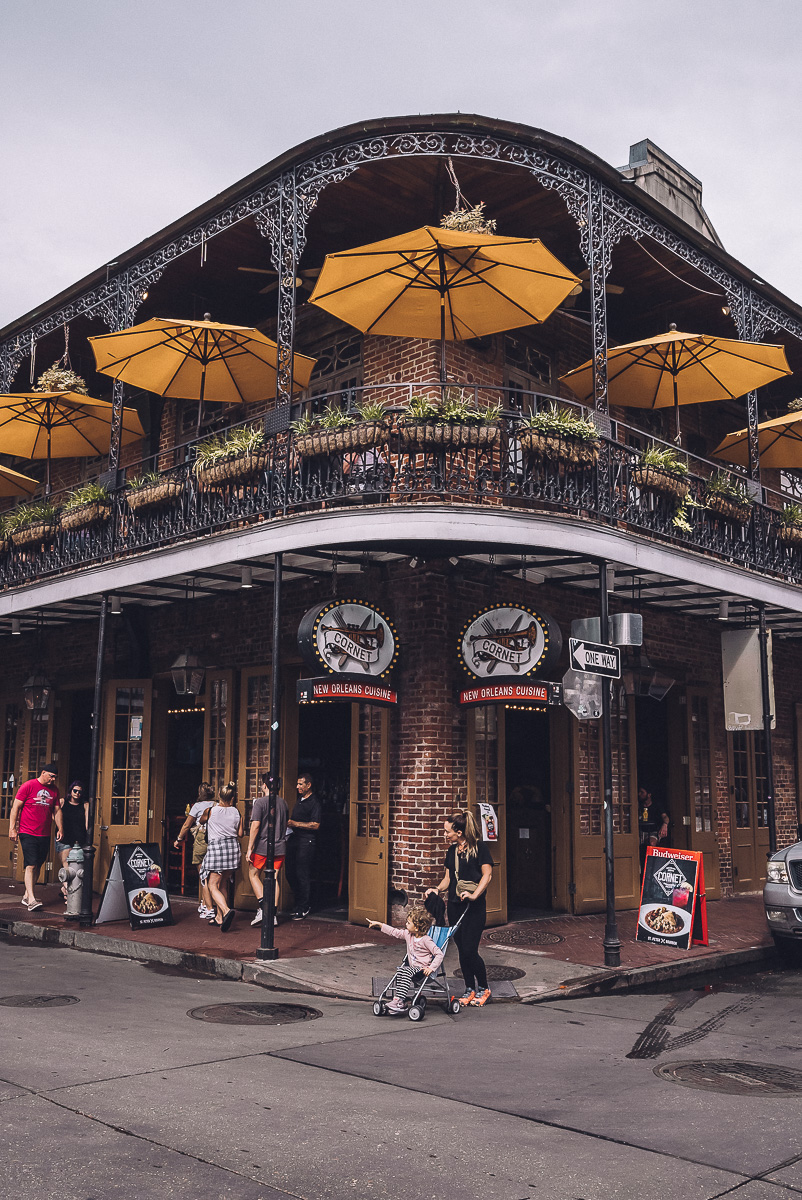 ---
Carriage Ride Through The French Quarter
If your child loves horses as much as ours, this tour will be a winner. It's also a great way to see and learn more about the city.
The tour departs from Jackson Square and explores the historic French Quarter and Marigny neighbourhoods. Not only will your driver control your horse, but they will share a lot of interesting facts about New Orleans. Kai enjoyed observing all the action happening throughout the city but most of all, she was interested anytime the horse stopped to take a poop or eat grass.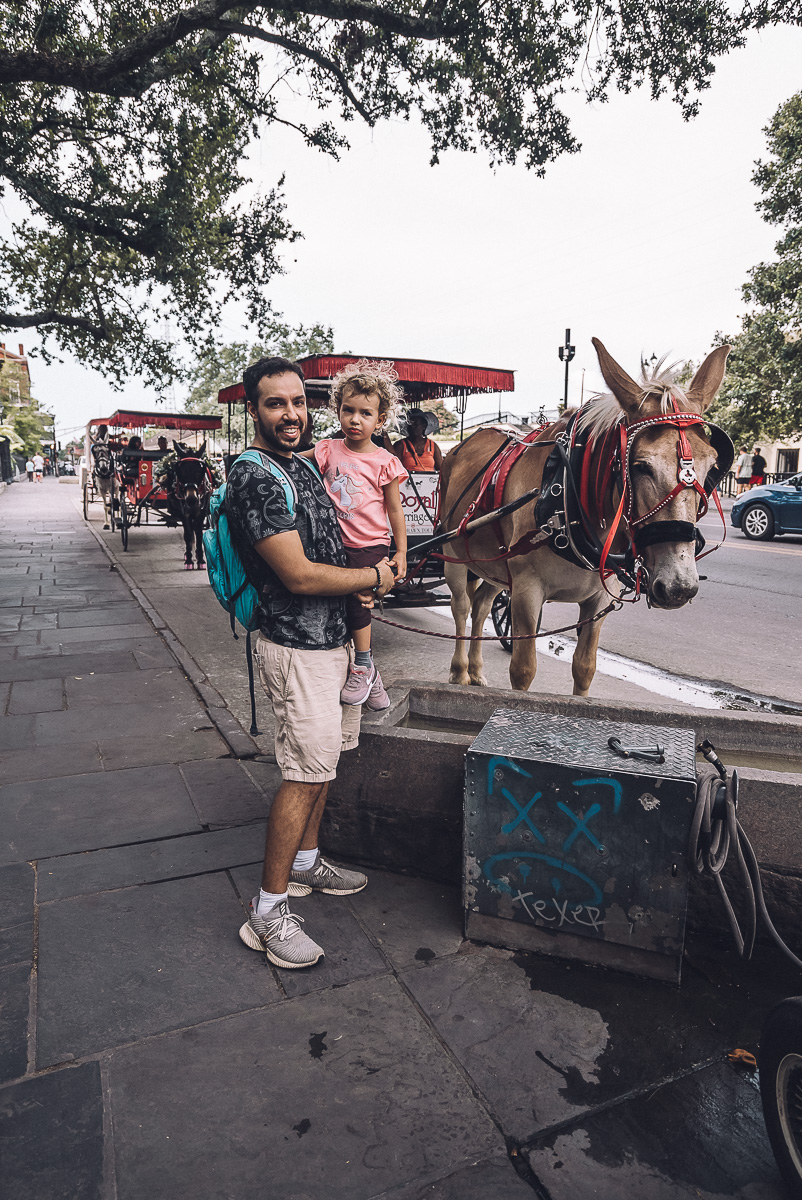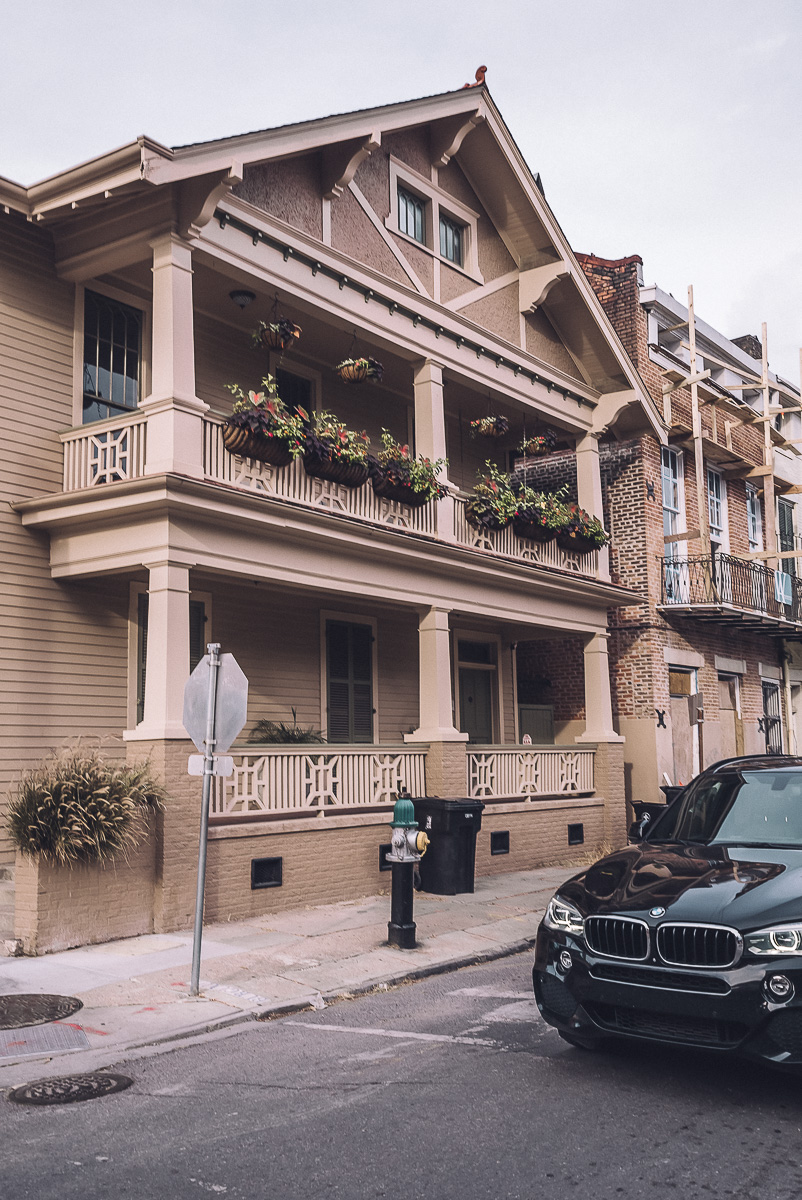 ---
Swamp & Bayou Tour
Did you really go to New Orleans if you didn't go on a swamp and bayou tour? It's like going to New Orleans and not indulging in 100+ biegnets. You just can't do such a thing!
We booked our tour with Grey Line Tours which includes a comfortable motorcoach ride to the boat from the Steamboat Natchez Dock (at Toulouse Street and the Mississippi River). Then it's off to the swamp to spot some gators. Native guides will reveal the mysteries of the swamps and bayous while you and your family observe the nesting grounds of alligators, egrets, raccoons, nutria, and many species of snakes. Our guide even shared the story of how one massive gator took a big chunk of his neck…but he still loves them just the same.
---
Preservation Hall Show
Another MUST when you visit New Orleans is seeing a show at Preservation Hall. Located in the heart of the French Quarter on St. Peter Street, the Preservation Hall venue presents intimate, acoustic New Orleans Jazz concerts on 350 nights of the year.
The story of Preservation Hall dates back to the 1950s when it opened as a small art gallery, then became a place for musicians to perform "rehearsal sessions." These sessions featured living legends of New Orleans Jazz – George Lewis, Punch Miller, Sweet EmmaBarrett, Billie and De De Pierce, The Humphrey Brothers, and dozens more. These jazz sessions became more frequent as the style of music become more popular. Eventually, the owner moved the art gallery next door and performances were then held nightly in the space in exchange for donations. As popularity continued to rise, the once art gallery quickly turned into what we know today as Preservation Hall.
I really loved how intimate and cultural the experience was. But, what made it even more special, was to live the experience through the eyes of our daughter. Kai loves music. Getting to hear all of these instruments live was captivating for her. Concerts are 45 minutes long, which we found the perfect length for our daughter to be able to enjoy herself and not feel restless.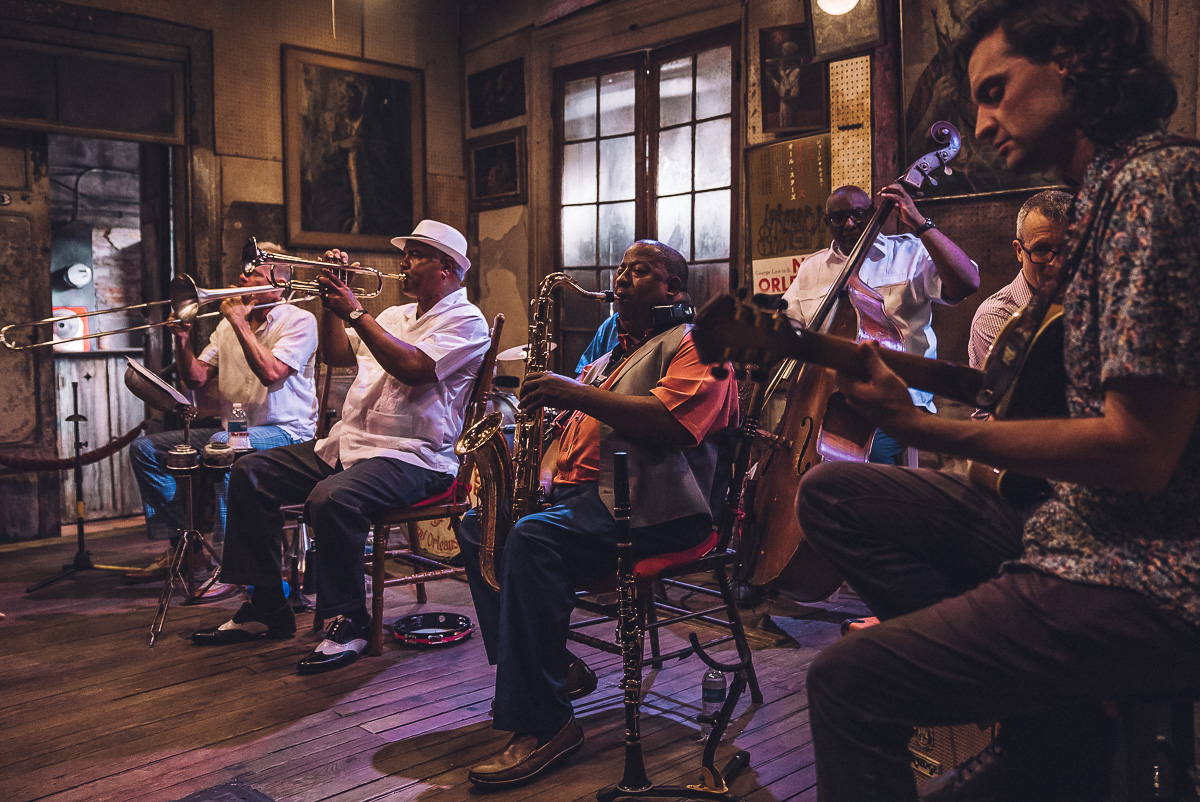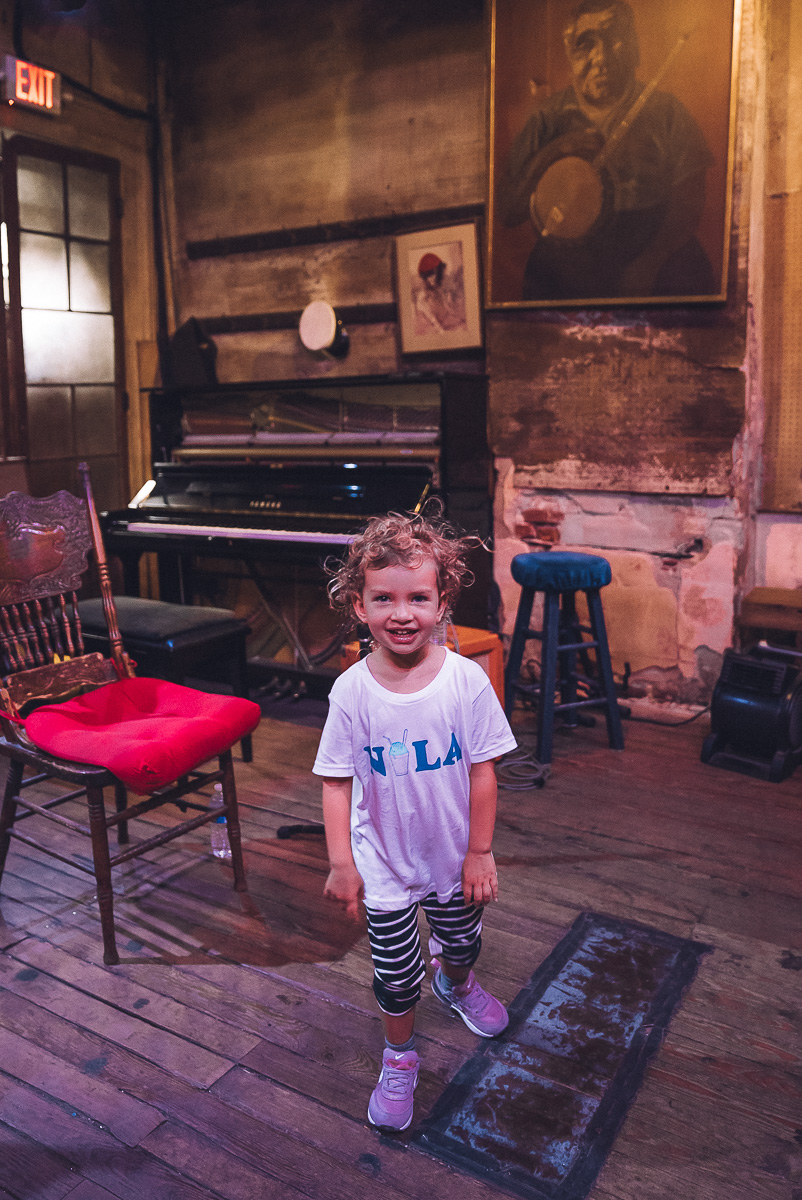 ---
Ride Swan Boats and Bikes At City Park Big Lake
If you want to spend some time away from the hustle and bustle of the city centre, head to City Park for the afternoon. The park is a 45 minute street car ride from the Roosevalt Hotel and is a great spot to take a walk, rent a bike, take a swan boat ride and have a picnic. Your little one might make some friends with a few ducks too.
---
Tour Sculpture Gardens at City Park
The Sculpture Garden is located in City Park. Along with pines, magnolias and live oaks are more than 90 massive sculptures scattered throughout the garden. There's also the most beautiful tree that Siya couldn't resist climbing. He's always been quite the monkey.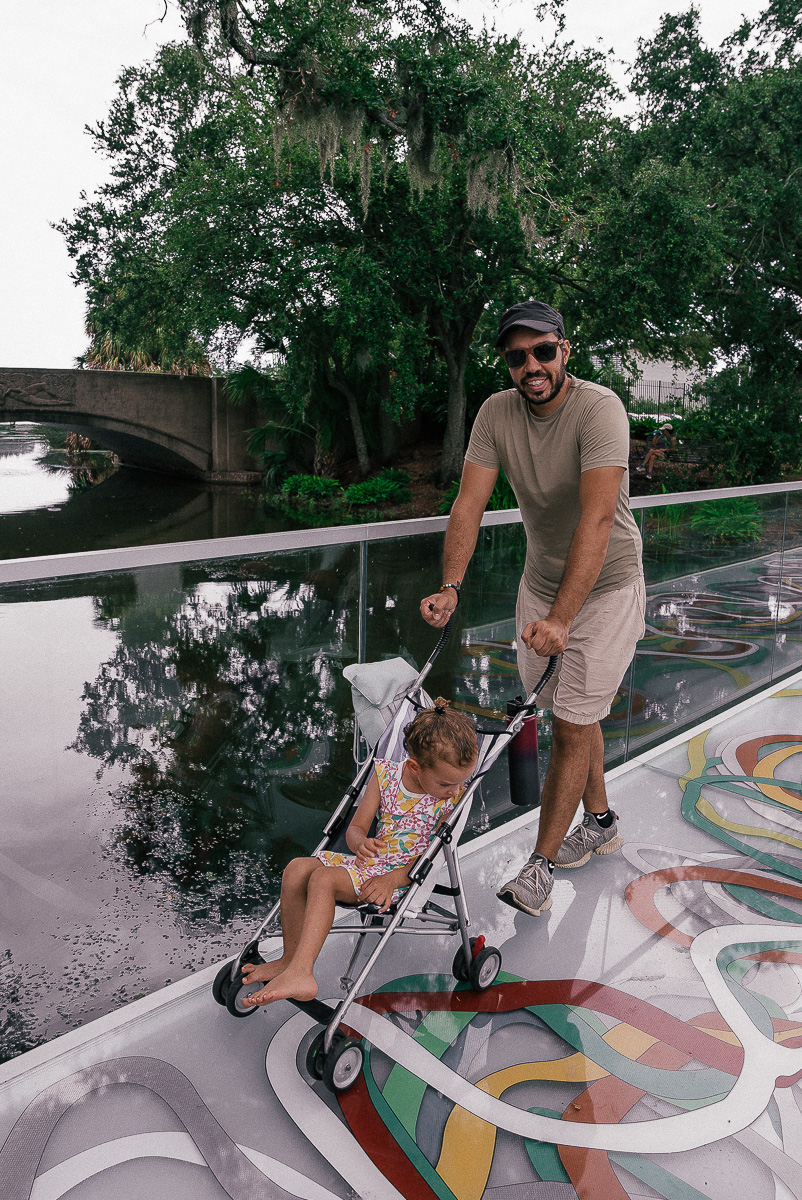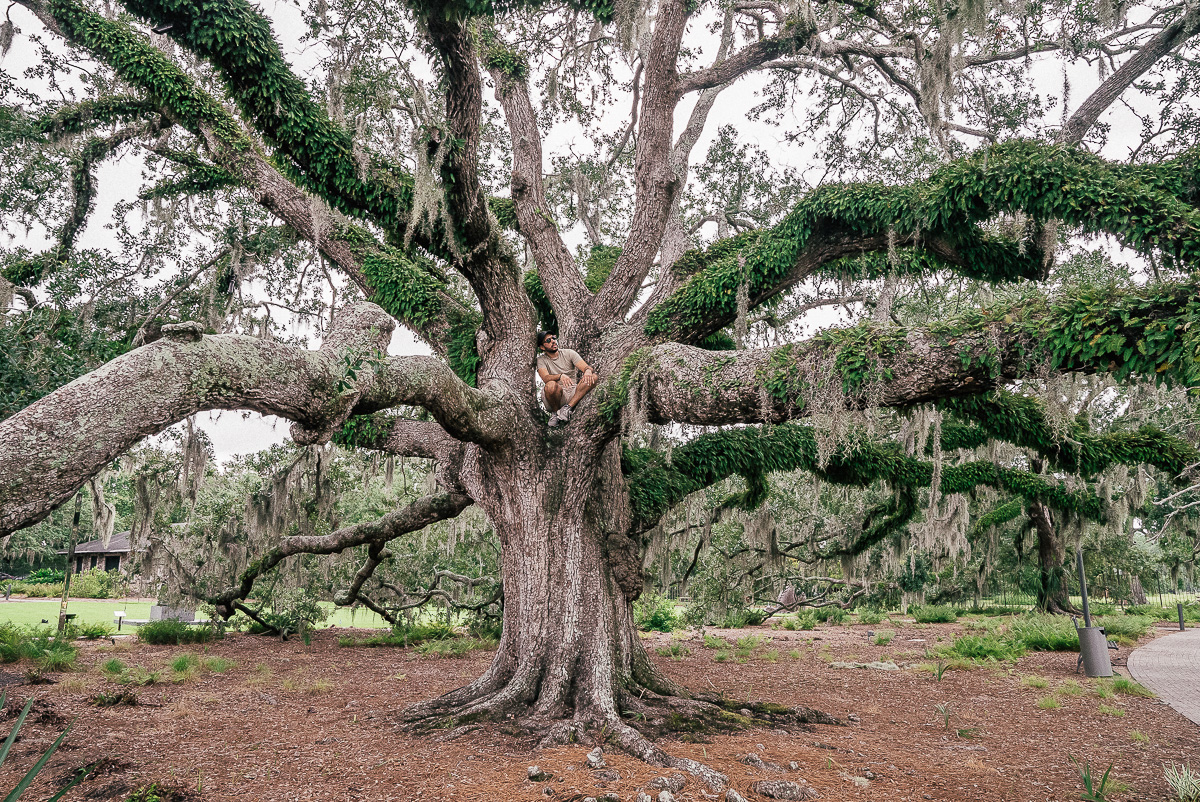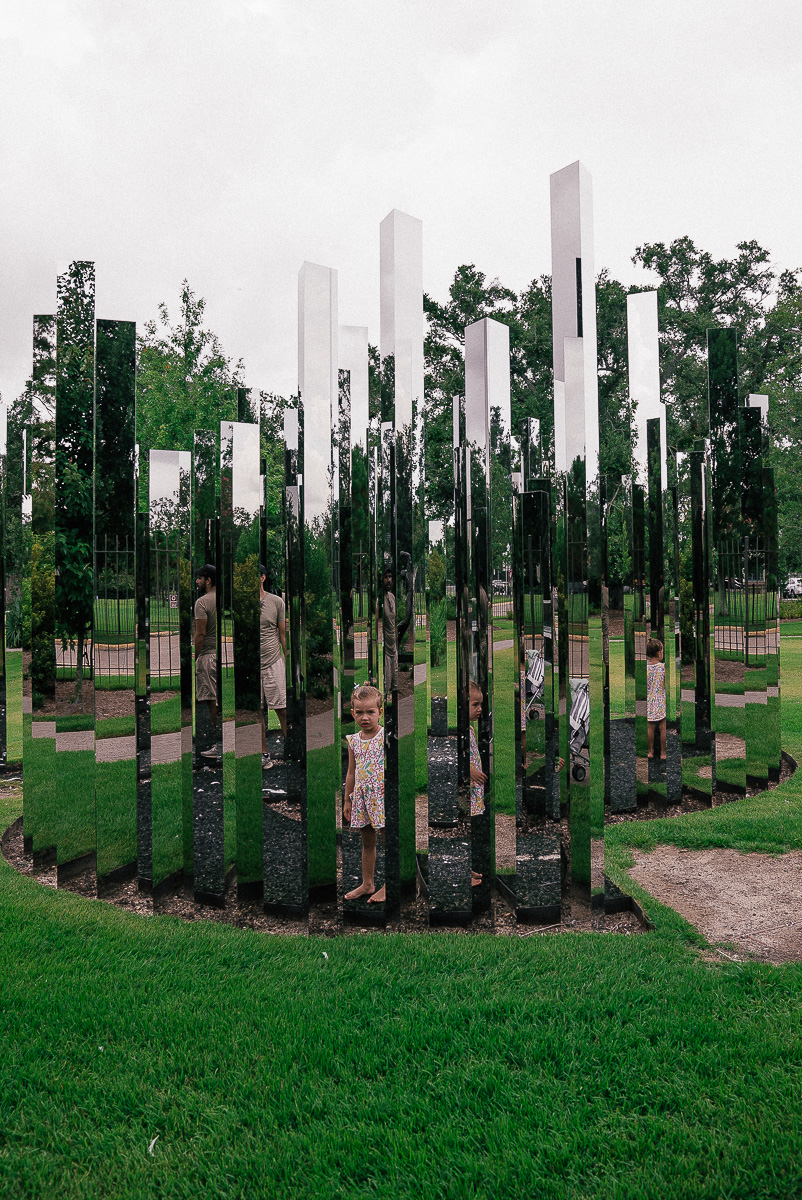 ---
Louisiana Children's Museum
Another great spot to include on your New Orleans vacation with kids is the Louisiana Children's Museum, also in City Park. This is the second Children's Museum we've been to and this one did not disappoint. It's such a great place to take your kids when the weather isn't holding up for you. It's designed to be a social, cultural and learning resource for children and families that's interactive and fun! There are tons of hands-on ways to learn literacy, health and wellness, arts and culture, environmental education and STEM (science, technology, engineering, and mathematics).
---
JAM NOLA
JAMNOLA stands for Joy, Art & Music – New Orleans. JAMNOLA is New Orleans' first experiential pop-up that takes audiences of all ages on a topsy-turvy stroll through the cultural gems that make the city so special. Now, I'm sure Kai and Siya would have loved to join me on this experience, but all of the excitement from the pervious days resulted in them passing out for a 5 hour nap. So, I went alone, and it was fabulous. This mama LOVES solo adventures!
JAMNOLA has 12 exhibits celebrating the art, music, food and theatrics of New Orleans through the eyes of 20+ local artists. My favourite part of the exhibit was dressing up in carnival attire. Once again…did you really go to New Orleans if you didn't put on a set of Mardi Gras beads? I think not.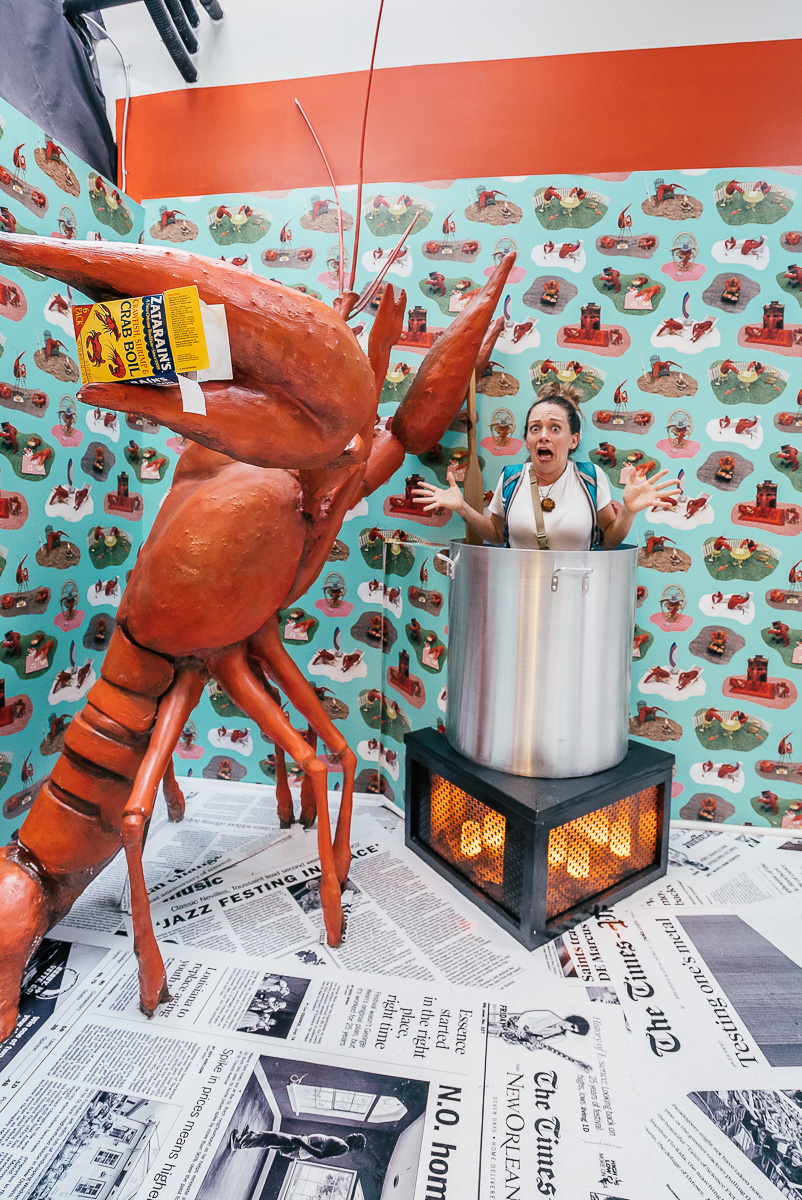 ---
Audubon Aquarium of the Americas
Siya and Kai took a quick 15 minute walk from the French Quarter and they were under the sea, coming face-to-face with penguins and high-fiving stingrays. This elaborate Audubon Aquarium of the Americas is rated one of the top in the US and I can see why. I like that it's located along the Mississippi River and a section of the aquarium is dedicated to showing local fish from the area…some of which you can sample at the many restaurants in town. But they're here to learn, not find dinner.
Each exhibit dives into a different aquatic environment around the globe, showing the diversity of fish, mammals, birds, reptiles, invertebrates and plants that call these waters home. Siya's personal favourite was the Great Maya Reef as it felt like stepping into a stone Mayan temple with massive fishtanks in the walls. There was an underwater VR experience he wanted to try, but Kai was too young (minimum age 7) and Siya couldn't have tried it without her. Entrance for adults is around $30 and for children $20, it fluctuates in price a few dollars each day, which I think is strange, but regardless, it's well priced for a few hours of wonder and amusement with your kid.
---
Where to Eat on Your New Orleans Vacation with Kids
Gumbo, po-boys, jambalaya, red beans and rice, étouffée, muffulettas, oysters, turtle soup, beignets, chicory coffee, bananas foster, pralines and king cakes – just some of the food you have to try while in NOLA! Many people travel to New Orleans for the food alone and after indulging ourselves in the flavors of the city, we understand why.
As a parent and a traveler, I love exposing my daughter to the different flavours of the world. Since she started eating solids, we've offered her a variety of foods and at 3-years old, her palette is very impressive. She loves to try new foods when we travel and New Orleans was no exception. Here are the top places we ate:
Café Beignet
Beignet's are the official doughnut of Louisiana and Café Beignet serves them fresh and hot! Café Beignet was established in 1990 by a small group of close friends and now has four locations throughout the city. Along with the beignets, they serve coffee AND chicory coffee – but really you come here for the crispy-on-the-outside-soft and-gooey-on-the-inside-beignets. At least, we did and MMM MMM they were good. Yes, I'm sensitive to gluten but I made an exception, and it was worth it.
What we ate: Beignets, beignets and more beignets!
Café Beignet Locations: Canal Street, Decatur Street, Bourbon Street and Royal Street.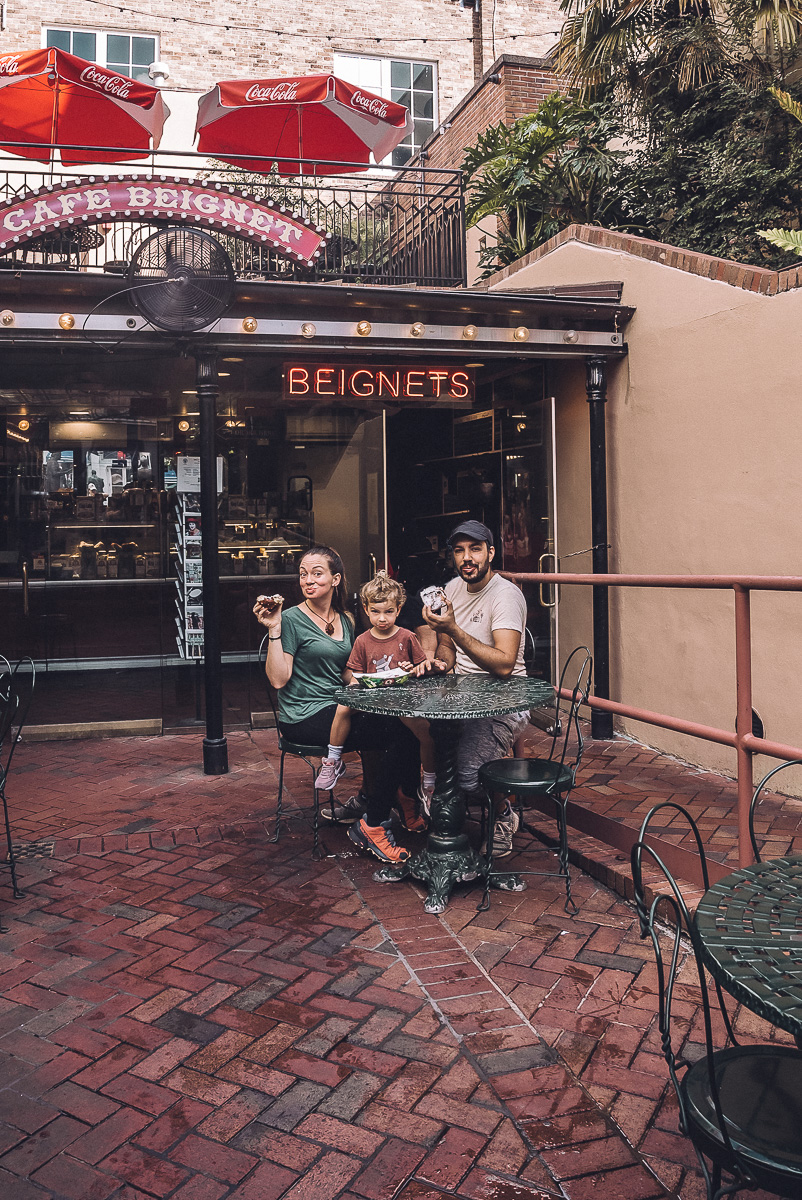 ---
Sylvain Restaurant
This place was yummy! Each one of us highly enjoyed our meals and were sad to take that last bite…
Sylvain is a Southern bistro in the French Quarter with the most delicious in-house ginger beer I've ever had. We chose to sit in the outside courtyard which has a more quiet and laid-back atmosphere where inside was fairly busy and loud.
What we ate: Chilled Roasted Carrots, Roasted Squash, Sylvain Burger and Ora King Salmon
Location: 625 Chartres Street, French Quarter
---
Red Fish Grill
Red Fish Grill has been named one of the nation's "Best Seafood Restaurants" by Travel + Leisure and readers of USA Today. We'd agree that it is good, but it was the dessert that took the cake for us! Hands down, the double chocolate bread pudding is what we'd keep coming back for.
What we ate: Crispy Brussel Sprouts, Heirloom Tomato & Watermelon Salad, Blackened Tuna, Wood Grilled Gulf Fish
Location: 625 Chartres Street, French Quarter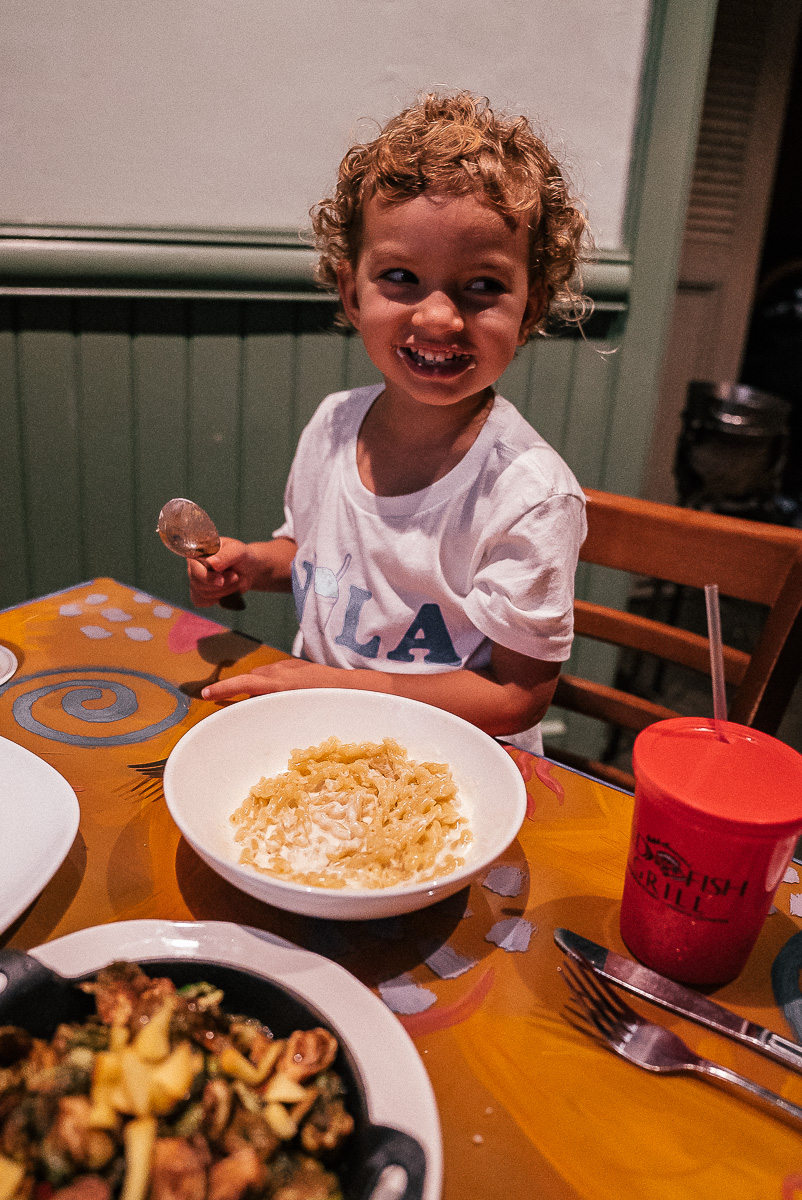 ---
The Original Cafe Du Monde
This is one of the most iconic landmarks for travelers that visit New Orleans. The Original Café Du Monde was established in 1862 and serves dark roasted coffee and chicory, beignets and fresh squeezed orange juice. It's open 24 hours a day, seven days a week. The only time the café is closed is Christmas Day and when a hurricane passes too close to the city.
What we ate: Beignets and coffee.
Location: The Original is located in the French Market on Decatur Street. There are other locations in the city as well as other parts of Louisiana, but none are as iconic as this one.
---
Acorn
What we've found through our travel through the United States is that restaurants located within amusement parks, event spaces, etc, don't typically offer the healthiest food options. Acorn is the exact opposite. This restaurant, located in the Louisiana Children's Museum, was a delicious surprise.
Acorn has a wonderful selection for children and parents to choose from (even for gluten free vegans). They can accommodate allergies and sensitivities as well. I love that they don't just offer pizza, hamburgers and fries, but many healthy options for kids to select from. Everything we at was delicious…including the coffee. Trust me when I say it's good coffee because I am QUITE the coffee snob. The selection and quality of the food might be due to the fact that the chef's who run Acorn also are the chefs at Dickie Brennan & Co.'s award-winning French Quarter restaurants.
What we ate: Avocado Toast, BBQ Cauliflower Wings, Crispy Brussel Sprouts, Roasted Red Pepper Cauliflower Hummus, Pizza….and coffee (which was delicious…and I'm a coffee snob).
Location: Inside the Children's Museum at 15 Henry Thomas Drive, New Orleans.
---
Pêche
Ready for a bold statement? I had my favourite meal in New Orleans at Pêche.
There's a reason why Pêche is always busy and has won multiple awards including Best New Restaurants in America and continuously ranks in the Top 10 Best Restaurants in New Orleans! Inspired by the cooking of South America, Spain, and the Gulf Coast, the food here is a combination of many flavors and pairings I've never had before. Definitely make reservations here ahead of time or you most likely won't get a seat.
What we ate: Crispy Okra with Cilantro, Fish Sticks with Urban South Beer Batter, Mixed Greens with Preserved Lemon and Pepitas, Brabant Potatoes and Grilled Zucchini with Capers and Feta.
Location: 800 Magazine Street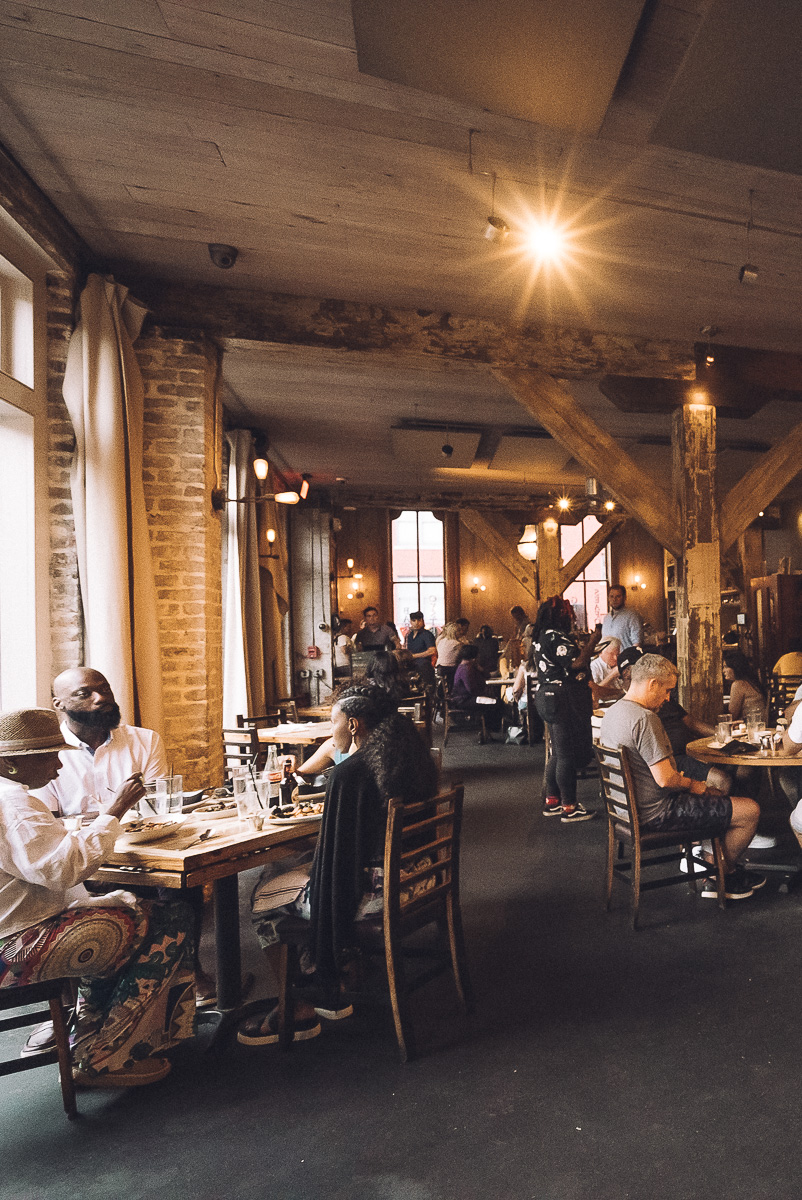 Other restaurants we were recommended but didn't get a chance to visit: Ruby Slipper Cafe, Killer Poboys, Napoleon House and Superior Seafood and Oyster Bar.
---
As you can see, there's plenty to do on your New Orleans vacation with kids. Me, Siya and Kai had such a great time together. Every moment during our 5-day adventure was packed with something fun to do or delicious to eat. So, if you're trying to decide on a destination for your next family vacation, New Orleans is definitely a great choice. It's full of rich culture, liveliness, quirkiness and everything to make your stay memorable for the whole family.
Be sure to watch our New Orleans with a Family video for more inspiration, tips and advice.