During an Amazing Race style competition that took place in Toronto held by Intrepid travel, Siya and I won a tour in Northern Morocco! Our adventure started in Casablanca where spend a couple of days before taking a one hour train to Rabat, where we headed out for an afternoon of sightseeing before taking another two and a half hour train right to Meknes.
In Rabat, we explored the whitewashed Kasbah filled with shops selling everything from shoes and traditional clothing to olives and cow testicles. I managed not to buy anything, as tempting as it all looked. Okay, okay, I bought some olives and oh, how delicious they were. After lunch, we headed to Meknes, and from there we took a forty-five minute taxi ride to Moulay Idriss.
Moulay Idriss was absolutely stunning.  It is a small and peaceful pilgrimage village with tiny winding streets and gorgeous sunset views. There are many kids playing outside, which is really nice to see.  Instead of  sitting inside the house playing video games or watching television, they were playing tag and marbles in the streets.  The group spent the night in a home stay with a really nice family who made wonderful Moroccan food and had many cute turtles wandering around the place.  Moulay Idriss definitely gave a more cultural experience and a break a way from the hustle and bustle that is Casablanca and some of the other cities we visited.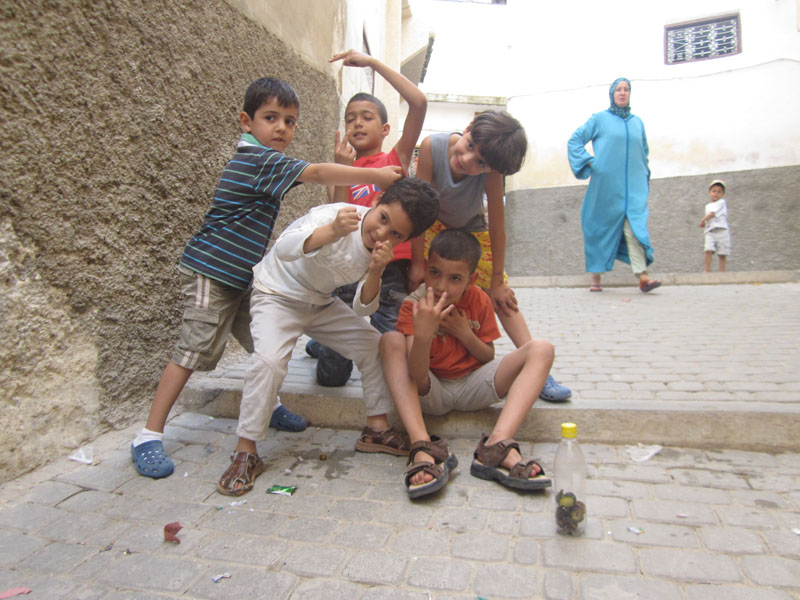 On the third day of the tour, we visited Morocco's most impressive Roman ruins near Volubilis. Since I have a very short attention span when it comes to tours of Ruins and museums, I found myself more interested in a large stork nest. There was a large stork feeding its babies and doing a weird stork dance that consists of throwing its head back and snapping its beak together. It was quite amusing. However, my attentions snapped back to the guide when we came across a vomitorium which the Romans would use to throw up their food so they could eat continuously. I guess back then, bulimia wasn't so much of a taboo.
After the tour of the ruins, we headed back to Meknes where we had a half day tour of the city and tried a camel burger which I didn't find very appetizing.  It could be the fact that I am a vegetarian (but I will try anything once if it is a cultural experience) and find meat quite unappealing.  The others in the group however, found the camel burger to be very tasty.
Next we took an hour train ride to the city of Fes where we spent a couple of days.  Fes is considered the spiritual heart of Morocco and the worlds best preserved medieval cities.  Here we had a local guide show us the main city attractions such as the gates of the Royal Palace, old University of Theology, ceramic factory, leather factory, Naturopathic Pharmacy and the chaotic but charming Medina of Fes. In the medina, I had one of the best meals I've ever had.  It wasn't the food that did it, but it was 68 year-old man who owned of the restaurant that made the experience.  I've never met a man his age, who was as charasmatic, friendly and so full of life.  The first thing he did when I entered the restaurant was take me by the hand and pull me into the kitchen where he spoon fed me some amazing food.  Then he picked me up and kissed me on both cheeks, put me back in my seat and did a walking handstand across the restaurant.  He was definitely the definition of energetic.  If you are ever visiting the medina in Fes, ask for Restaurant Famille Berrada.  Apparently everyone in town knows the owner Mr. Berrada Ali Gerant, and will be able to take you to the restaurant.
On day five, we traveled four hours by bus to a small town called Chefchaouen where we spent a couple of days.  The town has a very laid back atmosphere and all of the buildings are white and  blue.  The town is full of good shops and restaurants and is a great place to visit if you want  a breka away from hectic city life and to sit back and relax.  If you are feeling up for it, there are half-day  hikes in the nearby Rif mountains with a local guide that costs $30 CAD no matter how large the group.
On day seven, we took a local bus for four hours to Tangier.  Here we had a few hours to explore the promenade and visit the lookout where you can see the beautiful Mediteranean sea and southern Spain! Besides the view, I wasn't too blown away by Tangier.  The city gave me a slightly uncomfortable feeling as I walked through the streets.  In fact, I was very happy to leave as I was not given a break from harassment from the men and even the kids.
In the evening, we took an overnight train to Marakesh that took eleven hours.  The train ride was very enjoyable.  The bunks were comfortable and clean and the movement of the train gave me a peaceful sleep.  When we arrived in Marakesh the next day, we explored the Medina of Marakesh which is a must a visit for anyone coming to Morocco.  It is pure madness, but in a very good way.  There is so much going on from snake charmers to acrobatics to fortune tellers, and draws in a very large crowd every day.  I wasn't very happy about the men with caged monkeys everywhere or the fact that I learned snake charmers sow the mouths shut of the snake so they can't bite or even eat! Besides the cultural entertainment that I don't entirely agree with, I had a good time exploring the city.  We spent the last night of our tour at a local bar where we listened to bad karaoke and drank decent beer.  I also learned that when you first order a beer at a bar you have to order two, it's just custom.  It's also custom that every drink or food dish comes with olives and bread, even when you are at the bar.
Overall, the nine day trip throughout Northern Morocco was very enjoyable.  Morocco is a beautiful country with friendly people, delicious food, gorgeous landscapes and interesting culture, but what really made the trip extra special was our awesome tour leader Mbarek Ahachach.  Mbarek was the best tour leader I've ever had.  He is very patient, kind, friendly, informative and fun.  Thank you Mbarek and Intrepid for making my time in Morocco so wonderful.