When I think back to my favorite travel memories, many of them involve exploring a new place on two wheels. I've discovered new cities in Thailand, Indonesia, India and Canada by motorbike. A perfect afternoon for me would be riding a bicycle around rice fields in Vietnam or through pastry scented streets in Italy. The sensational feeling of the wind blowing through my hair with sunshine on my face while weaving around mountains and ocean views…it makes me feel so alive, so free! Can you relate?
Riding an electric Rad Power Bike is the best of the two-wheeled world… faster than a bicycle, quieter than a motorbike and without the stinky emissions. I believe you're going to love them as much as we do.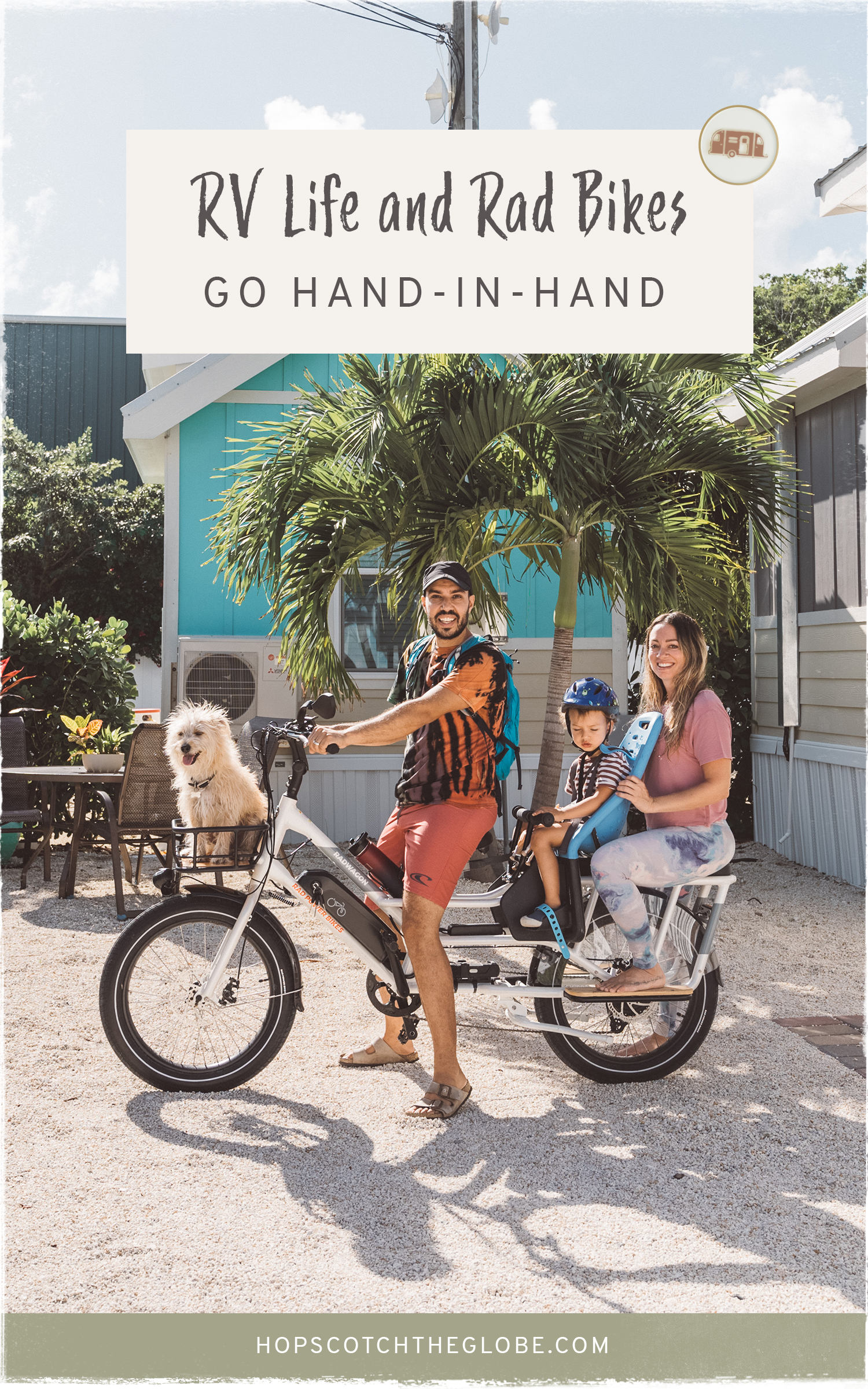 RV Life and Electric Bikes Go Hand-in-Hand
Me, my husband, 3-year-old daughter and adorable pup live and travel full-time in our 1976 renovated Airstream. Over the past year, we've been exploring the United States. A few months ago, we added two Rad Power Bikes to the fam and it's taken funploration (new word I just invented) to a whole other level. Knowing we are using a zero-emission vehicle to get us around is important to us. We've been using our electric bikes daily for grocery runs, getting to the beach, exploring new neighbourhoods, getting to excursions, laundry days, nightly outings or just going for RV park Disney sing-a-long rides with Kai. I'm actually writing this post from a café in Key Largo, Florida, about 3 miles away from our RV Park, and you can guess how I got here. I'm now convinced that living the RV life and electric bikes go hand-in-hand.
Why Go With a Rad Bike?
There are many electric bikes out there these days, and I've tested a handful of them. In the past few years, several electric bike companies have reached out for partnership opportunities. None of them caught our eye the way Rad Bikes did. At first glance, you can tell that Rad Bikes are top quality. They are beautifully built with their unique and well thought out design. They look like they're made to last, and after testing them off-road…I can say they're well built. Each bike comes with a 750 W motor, high-capacity battery, extra wide tires, throttle and pedal-assist modes and comfortable one-size-fits-all seating. There are also plenty of add-on accessory and storage options too. No wonder Rad Bikes have won numerous awards and have investors putting in millions into the company. In fact, Rad Bikes is the most funded electric bike company in the world!
Who doesn't love a good origin story?
The founder, Mike Radenbaugh, built his first electric bike in his garage at the age of 15. Since then, he's been on a mission to get as many people on electric bikes as possible, for the positive impact it has on people's lives and the environment.
We've been having SO much fun with our bikes. When we make plans to go somewhere, we see if it's possible to take our bikes rather than our truck. Generally, the battery gives the bikes an expected range between 25-45 miles on a single charge depending on the level of pedal assist, terrain, and rider size. It takes between 3-7 hours to fully charge an empty battery.
Which Rad Bike Did We Choose?
Rad Bikes mission is to offer electric bikes that are built for everything and priced for everyone. Right now, they have many different kinds of high-quality bikes for city riding, off-roading, commuting and even transporting cargo. Siya and I chose two Rad Bikes – the Rad Runner Plus and Rad Wagon.
The Rad Runner Plus can fit two adults very comfortably. Siya selected this one for its rugged good looks. Big off-road tires and front suspension opens the opportunity for trail riding. Our daughter constantly asks to go on rides so thankfully we can easily swap the second passenger seat for a child seat. This bike is also great for solo travel – something that's important to both Siya and I. On days when parenthood and living in 200 square feet is kicking our butt, a 20-minute ride on our Rad Runner Plus gives us back our sanity. Sorry kiddo… mom and dad need a solo-cruise.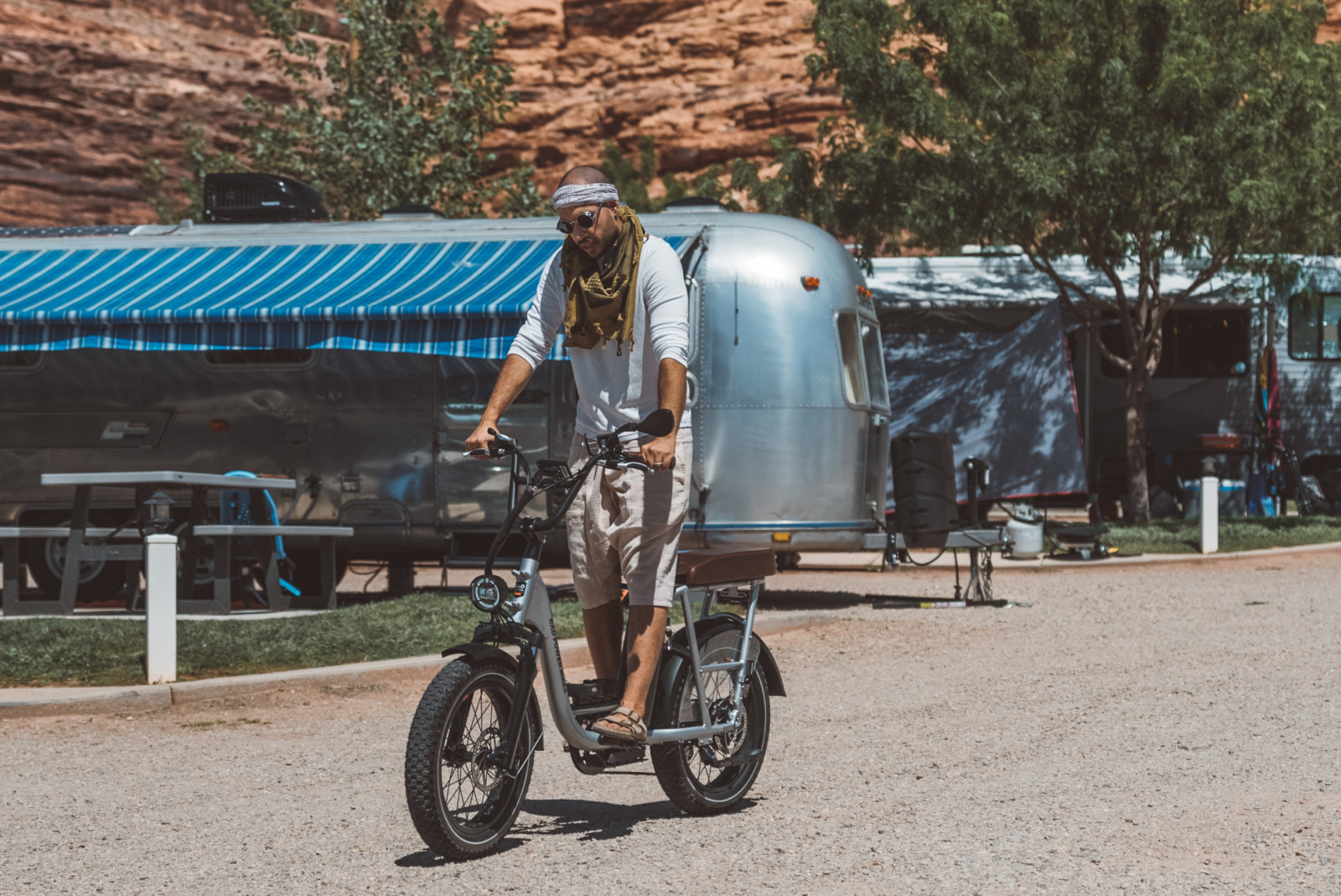 The Rad Wagon is the ultimate cargo bike. Very fitting for my lifestyle these days with a dog, 3-year-old and the hubby. We kind of come as a whole package and the Rad Wagon comfortably fits all of us – dog in the front, dad at the handlebars, next is our daughter in her child seat and mama at the back. If you're a parent with two kids, the Rad Wagon can fit not one, but two child seats. As your child grows, there's a caboose attachment which allows your pre-teen to sit comfortably and safely on the rear deck.
When selecting the Rad Bike that would best suit our lifestyle, we considered what bikes would also be perfect for our eco-community in Costa Rica. I've had ideas of being the community milk lady – selling all kinds of plant-based milks to each household. There will be plenty of neighborhood parties and the Rad Wagon will be ideal for transporting over food, speakers, instruments and other party favors. Since we will be living in a food forest, the Rad Wagon will be the perfect way to carry all the fruit back to our house which we'll collect from around the community.
Whether you live on the road, in countryside house or an apartment in the city, Rad Bikes has an electric bike to perfectly suit your lifestyle.
It's All About the Accessories
It's time to pimp your ride. We kind of went a little crazy with our accessories, and we aren't sorry about it. Each one of them has already come in handy multiple times and has upped our overall Rad Bike experience. Here's a list of the accessories we added to our Rad Bikes:
Thule Yepp Maxi Child Seat
Running Boards
Deck Hands
Deckpad
Passenger Pegs
Deckpad
ABUS Bordo Granit X-Plus 6500 locks
Phone mounts
Rearview Mirrors
Water bottle holders
Front Mounted Basket
Premium Headlight
Cargo straps
We also have the caboose and large platform we will use in Costa Rica. You can really customize your electric bike to fit all your wants and needs with the many accessories they offer.
How Much Does a Rad Bike Cost?
Top quality for an affordable price. Overall, electric bikes drastically vary in price, from $400-$8000 dollars. Of course, quality plays a factor in the price. But, with Rad Bikes, you're getting a top quality product from $999 to $1999. There really is no comparison for the price and quality. The main reason it's possible to offer a lower price is because they are a direct-to-consumer company. Meaning, there are no retailers or middle-people involved.
Our Favorite Rad Bike Memory So Far
Since getting our bikes a few months ago, we've been using them pretty much daily throughout our America road trip. While every ride truly is fun, one adventure really stands out. Riding through the mountains in Moab, Utah was Since getting our bikes a few months ago, we've been using them pretty much daily throughout our America road trip. While every ride truly is fun, one adventure really stands out. Riding through the mountains in Moab, Utah was truly magical. To get the full experience, check out the video below:
---
Disclaimer: A special thanks to Rad Bikes for sponsoring this post. All thoughts and opinions are our own. This post includes affiliate links, which means we get a small kick-back when you purchase through the links. Thank you for your support!