RENOVATING OUR 1976 AIRSTREAM SOVEREIGN
I remember when the idea came to my mind that I wanted to live in a tiny home on wheels. Originally, I had pictured Siya and I finding a vintage VW camper van that someone was selling on Craigslist. We would buy it in fairly great condition with only minor fixes to be made. It would be a tight space, but it would be ours, and we would love it. This idea consumed me. I knew I had to make this dream of living in a home on wheels come to life.
While searching on Pinterest day and night for camper van decorating ideas, I cam across a vintage Airstream. I had never seen one before and automatically fell in love. It was like when you are dating a great guy, but then your soul mate comes along and sweeps you off of your feet. That's how I felt when I saw this Airstream. My dream suddenly shifted, and I knew the Airstream life was for me.
I showed Siya the photo, and he was on board right away. He wasn't too keen on living in a camper van because of space restriction, but loved the idea of having a home on wheels. A larger Airstream felt like the perfect amount of space that we would need to not only to live in, but work in full time. It would also give us 200 sqft to have our separate working and living areas, because even though we love each other very much, we both thoroughly enjoy personal time.
Within a month of finding that Airstream photo online, Siya and I were packing a friends truck and driving 6 hours to check out one of these silver bullets some guy was selling. We had done as much research as we could to see the types of things we should watch out for when purchasing an old Airstream. But nothing could have prepared us for what we were about to get ourselves into.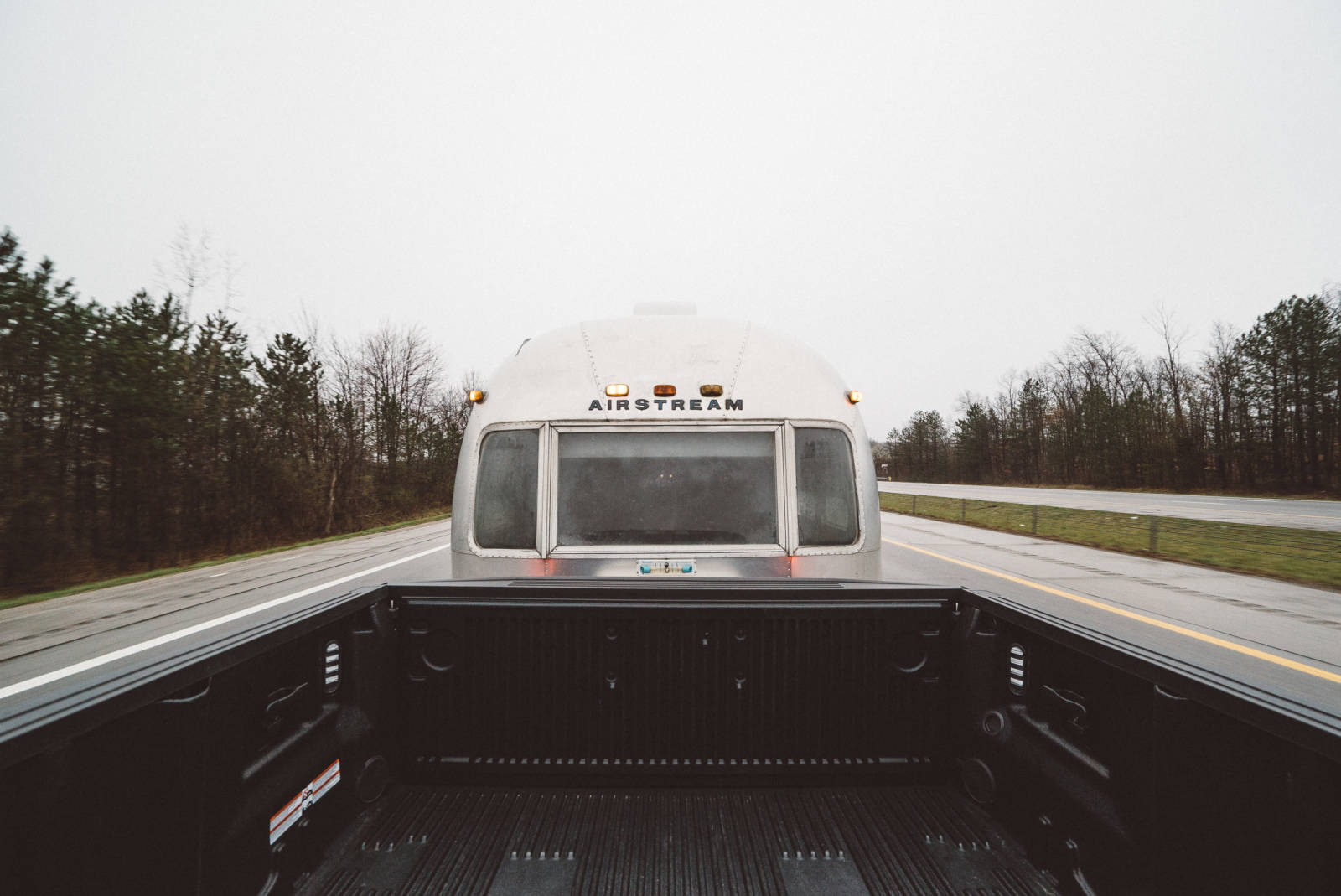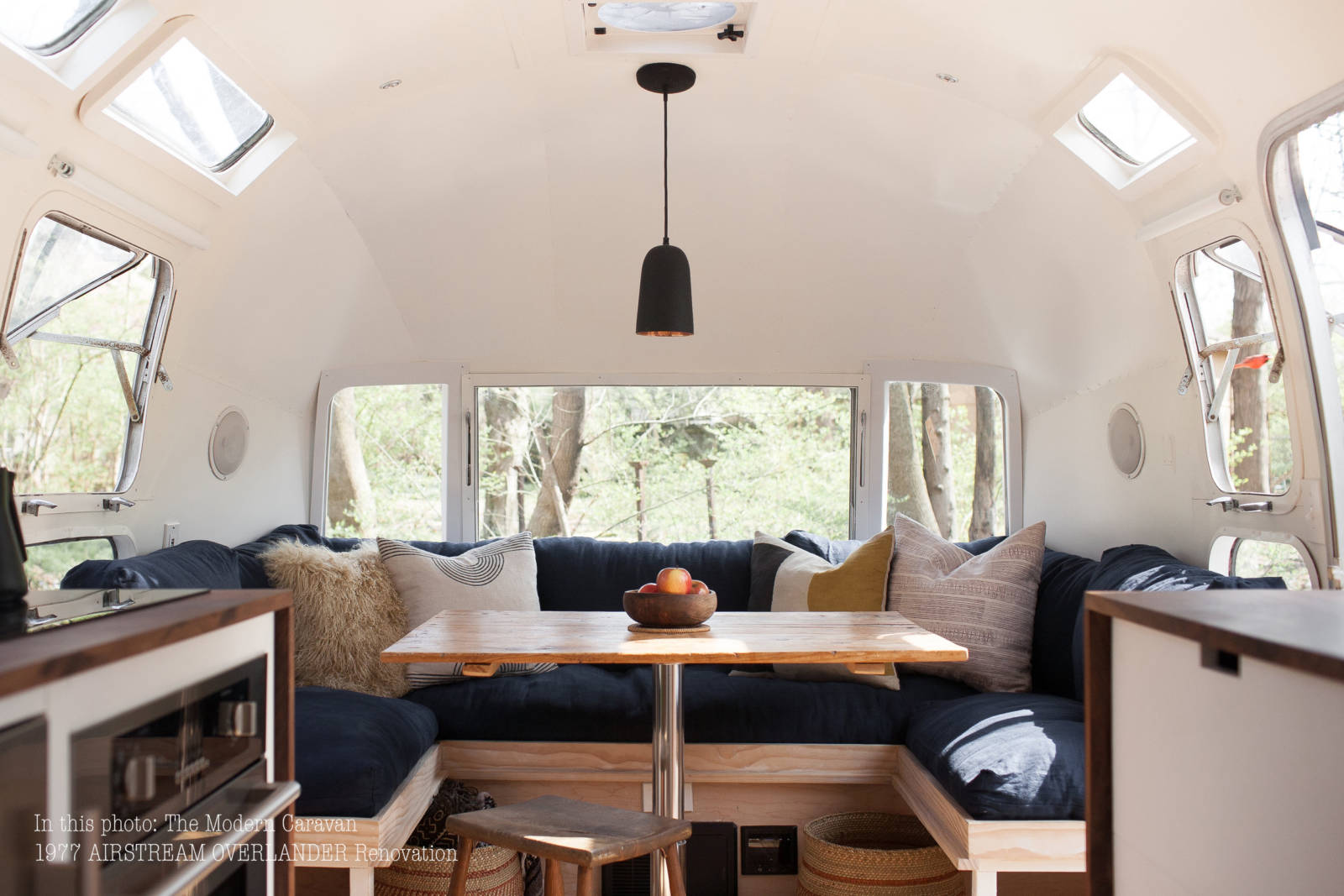 One night, Siya was browsing Instagram and came across an Airstream renovation that had us doing a lot of "oo's and ahh's." The renovation photos belonged to the account @themoderncaravan. We both followed them immediately and continued to gawk over the photos of their Airstream, which was in a perfect world how we wanted ours to look (here's one of the photos to the left). When we dreamed up our future home on wheels, the look and feel is literally everything that Kate and Ellen of The Modern Caravan is all about it.
Right about the time we discovered Kate and Ellen, they announced their new Airstream renovation business. It was meant to be!
Fast forward to 6 months later, Siya and I were over our heads in this Airstream project. We were naive to think that it only needed a little bit of tweaking here and there before we could live in it. This Airstream ended up needing a full makeover, which we had both no time or knowledge to take into our own hands. But, our dream of living on the road was so strong that we would do whatever we need to to make it happen. That's when we found The Modern Caravan.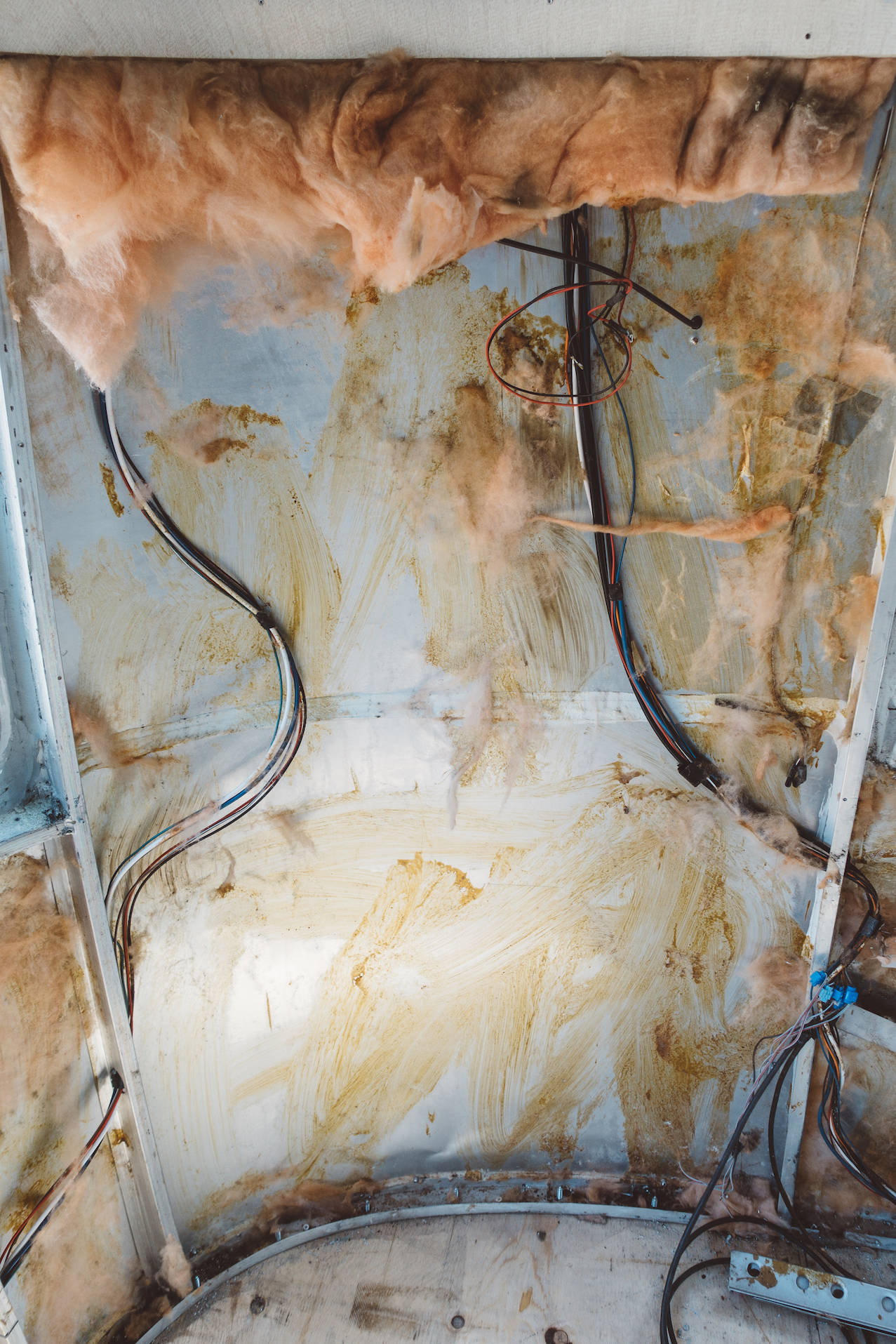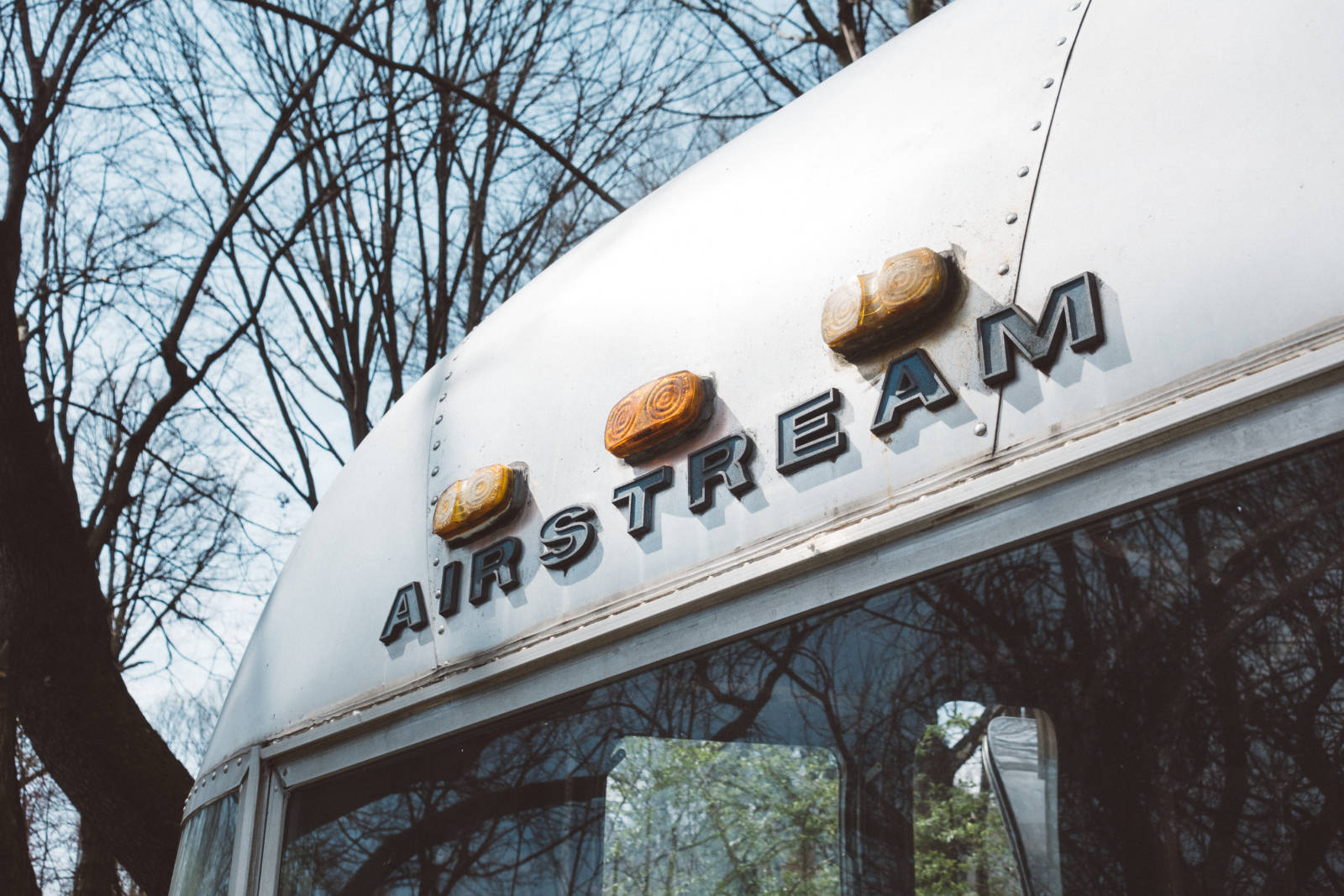 Right after our initial call with Kate, we knew immediately that her and Ellen were the perfect duo to create our dream home. These two not only have the skills for the job, but they are so passionate about what they do. They are just as excited to work on our Airstream as we are to finally live in it.
After months of planning and designing our Airstream with Kate over email and Facetime, Siya and I found ourselves in the mid west meeting The Modern Caravan team in real life. As soon as we pulled up our Airstream into their working space, we saw Kate and Ellen approaching us with the biggest grins on their faces. This was a monumental moment for all of us. This was the first renovation for Kate and Ellen since officially starting their business. This was also a reminder for Siya and I that there is no dream that we can't reach. I've always been a huge promoter of this ideology, and it's how I constantly live my life. I hope you too know that whatever dreams you have, you CAN make them come true. Never give up!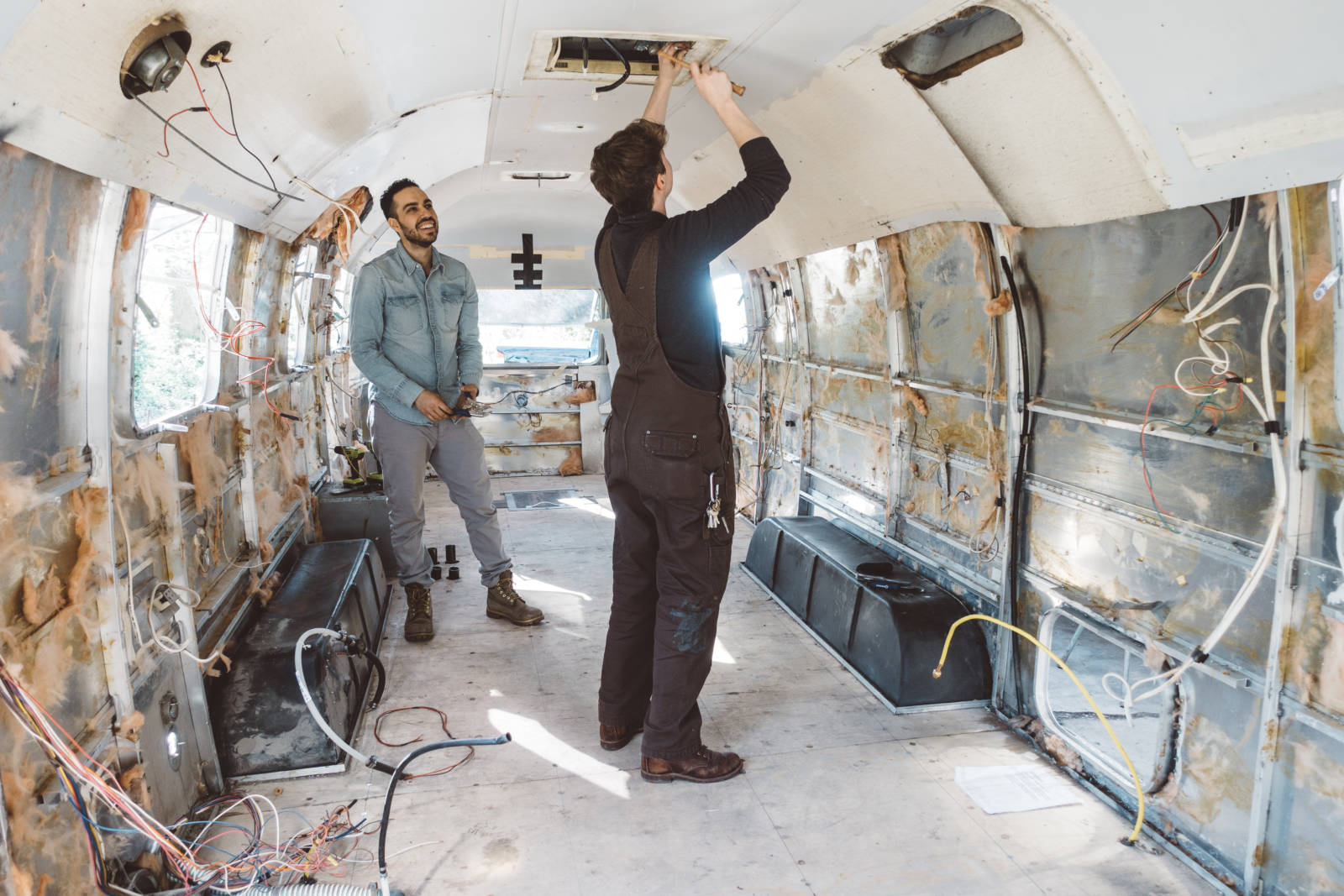 We spent a few days with Kate and Ellen, getting to know them, their story and also helping in the renovation process. We ripped off our interior walls, got rid of the 40+ year old insulation, ripped out the electrical cables, scrubbed the walls and waterproofed. It was really great to be able to get our hands on our future home and get a taste of the work that goes into renovating an Airstream. It's definitely no walk in the park.
After a few days of working on the Airstream, I felt a deeper connection to it and also Kate and Ellen. Siya and I are now back in Canada about to head out on our next big adventure, while our future home has been left in the hands of two amazing women. The next time we see her (the Airstream who has yet to be named but is no doubt a her) will be in July. I am overwhelmed with excitement thinking about the day she'll finally be complete. Until then, I'll keep daydreaming about her and the adventures we will have.