Most of us are all about summer. Cue Olaf's voice: "I've always loved the idea of summer, and sun, and all things hot…" But, fall/autumn is equally amazing and in many ways a better time to travel in your RV or campervan. If you've never considered RV travel in fall, you'll be convinced by the end of this post
When I think of RV travel in fall, our most memorable trip in our Airstream that immediately comes to find is throughout Northern Ontario. We made stops at Chutes, Lake Superior and Pancake Bay Provincial Park.
Boy, was the drive to each location UNREAL!
At times, I felt like there were no words for the beauty that consumed us at every twist and turn along our journey.
So, while you may be thinking that once the temperature drops below 20 degrees Celsius (or 68 Fahrenheit for my American friends) it's time to store the RV, I say think again. Fall is the perfect time to plan that last RV or van trip of the year. Here are:
5 Reasons Why RV Travel in Fall is Better Than Summer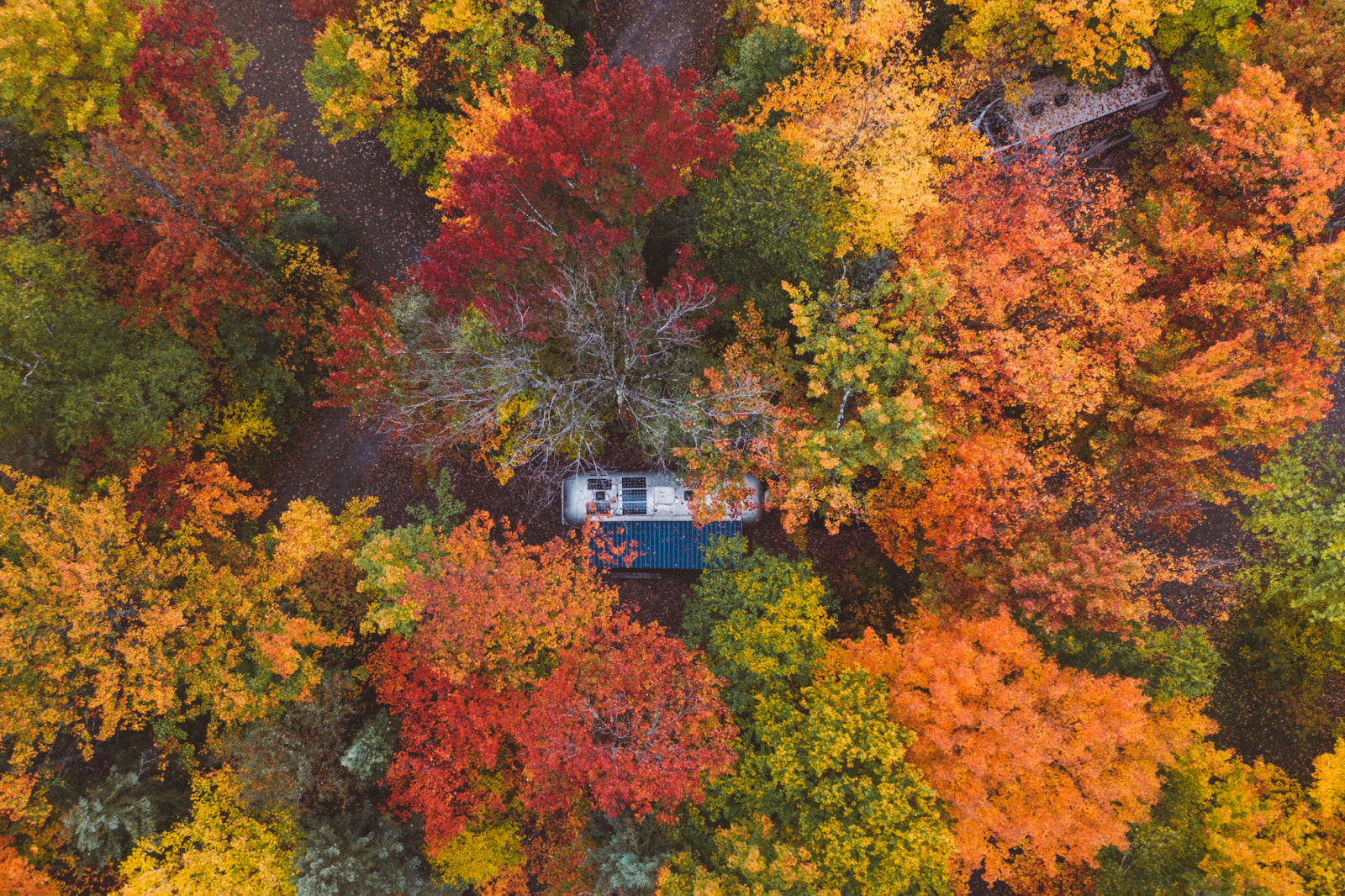 5. Campgrounds and Hiking Paths are Less Crowded
Campgrounds and RV parks don't take long to fully book up in the summer. We personally try to give at least a month's notice to the RV parks we want to hit up in order to secure the same camping spot for several consecutive days. This summer has been exceptionally busy. Less people traveling internationally means more people booking staycations and camping trips. For us, it has meant needing to frequently change camping spots within the same RV park if we want to stay for at least a week at a time. Bottom line: summers are when people do the most camping and hiking.
Once the weather cools down a bit, most people retire their tents and store their RVs. This means less crowded campgrounds and hiking paths. Fall also tends to attract the nature lovers rather than the party campers. It's a very tranquil time of year to enjoy.
4. Cooler Weather Makes Campfires Feel Cozier
Camping and campfires go hand-in-hand. Some of my greatest memories were created around a campfire with friends, family and even strangers. If you thought cuddling up in a blanket around a campfire was great during the summer months, try it in September and October when the weather's a bit cooler. Especially on the nights that can drop down to nearly 0 . You wouldn't even know the temperature has dropped if you're cocooned by the warmth of a fire… and maybe a glass of wine or two. Yet, another reason to love RV travel in fall.
3. The Journey to Each Campground Will

Blow. Your. Mind
I'm a big fan of road trips. We've gotten pretty good at them throughout our years of travel and living on the road. If you have these road trip essentials, you know you're in for a great drive. Add in the burst of colour that autumn generously gifts us with and an 8-hour drive turns into: "Wait that was 8 hours? Felt like nothing because my eyeballs were consumed by ridiculous beauty."
Throughout our entire drive across Northern Ontario, I kept saying to my husband Siya, "More people need to do this trip in the fall months!" The forest transforms into a scene out of a childhood fairytale. Woodland creatures collect their food for the winter. Hills and valleys are full of orange, yellow, red, burgundy, brown and green covered trees. Bedrock extrudes from the earth, bordering the road to lead the way. I think it's safe to say, it's the most beautiful season. Get your RV on the road and take advantage of it.
2. Cooler Fresh Air is Great for Your Immune System
Autumn is its own vibe. The air is fresh and crisp with the scent of fallen leaves becoming compost for next Spring. It's a delicious time of year.
I recently learned from a podcast that the reason why we enjoy the smell of decaying leaves is because it holds good bacteria that our body thrives on. On top of that, the cooler autumn air also increases your metabolism and blood circulation thus activating your immune health. How? Cooler temperatures encourage increased physical activity in order to stay warm. This physical activity encourages increased blood circulation, which not only helps keep your body warmer, but activates your metabolism. This is great for immune system function. Even if you're not getting physical per say, simply being outside in the autumn air, if cool enough, causes your body to shiver (even mildly), which promotes similar effects on the immune system. Add in all the added benefits of being outdoors in general, and you got yourself a health boost waiting just outside your door. In other words, nature is medicine, and autumn holds a special kind of remedy.
1. RV Travel in Fall Means Lower Prices
Our week-long autumn road trip in Northern Ontario was nothing short of magical. If you're not already convinced you should try RV travel in the fall, this will definitely confirm it for you: You will save money!
It's cheaper to do RV travel in than fall rather than the summer because not as many people are in on this kept secret. Less people traveling at this time of year means the campground can offer great deals and discounts to their guests. This means more money in your pocket to spend on extra activities, restaurants or more RV trips!
---
Now I know many of you are sad summer has come to an end. But, instead of being sad that summer is over, discover all the reasons why RV travel in fall is incredible. Now, go pack your car, tent, RV or whatever you got and hit the road! Oh, and before you do, check out these two videos from our Northern Ontario Parks RV trip last autumn:
Have you done any RV travel in fall? What's one reason you think RVing in the fall is better than summer? Share below!
---
Disclaimer: This blog post is sponsored by Ontario Parks. All thoughts and opinions are my own.