The Sahara Desert: a mysterious and captivating place in North Africa that stays forever engraved in your mind.
I will never forget waking up under a blanket of stars in the middle of the night on my desert bed. My sleep was peaceful and comfortable with just a single blanket between the sand and I. I clearly remember waking up at 2 AM to a sky filled with stars at the exact same time as the other five travelers I was with. It was as if someone had taken the biggest and brightest nightlight and turned it on right in front of our faces. The stars shone so bright that not even the deepest sleeper in the group was able to remain in slumber. The air was crisp, cool and fresh, much different then the city air I'm used to. This made my body feel as if it was going through a restoration process. As I lay mesmerized by my new bedroom ceiling, I could hear camels making rasping belching sounds in the distance. At one point, I felt something crawl over my hand. I looked over and saw a beautiful scarab beetle taking a nightly stroll across my blanket. The desert is definitely an interesting place, and I was glad to be spending the night there.
My journey started off in Douz, Tunisia, where myself and five other travelers were able to choose our mode of transportation that would take us two hours into the desert and far away from city life. As I scoped out my options, I knew right away when I had found the perfect vehicle. He was white, cute and about five-years old. He had approximately .75 horsepower, stood about eight feet tall, had quite a bit of body hair and eyelashes for days. His name was Mustafa, and he was one very good-looking camel who would be my ride into the desert where I'd spend the night.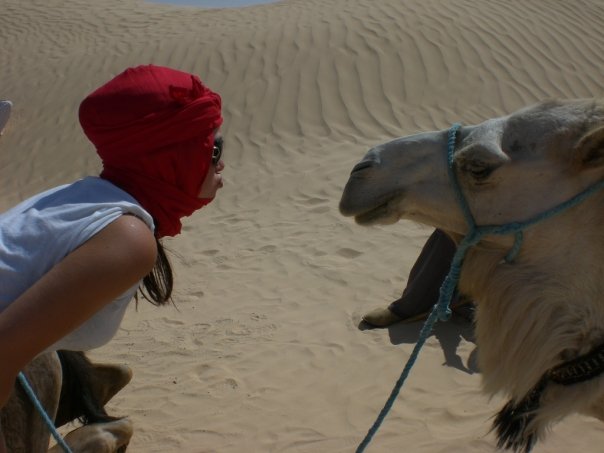 Now, if you've never ridden a camel before, I would suggest getting a little extra fat on that touché of yours before doing so. After two hours of bouncing up and down through the desert, I could no longer feel my behind. It had gone completely numb, but for me, it was worth it because the ride was a lot of fun and Mustafa did a great job. It definitely helped to take a break halfway during our journey to dance shake off the body numbness by dancing in the middle of the desert.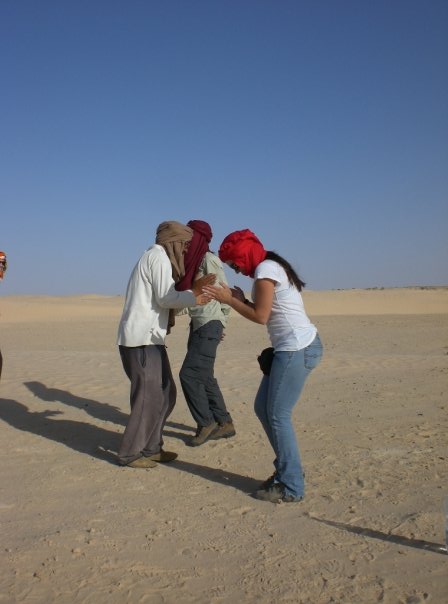 About two hours into the journey, we finally arrived at our destination. I knew we had arrived at our destination because it was the only encounter with humanity I had had in the past couple of hours. We approached a Berber man named Riad standing in front of his desert home. We would be spending the night at Riad's, which consisted of three large open-air tents. We parked our camels just as dusk was approaching.
Riad greeted us and took us into the dining area of his home. We all sat around this long wooden table that stood at about five inches from the ground and took in our surroundings. Riad came over to the table with a tray filled with bowls of beef and vegetable stew along with a pot of mint tea. As day quickly turned into night, Riad lit the three candles that sat on our table, and we ate our Tunisian dinner in the candlelight.
After dinner, Riad built a bond fire for us. We spent the rest of the night sipping on mint tea and dancing around the fire as Riad played the hand drum and sang for us.
When it came time to deciding on our sleeping arrangements, the whole group decided that rather than sleep in tents, it would be much better to sleep on blankets, out in the open, under the stars.
After a peaceful night sleep, the sun awakened and so did I. I rolled out of bed to the sound of Riad cooking bread in an earth oven. An earth oven is simply a pit in the ground used to trap heat and bake, smoke, or steam food. The wheat or barley flour is mixed with water (and some salt) and then placed directly into the hot sands beneath the camp fire. The bread is then covered again by hot coal and left to bake. The other travellers and myself, sat at a table that was elevated only a few inches off of the ground to eat our earth baked bread and drink mint tea. It was an excellent meal and the first time I had tried anything cooked in an earth oven. The bread was warm and delicious and not at all grainy as you might think it would be from being cooked in the sand.
A morning walk barefoot through the desert followed breakfast. Walking on the Sahara sand is like stepping on warm silk. The sand was the finest sand I had ever felt. As I dragged my feet along the desert floor, I spotted something slithering underneath the sand. My eyes followed this moving object along the ground until a head popped out from underneath the sand. It was a small lizard that didn't seem at all to mind me picking it up. The lizard's body was so soft and slippery that it nearly slipped right out of my hand.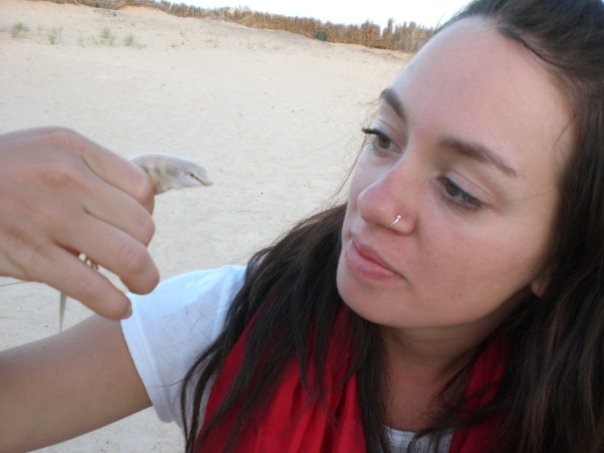 After making acquaintance, I put the lizard back down and it immediately dove head first into the sand. I explored the desert and the creatures that make the Sahara their home for a little while longer before myself and the other people in my group, traveled two hours by camel back into the city of Douz. My Sahara experience was truly an amazing one, and I couldn't help but feel that I had just written my own magical chapter in The Alchemist.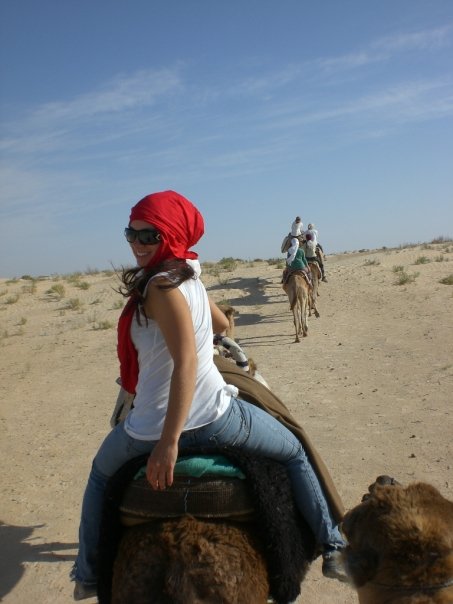 To read the first part of my Tunisian Adventure, make sure to read: