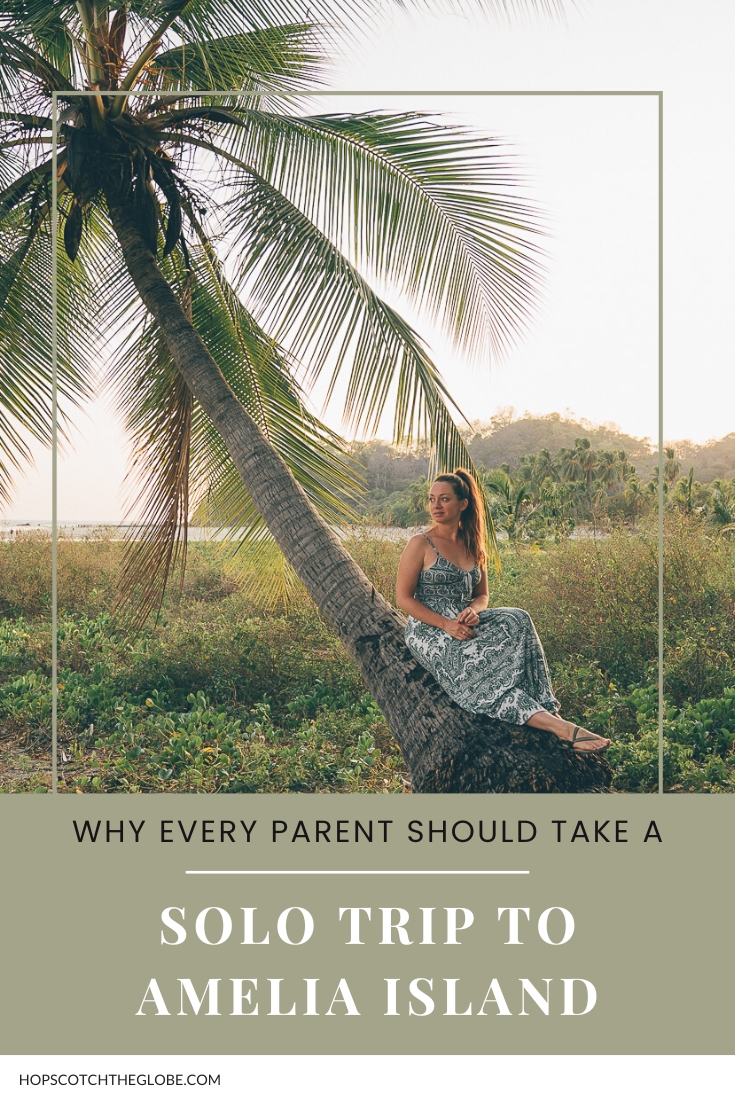 As a parent, it's easy to lose sight of your own needs and desires when you're constantly juggling work, family and other responsibilities. But, taking time for yourself Is not only important, it's essential for your mental health and overall well-being. What I'm really trying to say is…it's time for YOU to go on a me-cation, and Amelia Island is a wonderful destination choice for your solo trip.
---
Why a Solo Trip is Necessary as a Parent
Going on a solo trip allows you to escape from the chaos of everyday life, recharge your batteries and reconnect with your inner self. It's the BEST act of self-care you can give to yourself. Whether you want to explore a new city, relax on a beach or indulge in a new hobby or interest, the possibilities are really endless. The best part? You can do it all on your own terms, without worrying about anyone else's preferences or needing to take a group vote. It's all about YOU baby! Which can seem a little too good to be true as a parent, when you're constantly giving yourself and taking care of other humans on the daily. But, now it's time to prioritize yourself and go on a me-cation because you deserve it. Trust me on this, when you take time for yourself, it benefits not only you but your whole family. It allows your to relax and reset, and that makes you a better parent and partner.
Top reasons for going on a solo trip as a parent:
Self-Reflection: A solo trip gives you time to reflect on your life, goals, and priorities. When you're away from your daily routine and distractions, you can think more clearly and make better decisions about your life and future. It also gives you perspective on what in your life you're most grateful for. Sometimes we need time alone to really understand and reflect on these things.
Relax and Reset: Taking a break from your busy schedule and regular responsibilities can help you relax and reset. Imagine how great you'll feel when you can take time to yourself and sleep-in, read, meditate, or do any other activity that helps you recharge your batteries. A massage is a great idea too…just saying 🙂
Freedom and Independence: When you're on a solo trip, you're free to do whatever you want, whenever you want. You can explore new places, meet new people, and try new things without worrying about anyone else's schedule or preferences. You can also spend as many hours as you'd like naked, in silence eating a carton of ice cream in your hotel room. The important thing is, the choice is yours and only yours.
Personal Growth: Traveling solo without a partner, friends or child can help you develop self-confidence, independence, and resilience. You'll learn to trust your instincts, make decisions on your own, and navigate unfamiliar situations. Even as someone who really takes pride in being independent, I definitely relay more and more on my husband when I'm with him for making simple decisions. But, when I'm alone, I only have myself to rely on, and it feels pretty empowering.
Better Parenting: It's super important to take care of yourself if you wanna be a great parent. When you're feeling good, chill, and satisfied, your way more ready to handle all the craziness that comes with raising kids. So, if you're thinking about going on a solo trip, go for it! It's an awesome way to invest in yourself, and your family's happiness.
---
Why Amelia Island is a Great Destination for Solo Travel
I've had a few solo trips since my daughter Kai's been born. Like the time I spent the night on a crystal mountain at a wellness retreat in Costa Rica. This time around, I chose Amelia Island for my 4-day reset. It's located in Northeastern Florida, has plenty of southern charm and offers the perfect mix of relaxation, adventure, and safety, making it an ideal choice for solo travel.
First, let's talk about safety.
Amelia Island is known for its low crime rate and friendly locals, making it a great choice for solo travelers, especially for parents who want to make sure they feel safe while away from their family. As a bonus, the island's small size makes it easy to navigate and get around without feeling overwhelmed. As a female traveling solo, I felt very safe walking around or riding my bike.
---
Why Amelia Island is a Great Destination for Solo Traveling Parents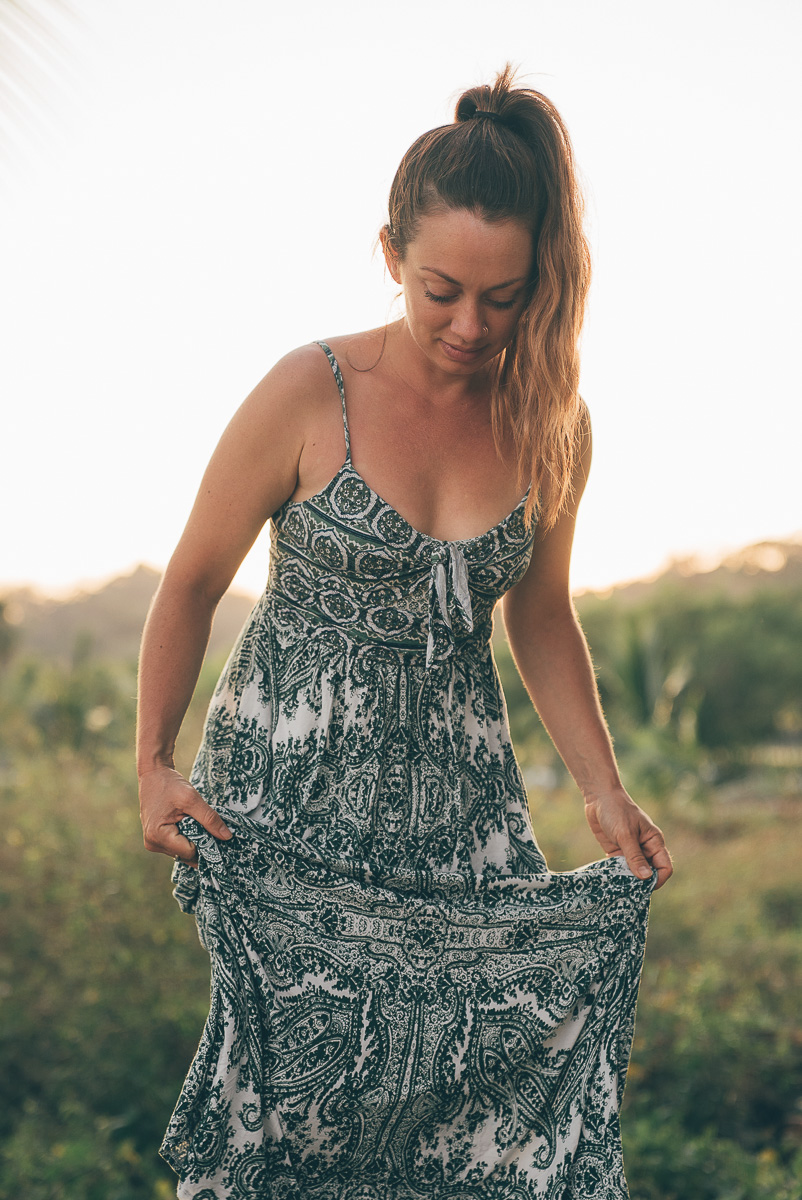 As any parent knows, alone time is a rare and precious commodity. When you do get a chance to be alone, you want to make the most of it. Amelia Island offers a variety of activities and attractions that are perfect for solo traveling parents looking for some much-needed "me time." It also has some great accommodation choices that will send you into relaxation mode.
Where to Stay
The Addison on Amelia is a great choice for parents looking to unwind. The charming historic bed and breakfast is located in the heart of Fernandina Beach, only steps away from the downtown area. The couple that own the B&B are super friendly and really do their best to make your stay wonderful. The rooms are all beautifully restored and have their own unique charm and your stay includes daily gourmet breakfast. Yes, they even take into account food allergies and sensitivities.
What to Do on Amelia Island
There's plenty to do on the island. You can take a walk on the beach, go for a bike ride, shop till ya drop or try a water activity. Here's what I got up to during my 4-day stay:
Amelia Adventures – If you want a relaxing outdoor adventure, Amelia Adventures has you covered. They're all about getting you up close and personal with the island's wildlife and natural beauty. They offer guided kayak tours, stand up paddle boarding lessons and sunset cruises. The guides are super friendly and make sure you have a safe and fun time, no matter what your skill level is. I ended up doing a SUP tour down the blackwater creek, and it was uber-relaxing.
Fort Clinch State Park – Grab a bike from The Addison (they offer their guests free bike rentals) and explore Fort Clinch, one of the most well-preserved 19th century forts in the country. There are self-guided nature trails for you to explore that are lined with native plants and wildlife. The trails offer scenic views of the coastline, marshes, and forests, and are suitable for all skill levels.
Paisley Grace Makery – If you're feeling creative, you can sign up for a workshop at Paisley Grace Makery. They have all kinds of DIY projects like wood signs, canvas pillows, and chunky knit blankets. You don't need any experience because you'll be guided through every step of the process. I made a wooden sign for the Airstream Jungle Home I'm currently building in Costa Rica.
Downtown Shopping – One of my favorite things to do when I'm on my own in a new place is SHOP! Even if that's just grabbing a coffee and doing some window shopping. For this trip, I may have purchased a thing or two 😉 I definitely recommend checking out The Spice and Tea Exchange, Pelindaba Lavender, The Salty Local and Color It Green. But, before you do, stop by Amelia Island Coffee for a latte. As a coffee snob, this cafe is a win!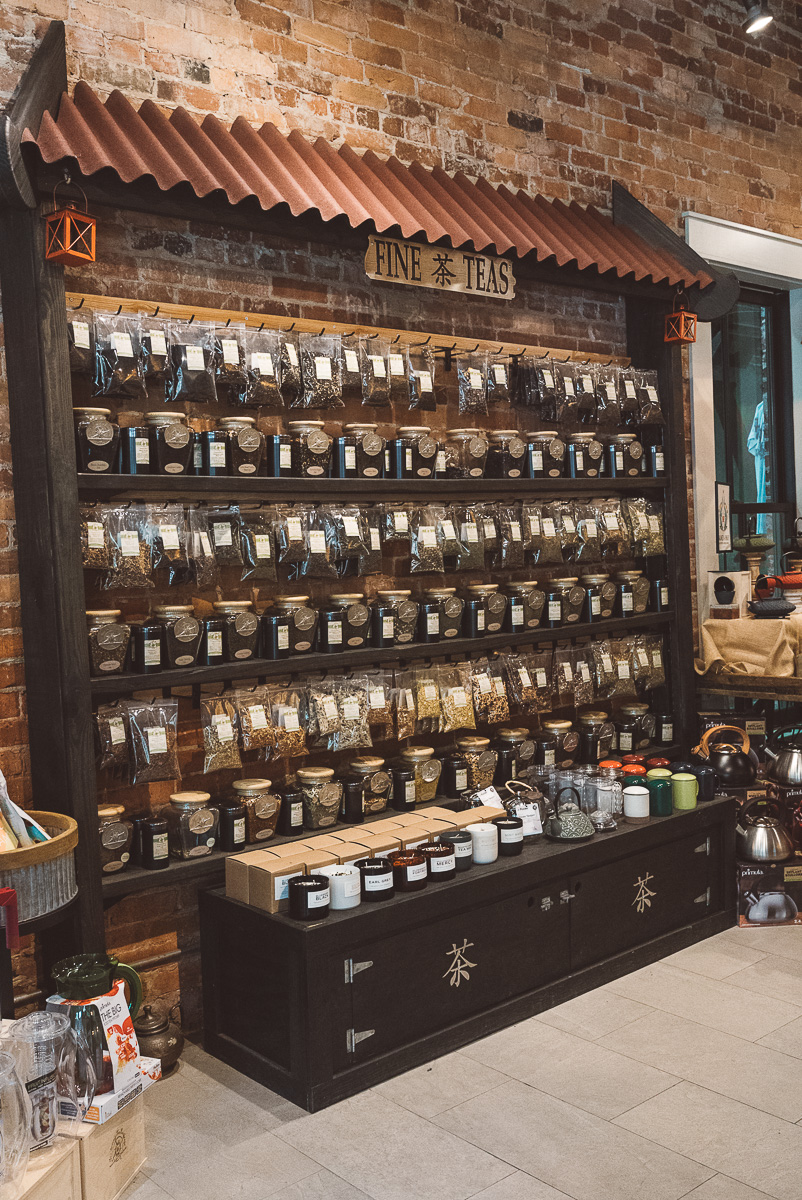 Yoga on the Beach – Located only a 10 minute bike ride from The Addison, this is a public and free event for all. The meeting point is at Elizabeth Pointe Lodge, where yoga instructor Deb Cunningham or someone from her team, will greet you and then you'll head on over to the beach. Deb arranges free beach yoga three times a week, so if you're on Amelia Island for a few days, there's a good chance you'll make one of the classes. Deb's team brings a playful, creative spirit to the vinyasa style practice. FYI – You'll need to bring your own mat or towel.
Massage at the Omni Amelia Island Resort – No me-cation is complete without a massage. The Spa at Omni Amelia Island Resort is the perfect place to do just that. The spa itself is beautiful. There's a lovely relaxation area and garden serving up herbal teas and citrus water, perfect for before and after your treatments. I had a Quartz Sand Table Massage, which was interesting. I prefer an intense deep tissue massage and this one is a Swedish style massage with psammo therapy, the ancient art of heated sand. So, while it was more gentle, I did feel the effects of it for the entire day afterwards – extra relaxed and feeling physically good. This service is beneficial for arthritis, fibromyalgia, muscle and joint pain and helps aid deep sleep. Whichever treatment you go for, it's sure to leave you feeling zen.
---
Why Dining Solo on Your Me-Cation is Awesome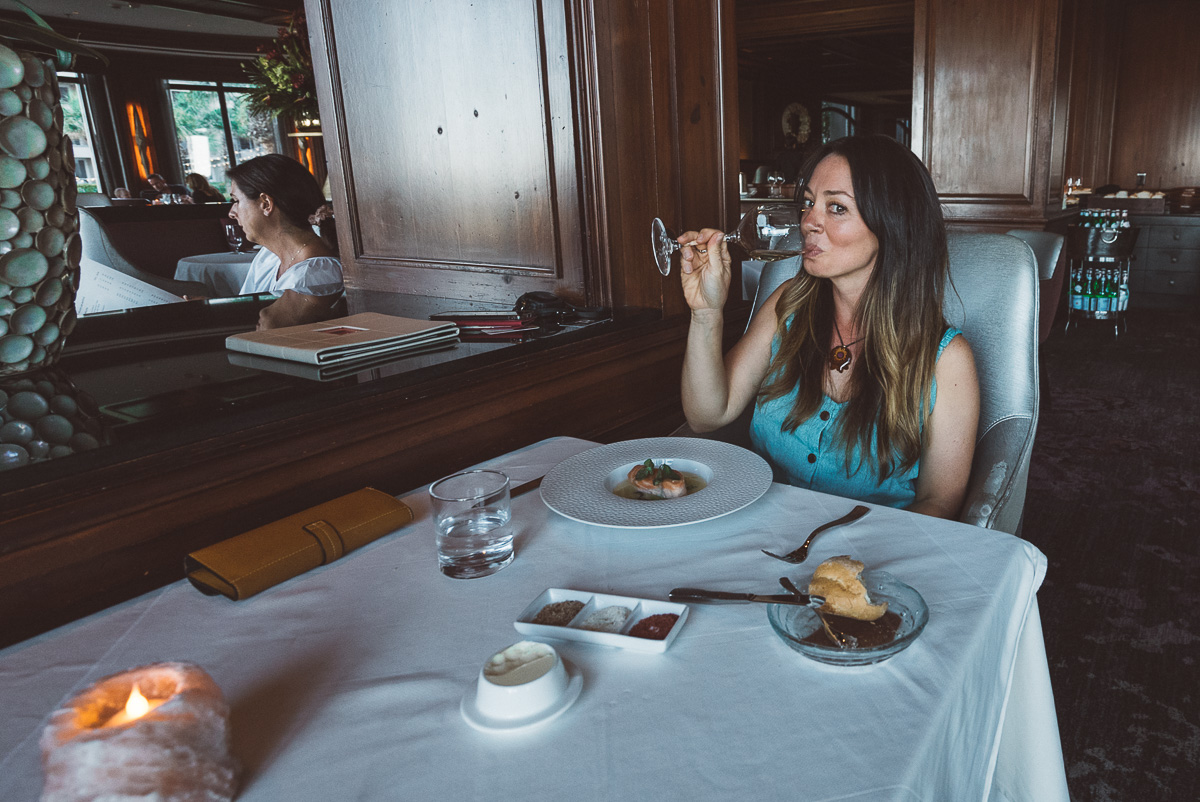 Dining solo can seem like an intimidating experience if you've never tried it. But, I cannot recommend it enough! It allows you to fully immerse yourself in the dining experience without any distractions or interruptions from others. You can savor each bite of your meal and really take in the flavors and textures of the food. You can just relax without the pressure of socializing or entertaining someone else.
Another benefit of dining solo is the sense of independence and self-reliance it can provide. You don't need to rely on anyone else's schedule or preferences, and you can make your own decisions about where and when to eat. It's gives you a great opportunity to try new restaurants and type of cuisine without having to worry about pleasing anyone else's palate.
Where to Eat on Amelia Island
There's plenty of laid-back restaurants and fine-dining experiences to have on Amelia Island. Whether you're in the mood for seafood, Asian cuisine or a solid salad, you'll be covered. Here are my top choices for yummy food on Amelia Island:
Wicked Bao – I'm leading with Wicked Bao because it makes it to number one on my list for best food I had during my stay. Their specialty are Bao's, which are soft and fluffy steamed buns filled with a variety of flavorful ingredients, from pork belly to fried chicken to tofu. Since they aren't gluten-free friendly, I went with the chef's recommendations that fit my dietary needs – the corn and noodles. They offer a variety of other Asian-inspired dishes, like rice bowls, dumplings, and noodle dishes. Wicked Bao has a laid-back atmosphere and friendly staff, and the owner is the sweetest lady who's company I really enjoyed during this meal.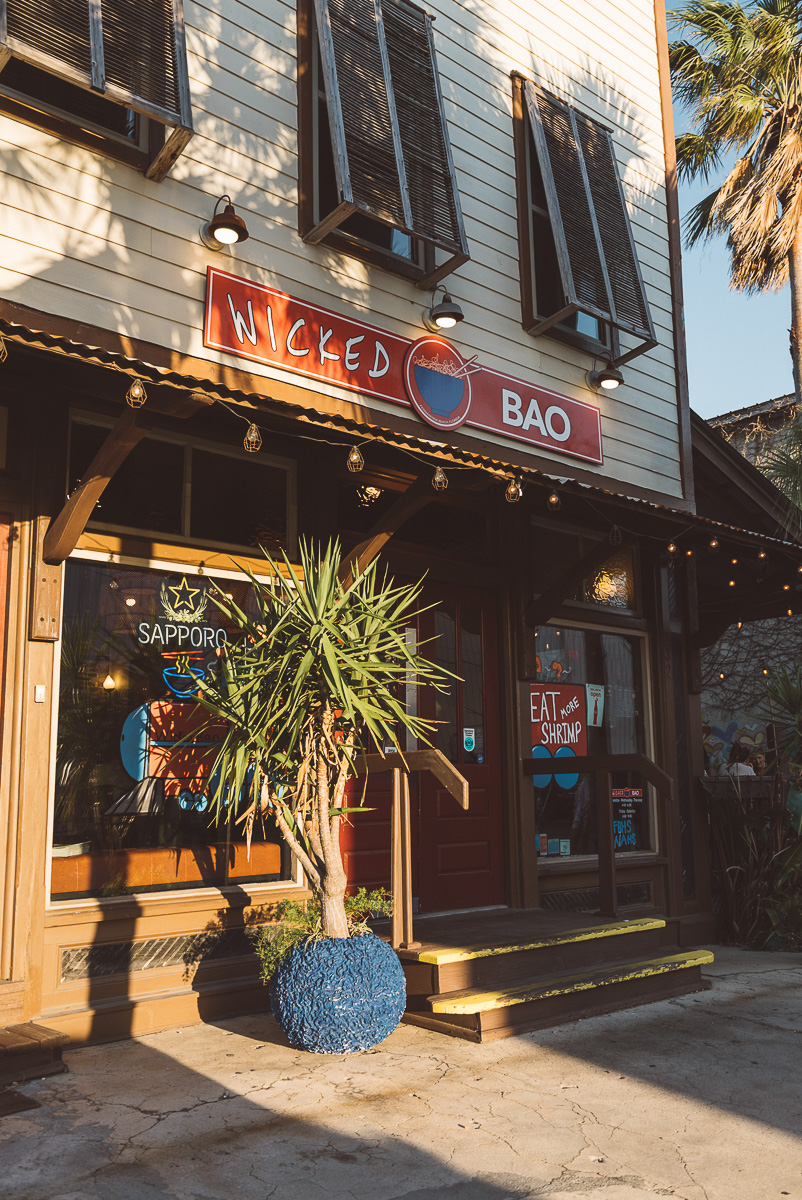 Salt Life Food Shack – Salt Life Food Shack on Amelia Island is the ultimate beachy dining spot. They serve up a variety of seafood, salads, sandwiches, burgers, and tacos, all in a laid back and casual atmosphere. They have an extensive drink menu and daily specials like "Taco Tuesdays" and "Wine Down Wednesdays." It's right in front of the beach, so you can spend the morning or afternoon in the sand and water, then head to Salt Life Food Shack to refuel.
Cafe Karibo – Cafe Karibo on Amelia Island is the perfect spot for a casual meal with a nice atmosphere. It's right downtown, with outside seating allowing for some excellent people watching opportunities. The menu is full of delicious options, including sandwiches, burgers, salads, and seafood, all made with fresh and locally sourced ingredients. If you're into beer, they have a nice craft beer selection, which features both local and regional brews. I had the loaded lentil salad, add avocado with a lemonade and it was the perfect lunch.
Salt at The Ritz Carlton – Salt at The Ritz Carlton on Amelia Island is a true fine dining experience. The menu changes frequently to feature seasonal and locally sourced ingredients, and each dish is presented with attention to detail. The restaurant offers a tasting menu that showcases the culinary skills of their talented chefs. This is what I opted for, and it did not disappoint. I was SO happy to be having this experience alone because I really got to take my time, sit in silence and thoroughly enjoy all the flavors and textures of each dish. The service is top-notch, the live music adds to the lovely atmosphere and the view of the ocean from your table isn't too shabby either. Although, Salt is a splurge, it's definitely worth it. Besides, you deserve to treat yourself!
---
It's Time to Book Your Solo Trip To Amelia Island
As you can see, I'm definitely a fan of Amelia Island as a destination for solo travelers, especially parents in need of some alone time. With its safety, variety of activities, and laid-back vibe, you're sure to have a fun and rejuvenating trip. So go ahead, book that solo trip, and enjoy some much-needed time for yourself. Embrace the chance to make unforgettable memories and return home with a renewed sense of energy and purpose.
---
A special thanks to Amelia Island for sponsoring this trip. As always, all thoughts and opinions are my own.