*All photos and video taken with the Sony RX100 IV
For my mother's 60th birthday, I surprised her with a trip to Mexico. She didn't know she was going to Mexico until we were at the airport and our flight was to depart in two hours. I'm a trickster like that! Her reaction to her gift was priceless and so was our trip.
This trip was hands-down the most luxurious trip I've taken to date. I've never felt so spoiled in my life, but what was most enjoyable was seeing my mom get pampered the way she deserves.
Our trip started off with spending four days at the adults only Secrets Resorts Playa Mujeres Golf and Spa Resort with unlimited luxury. The location of the resorts isn't quite in Cancun OR Isla Mujeres, but is located at the "in between," making it a unique location for visitors. It's also located alongside a protected wetlands wildlife preserve, so you can have views of both the ocean and nature instead of other buildings. From the gorgeous rooms to the delicious cuisine to the unlimited premium drinks to the incredible animation team to the pristine beach to the world-class spa, this is the ultimate place to come for those looking for a rejuvenating vacation. 
Our first four days were spent walking along the beach, playing golf, drinking delicious cocktails, eating amazing Mexican food (which I can't get enough of), sailing on yachts, driving golf carts on Island Mujeres and best of all, visiting Casa Hogar.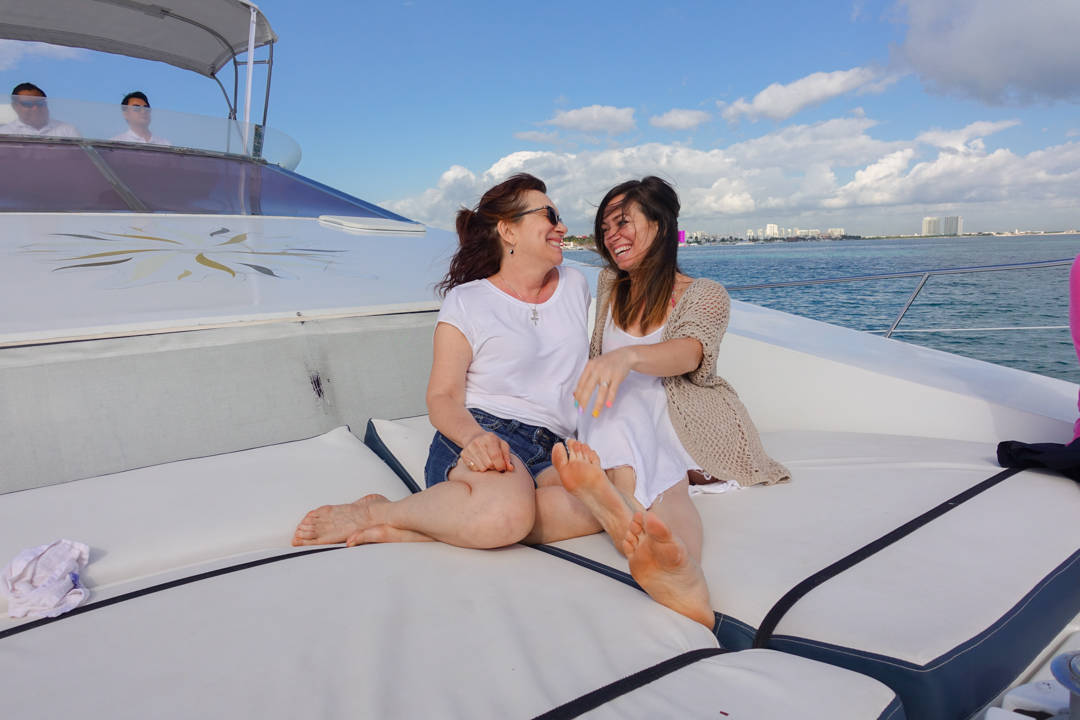 Secrets Playa Mujeres supports Casa Hogar, which is a home for young girls that come from families that deal with addiction, abuse or simply can't care for their children. As guests at Secrets, we were able to visit Casa Hogar and help restore the chapel they had on the property. We also toured the home and got to play with some of the girls. One of the girls became quite attached to me. So much so, that she wouldn't let me know go when it came time for us to leave. It broke my heart, but I did witness so much love in this house. The nuns that take care of the children are incredible and give the girls the much love and affection.
The last two days of our trip were spent on Isla Mujeres where my mom tried snorkelling for the first time with Pocna Dive Centre. Well, she had snorkelled before, but not in the middle of the ocean. Although she was nervous at first, it was hard to get her out of the water afterwards! We also walked around the island and ate our fair share of street food.
We spent our last night at the Zoëtry Villa Rolandi. This resort is easily one of the top favourite places I've ever stayed. With only 35 rooms, this resort his small, intimate and basically everything you'd want from a luxurious vacation. Each Zoëtry Wellness & Spa resort integrates holistic wellness with unlimited luxury and endless privileges. I must also mention that our balcony was equipped with a personal jacuzzi…NBD. 

With other resorts I have been to, you could have told me I was in Cuba or the Dominican, and I wouldn't have been able to tell you. This is because I have found so many resorts to look and feel exactly the same as another. What I really enjoyed about Secrets and Zoetry is that they both had their own unique personalities which incorporated Mexican culture and style.
Now, for someone who has been to quite a few resorts, I can hands-down say that other resorts have some tough competition. The attention to detail to ensure that each guest has the best time is bang on! I am so glad that I got to experience this all with my mother. The best part of all of it was to see her face light up everyday throughout each experience. She kept saying, "Kristen, I've never been treated this way," which was accompanied with a big smile on her face. That's what made this trip the most memorable.
What has been one of your most memorable trips?