Thinking of planning a Florida Keys vacation in an RV? We spent a month living in our Airstream in the Florida Keys and discovered the best vegan food, key lime pie, and ways to experience the islands' beautiful nature.
In this blog post, we share our favorite places to visit, eat and experience in the gorgeous Key Largo and Key Marathon. Key Largo is the first key in the chain of islands off the southern coast of Florida between the Gulf of Mexico and the Atlantic Ocean. Key Marathon is a 2-hour drive from Key Largo and comprises a 10-mile long island in the Florida Keys.
The following places and experiences are suggestions of what we would recommend to anyone wanting to have the perfect Florida Keys vacation. Happy planning!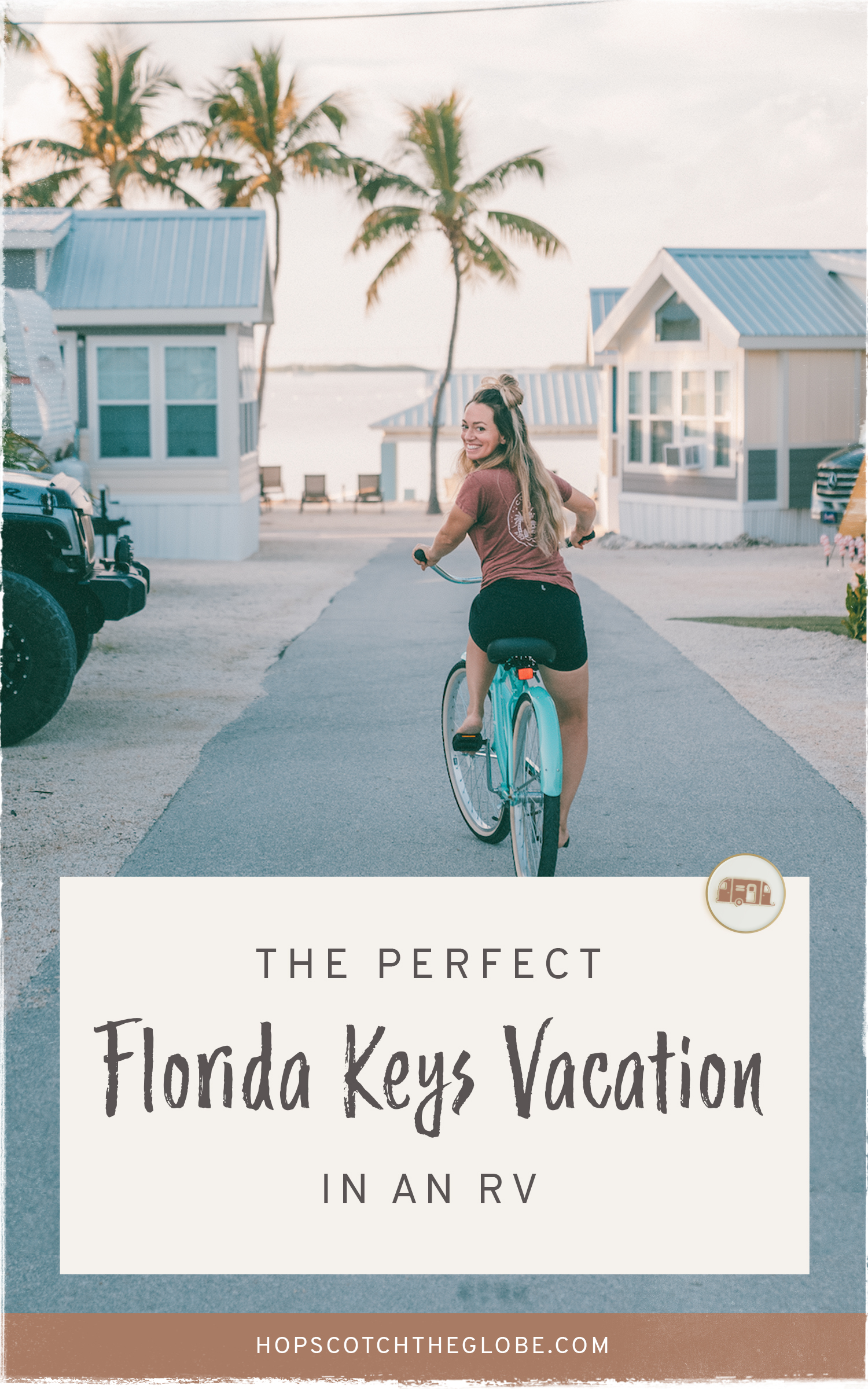 Stay at an RV Park on your Florida Keys Vacation
There are many RV parks in the Florida Keys, but they can fill up fast depending on the time of the year. So, we recommend you book your campsite as soon as you can. We always try to find RV parks close to the sights we want to check out. That way we can spend our days walking and riding our bikes, rather than having to drive everywhere.
We enjoyed staying at Sun Outdoors in Key Largo and Sun Outdoors Marathon. Both resorts are only steps away from the sea and offer gravel RV sites and other basic amenities.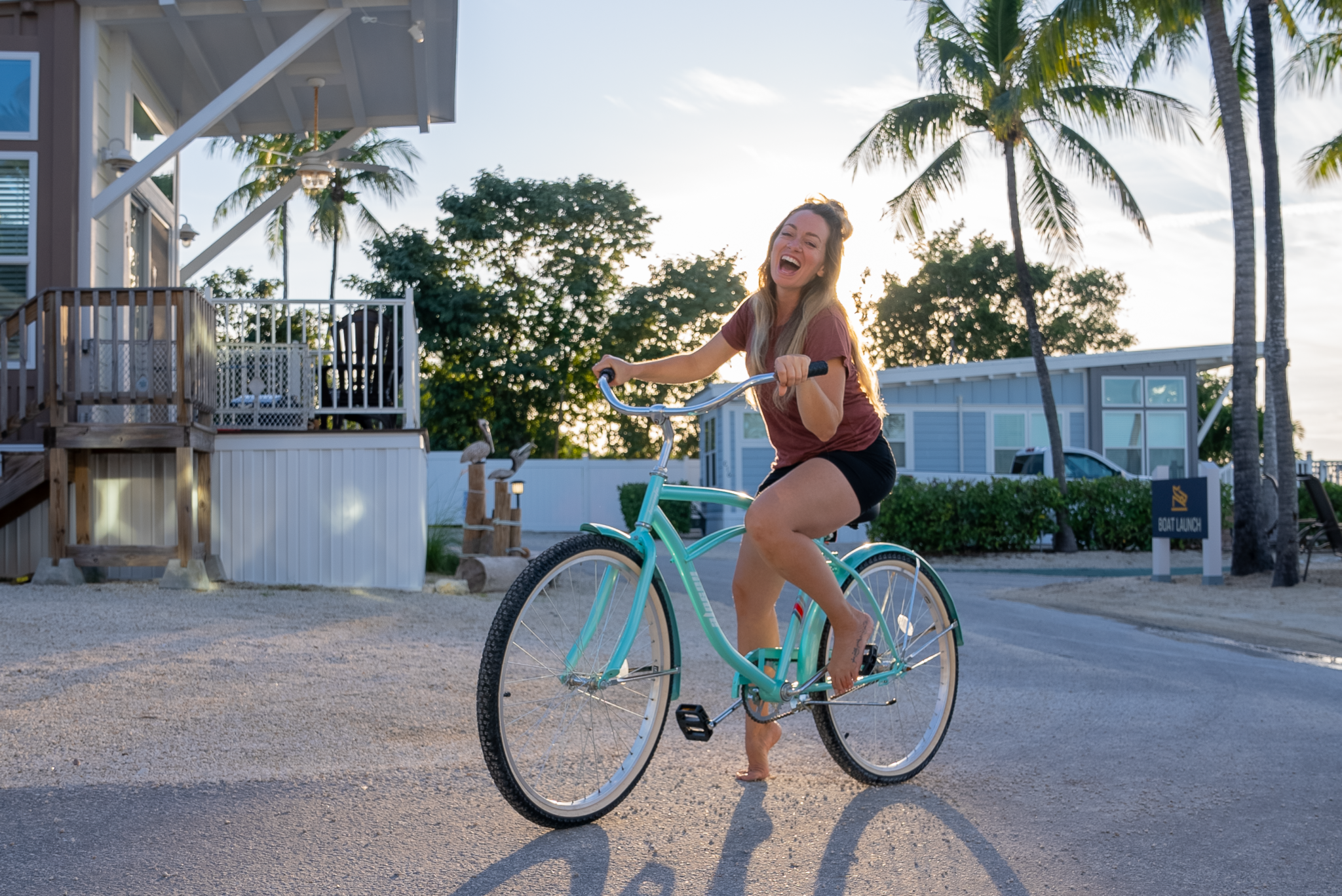 Our top things to eat, see and do in Key Largo:
Eat at Seaside Eatery & Coco Plum Place
Whenever we travel to a new place, one of the first things we do is find a really good breakfast spot. We lean toward finding great vegan restaurants and cafes whenever we travel. We got lucky in Key Largo because, less than a mile from the RV resort, we found Seaside Eatery and Coco Plum Place – two superb vegan cafes right next door to each other.
The sandwiches at Seaside Eatery might be the best sandwich I've ever had. Don't get me started on the yummy butterfly pea and coconut boba tea with tapioca balls! We ate at Seaside Eatery and Coco Plum Place every single day…The food and drinks are that good!
Try the Best Key Lime Pie (voted by us)
When you're on the vacation in the Florida Keys, it makes sense to go in search of the best key lime pie, right? (If you didn't already know, the secret to this sublime pie is that it's made from special limes that are grown in the Keys.)
We tried several key lime pies in Key Largo, but none compared to Sal Ballyhoo's. Even if you're not usually a sweets person, you may change your mind once you've tasted Sal Ballyhoo's pie. The perfect combination of the graham cracker crust, lime filling and light and flurry meringue topping is heaven on earth! Sal Ballyhoo's is only a 1-minute walk from the RV park, which makes it a little too close for a dangerously good key lime pie.
Enjoy a Sunset Kayak
After indulging in pie, it's time to burn off some calories with a sunset kayak trip. The RV park is located right by the ocean, which means it's literally a 30-second walk to the beach. At the beach, you can rent kayaks and paddleboards. On our expedition, we came across a mother manatee with her calf. What a memorable experience!
Explore John Pennekamp Coral Reed State Park
Key Largo's John Pennekamp Coral Reed State Park is a massive underwater park consisting of 70 nautical square miles – the size of about 44,530 football fields – of beautiful turquoise waters and colorful coral reefs and mangrove swamps. You can explore the underwater world teeming with marine life on a snorkeling or scuba diving trip. If you don't want to get wet, the glass-bottom boat tour is a fun option to view the park's aquatic treasures.
Apart from water activities, the park offers scenic loop hiking trails that wind through the swamp mangroves. Kids – and adults, too – will love spotting the sea creatures at the saltwater aquariums at the state park's Visitor Center.
Click play on the video to find out the best things to do in Key Largo:
Our top things to do and eat in Key Marathon:
Visit Irie Island Eats
Your first stop on your Florida Keys vacation in Key Marathon should be Irie Island Eats. This farm-to-table permanent food truck is all about bringing the freshest, locally sourced ingredients together to create delicious bowls, tacos, wraps and fruit smoothies.
While you wait for your food, you can head to the fresh fruit and vegetable market next door and pick up some groceries. When your meal is ready, enjoy it in the outdoor dining area surrounded by fruit trees, fresh herbs and free-roaming chickens. Paradise!
Eat a Giant Cookie in Key West
An hour and a half from Key Marathon is the ever-popular Key West – the southernmost point in the United States. The tiny city is packed with water activities, restaurants, boutique shops and booming nightlife.
When you need to refuel between sightseeing, we recommend ordering a giant – half a pound! – handmade cookie from Mattheessen's Candy Kitchen. We loved the peanut butter cookie with chocolate fudge topping.
Catch a Front Flip at the Dolphin Research Center
Next door to the RV park in Key Marathon is the Dolphin Research Center. When it comes to wildlife and any research, rescue or rehabilitation centre, we make sure the place lives up to the value and purpose it's preaching. Bottom line…animals come first. Having said that, we believe this center is doing good things. This non-profit facility consists of several enclosed lagoons in the ocean that home to about 25 dolphins, a couple of sea lions, and exotic birds. A team of trainers and scientists run the center and study dolphin cognition and behavior.
You can spend the day learning about the playful nature of dolphins via demonstrations and narrated behavior sessions. We had a good experience watching the dolphins do front flips four meters into the air! You can swim alongside these friendly marine mammals for an extraordinary encounter.
You can tell that the dolphins are happy. And if they aren't, well they have a 1-foot mesh fence they can easily jump over to get out of there. One of the workers was even telling us that during a hurricane, the dolphins left and then came right back afterwards.
The one thing I did not enjoy about the place were the bird cages. They were small and depressing. I encourage you to mention this to the staff if you decide to visit.
Which places do you want to visit on your Florida Keys vacation in an RV?
Click play on the video to find out the best things to do in Key Marathon: