It is true that if you are traveling in India, you must do so, at least once, by train. It is the cheapest and most entertaining way to travel both long and short distances. Riding a train in India is a unique experience in itself.  This is true even if you have been on countless trains in other countries. Before I left for the Holy Land, I looked into the different riding classes and scheduling times for the trains. I tried looking up experiences from other travellers on the internet to see if any had advice for a solo white female riding the Indian railway system. However, I found it difficult to find specific answers to the questions I had. So this is why I am writing this post. I can now say that I have ridden countless trains throughout North and South India in many of the different seating classes. Now, I want to share my experience and knowledge with you:
Choosing the Right Seating Class
There are nine seating classes in the Indian Railway System. The following is a description of each based mostly on my own personal experience:
Sleeper Class
This seating class is the most interesting,  filthy, cheapest and crowded out of the sleeping compartments. The seating is laid out in pods consisting of three tier beds across the width and three longways . So that is at the very least nine people sharing the same pod as you; except add a few more people on the floor and a couple children and you have a more accurate, 15 people. This is the class that I chose to take throughout the majority of my travels. I warn you that it can be very overwhelming for some people, especially if you are traveling alone and for the first time on an Indian train. If you are a traveler who doesn't mind filth, the smell of urine, people constantly selling things, many stares and basically throwing yourself into a new and extreme situation, then I say choose this class for your first experience. I guarantee you won't forget it! I personally loved riding Sleeper Class, even with the cockroaches, dusty beds and constant smell of urine. It made the journey a hell of a lot more interesting. Oh, and there is no air conditioning, but the windows open and there are fans (that don't always work).  When you are choosing the seating class you would like to be in, you also get a choice of upper, middle, lower, and side berths. I would suggest choosing the upper berth bed (not the side upper berth), especially if you are a female. The upper berth will become a private place for you to retreat to at any time of day and is a safter place to be while sleeping. The middle and bottom bunks are converted into seating area, so you will be forced to stay awake if everyone else in your compartment wants to stay up. The side upper berth is good too, but you are more exposed if you are someone who likes privacy.
Third AC
For longer train rides (two days or more), I would suggest paying a little extra and taking Third AC. I took this class during my 50-60 hour train ride from Bangalore to Varanasi. Third AC means air conditioned coaches with sleeping berths that are arranged with three tiers across the width and two longways. Bedding is included as well as three meals a day for a day or more long journey. Everything is very clean, and the berths are far less crowded since they are strict on who is let in this part of the train.  This also means  there aren't people coming in this part of the train selling things like food and water.
AC Three Tier (Economy)
Air conditioned coaches with sleeping berths.  Berths are usually arranged as in 3AC but with three tiers across the width and three longways. There are usually no reading lights or curtained off gangways and bedding is not included with fare.
AC-Two Tier
I never did pay for a 2-tier berth, but I did check it out during a train ride and I must say it is very nice, spacious and clean.  AC Two Tier consists of air conditioned coaches with sleeping berths, ample leg room, curtains and individual reading lamps. Berths are usually arranged in two tiers in bays of six, four across the width of the coach and two berths longways. Curtains are provided to give some privacy from those walking up and down. Bedding is included with the fare and each coach can carry 48 passengers.
First Class AC
This is the most expensive class, where the fares are on par with airlines. So for me, my budget did not allow me to ride first class. However, I would definitely like to ride this class once in my lifetime, but I cant see myself getting a cultural experience as I would in Sleeper Class. In first class, bedding is included with the fare. This air conditioned coach is present only on popular routes between metropolitan cities and can carry 18 passengers in comparison to 72+ in Sleeper Class. The coaches are carpeted, have sleeping accommodation and have privacy features like personal coupes.
First Class
Same as First Class AC, but without the air conditioning. This class is not very common.
AC Chair Car
This is a great choice for shorter journey's. This is an air-conditioned seater coach with five seats in a row. The clientele consist mostly of business men and middle class families.
Executive Class Chair Car
The same as AC Chair Car, but with four seats in a row instead of five.  This seating also costs more than AC Chair Car.
Seater Class
I would recommend this option for shorter rides. There are windows you can open to catch a breeze since this coach does not have air conditioning. There are bench style seats and the clientele is made up of curious locals who will want to know everything about you. This compartment consists of lower to middle class families and individuals. I have had amazing trips in Seater Class because of the locals I interacted with and learned from.
Unreserved
This is the cheapest accommodation you can get.  This is also an interested experience I would recommend trying at least once during a shorter journey.  The seats are usually made up of pressed wood, but the cushioned seats have been rapidly replaced. The plus side of this compartment is it is guaranteed entry however, a sitting seat is not guaranteed. So unless you don't mind standing or being completely squished for hours, I wouldn't recommend this for long train journey's. Tickets issued are valid on any train on the same route if boarded within 24 hours of buying the ticket. These coaches are usually very crowded.
Booking Your Train Ride
If you are only going to India for a couple of weeks and already have everything all mapped out, then I would suggest booking your train tickets ahead of time. For those who have more time and flexibility with your travels, then I would highly suggest booking as you go. It is fortunate that you are able to actually book a train ticket sometimes on the actual day you would like to travel. However, these last minute tickets are most likely more expensive and may be in the seating class you were hoping for. If you aren't traveling on a specific time schedule, then having a few days of flexibility to get to your next destination will make booking last minute travel plans much easier. You may not leave on the day you were hoping but instead will leave the following day. If you are on a tight schedule, this is obviously not the way to go. I would suggest booking your train tickets on the internet before you leave home so that you don't have the worry about whether or not you will get to your next destination in time.
If you are booking your train tickets while on the road, you can do so online or through one of the many travel agencies around India. The benefits of booking through a travel agent are they have access to last minute tickets that aren't available online. The downside is you are going to pay an extra few dollars for that ticket. That is after all, how the agents make their money. If you know at least a few days beforehand that you are going to be traveling, then I would suggest booking your train tickets online on your own.  My favourite sites to book tickets on is Make My Trip, Clear Trip and IRCTC. It will save you a few bucks in the end. Don't forget to get a print out of your train ticket, as it is ALWAYS checked on the train along with your passport.
Solo Train Travel Versus Group Train travel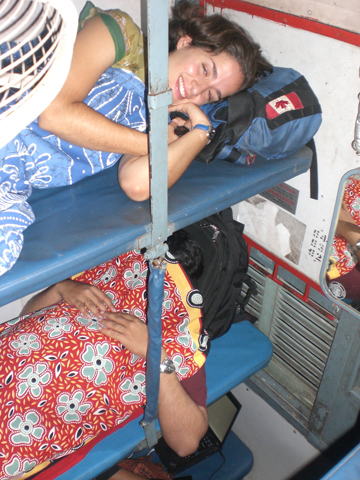 I always prefer traveling solo because it challenges you in every aspect. You become more open to people and strike up conversations you may miss out on if you are with someone else. You also don't have anyone else to rely on to make choices. This can be a challenge for many people. Riding a train in India alone is a must, in my opinion, for every traveler. You will feel well accomplished once you do it.  It is of course also nice to travel with one or more other travellers.  It is always nice to share a new experience with someone else, and have guaranteed comfortable company during a long journey.  You also have someone to look out for you and your bags if you need to go to the washroom or buy something during a train stop.
What to bring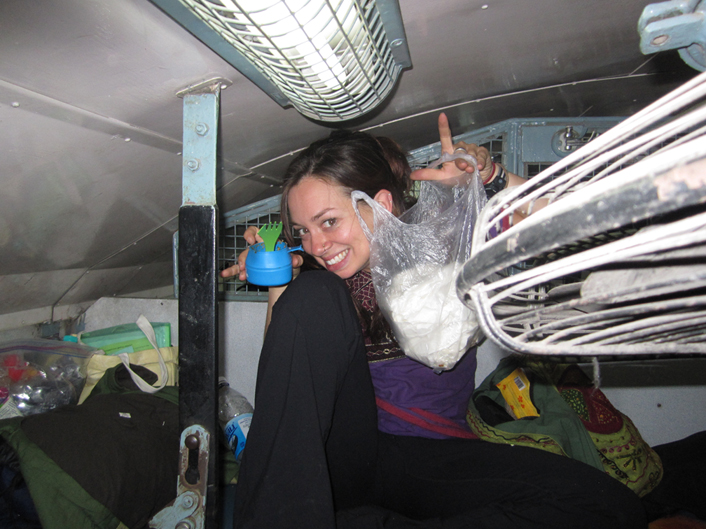 This is up to you, but I would recommend bringing snacks and water. You will stop and there will be stuff for sale along the way, but I always feel more comfortable bringing my own stuff.  This is because you never know when the next stop will be, how much time you have to buy something and what will be available. Also, bring a headlamp because most berths don't have lighting at night. I would also highly suggest bringing toilet paper and sanitary wipes. It is very unlikely that there will be toilet paper in the stales and if there is, it doesn't last very long. Also, trains get a little dirty, especially in the washrooms, so its nice to have hand sanitizer or sanitary wipes with you.
What the Trains Provide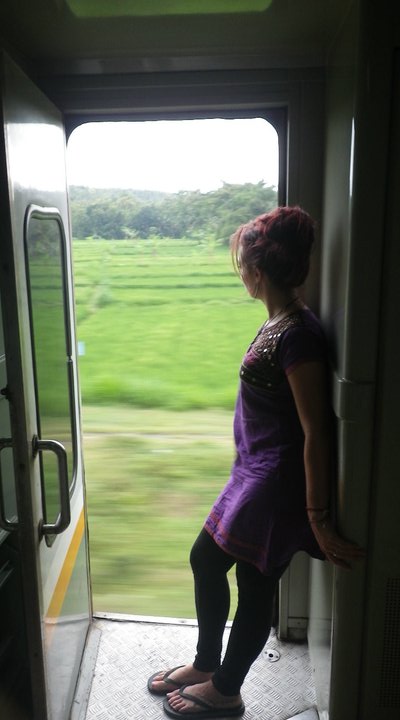 Every berth provides a couple of toilets and sinks. Some berths provide you with sheets and meals, depending on your seating class ticket. Some berths have air conditioning and some don't. Again, this depends on how much money you are willing to spend for your journey. All berths provide an excellent landscape views from the many windows or open doors. All berths also provide very different experiences, so I say if you can, why not try them all!
What to Look Out For
I would always watch over my things. Theft on trains is common. You will be fine as long as you take precaution and use common sense. I would highly suggest bringing a lock and chain with you on the train. There are hooks under the lowers bunks where you can attach your bags too. Also, lock up every compartment in your bag and keep your passport and money on you at all times. Sometimes I even used my bag as a pillow, depending on how I felt in the situation. Always follow your gut!  Women, please cover up.  Don't show skin and expect not to be stared at or groped.  Again, it's all about common sense and awareness.  If you have both of these, then you will enjoy your journey.
Have you taken an Indian Train?