Tastebuds Beware! This top 10 list will make you tuck in your napkin, grab a fork and start to salivate. Vienna is widely known for it's rich music culture, but its culinary scene is on the rise to share that spotlight. After a week indulging in the diverse food and drinks of Vienna, these were my top finds… Guten Appetit!
10. Wiener Schnitzel
Vienna is locally referred to as Wien, which is how "wiener schnitzel" got it's name. A thin slice of veal seasoned with salt, dredged with flour, coated with eggs and battered with breadcrumbs. Fried for a few minutes in oil and served with lemon. The recipe dates back to the 1800's and variations of it exist in other parts of the world, referred to as milanese. The Plachuttas Gasthaus zur Oper is the most popular place in Vienna for this historic recipe.
9. Coffee at Freud's Coffee Shop
Sip a coffee and step back in time at Café Landtmann. Vienna was home to famous characters in our history books, one of them being Sigmund Freud – philosopher and neurologist. He, like many men from his day spent time at Café Landtmann, which is still open today. In the late 1800's the seats were only occupied by men, as it was not proper for a lady to be amongst the cigar smoke, brandy and male boisterous behavior of a café in that era. Freud spent much time in this environment and went on to create the theory on the libido, linked to ego and sexuality. Could there be a link to the testosterone-filled café? What do you think?
8. Cake at Grandmothers Bakery Vollpension
My favourite dessert was an apple cake my grandmother baked. I think grandmothers cooking always tastes better than any fancy restaurant. I bet many of you could agree. The Vollpension Café is the first of it's kind to have a kitchen full of grandmothers. There aren't any set menus as the grannies bake whatever recipe they feel like that day. The décor is vintage and spotless with old family photographs on the wall and artifacts from before you were born, just like you'd expect from a visit to grannies. It's a perfect win-win for elder women to make money in retirement and bake with love for the younger generation.

7. Cake at ZuckerBäckerball
Vienna is home to 450 balls every year. I'm talking big gowns, tuxedos, dancing the waltz, Cinderella type balls. Each ball has a theme that influences the food and décor for the event. We attended the ZuckerBäckerBall which is the ball for bakers who compete for the best cakes in town! When you're not busy waltzing with your date on the dance floor, you can feast your eyes on the thousands of cakes and of course, eat some too.
6. Apple Strudel at Strudelshow
Cut into this flaky baked-apple pastry and endure the mouthwatering aromas of this famous delicacy. Just to top it off you can dine at the Imperial Palace…feeling royal yet? The Schönbrun Palace is home to an imperial bakery, which hosts the Strudelshow. You will see how these delicacies are prepared and sample some for yourself.
5. Vienna Coffee Festival
Coffee-lovers unite at Vienna's Coffee Festival. Sample local and international lattes, cappuccinos, or a double espresso with skim milk, one scoop of brown sugar, extra foam and a sprinkle of cinnamon if that's what satisfies your taste.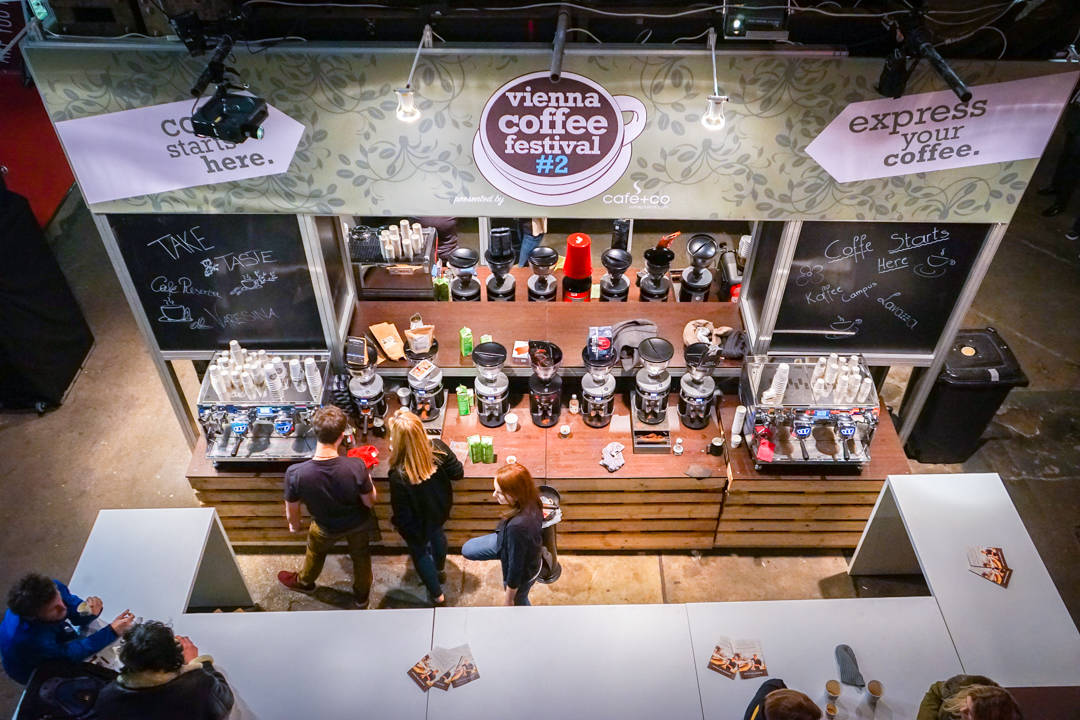 4. Rooftop Drinks at 25hours Hotel
We spent a week at this circus-themed hotel and loved every bit of its elegance and quirkiness. Top to bottom, the 25hours Hotel impressed us with its ground floor breakfast buffet and top floor bar/lounge. I highly recommend heading up for a drink of local brewed beer and panoramic view of the Viennese skyline. I heard from some locals that it's the best lounge in the city.
3. Sausage at Food Stand Bitzinger
A trip to Vienna would not be complete without biting into a Bitzinger sausage. With sausage stands conveniently located in hotspots at the Albertina and the Giant Ferris Wheel it's hard to miss this juicy attraction. I was most impressed the bun was hollowed out from the top for the sausage to be encased in bread. Cutting the bun in half, like I'm used to, risks your toppings falling out.
2. Goulash at Demel
Demel is a mini food empire with its brand across restaurants, cruise ships, and events across the globe. Their philosophy is "don't do anything with a machine that can be done by hand," and their goulash is no exception. Goulash is a stew made with meat and vegetables but the key is in the spices. A hearty meal that will leave you feeling warm and cozy. Oh! And get some hand-made chocolates for dessert.
1. Naschmarkt for Food and Drink Stands
Love to cook and want a place to buy all your ingredients? The Naschmarkt is a long narrow strip of vendors selling everything from exotic fruits to local seafood. I found fruits and vegetables I hadn't ever seen before and spices I've never smelled. Thankfully, they handed out free samples so I could try everything.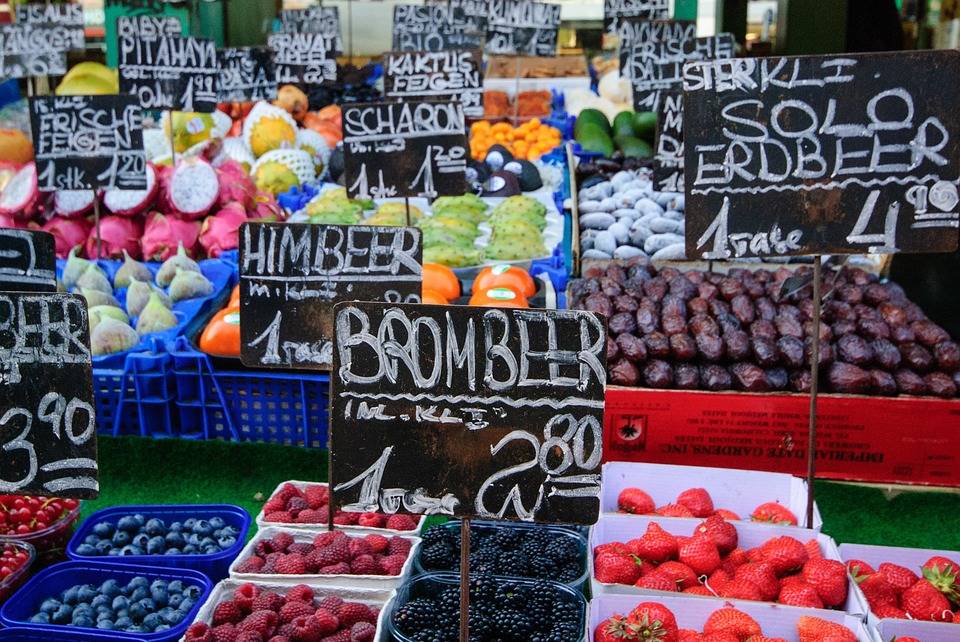 Which of these makes you salivate?
Want to see us eat this list on camera? Be sure to click play on the video above.