I love coffee. It is my addiction, and I'm okay with that. This is why I will spend my life drinking coffee in every place I visit around the world.
For the most part, a good cup coffee can be found no matter where you travel and sometimes you get your hands on the perfect cup that leaves a lasting impression. Part of the coffee experience is the atmosphere in which you drink it. Whether that's outdoors in front of a castle or in a great café.
The key features to a good coffee shop will vary depending on your preferences, but while massive chains like Starbucks are to be found all over the UK, there are plenty of other coffee shops that offer a more unique and memorable experience. Independent coffee shops will often pay plenty of attention to details such as the sourcing and preparation of their coffee, and many of these coffee shops will be run by award winning baristas. There are some great options around the country if you are looking for a tasty cup of java in attractive surroundings. Here are some suggestions for stops on your coffee journey through the UK:
With a barista training centre on one floor and a cafe on the other, you can be certain that you'll find plenty of coffee aficionados tasting the different varieties here. This cafe uses the latest techniques and machinery used to prepare each cup. If you're not sure which type of coffee to go with, the staff are highly trained and knowledgeable and will be happy to offer a suggestion or two. The cakes, pastries and lunches that are served up in this Clerkenwell coffee shop are sourced locally to provide some wonderful pairings to go with your coffee.
This is another coffee shop which places a great emphasis on sourcing their coffee and preparing it perfectly. There's a good selection of different roasts available, each with a distinctive flavour and taste notes. There is also the option of having a cold brew coffee, which is different to an iced coffee and is a very unique drink with a smooth coffee flavour. This is a great place for lunch with a range of tasty baguettes, sandwiches, cakes and salads, all made with premium ingredients that pair well with the coffee.
With a sleek interior decorated with retro American images and a nice little terrace, this coffee shop has a lovely relaxed ambiance making it a great place for a catch up with friends or for reading a book. There's a regularly changing menu of different coffee roasts on offer, all prepared by the experts behind the coffee bar. Home-made bagels and sandwiches have a regularly changing menu of fillings, while the doughnuts here are sweet and indulgent.
This coffee shop definitely hits you with a quirky vibe with the odd mixture of pictures and artifacts that are mounted on the wall as soon as you step in. It has developed a reputation for great coffee-to-go.  There's also a nice menu with some snacks including a great range of cakes.
With a lovely spot overlooking the Exmouth Market in Farringdon, Caravan is a coffee shop, restaurant and bar, where the emphasis on quality food and drink is seen throughout the menu. Sourcing individual coffees and roasting their own beans in small batches, you'll find the menu here changes seasonally in line with the coffee harvests that they can source. This can be combined with the excellent dishes on the menu, which are also prepared with thought and care.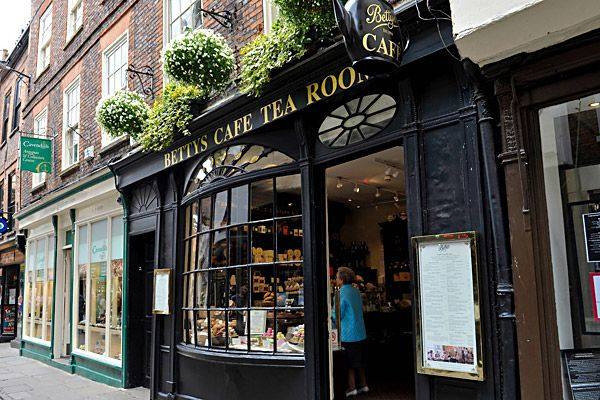 Facing on to a lovely park area, this is a spot where people have been enjoying coffee and snack for nearly a century. Having been first opened in 1919, Bettys Café Tea Rooms has an excellent reputation for its chocolates and cakes. Bettys is part of the same family company as Taylors of Harrogate, which specializes in gourmet coffee, and you will see these blends featured prominently on the great menu at this coffee shop.
Where have you had the best coffee in the world?