There's something very special about getting off the beaten path when travelling. It can sometimes be difficult to truly savour your surroundings when you're shoulder to shoulder with other tourists, all craning to get the best view. Visiting some countries that are off the tourist trail will often give you time to really enjoy the superb attractions when there are relatively few people around you. It will also give you some really incredible experiences that many others won't have. If you're trying to think of somewhere to travel in 2016 that will get you off the beaten path, the following are 6 countries that are definitely worth considering:
Laos
Most travellers travelling to South East Asia will head straight to Thailand or Vietnam. If you want to get a bit off the tourist trail, why not head straight to Laos? Although Laos has become more of a tourist destination in this part of the world over the past few years, it's still easy to avoid touristy areas compared to it's neighbouring countries. This small country lies between Vietnam and Thailand, and is the only landlocked country in the whole of Southeast Asia. One of Laos' major attractions is that it is very affordable for those who are traveling on a budget. It's full of winding roads nicely topped off by stunning jungle, river and mountain vistas. The capital Vientiane and the city of Luang Prabang both offer some stunning historic temples and cultural attractions worth exploring while the countryside has a very laid back atmosphere which is great for those looking to relax. There's great hiking in the hills and mountains in the north of the country, and some good rafting and kayaking further south.
Jordan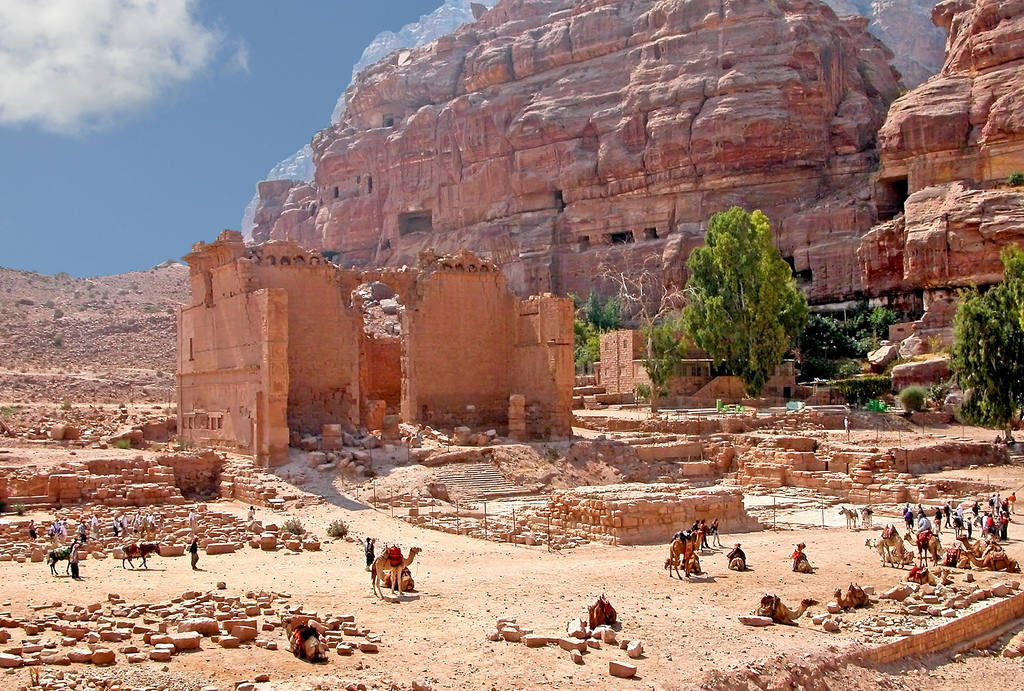 The Middle East has long been considered to be an unstable areas for visitors, but Jordan is actually one of the most stable countries in the region, and is often overlooked. The spectacular historic city of Petra was made famous by the movie Indiana Jones and the Last Crusade. This area has a series of temples and buildings which were cut out of the rock during the era of the Nabatean Empire around two thousand six hundred years ago. You can also enjoy floating on top of the extremely saline water of the Dead Sea, or visit the historic Crusader citadel at Kerak, while the capital Amman has ruins from several different empires dotted around the city.
Tonga
Tonga, otherwise known as the 'Friendly Isles,' are a haven for lovers of the outdoors. This country made up of a series of islands, is a genuinely wonderful part of the world that can only be accessed for most people through international flight connections through New Zealand, Australia and Fiji. Water sports such as sailing, scuba diving and snorkelling are popular among visitors to the islands which are made up of a series of beautiful beaches. If you love hiking, you'll be please with some great trails you'll be able to explore. One experience you can't miss out on is joining a traditional Tongan feast!
Mongolia
This destination has been on my radar since I was 10-years old. For some reason, I decided to write a book about dinosaurs living in Mongolia and since then have wanted to visit this destination. Sandwiched between the giant nations of Russia and China, Mongolia is a landlocked country which has one of the lowest person per acre ratios in the world and is where the legendary Ghengis Khan started his immense empire. The capital Ulaanbaatar is where most people will begin their visit and has some interesting attractions to experience even including a nearby ski resort. Those travelling to Mongolia in July must check out National Naadaml, which is a festival where you can see traditional sports such as Mongolian wrestling, horse racing, and archery. Outside of the capital, there are plenty of interesting areas to explore. You can visit the Gobi desert, spend a night in a yurt or even see the eagle hunters in the Altai Tavan Bogd National Park.
Bhutan
For those afraid of flying, brace yourself! With a hair raising flight from Kathmandu Airport being the only practical way to get into Bhutan for international visitors, you have to really want to visit the country. Having said that, Bhutan's stunning Himalayan scenery and wonderful welcoming population makes the journey worth the effort. The Tiger's Nest Monastery, perched on a steep cliff near Paro, is one of the most iconic buildings in the country. There are other Buddhist monasteries and temples to be found in almost every village and town in Bhutan. Hiking is very popular for visitors to the country, with the Snowman Trek taking explorers into the heart of Bhutan's high Himalayan peaks for some experiences and views not available anywhere else.
Liechtenstein
A tiny European principality, Liechtenstein is best known for being a tax haven and is one of very few countries in the world that is double landlocked; meaning that it is surrounded by other countries that are themselves landlocked. This is a great country for those who like outdoor adventure sports. You can enjoy exploring the mountains, skiing, snowboarding, hiking and mountain biking. The most interesting attraction is Balzers Castle, with great Gothic architecture and a stunning mountain backdrop.
Which of these countries do you want to travel to the most?