Each month, I will be sharing my travel favourites from the previous month. The items featured will be ones I can't travel without and would highly recommend to other explorers.
In this video, I share my favourite items I'm digging for the month of August 2015:
Roam Mobility
During my travels in Michigan for Electric Forest and California for VidCon this summer, I used the Roam Mobility Text+Talk+Data plan so I could share all of my adventures with you in real time.
Roam Mobility is a mobility service that offers Canadians travelling in the United States unlimited roaming packages for a great price. My favourite words in one sentence…unlimited and good price. The plan I chose cost $3.95 CAD a day for unlimited data, talk and text and also comes with a voicemail and caller I.D., but you can choose a plan that best fits you and your trip.
Neti Pot with Himalayan Salt
The neti pot can be traced back thousands of years in India, where it was used as a cleansing technique in Hatha yoga. In fact, it was during my travels in India when I was introduced to the neti pot for the first time.
What is a neti pot and what does it do?
The neti is used for nasal irrigation, which entails flushing out your nasal cavity with a saline solution. This magical tea pot looking device has multiple benefits including: sinus relief, balancing your mood, spiritual awakening and flushes allergens, bacteria and infection-causing mucus out of the sinuses.
I bring the neti pot with me on all my travels and use regularly to help keep me healthy.
Travel Size Refillable Perfume Bottle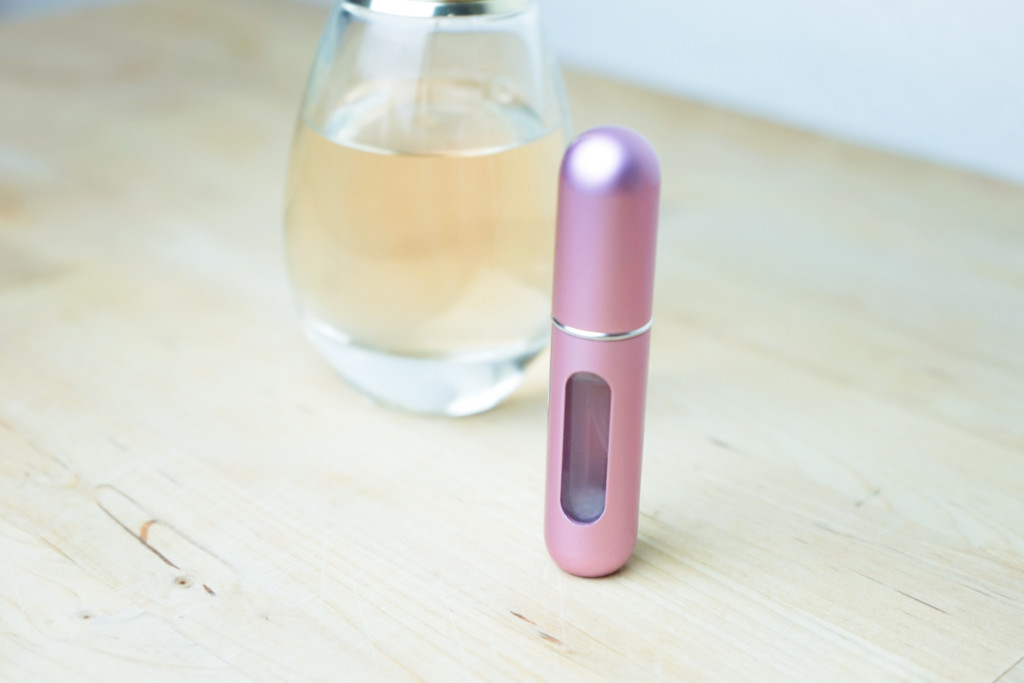 Although I love collecting perfume samples from my local drugstore to bring with me on my travels, I do prefer to bring my everyday perfume with me. Since I only travel with a carry on, I recently purchased a travel sized refillable perfume bottle so that I can bring my favourite perfume, J'adore with me without any trouble.
Chrysalis Cardi
When I came across a clothing brand called Encircled, I automatically fell in love. This company offers the perfect clothing to travellers. My favourite, the Chrysalis Cardi, is a piece that can be worn in over 8 different ways. From an elegant one-shoulder gown, to a cozy cocoon cardi, to a classic infinity scarf and more. I love how there are so many possibilities of how to wear this all in one design making it the perfect item of clothing for the travelling type.
Portable Chargers
myCharge is a Michigan-based manufacturer that makes portable chargers. Depending on what you will use your charge for will depend on which one is best suited for you as myCharge offers several. My favourite is the HubPlus portable charger. If you're like me, and your phone dies several times throughout the day, then a portable charge is a lifesaver. I would highly recommend every traveller to own one of these as they are affordable and extremely convenient.
Shantaram
If you are looking for a GREAT read, then go and get your hands on Shantaram. This book is one of the best stories I've ever read. This is a true story about a man named Gregory David Roberts who was born in Australia and was sentenced to 19-years in prison for a series of armed robberies. He escaped prison and spend 10 of his fugitive years in Bombay where he established a medical clinic for people living in the slums and worked as a counterfeiter, smuggler, gunrunner and street soldier for a branch of Bombay mafia. I must warn you. This book will be one that you can't put down once you start reading. It's really that good!
Now comes the extra fun part…Giveaway time!
This month, I partnered with Roam Mobility to give one of you the following:
Roam Mobility SIM card + U.S. phone number

14 day Talk+Text+Data plan
How do you enter?
Leave a comment below telling me where you in the United States you are travelling to next.

Sign up for my email subscription to get updates and extra travel goodies sent straight to your inbox
Only Canadians are eligible to win this giveaway.
I will announce the winner on September 14th, 2015 on Facebook. So, be sure you have given the Hopscotch the Globe Facebook page a "like" so you can find out if you are the winner.