Every couple of months, I share my favourite travel products that I've been absolutely loving. The items featured are ones that I absolutely love to travel with or inspire me to travel. All of these items are truly ones I love and without hesitation would recommend to other explorers. Also, one of you lucky readers will win one of these fabulous monthly favourites. To find out more, keep reading…
Without further ado, here are my Top Travel Items for March & April and May 2016:
Wind Pouch
If you're on Facebook, you may have seen a sponsored advertisement for that really cool looking bag thing that when filled with air turns into an inflatable hammock. Well, Siya and I are now proud owners of one, and it's amazing!
The Wind Pouch is lightweight, easy to pack and assemble, comfortable AND water proof (which means you can float on it in the pool or ocean). We had a blast with it during our recent trip to Mexico. When you combine the Wind Pouch with a gin and tonic, it's a recipe for extreme relaxation. Seriously though, prepare to not do anything but chill for at least an hour once you park your butt into this thing. It's that good.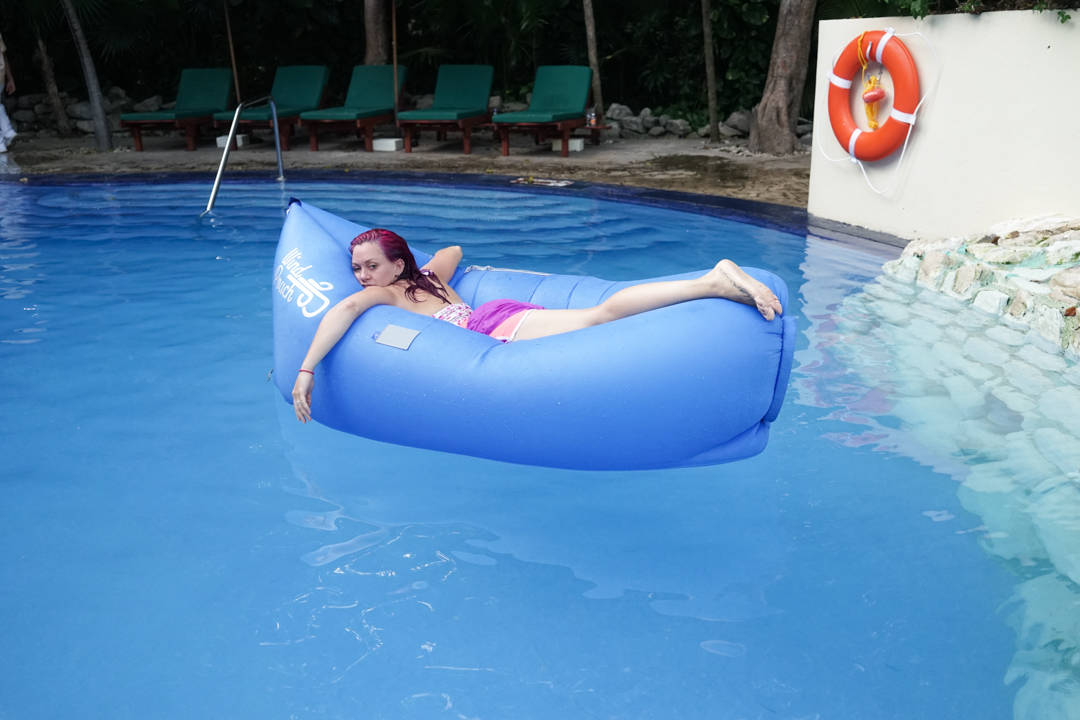 GIVEAWAY ALLERT!
Siya and I don't want to be the only ones enjoying the Wind Pouch. We want one of you to experience how awesome this thing is too. One of you lucky readers will be receiving a Wind Pouch to enjoy all summer long.
To enter this giveaway:
Leave a comment below telling us how you will use your Wind Pouch this summer.
Note: You must have a mailing address in North American to win this giveaway. Entries will be considered up until Monday, June 13th at 11:59 PM EST. The winner will be announced on Instagram on June 14th.
Dell Computer XPS
Running a business on the road requires my office and editing suite to be on the road with me. For the time being, laptops surpass smartphones and tablets when it comes to specs and capabilities. Recently, I got my fingertips on the Dell XPS laptop and it's loaded with useful features. The exterior is made of a aluminum shell which adds style and durability over previous plastic Dell laptops I've used, and cracked. But let's not judge from the exterior casing and 15.6″ 4K touchscreen, it's the inside that counts, right?
I use laptops to run my entire business so customization is important to me. When picking this model I opted for the Intel i7 Quad core 2.6 GHz processor, 16 GB of ram, NVIDIA 2GB graphics card, HDMI port, two USB 3 ports (10GB / sec) and a 256GB solid state hard drive, stick to solid state for video editing. That's enough tech mumbo-jumbo, the best features for me are the 17 hour battery life and Thunderbolt 3.0 so I can transfer 40 GB of files per second. I need a computer that can keep up with my fast-paced lifestyle, tech don't slow me down!
Moisturizing Face Mask
My least favourite part about travel is the actual flying. Not only am I afraid of planes (go figure), but I really detest the dryness of the air I'm sitting and breathing in for hours at a time. It's important for me to always make sure that not only am I drinking plenty of water to stay hydrated, but it's absolutely essential that my skin stays hydrated too. This means packing an intense face moisturizer is key.
I'm really loving the Rodial's Dragon's Blood Hyaluronic Mask. Apparently Victoria Beckham never leaves the house without it, and I don't blame her. This magical potion is super moisturizing and leaves your skin glowing.
Palo Santo
Call me a hippie….well I pretty much am, but I will not apologize for my obsession with Palo Santo. I've been burning this magical wood all throughout the day…everyday. I've even been oh, so tempted to burn it while on an airplane to mask the appetizing smell lingering from the toilets. However, I don't think that would fly with the stewardess.
Palo Santo is a mystical tree that grows on the coast of South America and is related to Frankincense, Myrrh and Copal. This magical wood has both ceremonial and healing benefits, relieving common colds, flu symptoms, stress, asthma, headaches, anxiety, depression, inflammation, emotional pain and more. It keeps energies grounded and clear and creates a pleasant, fresh smoke that works well in keeping away mosquitoes and other flying insects away.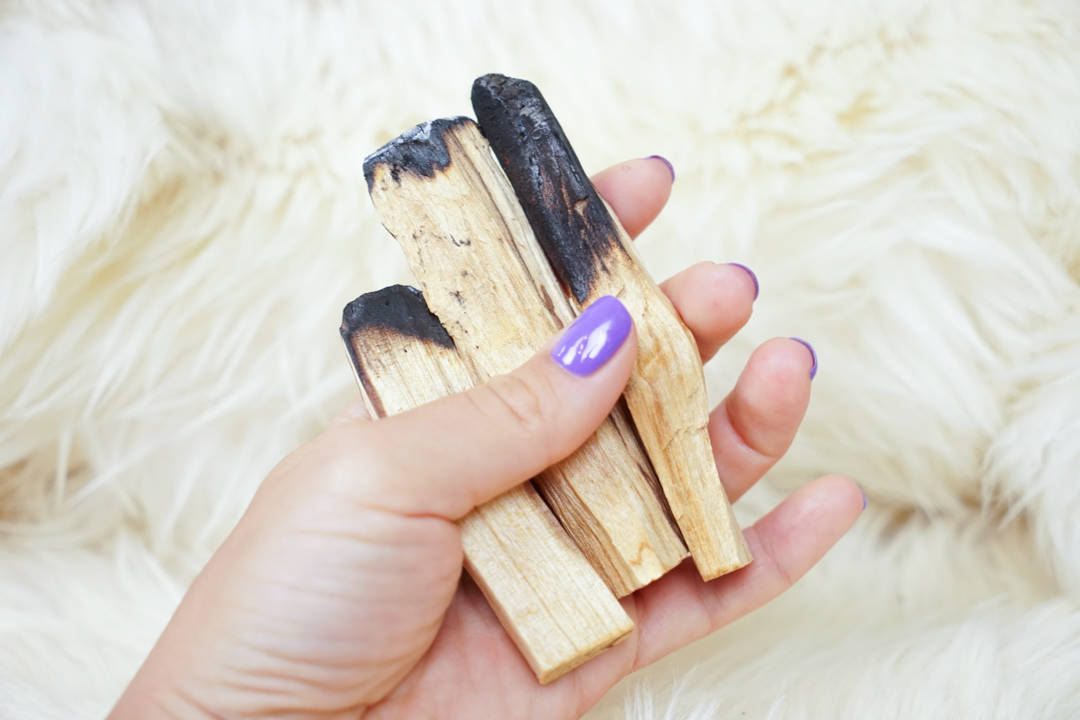 Electric Toothbrush
If you want to give that wrist of yours a break but still want pearly whites, get yourself an electric toothbrush! My teeth have never felt more clean and looked as white as they do since I brought the Elite Sonic Toothbrush into my life.
It has 40,000 brush strokes per minute and vibrates every 30 seconds telling you when to move your toothbrush to another part of your mouth. This helps you meet the dentist recommended brushing time without having to think about it. The toothbrush also comes with a lab tested UV Sanitizing Charging Base that kills germs and bacteria while keeping your brush charged for the next use.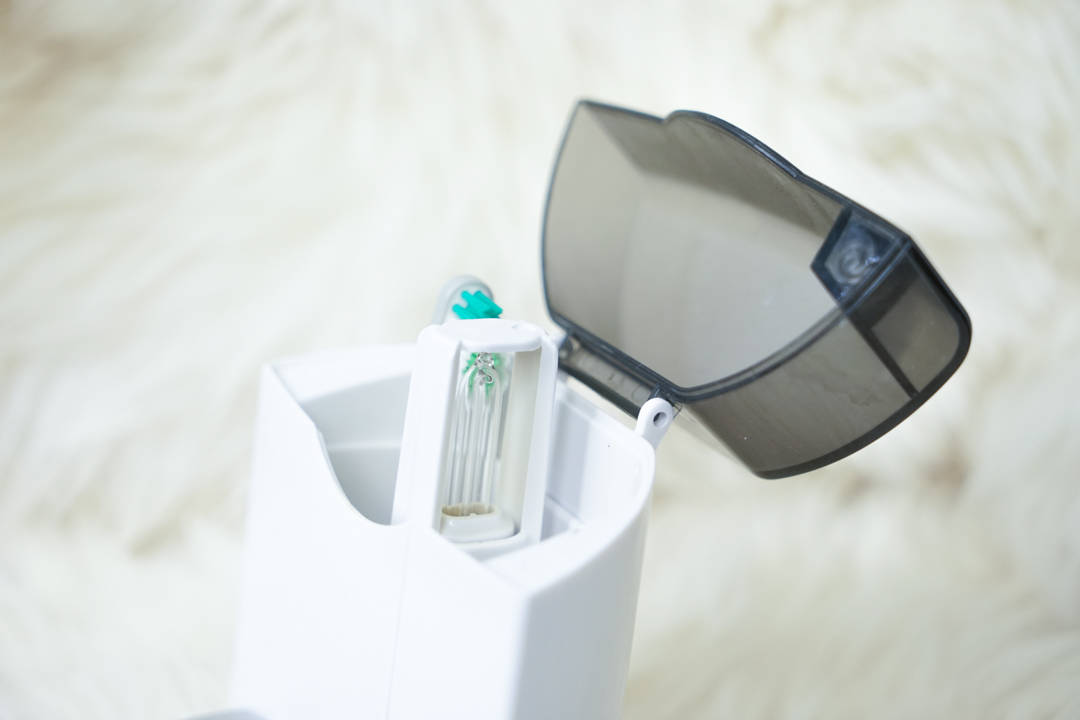 What's also so great about this toothbrush is it has lasted both Siya and I two weeks on only one full charge. That's using the toothbrush about 6 times a day in total (we have our own toothbrush heads but use the same body). This means, we don't need to take the charging base with us on our travels if we are trying to pack light and save space.
Important Note: Save 75% off Elite Sonic Toothbrush by clicking on the above link or this one. Use code after checkout on Vanity Planet: KBRUSH
DJI Phantom 4 Drone
Filming my adventures will never be the same again….
The DJI Phantom 4 blows my mind because of how friggen cool and sexy it is. It's small and weighs pretty much nothing, making it an excellent travel companion. The power that this thing has is incredible and has already taken the travel videos to a whole new level.
Some key features about this drone that I'm loving are:
Front obstacle sensors which allows it to react to and avoid obstacles in its path

Precision hovering, even without satellite positioning support.

Longer flight time (compared to the other 3 DJI Phantom's before it). Having said that, I would recommend a second battery, especially for those travelling with the drone.

Active track which allows it to recognize a subject and follow it naturally without an operator

Shoots in 4K at 30fps

Return to home button, which brings the drone back to take-off position in times where you can't seem to find where it flew off to.


Zion Health, Clay Dry Deodorant
Over the past couple of years, I've tried pretty much every natural, antiperspirant free deodorant that is on the market…seriously. I've tried ones that have made me feel sticky, sweat more, stink like hell and one that even left a permanent burn mark on my armpit. Just when I thought all hope was lost when it came to natural deodorant, I found Zion Health Clay Dry Deodorant starring at me from a shelf. It's seriously the best natural deodorant on the market, especially for those who have sensitive skin. Not only do I feel fresh all day (I apply it every 5 hours), but my pits smell awesome and no burning armpits. There's no turning back now!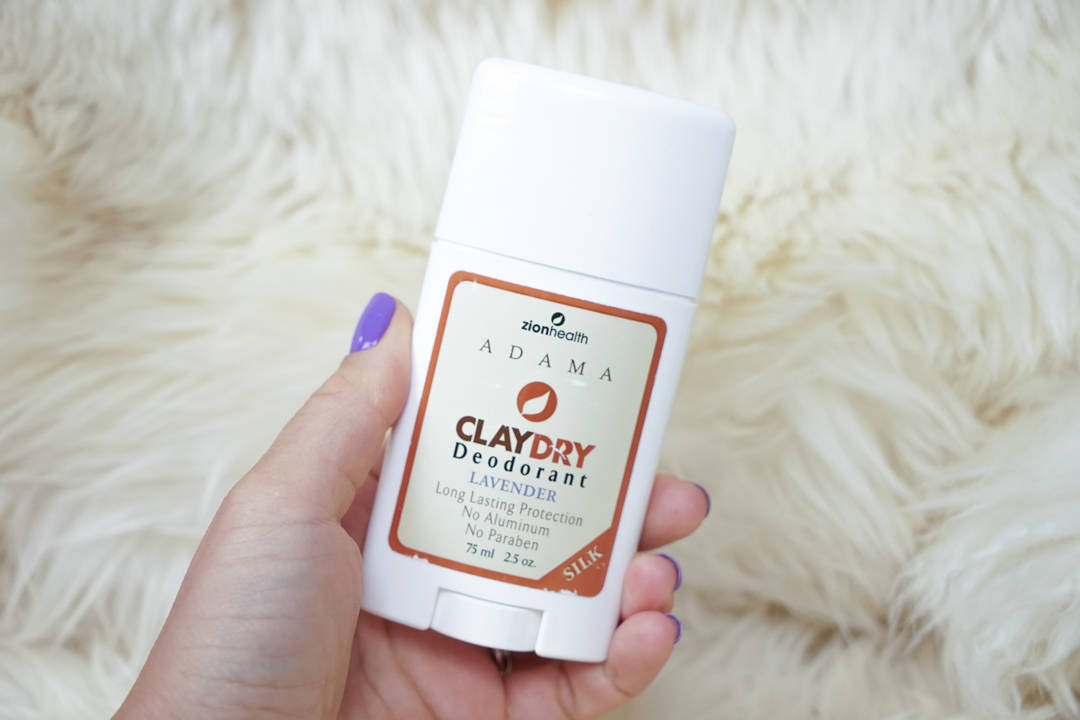 ***
I hope you enjoyed this monthly travel favourites video and post. Don't forget to follow Hopscotch the Globe on Instagram and leave a comment below for your chance to win a Wind Pouch.