Each month, I share my favourite travel products that I've been absolutely loving. The items featured are ones that I either can't travel or inspire me to travel. All of these items are truly ones I love and without hesitation would recommend to other explorers.
Without further ado, here are my Top Travel Items for February 2016:
S'well Water Bottle
This water bottle has quickly become my travel sidekick. I bring it EVERYWHERE I go! You can literally always count on me if you need some water. Just ask, and I'll hand you over Mr. S'well. The idea behind the S'well water bottle is that the company wants everyone to stop using plastic water bottles. Every year, over 200 billion plastic water bottles go to landfills globally, which is ridiculous and avoidable. S'well bottles are made with non-leaching and non-toxic stainless steel making it not just healthier for the environment but for you as well. The best part about this water bottle is that drinks stay cold for 24 hours and hot for 12 without exaggeration. The bottle comes in different sizes and different colours and designs, so you can pick the one that speaks out to you the most. S'well is also a proud supporter of UNICEF to help provide clean and safe drinking water to the world's most vulnerable populations.
Ear Planes
Ear Planes are my saviour! I will never ever travel without them again, I can promise you this. For the past year, I've been having issues with my ears on every flight I've taken. When I was flying to Newfoundland, we had to stopover in Halifax before continuing the journey. The pressure build up in my ears was so bad, that I had to evacuate the plane and actually book a later flight. I was in tears and couldn't hear anything anyone was saying because my ears had built up so much pressure. This lasted for a good three days.
I've tried several things since then to help my ears pop on a flight which have worked. However, when I discovered Ear Planes, my whole world changed. These $5 ear plugs have never failed me! Ear Planes relieve ear discomfort, clogging and popping with  the exclusive CeramX™ filter that regulates air pressure naturally. I pop them in before the plane doors close on each flight until we are in the air and the seatbelt sign is off. I then pop them back in before we start descending. Since I've been using them, I haven't had any issues with my ears.
Vanity Spa Kit
Anytime someone mentions the word "spa" I am on high alert. I absolutely love the spa, but seriously, who doesn't? I am always up for a massage or relaxing in thermal waters. I also have quite the collection of face creams and other body products. I can't help myself! That's why when this Vanity Planet Ultimate Skin Spa System made it's way into my life, I knew we were meant to be. The system is easy and fun to use and keeps your face super fresh and clean like you've never had it before. It lifts all the dirt, oils and debris trapped deep in your pores and leaves you face with a smooth complexion. The micro-massaging device comes with three brush heads for an enhanced cleansing and exfoliating experience.
Sony RX100 IV
I'd like to introduce you to the newest member of the HTG family…The Sony RX100 IV! This may look like your typical point and shoot camera, but you will be amazed by how powerful this little guy is. This camera would be my first choice for the traveller looking for a great camera that takes excellent photos and video and doesn't want to lug around a heavy DSLR. Every time that Sony comes out with a new camera, I am more blown away and become more of a fan of their products. The RX100-series of premium compact cameras are no exception. Now on its fourth-generation model, the Sony RX100 IV introduces a host of performance-oriented improvements and new features, including 4K video capture, 16fps continuous burst shooting and a very fun high frame rate (HFR) slow-mo video mode. It has excellent image quality, Zeiss lens, 40x super slow motion and up to 1/32000 sec. super-high-speed shutter beyond human perception, tilted screen, control ring for manual, view finder and flash. This has been the ultimate vlogging camera!
MycoShield Spray Immune Support
This magical spray supports travellers' immune system and is great to throw in your carry-on before heading out any of your travels. The MycoSheild Spray Immune Support comes in either peppermint or cinnamon flavour, but it's most important ingredient are a blend of five powerful polypore species: agarikon, red reishi, chaga, birch polypore, and turkey tail. This mix combines mushroom properties to create a special blend that helps support the immune systems of travellers. All of the ingredients are certified organic.
The Lost Girls Book
There's nothing quite like a great book that sparks the wanderlust inside of you. The first travel blog I ever stumbled across and became addicted to was the Lost Girls World. I was planning my trip to Peru and was looking for information about the country (ie. where to go, what to see, where to stay, etc). I remember getting so excited and felt much more prepared about my trip after reading about Amanda, Holly and Jen's experience in Peru. We even started emailing back and forth for a while. Then, when I got the idea of starting my own blog a few years later, I reached out to Amanda, since we chatted the most, and she Skyped with me to give me advice and answer any questions I had. This was also right before I was leaving for 10 months to travel around the world, which she had previously done, and she helped address any worries or concerns I had.
I remember returning home after the ten-month trip to find out that Amanda, Holly and Jen had written a book about their year travelling the world. Of course, I went right the book store and got myself a copy. I already knew they were great writers and had excellent stories to share, but I didn't know that The Lost Girls would immediately become one of my favourite books.
The Lost Girls is story of three women, Jen, Holly and Amanda, who are feeling the pressure of hitting certain milestones as their 30th birthday approaches (have kids, find a husband, get a big promotion). Basically, the story revolves around a life changing decision that many people right this moment are thinking about but most will not make. Instead of falling into the life pressures that accompany turning 30, the three friends make a pact to quit their jobs, leave behind everything familiar, and embark on a year long adventure around the world. Each of the women write different parts of the book, that covers four continents and a journey of over 60,000 miles. This book just may give you the push you need to ditch the job and take that dream trip.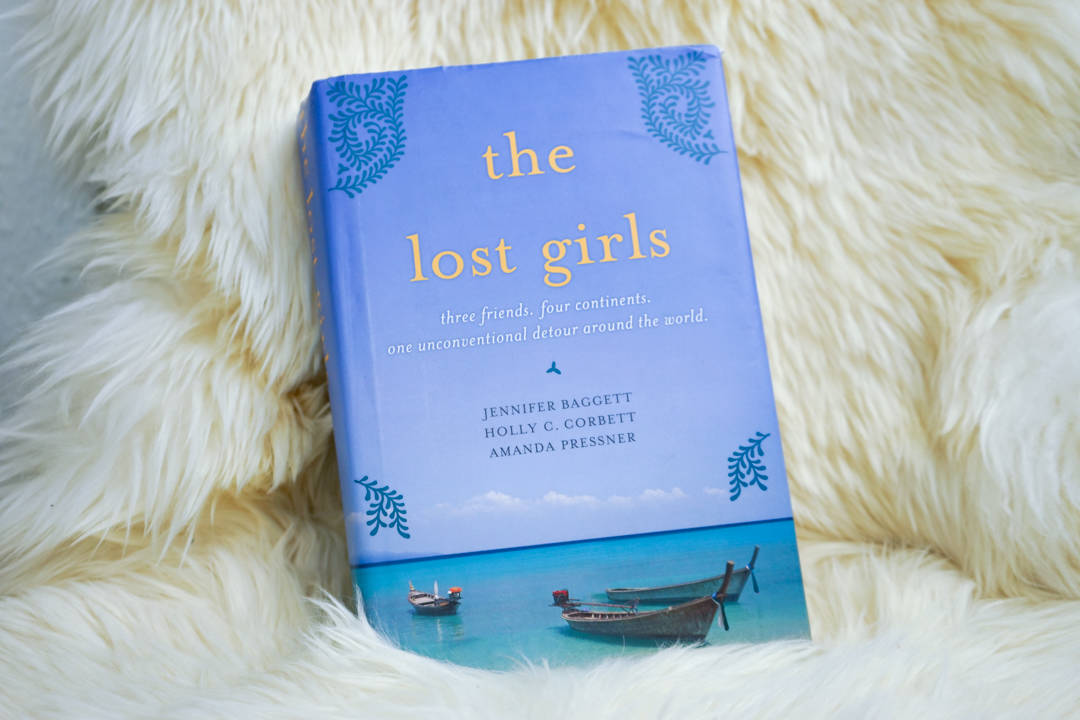 What is one of your travel must-haves for the month?