Are you thinking of moving into a van and have a bunch of questions about this unique lifestyle? Living in a van is a big decision, and it's essential to know what you're getting into. So, if you want to know if van life is for you, keep reading…
I sat down with Daniele and Mat from Exploring Alternatives to discuss what it's like living in a tiny home. We covered many questions that our readers frequently ask us, including the ups and downs of living in a van, solo van life, and what to do before committing to the van life.
[FYI: Daniele and Mat live in a van and travel around Canada filming people living who are experimenting with alternative lifestyles, from boats to camper vans to zero-waste homes…Super cool!]
Here is what you need to know before living in a van:
Try Before You Buy
Before you make the big jump to live in a van, we recommend trying out the lifestyle first. That can be as simple as sleeping in your car for a night. Or you can rent or borrow a camper van for a week to get a good feel for what living in a van full-time will be like.
When you're ready to buy your first van, we recommend starting with something as cheap and reliable as possible. Just do a simple conversion, and see if you like it.
Apartment Versus the Van Life Costs
Living in a van is cheaper than living in a house or apartment. However, it's not as cheap as most people think. You need to pay for gas, insurance, parking fees in a campground, and most importantly, repairs.
Something always breaks in a van, so most of your money will go towards repairs. This is something to think about, especially if you buy a cheaper van. Cheaper means it's probably an old van, and an old van will most definitely need repairs.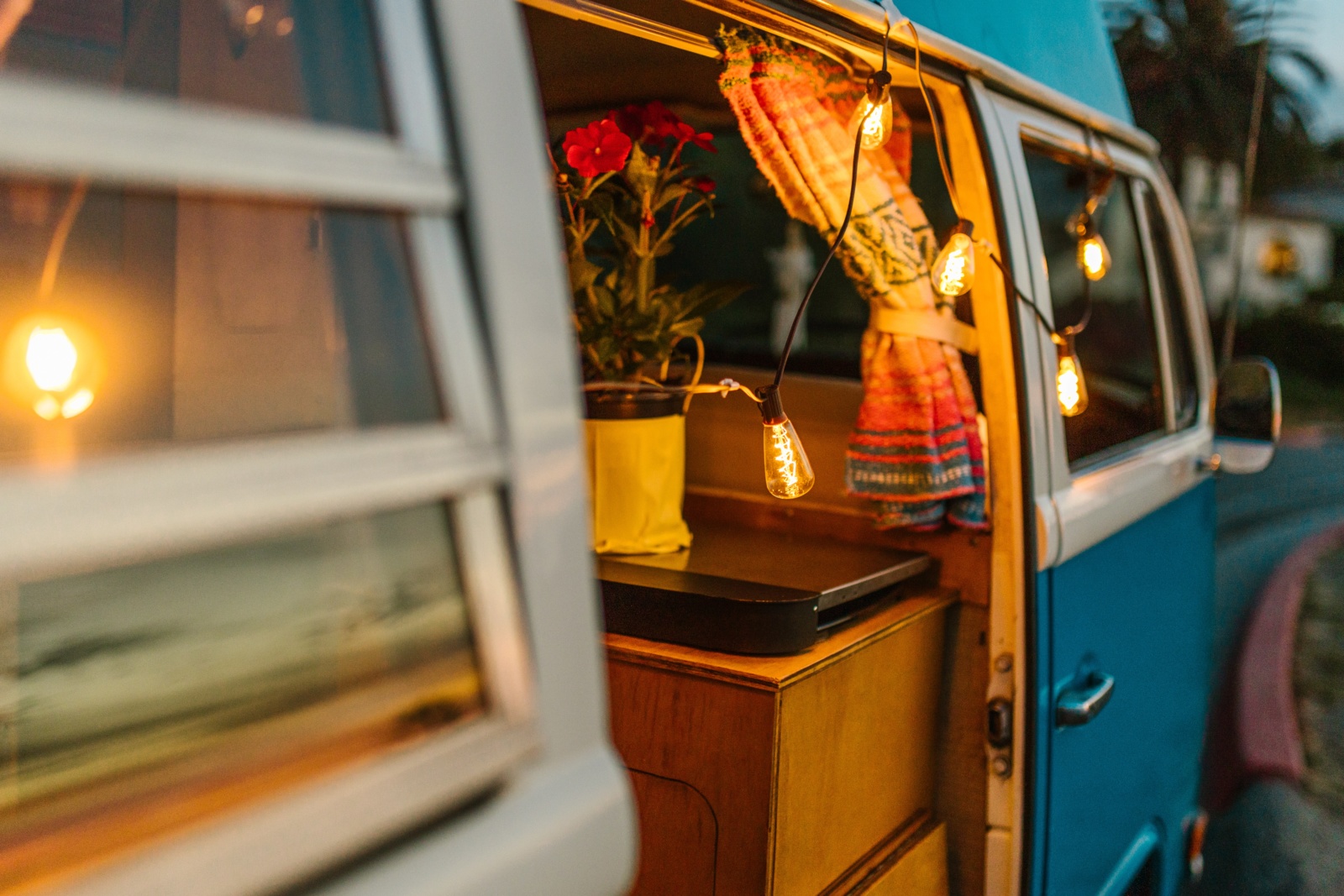 Pros of Living in a Van
When you live full time in a van, life becomes really simple. And although you need to manage every little thing, it just comes down to the essentials. Where am I going to sleep today? Where am I going to work? Where am I going to find WiFi? Where am I going to go to the bathroom? Where can I get a cup of coffee?
You'll see some incredible places living in a van. You'll meet tons of amazing people and best of all, you'll have the flexibility to live wherever you want. Your home and office are on wheels, so you can explore to your heart's content – and save money as you travel.
If your loved ones don't all live in the same place, having a mobile home means you can visit and spend time with family and friends and then go back to your own space at the end of the day. You'll not only save money, but you also won't feel like you're overstaying your welcome.
Another advantage of living in a van is you can store your house, go on a trip somewhere and not pay money (or pay very little) for your home to be stored while you're away.
Eco-Friendly Lifestyle
If you like the idea of having a smaller impact on the environment, van life is for you. Even though you're going to be driving everywhere and burning fossil fuel to do so, van life can be a sustainable ways to live, provided it's done consciously and thoughtfully.
Typically those who choose van life head towards climates that require less heating or cooling. Many also install solar panels on their vehicles. Since there's less living space, van dwellers naturally become conscious consumers. We've even been seeing a lot of people living the van life and choosing electric or newer fuel-efficient vans.
Finding Free Overnight Parking
Living in a van full-time means that you're constantly thinking about where to park for the night. If you don't want to pay for parking, you'll still need to make a plan because it's not always legal to sleep in your vehicle.
There are plenty of options for free overnight parking throughout Canada and the United States. Walmart parking lots, truck stops and even some residential streets allow people to park and sleep in their van overnight. Wherever you choose to park for the night, it's essential to always be a respectful and responsible van lifer. Never act in a way that will ruin the van lifestyle for everyone else, for example, dumping where you shouldn't or making excessive noise.
Pros and Cons of Solo Van Life
Living alone in a van can either feel lonely or gratifying. It really comes down to the type of person you are. If you enjoy spending a lot of time by yourself and have experienced solo travel, then solo van life might be the perfect choice for you.
A pro of living in a van on your own means you'll have more living space. You can build the van differently and have a small, narrower bed, making more room for storage, dining, working and even a shower and toilet.
Safety-wise, we've met several women who live in a van on their own and feel comfortable. Learning some basic solo travel hacks is recommended. Obviously, you want to be careful about where you park and to always lock your doors at night. Having a fur-friend join you on the road is also great for company and extra security.
Showering and Personal Hygiene
Lakes will be the best place for a refreshing rinse if you travel in a van during the summer. You can also buy a pressure solar shower and a shower curtain. No matter where you are, you can easily set it up and have a quick shower in privacy. Alternatively, you can get a gym membership, such as YMCA or find campgrounds that allow you to have a shower for a few dollars.
Many people ask us where van lifers go to the bathroom. When you leave your house for the day and need the bathroom, you find a public washroom, right? It's precisely the same when you live in a van. There's also popping a squat somewhere in nature. For the ladies out there, a female urinary device is highly recommended. Seriously, it's the absolute best! Another option is to build a shower and toilet into your van floor plan when building it yourself.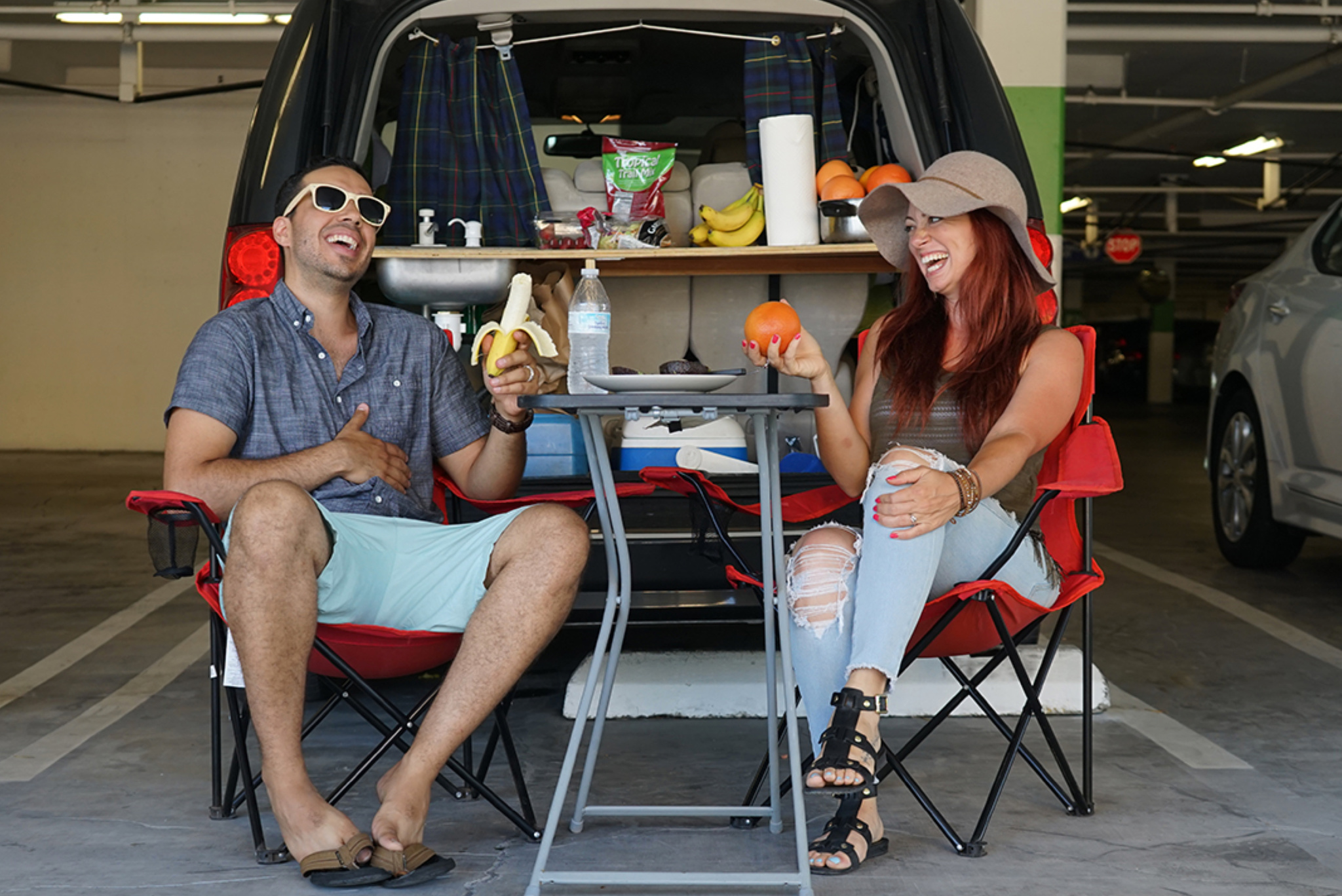 Downsides of Living in a Van
Van life is a great way to live, but there's also the downsides of living in a van. Some days can feel really hard. The elements can affect your comfort inside the van, especially if you don't have an AC or heater. Constantly trying to find a place to park, reliable WiFi and cell signal can be tiring. If you're living in a van with someone, finding privacy can be challenging.
In addition, you need to constantly fill up water jugs or tanks for drinking and bathing, dump your grey water and do grocery runs often (because tiny space means tiny fridge). People often showcase only the ups of this lifestyle on social media, but like with any lifestyle, there are the not-so-glamorous sides of living the van life, and you should consider these too.
Mechanical Skills
It's a good idea to have a basic tool kit and know some basic mechanical skills if you want to live the van life. For example, learning how to change a tire, fuses, windshield wipers and check tire pressure are all important things you'll have to do. We highly recommend getting roadside assistance coverage just in case you break down and need to be towed for bigger issues.
Where Do You Send Your Mail?
This can be challenging if you're moving around a lot. If this is the case, you can have all your mail sent to a family member or friend's house. If you're spending a week or longer at a campground or RV park, you can get your mail sent to that address. Another option is to have a P.O Box set up in a place that you'll visit often.
Insurance
Insurance coverage depends on where you live. It's worth checking to see how long you can leave your province or state and still maintain access to your health care. If you're going to leave the country, we highly recommend that you get travel insurance. Even if you're only leaving for half a day, it's so important to have travel insurance, especially when driving a vehicle.
***
I hope this blog post and video (see below) helps you decide whether living in a van is for you because it's not for everyone. But if it is for you, it's an amazing lifestyle, with so much freedom! There's a reason why so many people are doing it.
Click play on the video below to find out if van life is for you: