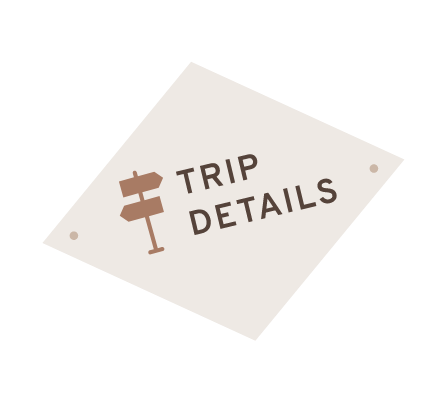 This journey takes you high up into the cloud forest of Monteverde, across the continental divide and into thick rainforest.
September 11 — 22, 2021
12 Days
8 -16 People
$2,820 USD

Travel style
Adventure & Sustainability


Physical rating
i
Moderate
Travelers should be comfortable walking and standing for long periods of time. There may be physical labour involved during our service projects such as tree planting. Daily activities will include walking tours and easy hikes.

Comfort level
Standard

i

Our trips are based on three different comfort level ratings: Basic, Standard, Comfort.
Standard
Comfortable accommodations with character and private transportation.
You will join both of us (Kristen and Siya) for 12 exhilarating days across one of the happiest countries on Earth. You'll sleep near the base of the Arenal Volcano in the epicentre of adrenaline before visiting one of the world's largest green sea turtle nesting sites in Tortuguero National Park. We will finish off soaking in the sun on the beautiful beaches of the Caribbean coast.
You, along with your new travel tribe, will have the chance to give back to the Earth, volunteering in one of the county's largest nature reserves. We will spend time with a local family during our homestay and get an inside look at why Costa Rica is considered one of the world's happiest countries. We'll explore what was once the world's most active volcano, soak in hot springs and test your limits on Central America's longest zipline.

This Hopscotch the Globe group trip is packed with adventure, local flavor and thrilling surprises.
On this trip, you'll give back in more than one way:
You will volunteer within Costa Rica's largest private nature reserve which protects 23,000 hectares of important forest and whose reforestation program has planted over 1 million trees in the past 30 years. The Children's Eternal Rainforest was founded by donations from children in 44 countries, and is run by a nonprofit conservation organization, the Monteverde Conservation League. A portion of the trip fee goes to this project.
You will spend two nights with a local family in a homestay which helps to distribute wealth throughout the local community.
A portion of the trip fee will also support the following organizations:
Monteverde
Tortuguero
Arenal Volcano
La fortuna
San Jose
Day 1
Day 2-4
Day 5-6
Day 7-8
Day 9-10
Day 11
Day 12
Day 1
San Jose: Arrive
Welcome to Costa Rica! Upon arrival at the airport, your driver will be waiting to take you to our centrally located hotel. Meet for a welcome drink and mingle with your new travel buddies. At 6:00 pm we will have a briefing by our tour leader(s) before our first group meal.
Day 2-4
Monteverde: Volunteer and Homestay
Monteverde is a beautiful tranquil mountain town right in the centre of the continental divide, making it a nature-lover's haven with over 400 bird species, 100 mammals and over 2,500 plant species. Here we will volunteer our time at our local project and have the opportunity to be welcome guests in a local homestay. After working hard at the project, you will also get to play hard on Central America's longest ziplines!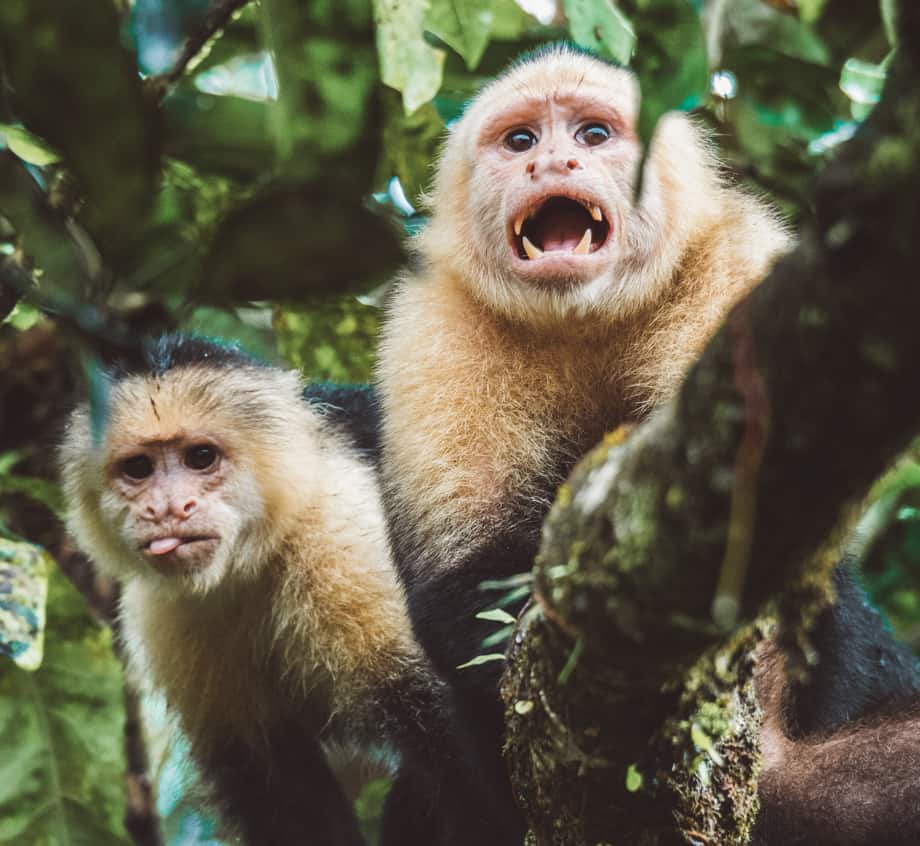 Day 5-6
La Fortuna: Arenal Volcano
Enjoy the countryside views on your way to La Fortuna. The iconic Arenal Volcano will be our backdrop for the next couple of days. Here we will explore waterfalls, local swimming holes, volcano views and relax in thermal hot springs.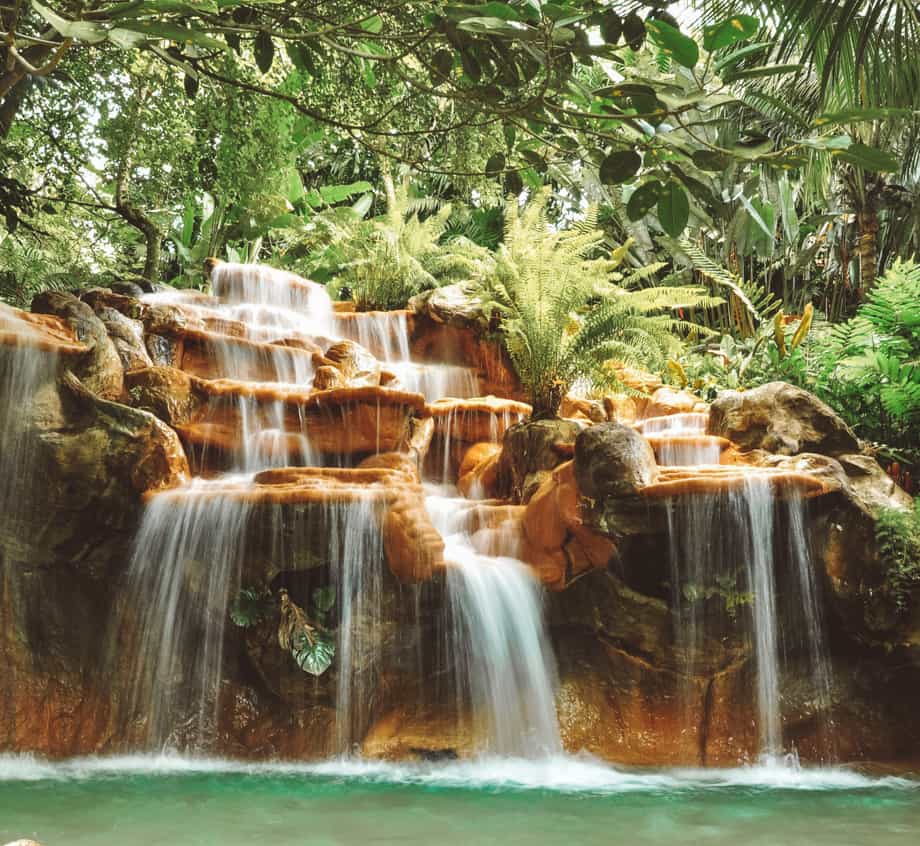 Day 7-8
Tortuguero: Sea Turtles and National Park
Getting to Tortuguero is an adventure in itself. We take a relaxing boat ride through impressive canals before arriving at our secluded eco-lodge for a rest before heading out to spot sea turtles nesting along the beach. In the morning we will visit the National Park, made up of canal systems surrounded by lush tropical forest and mangroves home to species like the spectacled caiman, river turtles, monkeys, sloths and an array of birdlife. Enjoy free time in the sleepy Caribbean, exploring the local artisans around town or relaxing in the hammocks or the pool at our eco-lodge.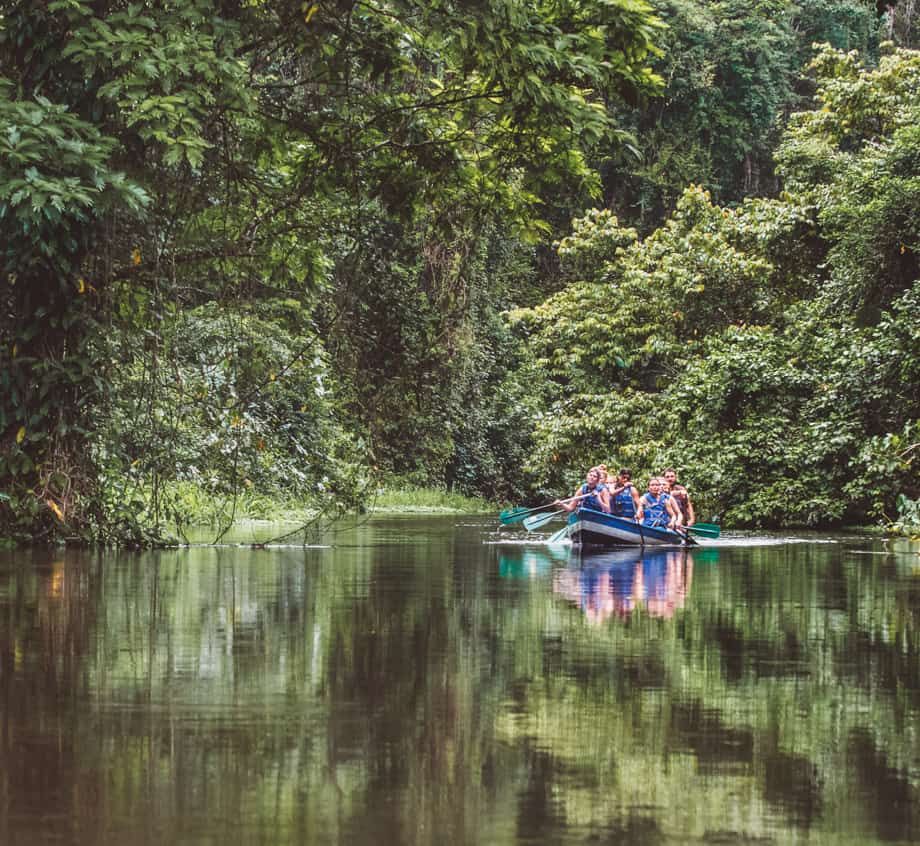 Day 9-10
Puerto Viejo: Caribbean Coast
One last ride on the canals until you reach Moin, the jumping off port to pristine beaches, endless wildlife and exotic Caribbean cuisine. Puerto Viejo, meaning old port is nestled in between Cahuita National Park and Manzanillo National Wildlife Refuge among lush forest and inviting coastline. Enjoy the beach, snorkel the coral reef, visit a wildlife refuge and learn to surf!
Day 11
San Jose: Return
This morning we will head into the National park for a guided walk and some precious beach time before heading back to San Jose.
Day 12
San Jose: Depart
Time to start planning your next trip back to Costa Rica. Departure transfer is included.
Additional Information
Tour type
HTG Group Trip (Eco Adventure and Giving Back)
Average group size 15 travelers + Kristen, Siya and in-country tour guides
Shared accommodation in double or triple occupancy (single occupancy available upon request for an additional fee)
Large comfortable air-conditioned passenger vans throughout
DEPARTURE/RETURN LOCATION
San Jose – San Jose
September 11-22, 2021
Arrive at anytime before 5 pm on September 11, 2021
DEPOSIT AMOUNT
15% of total trip fee ($423 USD)
Activity level
Travelers should be comfortable walking and standing for long periods of time. There may be physical labour involved during our service projects such as tree planting. Daily activities will include walking tours and easy hikes.
INCLUDED ACTIVITIES
9 nights in comfortable, well-located hotels
Arrival and departure airport transfers
11 Breakfasts, 6 Lunches, 7 Dinners
Private air conditioned passenger van
2 nights Homestay (single occupancy available upon request for additional fee)
Professional Tour Leader and Host along with Kristen and Siya from Hopscotch the Globe!
Volunteer, Zipline, Coffee Tour, Night walk, National Park Guided Tours, Waterfalls, Hot Springs, Jaguar Rescue Centre, Surf Lessons and More!
NOT INCLUDED
Gratuities
Additional meals not mentioned (allow for $150-$200 for additional meals)
Optional Activities
International Flights
Pre and Post Accommodations
Kristen & Siya
Hey friend! We are the adventure seeking, world travelling, tiny home-living couple behind the Hopscotch the Globe brand. We specialize in inspiring and teaching adventurous couples and families how to travel and live a more authentic life. We enjoy random dance parties, Disney sing-a-longs, big hugs and star-gazing. You can often me (Kristen) be-friending as many dogs as possible in every country I visit, while Siya can be found at the top of some random tree eating a slice of pizza. We can't wait to create awesome memories with you in Costa Rica!
Allie
Allie has been leading tours in Latin America since 2011. The first time she stepped foot in Costa Rica, she became head over heels, and she hadn't even met her future husband Leo yet. There was no lack of variety of beaches, forests, and mountains, but what she really loved most was the people. Costa Ricans are known to be some of the happiest in the world. The carefree, relaxed attitude of the locals captured Allie, and she knew she wanted to settle down in this beautiful land someday. Fast forward to a couple of years later, Allie married a Costa Rican man named Leo, and together they started a tour leading company called Outstanding Costa Rica. Allie can't wait to meet you and show you all the reasons why she's fallen deeply for Costa Rica.
Leo
Leo is the other half Outstanding Costa Rica and Allie's hubby. He grew up in Monteverde, Costa Rica when tourism was just slowly growing in the country. One of his first jobs was in a fancy hotel as a receptionist. He started to meet people from around the world every day. His second, third, and fourth jobs were all directly in the tourism and hospitality sector. He was a bartender, waiter, receptionist, manager, and finally a tour guide, which he's loved the most. Leo's jobs have taken him to all parts of Costa Rica, and he's constantly amazed by the beauty of his own country. He's the guy who will answer all your questions about his homeland. He's excited to show you why Costa Rica is so special from a locals perspective.
Traveler Testimonials
We've been on two of Kristen & Siya's group trips and we're scheduled to go on another one this year! These are hands down some of our favorite travel experiences. What better way to explore a country than with fun, like-minded people who continuously encourage you to follow your dreams? And what's even better, you get to make a positive impact along the way.
GUATEMALA AND ECUADOR 2018 & 2019
Kristen and Siya have inspired me to go out of my comfort zone and travel more. When I heard they were going to travel with their subscribers for the first time, I knew I had to sign up! Little did I know my world was going to change – for the better. I made life-long friends, conquered fears, helped a community in Guatemala, and made incredible memories. I am forever grateful for Kristen and Siya for creating a travel community/tribe. Thank you!
Our trip was a life changing experience. Kristen and Siya are amazing and genuine people full of positivity. I loved getting to know them. Also, HTG trips are focused on impact. Knowing u are making a difference in the world is priceless. Getting to do that next to such incredible people is a major plus.
GUATEMALA AND ECUADOR 2018 & 2019
We have limited spots available, don't miss out on this life-changing opportunity!