After a year of planning and designing, we've finalized our solar powered Airstream Jungle House. Now, we're ready to share our design with you. This is Casa Luna!
How We Came to Live in an Eco-Community in Costa Rica
If you're new here, let me catch you up a bit on what we've been up to…
Three years ago, my husband Siya and I attended Envision Festival in Costa Rica with our then, 1-year old daughter. We anticipated an incredible experience, but it surpassed our expectations, becoming truly life-changing. On the last day of the festival, we stumbled upon a booth promoting a new eco-village in Costa Rica. It was still in the pre-stages but it looked and sounded magical. Intrigued to say the least, we stayed for about 2-hours to learn more about the eco-village. From this conversation, we ended up changing our return flight to Canada so we could go and check it out.
A year later, we bought land in Costa Rica in this eco-village but continued to spent the next year traveling around the United States with our Airstream. In late 2021, we shipped our Airstream from Florida to our land in Costa Rica. We also moved ourselves and have been calling this country home base ever since. Throughout the past year, we've been building our lives in a new country. Simultaneously, we've been planning and designing a structure for our land, a permanent home for our Airstream.
---
Getting our Solar Powered Airstream to Costa Rica
Getting the Airstream to Costa Rica was a whole journey itself. Since its arrival, it has been sitting on the land without being plugged into water or electricity. The combination of rain, humidity, no electricity or anyone living in the Airstream is the perfect recipe for mold. However, our solar setup by Go Power! literally saved the Airstream. To prevent a lot of mold growing during the rainy season, we had to run a dehumidifier inside. This was run entirely off our solar system from Go Power! which we installed when we renovated our Airstream. Without our solar system, the Airstream interior would have needed major renos.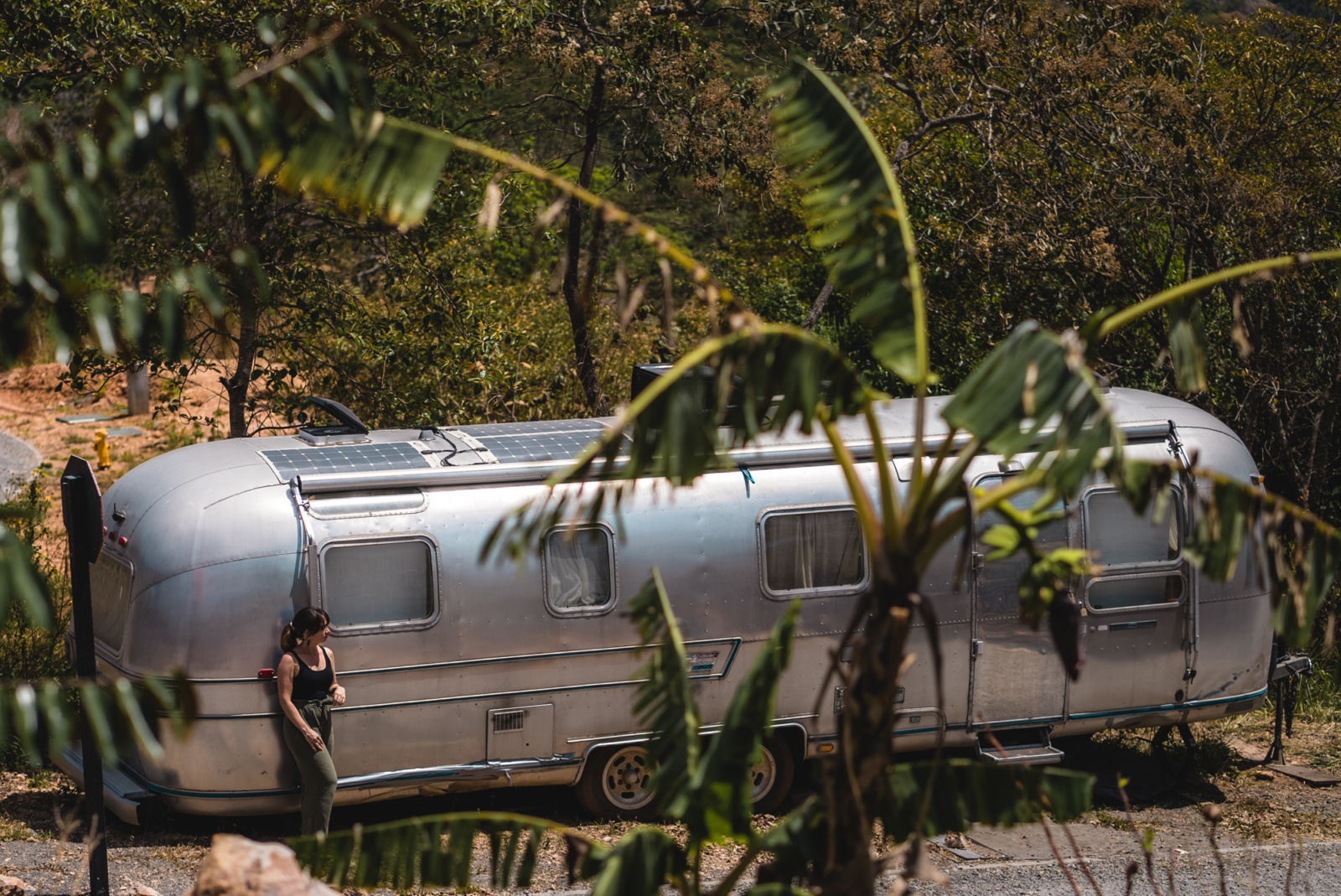 We are so grateful to Go Power! and their lineup of solar products. There was no question about using them again to power our Airstream Jungle House, Casa Luna. If you're looking for a practical solution to live a more sustainable lifestyle while still enjoying modern amenities, then we cannot recommend Go Power! products enough.
---
What is Go Power! ?
Go Power! offers power solutions for people who want to live off-grid or have backup power when needed. They offer a range of products, including: portable solar panels, power banks, lithium batteries and other charging solutions, all designed to help people generate clean and renewable energy for their homes and devices. Their products allow you to harness the energy of the sun, store it for later use, and power devices without relying on traditional electrical sources. These power solutions are ideal for those who want to reduce their carbon footprint, save money on energy costs, and enjoy the freedom and independence of living off-grid.
I'm so excited to be adding a whole Go Power! system to our new build! Here's what we'll be including:
6x 200W panel (1200 watts total)
300AH advanced lithium battery
3000W inverter/charger (converts DC to AC)
2x solar controllers
Living sustainably and being eco-friendly is important to us. The eco-friendly products we've already incorporated in our Airstream is a reflection of this. Living this way is part of the core values of our eco-village. Even though we'll connect to the grid, the new Go Power! setup we're installing will allow us to run the majority of our house on solar energy. We'll also be growing our own food and get water from natural springs on the land.
---
Our Airstream Jungle Home Design
After plenty of brainstorming and a lot of back and forth, we eventually came up with a very exciting build plan for our land, starting with our Airstream Jungle House. The idea is that the Airstream structure will create an indoor-outdoor living experience. The Airstream will live on a big deck that will be equipped with an outdoor kitchen, bathroom and laundry room.
UPDATE: You'll see in the above video that we had a loft as well. We recently decided to axe the loft idea, which cut the cost of the build in half. Now, the final design looks like this:
Inside, the Airstream will have the bedroom, secondary toilet, plenty of storage and closet space, dining room table and as of now, a secondary kitchen (which might eventually become something else).
We really wanted to optimize the view we have from our lot. We went with a big open concept design. This eliminated the need for any heating or air conditioning, relying on the natural climate to heat and cool the area.
---
Excited for this House Building Journey
We're excited to embark on the construction of our Airstream Jungle home, turning our dream of living in an eco-village into a reality. Being part of a community that shares the same desire to live more sustainability and in harmony with nature is beyond exciting. It's going to be an amazing journey, and we're stoked to be taking the first steps!
---
We want to give a special thanks to Go Power! for sponsoring this blog post. As always, all thoughts and opinion are our own.