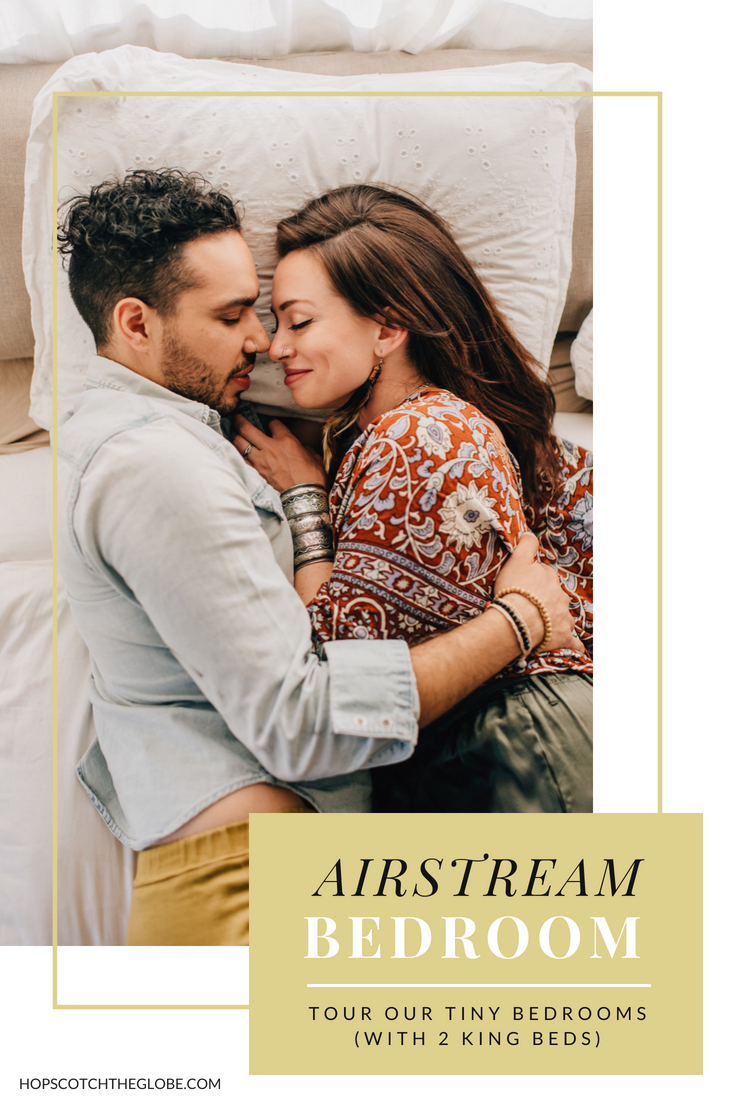 Take a Tour of our Airstream Bedroom
Take a journey with us as you tour our perfect Airstream bedroom. Actually, we will be touring both our "master" bedroom and our guest room (yes, we have one of those too in our 200 square foot home).
During the process of designing our perfect Airstream bedroom, there was one thing my husband Siya and I knew for certain…
We wanted to have a king size mattress for the first time in our lives!
It's a very simple bedroom that has everything we need. There are six drawers for our clothing, accessories and other knick knacks. It's beautifully decorated in the style that fits us both. This little area in our home on wheels also holds our favourite items such as our Saje diffuser, essential oil collection, lucky Ganesha, crystals, palo santo and sage for smudging, bed side lighting, books for night reading and a few other items you can check out in our Amazon store.
Siya and I are so happy with how it turned out, and have NEVER slept better. Now, let the Airstream bedroom tour begin…

Our Airstream Bedroom
I need to start off by sharing something about me you probably wouldn't know. I am the Princess from Princess and the Pea. I am SUPER picky when it comes to mattresses. Siya isn't nearly as picky as I am, but he does have a hard time falling asleep at night. As world travellers, we've slept on hundreds of mattresses throughout the years. Only about 10% of them had me waking up feeling so refreshed and well rested. None of those sleeps were in my own bed… that is until now!
No, this isn't a sponsored post, this is purely me sharing my love for Tuft and Needle, (<—- yes that is an Amazon affiliate link). Our king size Tuft and Needle mattress has turned Siya and I from dreading going to sleep at night to wanting to hit the hay early. It's actually changed our lives and given us the best sleeps we've ever had.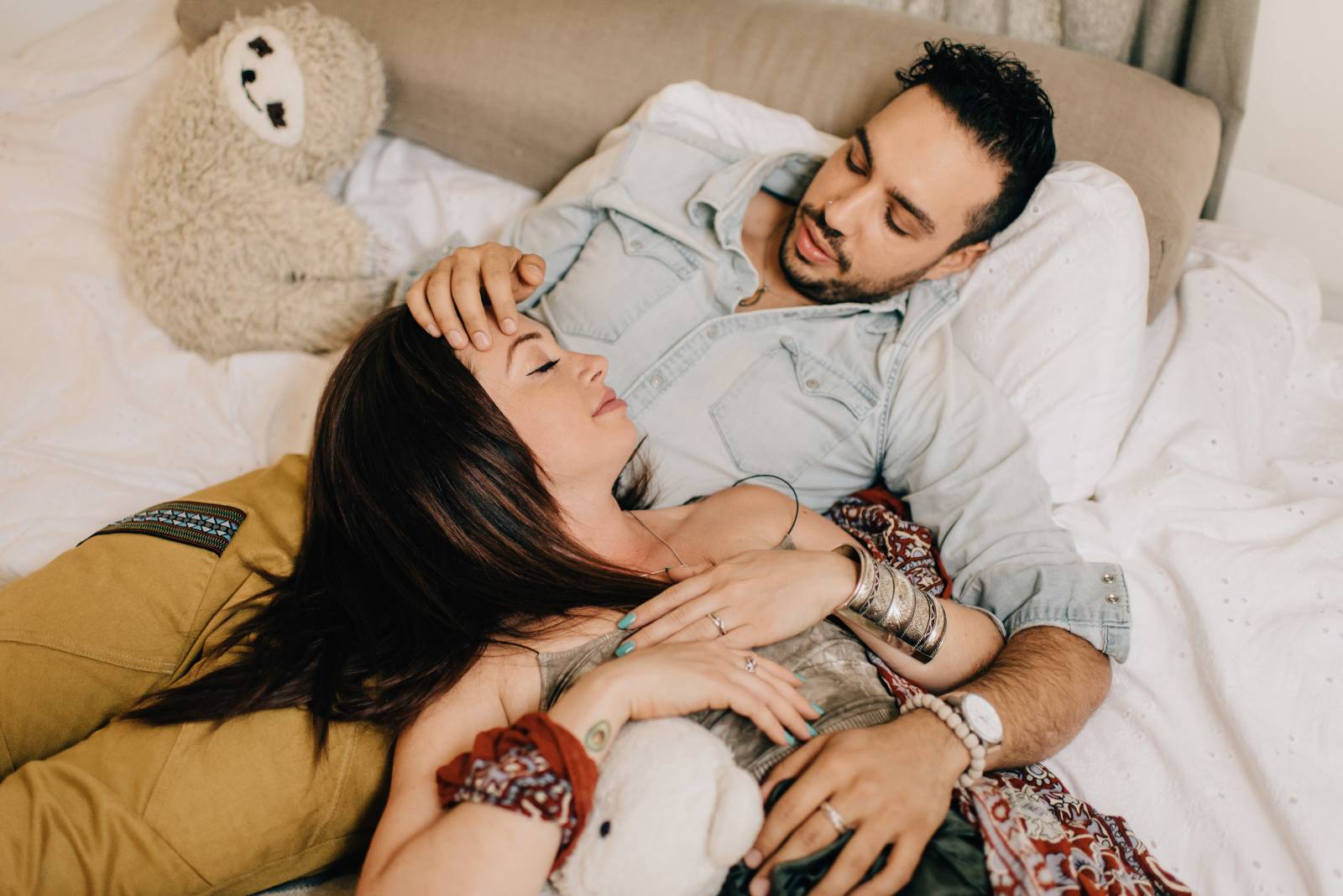 Everything Has a Dual Purpose
Although it's tiny, there's actually a lot of moving parts to our Airstream bedroom and almost everything has a dual purpose. Over the past year of full-time Airstream living, we've come to really appreciate how functional everything is.
Another great thing about our bedroom is it has five windows and a ceiling fan/skylight. At night, we like to open up our skylight which let's in the cool midnight breeze and sounds of the outdoors. There's nothing more peaceful than falling asleep to crickets chirping. It's as if we are tent camping, except way more luxurious. Siya and I love feeling more connected to the outdoors…without the mosquito bites.
Oh, and our pup Atlas is quite fond of our bedroom as well.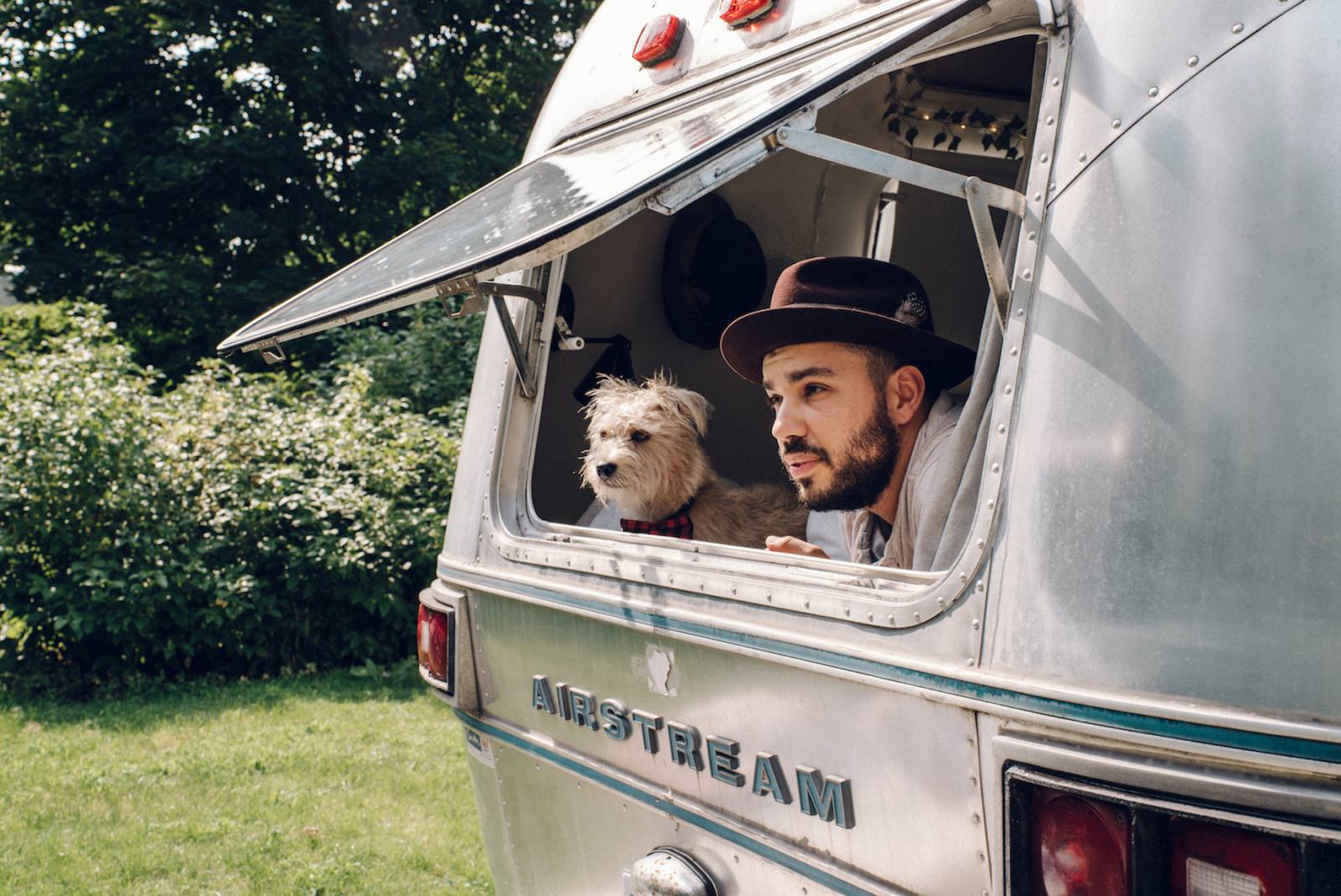 The Little Things That Complete Our Airstream Bedroom
On each side of our bedside, we have a long thin shelf where we keep things like books, notepads, headphones and eye masks. There's a bedside lamp for reading on each side along with a hook for our fancy hats. We've decorated our ceiling with fake vines and LED lights which give our bedroom a soft, romantic and clam feel.
Our bedroom dresser extends through our tiny kitchen and all the way to the front of the Airstream. Six of the twelve drawers on the one side of the Airstream, along with two-feet of counter space, are reserved for clothing and extra special items. This is probably my favourite corner in the entire Airstream.
Shop Our Airstream Bedroom By Clicking Here
Our Airstream Guest Room
It's amazing how much you can fit into such a small space. With the right planning and design, everything in our renovated tiny home has a duel purpose. This includes our dining room table which doubles as a guest bed. And, get this…
It turns into a king PLUS bed!
Just like in our "master" bedroom, there are several windows along with a ceiling fan/sky light in our guest bedroom. Everyone who stays over, never wants to leave. I gotta say, who can blame them? We feel the exact same way.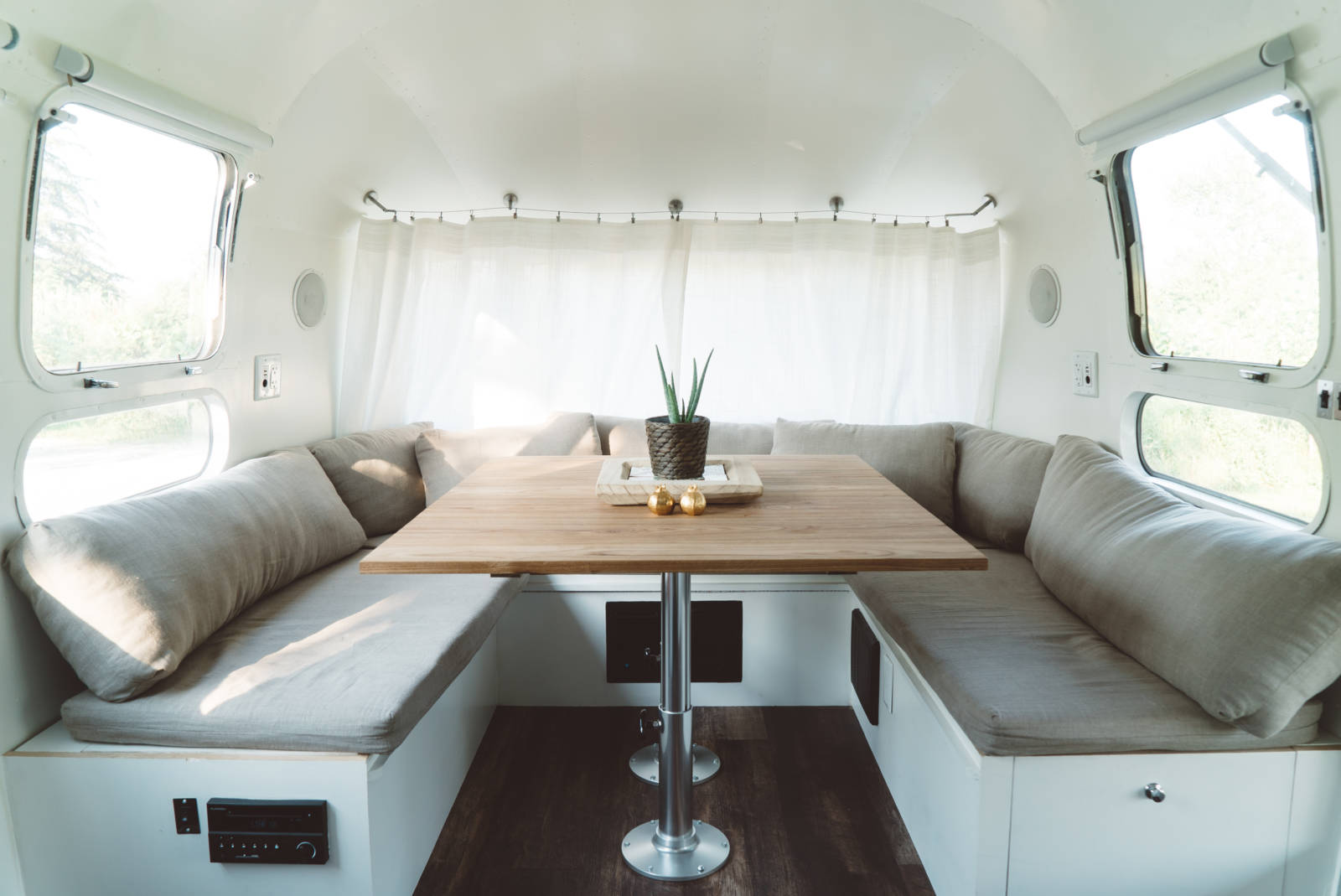 The tour doesn't stop here. Check out our Airstream Bedroom Tour by clicking play on the video below!
If you haven't subscribed to our YouTube channel, click her to do so. That way you get notified when we post a new Airstream video. If you want to take a tour of other rooms in our Airstream or learn more about this lifestyle, be sure to watch our Airstream video playlist by clicking here.
Are you currently renovating an Airstream or thinking about it?
Share in the comments below!