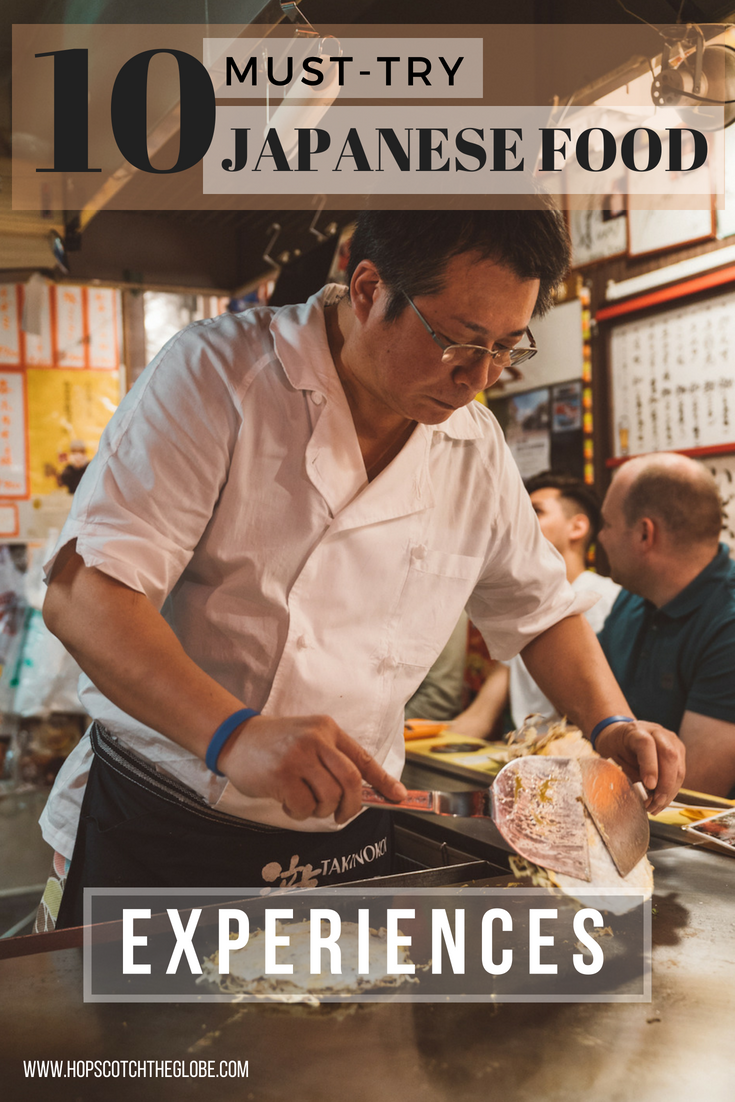 Will Travel for Japanese Food!
One of the best ways to experience a new culture is by using your tastebuds. Some people travel solely to try local dishes in the place they come from. I admit that food is one of the top reasons why I love to travel and sometimes how I choose where I'll adventure off to next. Japan is a country that has so much to offer, with plenty to see and do. It's also a country that many people will travel far and wide just to indulge in the delicious and bizarre Japanese food.
Unique and Popular Japanese Food Culture
While sushi and ramen are two of the popular Japanese foods in the Western world, there are is much more to the Japanese food culture that is trying. During our recent trip to Japan with G Adventures, Siya and I discovered Japanese dishes we had never heard of before and some we have been dreaming of devouring since we made Japan our top bucket list destination years ago. Here are 10 must-try Japanese food experiences and what to eat in Japan during your trip!
⬇ Watch our "Top 10 Must-Try Japanese Food Experience" video! ⬇
Gold Ice Cream
Never have I ever heard of gold ice-cream until I went to Japan. At the Nijo-jo Castle Cafe in Kyoto, you can experience matcha flavoured soft-serve ice cream wrapped in a thin layer gold leaf...REAL GOLD! So, how much does this luxurious ice-cream cost? A whopping 1200 Japanese Yen, which works out to about $14 CAD! Probably the most money I've ever spent on an ice cream cone. Worth it? Absolutely! I mean, how often do you get to eat gold ice-cream??
Rainbow Grilled Cheese
When people think about what to eat in Japan they probably don't imagine a grilled cheese. Japan kicks this classic up a notch by turning the classic grilled cheese into one that looks like it came out of the butt of a unicorn. There's something extremely satisfying about pulling apart a Japanese style grilled cheese to reveal a very stringy, multi-color spectacle. You can get your very own rainbow grilled cheese when you visit Takeshita Street in Tokyo, located at a very small stand, yet hard to miss since there's almost always a long lineup.
Unicorn Poop Ice-Cream
Speaking of unicorn poop... you can also get a multi-coloured ice cream cone at the same stand in Tokyo. If you're feeling something sweet rather than savoury, this treat made up of icey-creamy-goodness and colourful whipped cream will hit the spot. It also makes for an awesome Instagram photo.
Ramen
Ramen is a very popular noodle soup in Japan traditionally consisting of Chinese style wheat noodles, deliciously flavoured broth (different restaurants offer various selections of flavours and heat), toppings such as slices of pork, minced garlic, vegetables, and my favourite - a Japanese marinated egg. Ramen is a dish that the Japanese take very seriously, and so do the ramen eating enthusiasts. It's not uncommon to find yourself standing in a long line, patiently awaiting your turn to indulge in a bowl of perfectly flavoured broth and hot noodles. It is however one of those Japanese dishes that is almost always worth the wait.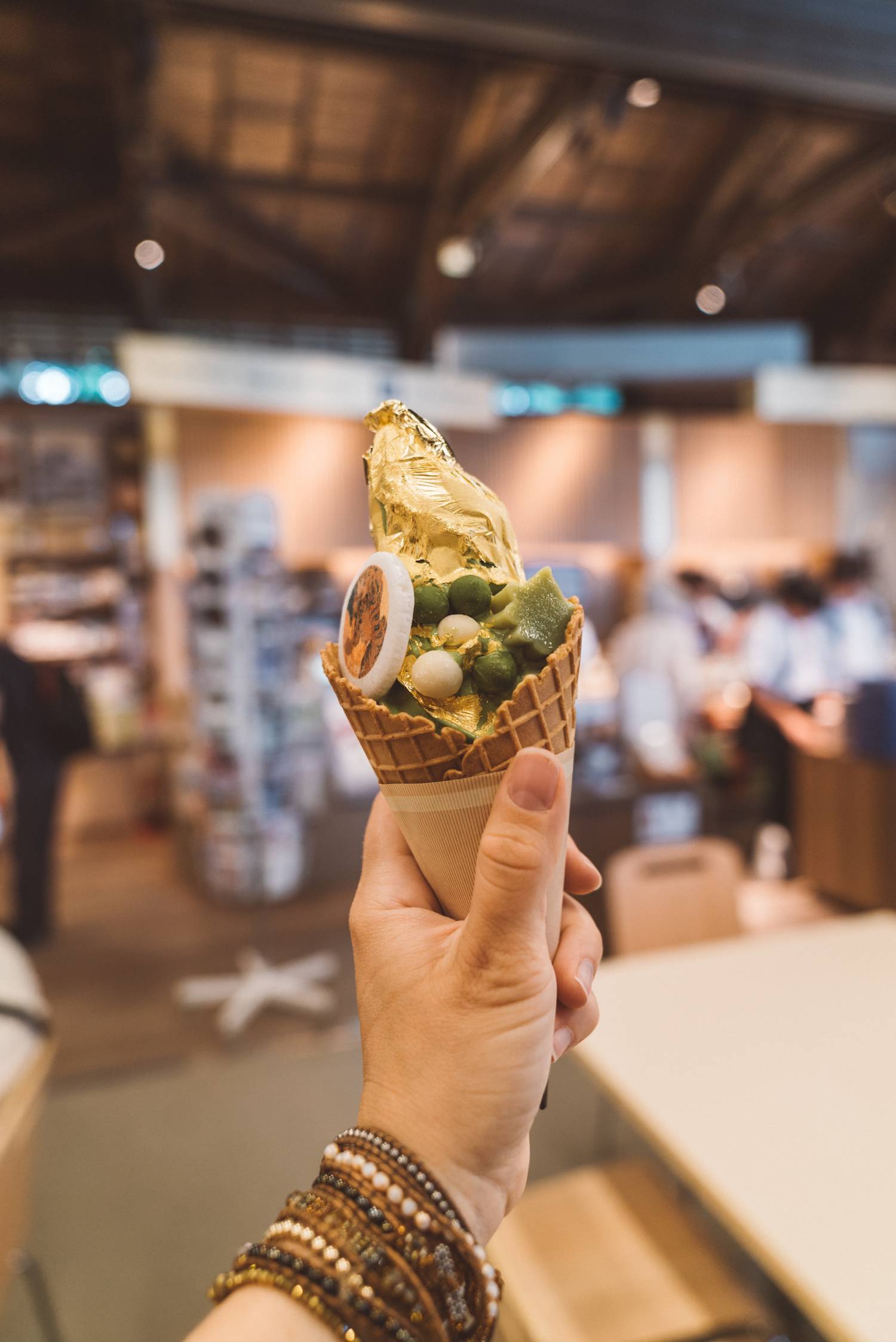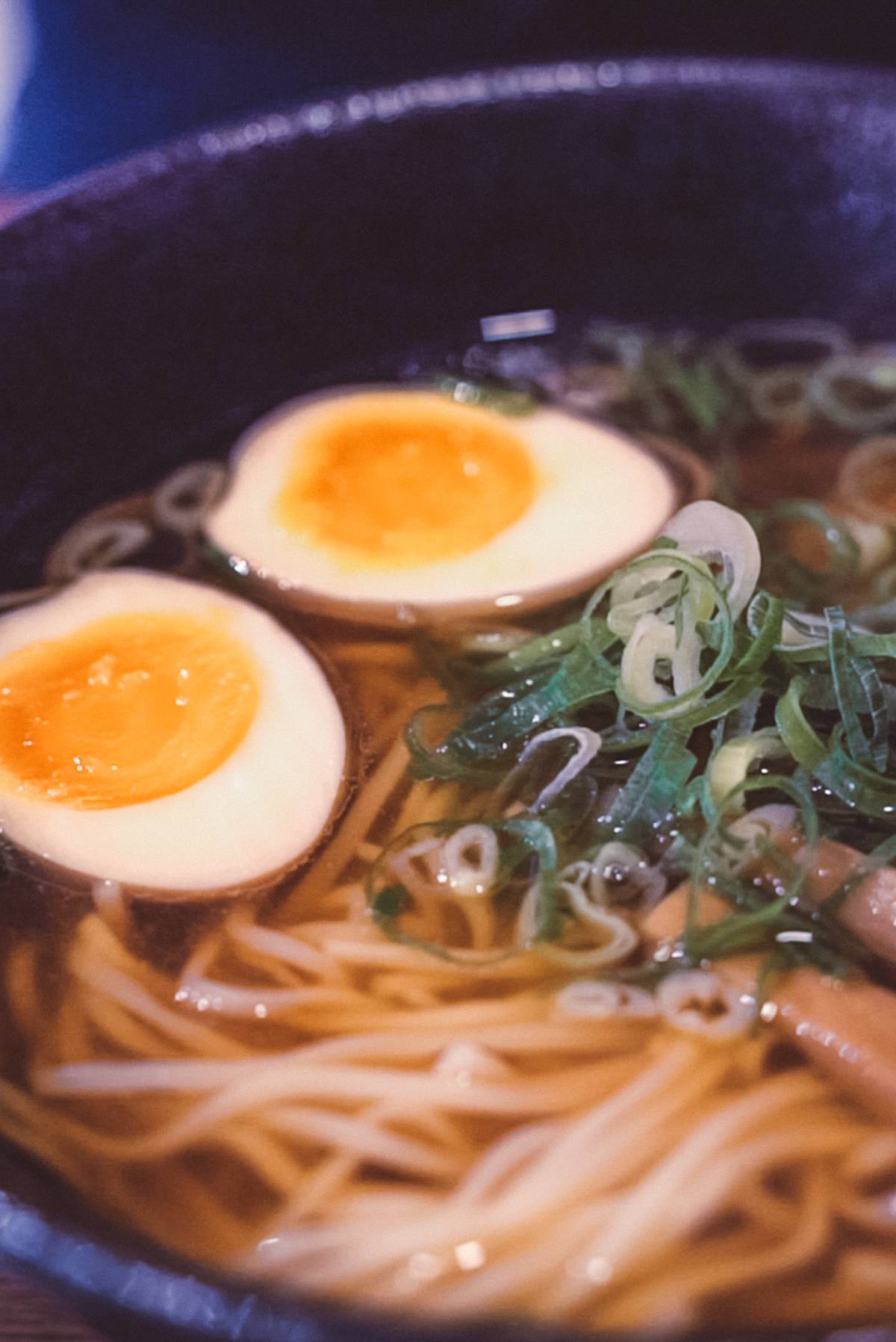 Okonomiyaki
While strolling the streets of Osaka, Siya and I were messaged by a friend back home in Toronto demanding we try something called Okonomiyaki. Neither Siya nor I had ever heard of this Japanese dish before, but we trusted our friends (who is obsessed with everything Japan) and sought out a restaurants serving up this local speciality. We stumbled upon a restaurant called Okonomiyaki Sanpei and were both extremely satisfied with our first Okonomiyaki experience. Okonomiyaki is made using slightly different ingredients depending where in Japan you eat it. We tried both the Osaka version as well as the Hiroshima version. Both resemble a pancake that's filled with egg, flour, water or dashi, shredded cabbage, and usually contains other ingredients such as green onion, meat (generally thin pork belly, often mistaken for bacon), octopus, squid, shrimp, vegetables, konjac, mochi or cheese. In Hiroshima, they make Okoyomiyaki with noodles, which I prefer.
Colourful Booze
Toyko is home to some of the most bizarre and dreamlike food joints in the world. One that I knew I couldn't miss was Kawaii Monster Cafe. Walking into this place is like walking into a Katy Perry music video. Everything is super colourful, the music is pumping and the serving staff are dressed up in Harajuku attire. The food and drinks aren't boring either. Although the menu lists burgers, fries and pasta as the main dishes, they are far more colourful than you're typically used to. The drinks are colourful and fun as well. While the flavours aren't anything to rave about, the environment definitely is.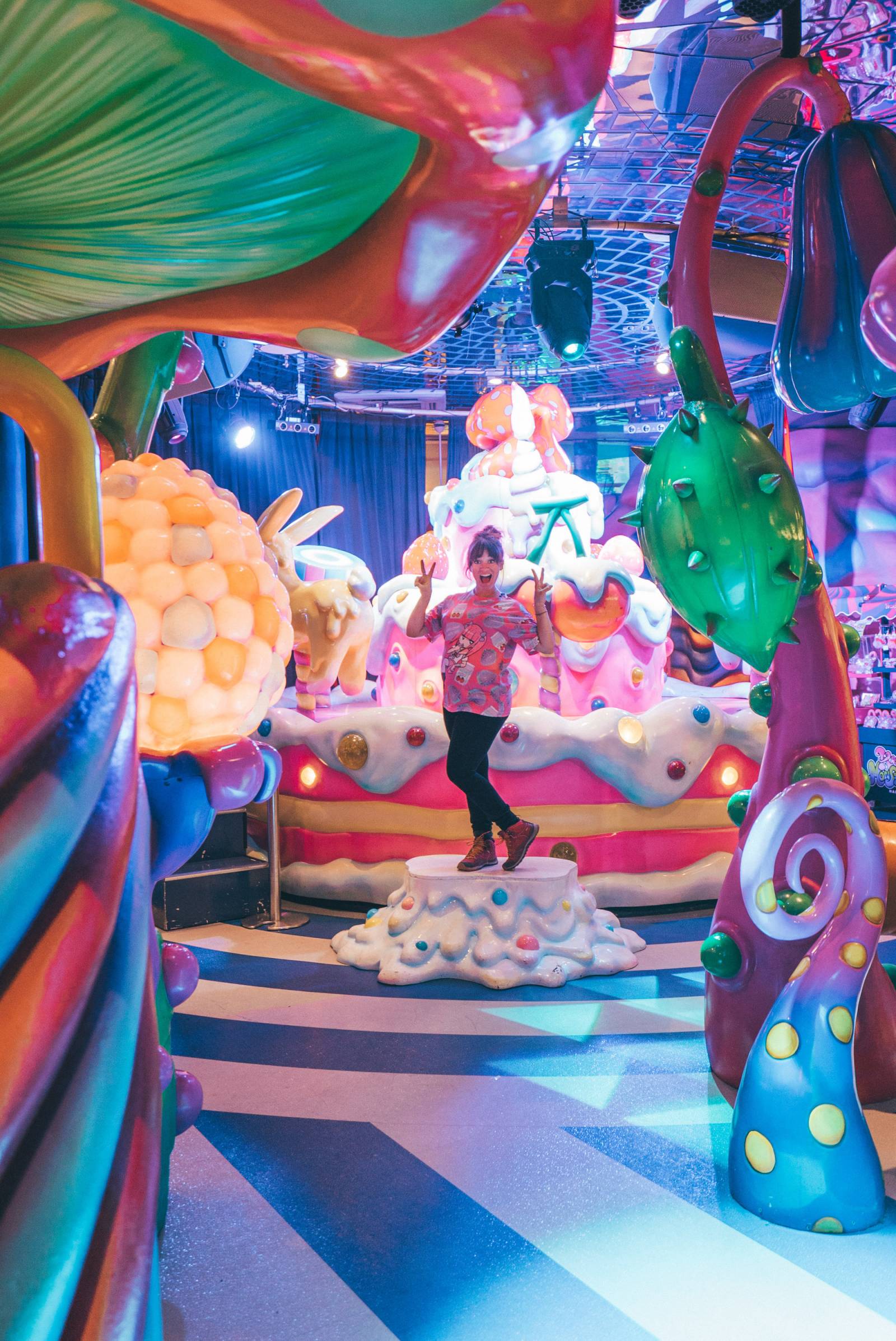 Sushi
A pregnant traveler or not (as I was on our trip to Japan), one cannot travel to Japan and not try the sushi. Now while Japanese women don't follow the "no raw fish" rule, I decided to stay away and stick to vegetarian sushi. A common place to get sushi all over Japan is at a conveyor belt restaurant, also known as a sushi train. Here, you literally sit around a rotating countertop that is constantly filled with all different types of sushi. You can grab any that call out to you and pay once you're stuffed to the brim.
Momiji Manju
Momiji Manju is a buckwheat and rice cake shaped like a Japanese maple leaf, and is a local specialty of Miyajima island, located just off of mainland Hiroshima. It is typically filled with red bean paste, but you can also get them filled with cream paste or chocolate paste. There are a few stores that make them in house, so you can get them fresh and hot. They are a super light and airy treat, so don't be surprised if you easily consume a few. If you're feeling extra naughty, you can even try a deep fried Momiji Manju.
Hiroshima Steamed Bun
I don't typically eat meat, but when I travel, I occasionally make the exception if I'm trying a local dish I've never tried before. Well, a Hiroshima Steamed Bun is one I have no regrets trying. On Miyajima Island, you'll find a stand selling these delicious steamed buns that will have you moaning with delight, I kid you not. The buns themselves are so delicate, light and moist and the meat filled centre is bursting with flavour that will have you walking away from the stand, and then turning back to get another one... yes, that's exactly what we did...
Street Meat
Wherever Siya and I travel to in the world, street food always takes the win for flavour, quality and affordability. Japan is no exception. It's common to find food stalls in main shopping areas and outside of temples. Street meet is commonly found throughout the country and grilled right in front of you.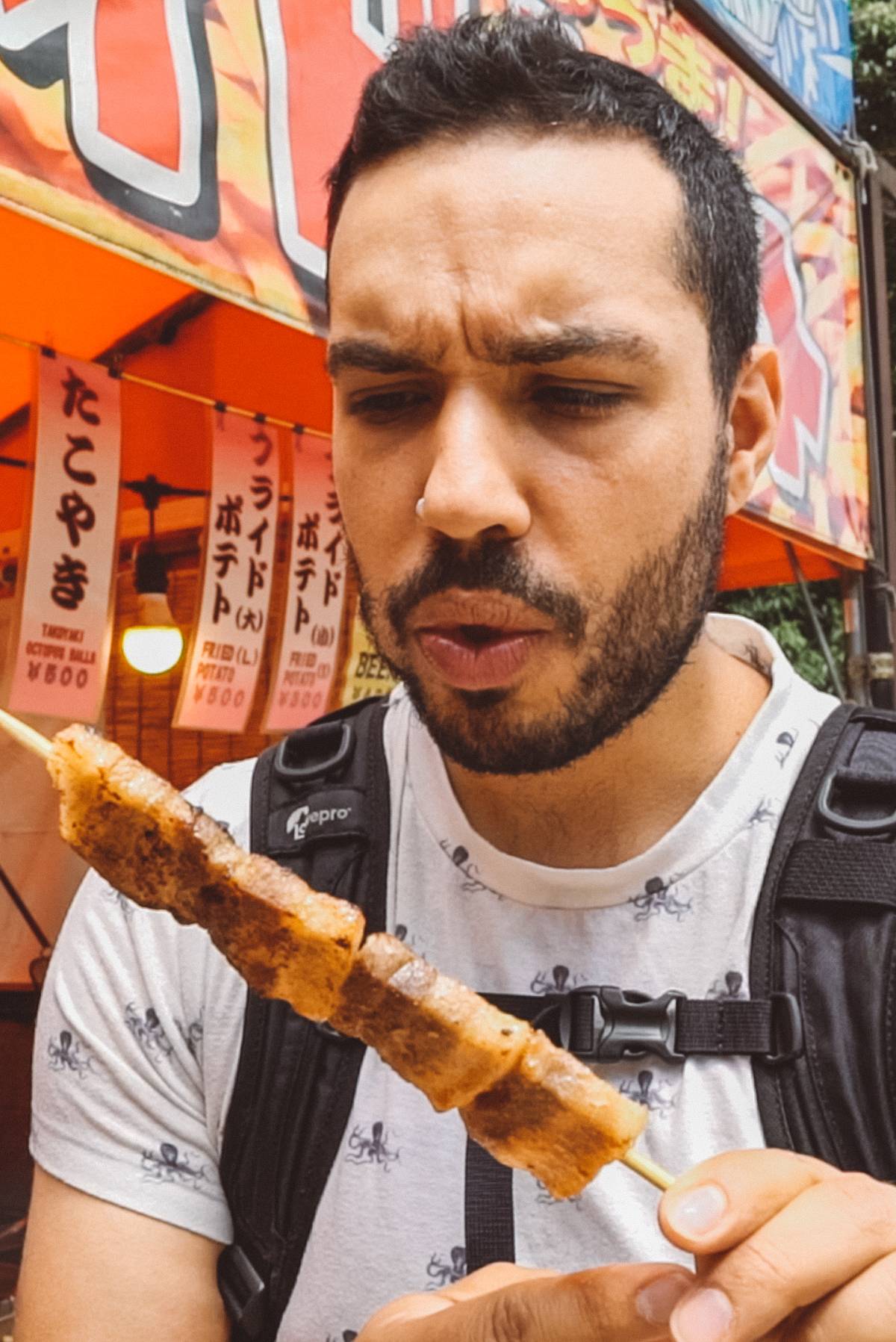 Did you enjoy reading about what to eat in Japan and what you most excited to try on your trip? Leave a comment below!